What happened at the back?
A story of missing thermals, being forced to land and grueling hikes in the heat of the first race day.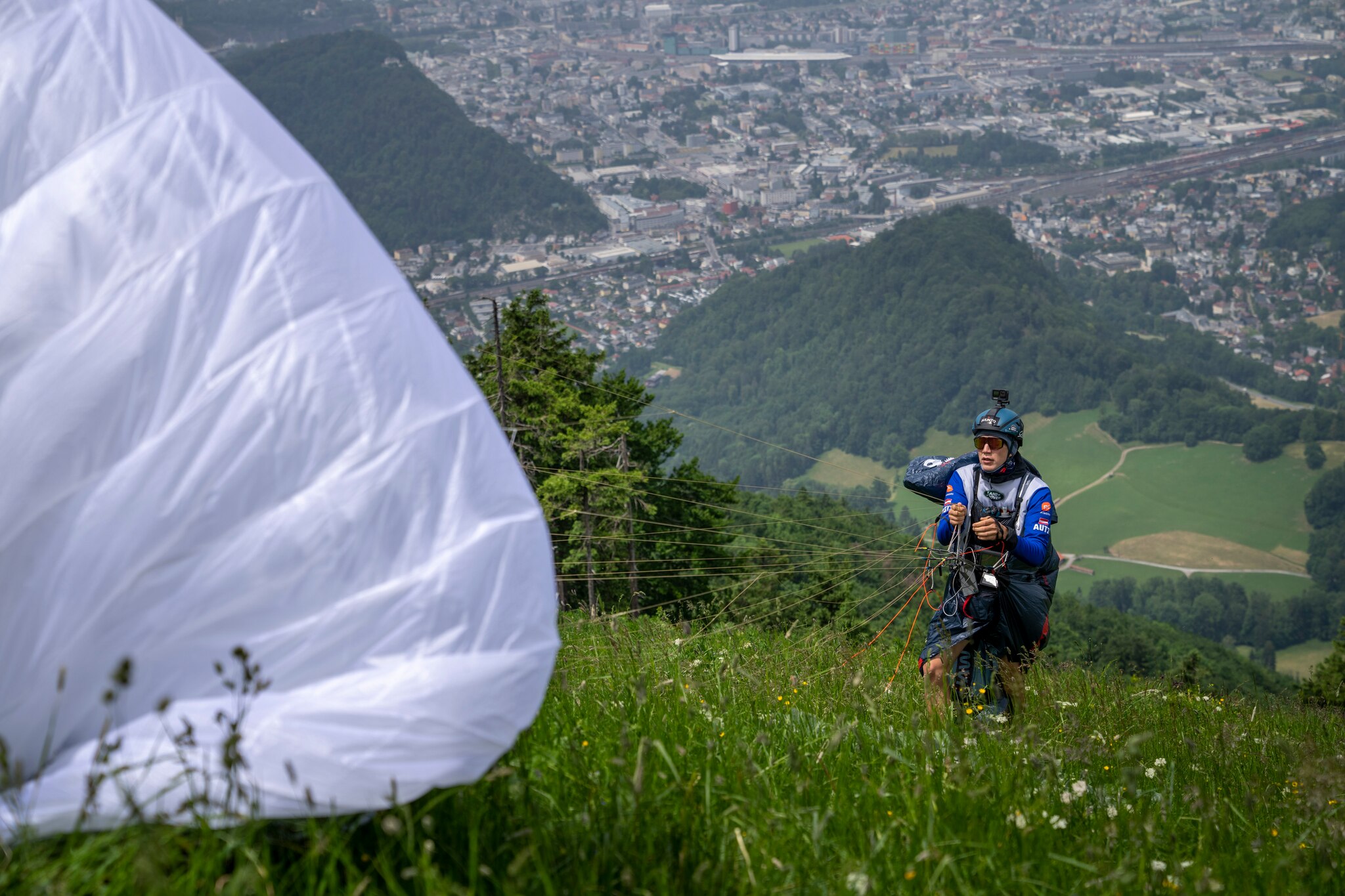 With Tommy Friedrich (AUT3) arriving at Gaisberg first this morning, and flying off soon, the day looked brilliant for him. Unfortunately, flying conditions were difficult today and currently he is at the back of the chasing pack.
Early on, he was fighting with the rest of the athletes, flying in a gaggle in the weak thermals that were released from the hillside. Flying conditions were not as favorable as expected earlier, with a strong haze blocking the sun.
If the sun is blocked, the air is not warming up enough to rise strongly and take paragliders up high and fly far. Tommy unfortunately missed some of the good thermals, just as some others at the back. Two of them, Michael Lacher (GER3) and Manuel Nübel (GER1) even came back to the Gaisberg twice. They landed on the top and in a wonderful display of team play they discussed what to do, waited for each other and took off again.
Remarkably, the two German athletes repeated this again, before finally flying off. It was a beautiful display of the friendly spirit of Red Bull X-Alps.
In the air, it was not easy, said Tommy while hiking hard late afternoon. "I should have waited a bit more maybe, it was a small wrong decision. It happens, it's ok. It was quite difficult, there were shadows and high clouds."
He doesn't seem deterred by the bad day at all, showing that he is not only happy when everything is going his way, but can take a beating as well. That's a great way to get far in this race.
His plan is to hike as far as possible to Hochgründeck, where the athletes have flown over during the Prologue. He wants to fly from there tomorrow.

Follow the athletes on Live Tracking and stay tuned on our social media channels: Facebook, Instagram, Twitter and YouTube.