What food fuels an athlete?
Steaks, plant-based burgers, pizzas and fois gras. We surveyed athletes on their dietary needs. This is what they told us they wanted to eat.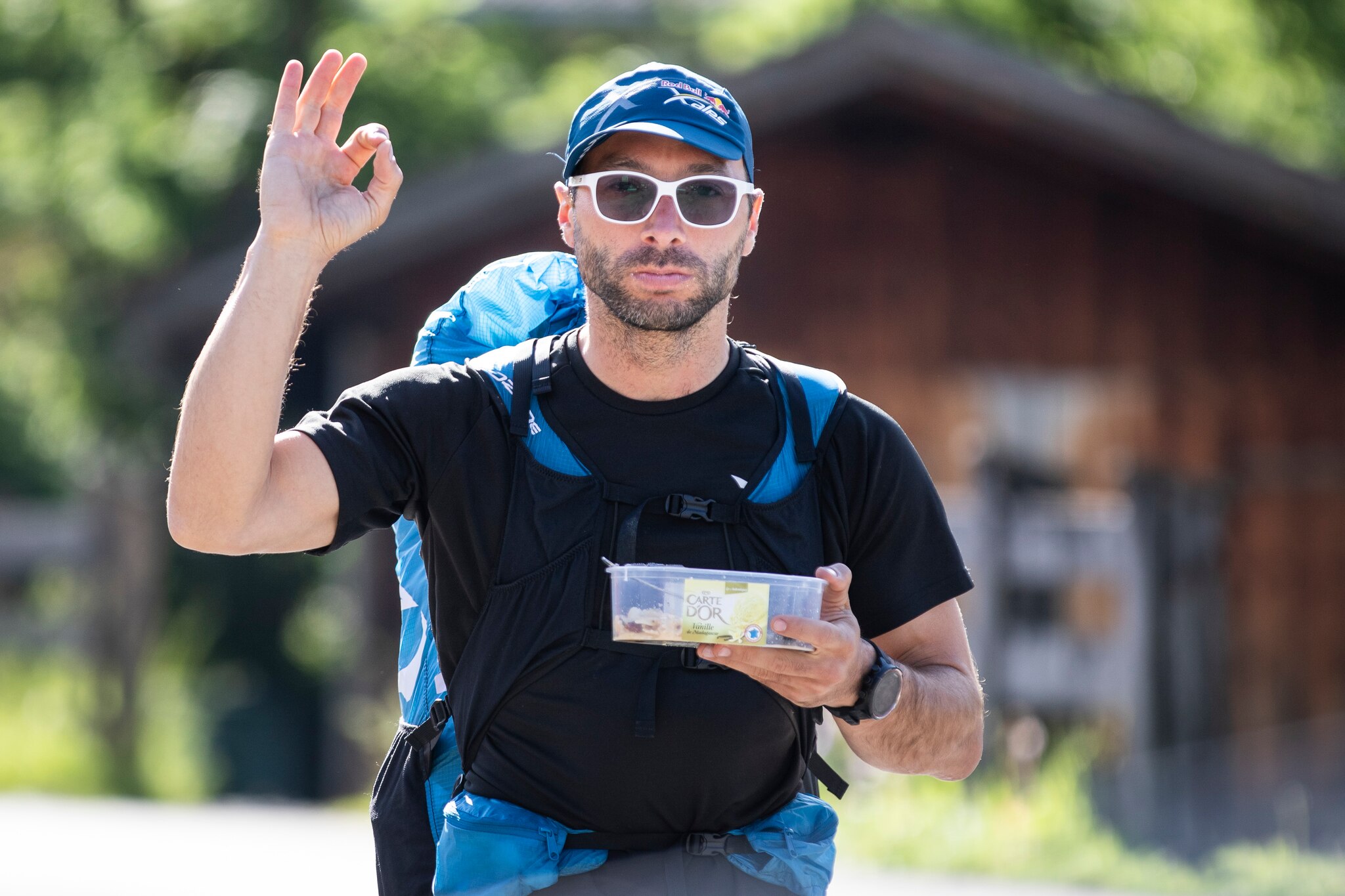 It was Napoleon who said an army marches on its stomach. It's pretty clear the same is true for Red Bull X-Alps athletes. They're going to eat like kings to stay in the race, feasting on everything from pizza to steaks to massive bowls of pasta, according to our diet and nutrition survey. One even plans to eat fois gras on an evening (and it's not a French athlete!).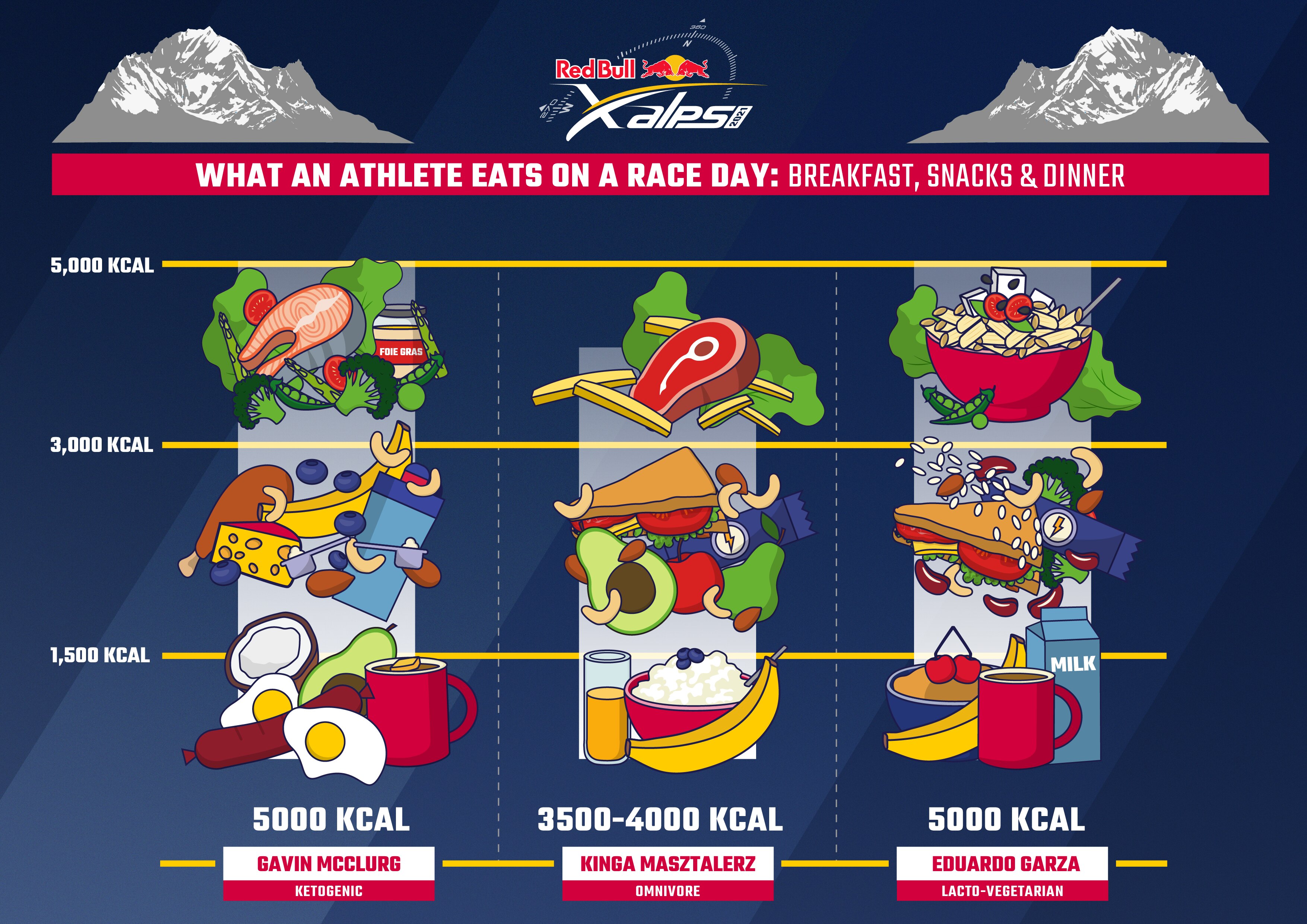 Most athletes are focusing on traditional carb-heavy meals to keep them fueled for the 12-day ordeal – 71% say pasta is their ideal evening meal – but their approaches are more sophisticated than just loading up on Mama's spaghetti. They're also packing their meals with fresh vegetables, salads, fruit and nuts. More than seven in 10 are taking supplements like amino acids for muscle soreness, collagen for joints, as well as magnesium, vitamins and fish oils. And they're taking protein shakes to aid recovery.
However, some athletes are going 'ketogenic'. Nearly 15% of those surveyed said they had ditched the high carb philosophy in favour of the high fat diet to become more 'fat adaptive'. This involves cutting out carbs and loading up on high fat foods like butter, coconut, avocados and eating a lot of animal and fish protein, including offal, eggs and oily fish.
The idea behind going keto is to make the body more efficient at running off fat. The logic is simple: unlike glycogen (which is converted from carbs), the body's fat supplies are inexhaustible. The catch? Fat isn't the most high-octane fuel so it's fine for long and slow-paced efforts, but it's not the fuel for powering performance bests.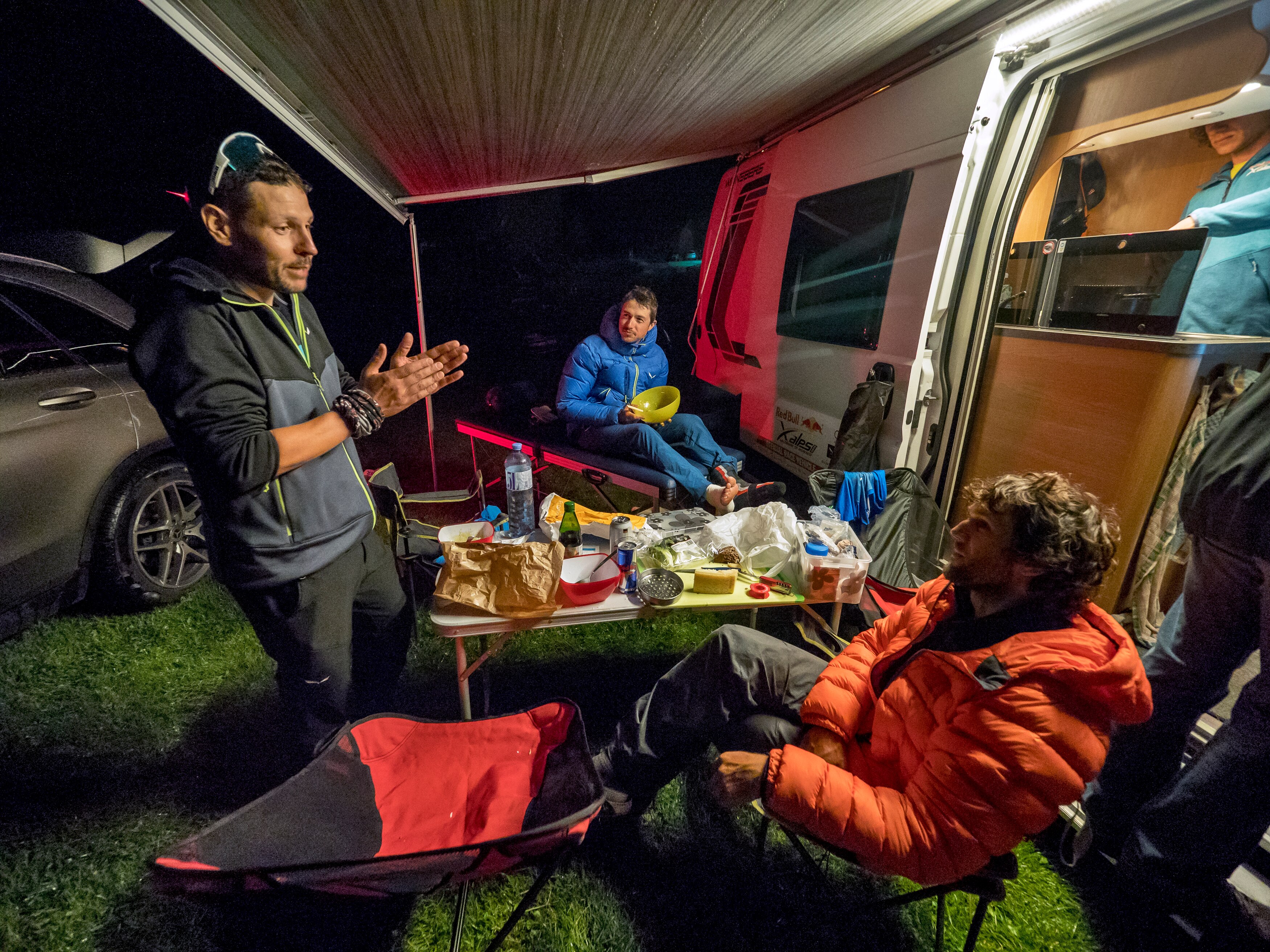 Alex Cook, a sports dietician and athletics coach, explains why an athlete might be attracted by going Keto: "We've got enough fat in our body to fuel us for something like 30,000 kilometers, so we can keep going forever on our fat, but you're never going to perform at your best," she says.
It all depends on your heart rate. "The higher heart rate, the more reliant you are on carbohydrate for energy. Your body favors carbohydrate because it's the easiest fuel to transfer to energy, compared to fat and protein. But a lot of people will think with these longer events, if they're working at a lower heart rate, therefore to get their body used to using fat for energy is going to do them well in the long run."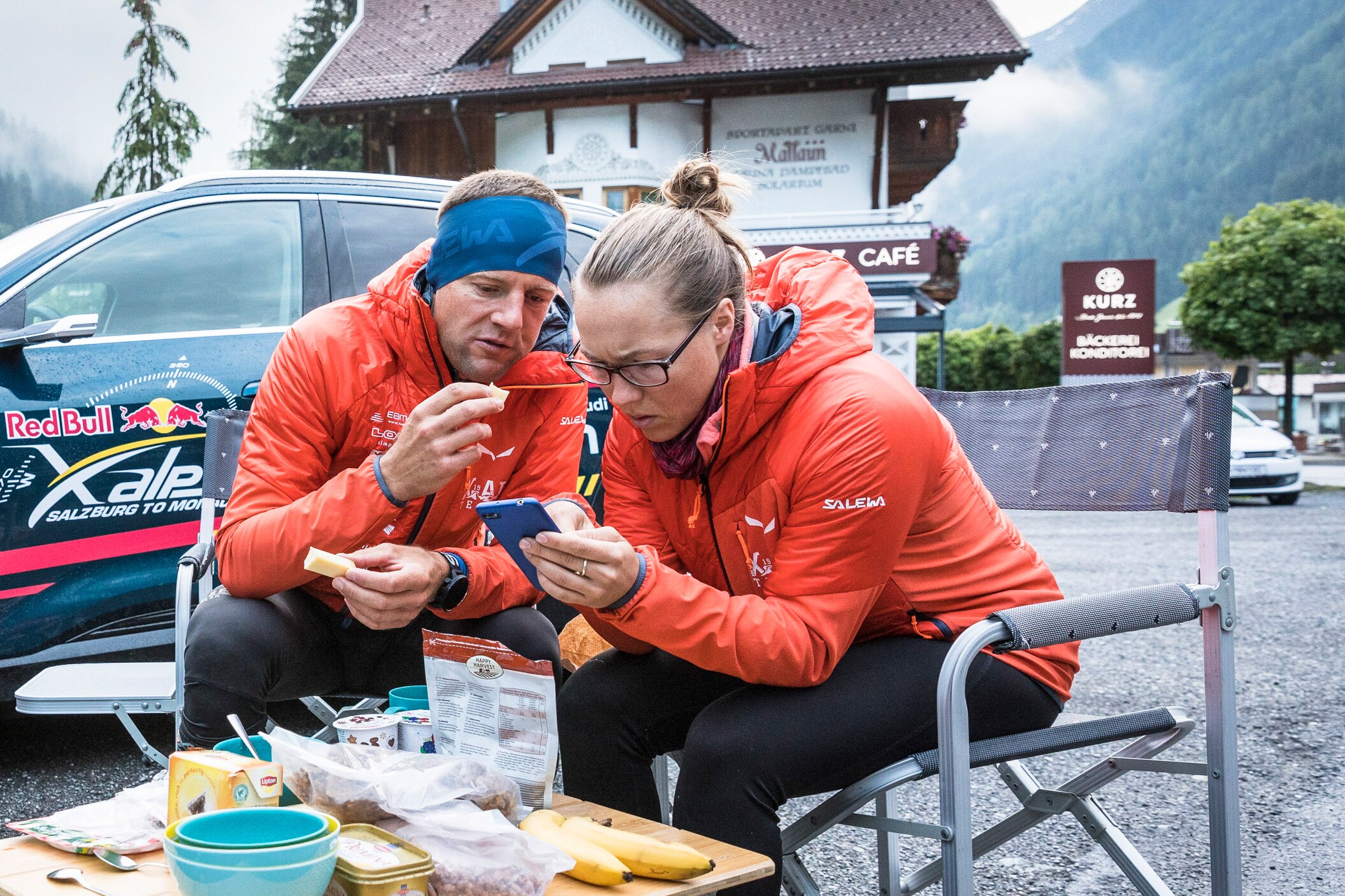 One athlete taking that approach is Gavin McClurg, who's going Keto. He says he'll start the day with a 'bulletproof coffee' – that's coffee with a ton of butter in it. "It's delicious," he says. "I discovered in the 2015 race that [even good] carbs taken over a long period of time lead to massive inflammation and a lot of pain. After the race I did a bunch of tests and moved to an 'Optimized Fat Adaptive' diet. The result? Zero gut problems or inflammation problems and more importantly ZERO energy problems in the 2017 and 2019 races."
His ideal diet is hunter's fare, fish, steaks, offal, blood sausage – and yes, fois gras. Kinga Masztalerz is also keen on steak: "Sorry cows! But without enough red meat I get anaemia."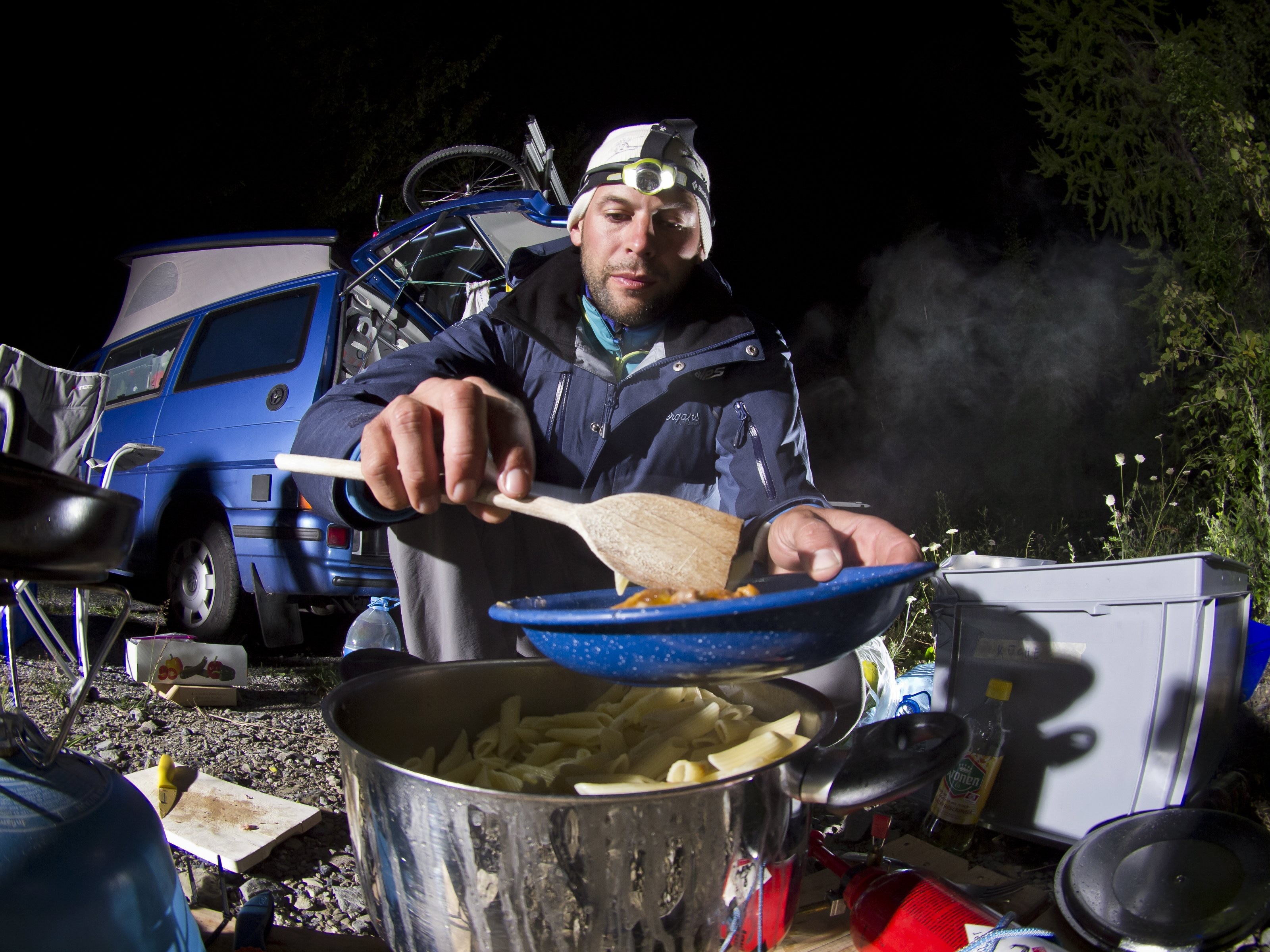 The majority of athletes are not following a strict diet. Two thirds of those surveyed say they will eat anything, 14% say they're mostly vegetarian. Those going veggie include Eduardo Garza and Steve Bramfitt. The British athlete says he was following a Keto diet for a while but is back to a 90/10 plant-based diet and plans to make his own energy balls with almonds, hazelnuts, macadamias, sunflower oil and coffee. (The 10% non-plant part is reserved for slip-ups like the occasional ham sandwich.)
Although he's not following Keto principles, Garza says he scaled back on the carbs during training to get his body used to burning fats but then during the race, the goal is to eat 'good quality carbs so that I am always fuelled adequately'.
When it comes to breakfast, porridge seems to be the ideal breakfast of choice with 42% saying they like to start the day with oatmeal – mixed with fruits, nuts and chocolate. "I can't live without it," says Michal Gierlach.
One thing all athletes agree on is the importance of nutrition. Everyone surveyed gave it a score of 7 out of 10 or higher. All, interestingly, except one man – the athlete who has won the last six editions.
Maurer says he gives five out of ten to the importance of what food he eats, but a maximum ten out of ten to the quantity of his food. For him, it's all about getting the calories in. "I try to eat all the time," he says. "But I'm lucky, I have no problems."
"He's got a very good point," adds Cook. "The priority has to be calories in versus calories out. It's like the Tour de France, where they expend ridiculous amounts of calories every day. So the priority has to be getting these calories in, making sure they're getting the carbs in and obviously protein so that they're getting that recovery as well. But the problem with these long events, is that a lot of people might suffer from a lower appetite because the stress levels are quite high. Sometimes it can be quite difficult to actually get enough food in, so it's ok not being too strict. It's fine to have that chocolate bar or jelly babies just to get the energy in where you can."
In his first Red Bull X-Alps Dutch athlete Ferdy van Schelven lost 11kg. "That wasn't good," he recalls. Like Maurer, he has a simple food philosophy: "Eat as much as I can," he says.
Cook also cautions against being too fixated by the science. "We have all this science but actually it's also about realizing that nutrition is so individual and personal – it's about looking at the science and tweaking it around the individual to see actually what works for them."
So whether it's butter in their coffee, steak or a bowl of pasta, it doesn't really matter where the calories come from – only that athletes have enough energy to keep going, day after punishing day.