What do Red Bull X-Alps pilots take with them? All of this!
See the gear that pilots bring along for the epic journey across the Alps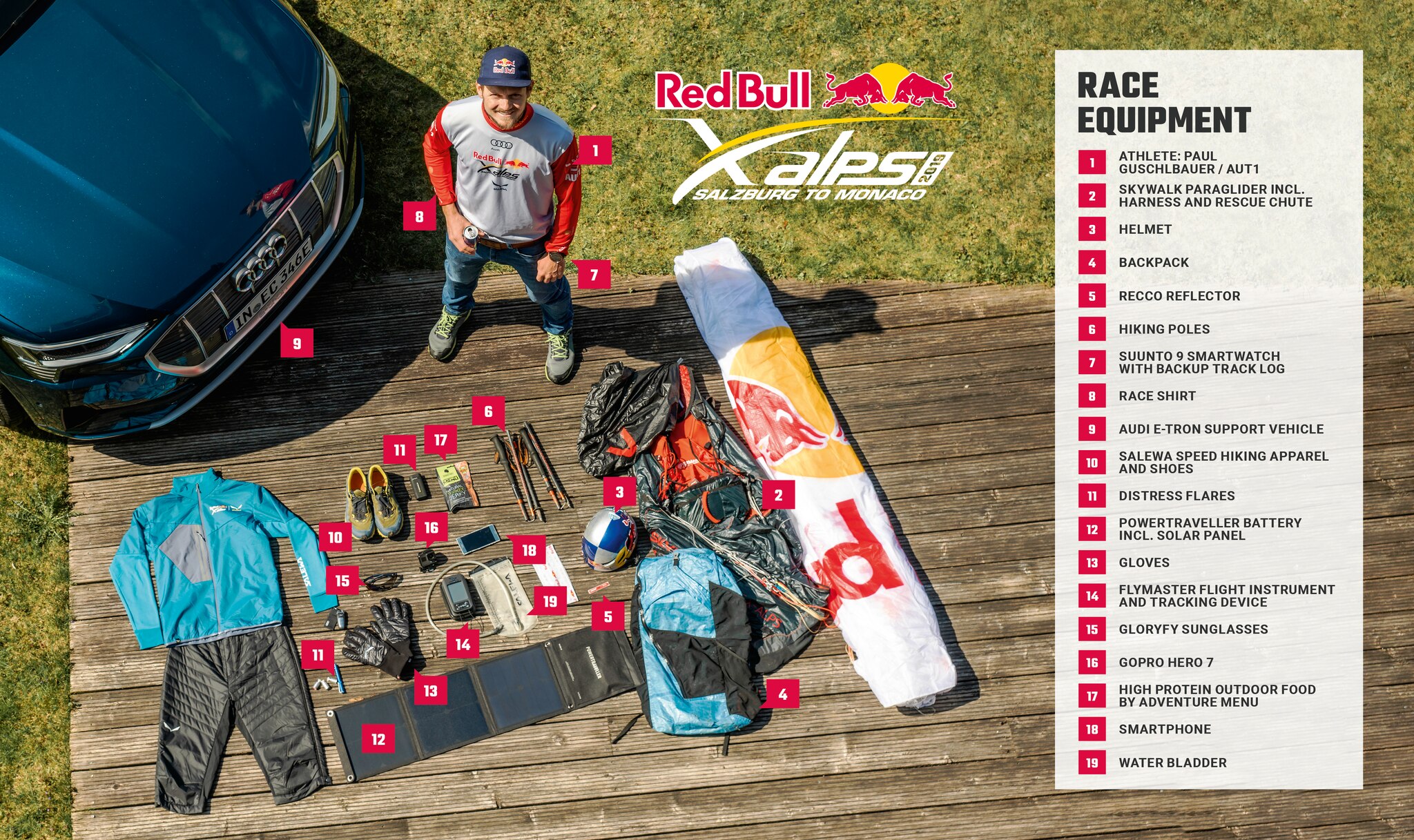 Any adventurer knows that when you're far out in the field, you've got to be able to rely on your equipment. It's even more crucial when you're in a race of these stakes – the wrong choice or fixing a piece of broken gear could leave you at the back or worse, in serious trouble.
What do the athletes carry on their back? We asked Paul Guschlbauer to show off his stuff – some of which are unique Red Bull X-Alps items available in our Gearstore!
Starting in his 5th race: Paul Guschlbauer(1)
Skywalk Paraglider, Harness and Reserve (2)
It's what lets you fly – pretty crucial for this race. Paul's (and every other pilot) uses a special lightweight paraglider – but for safety it's competition certified, no prototypes or custom-built stuff allowed.
Helmet (3)
Mandatory and to be carried by the athlete during the race. More details in the official rules.
Backpack (4)
Paul's Salewa backpack is lightweight – and he hacks off extra bits of webbing to save a few ounces.
Recco Reflectors (5)
That tiny red tab? It could save your life – this no-battery-required Recco Reflector can be used by rescue teams to pinpoint your location. Crucial in case of an emergency.
Hiking Poles (6)
Not every athlete brings them. But if they do, guess what? Lightweight.
Suunto 9 Red Bull X-Alps limited edition Smartwatch (7)
This smart watch that tells you how fast you're moving, how far you've gone, and what altitude you're at, also has a backup track log – good to know where you've been, even when other systems fail.
Race Shirt (8)
See an athlete flying above your hometown? Watch out for his sleeves! Their colour will tell you who it might be: Red is for veterans, blue is for rookies and yellow, well ... is for five-time winners.
Audi e-tron Support Vehicle (9)
Don't worry, Paul won't be driving. His supporters are going to need some engine power to keep up – but they won't be using gas. They'll be behind the wheel of this Audi e-tron electric vehicle.
Salewa Speed Hiking apparel and shoes (10)
You want to move fast and stay comfortable, you need the right clothes. Salewa's speed hiking gear lets Paul move quickly without overheating – or catching a chill. Find your size in the Gear store!
Powertraveller Battery and Solar Panel (12)
An indispensable tool for anyone on the road – charge up whenever and wherever you want – laptops, tablets, or flight instruments. Pick one up for the adventurer who needs to stay connected – if it's not on Insta, it didn't happen!
Flymaster Flight Instruments (14)
If you're going to gain some altitude, you're going to need tools like these for safe flight!
Gloryfy unbreakable sunglasses (15)
Sometimes, adventure hurts – and sometimes it breaks stuff. But not these sunglasses – unbreakable ones from Austrian manufacturer Gloryfy. It's your job not to lose them. And if you do, you know where to find them.
GoPro Hero7 (16)
GoPro's latest camera offers the most incredible in-camera stabilization in an action-sport camera. Perfect for those bumpy rides high above the Alps!
Adventure Menu Outdoor food (17)
Re-charging yourself is just as important as re-charging the phone battery. These high-protein meal kits do the job when you're on the move.
Of course, there's a few other things in the bag – but what's most important? A good plan, good training and a will to win. Check out our recent ROOKIE REVIEW and see you at the start line!
To not miss any updates on the athletes preparations or the race itsself, follow us on our Social Channels: Facebook, Instagram, Twitter, YouTube
Photo © zooom