The essential items each athlete has to carry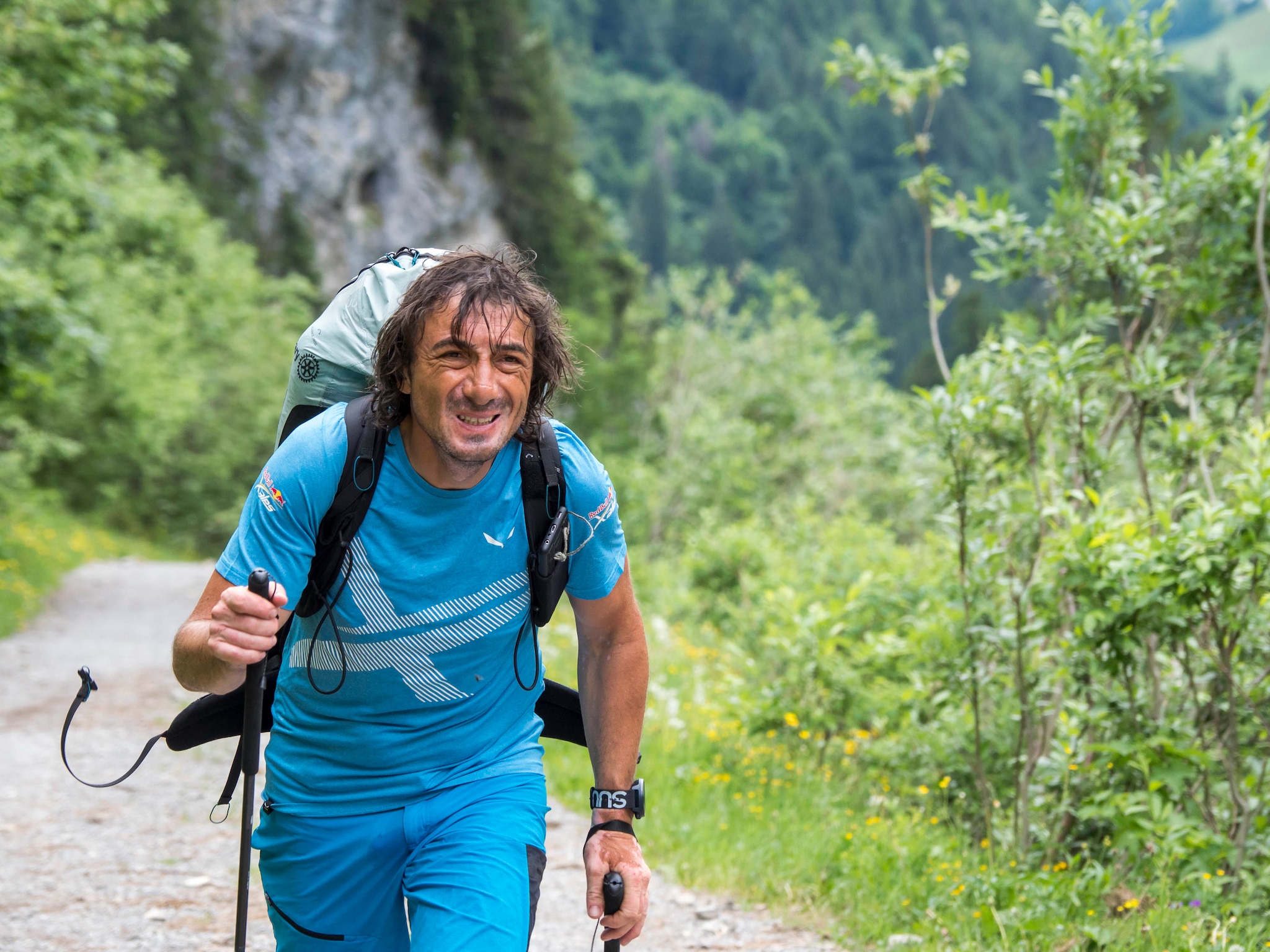 While athletes will be trying to keep the weight of their packs to a minimum, there are certain items every athlete has to carry with them, and it all adds up to weight on the back for hiking. Here's a look at what they will be carrying:
Paraglider
In order to be competitive, an athlete needs a high-performance glider that is as light as possible. Paraglider manufacturers now design paragliders especially for the Red Bull X-Alps. Skywalk's paraglider is called the X-Alps4. It is made from a fabric Porcher Sport developed especially for the red Bull X-Alps, which weighs just 27g per square metre. In the Small size, the paraglider weighs 3.7kg.
Harness
Race harnesses have a lightweight 'pod' or 'cocoon' that the pilot puts their legs in, which aids aerodynamics and also keeps the pilot's legs warm, so they don't need to carry warm trousers for flying iat high altitudes. The harness adds around 1.7kg to the weight of the pack.
Reserve
Every pilot must carry a reserve parachute. If something goes wrong with the main paraglider that is unrecoverable, it is their second chance. A lightweight reserve parachute weighs around 1kg.
Helmet
Athletes must use a helmet that is certified for air sports, which adds another 400g to their bag. Protection of your most vital asset – your brain – is a no-brainer.
Technology
Pilots are carrying a lot of technology, and it represents a significant amount of weight. Each athlete needs:
- A flight instrument to navigate by and to tell them if they are in rising or sinking air.
- A satellite tracking device that does not rely on phone networks, for their own safety so that they can be located if necessary in case of no phone signal.
- They are each supplied with the primary tracking device, which sends their position back to the race scoring and Live Tracking system.
- A telephone. Communication is essential, but a smartphone is so much more than that. Each athlete has a Xiaomi smartphone that they can use for communication, navigation and more. Chrigel Maurer did a Facebook Live mid-magic move using his on 27th June.
- Wearable tech. Each athlete also has a multi-purpose Suunto watch. It adds little to the weight hey are carrying, but is invaluable as a back-up tracking device (its track log can be used if something goes wrong with the main tracker. It also has navigation capabilities, an altimeter and a heart-rate monitor.
- GoPro and multiple Sandisk cards to store all the data generated. Moments such as Simon Oberrauner's Zell am See arrival are thus recorded for ever for everyone's enjoyment!
All of this adds up to around 750g.
Spare clothes
Whatever is not worn for hiking but is needed for flying. Salewa's technical clothing is light, but does add some grams, and good gloves are essential. While it is good to go lightweight, it is important to stay warm. Let's call it 500g, but it is very variable.
Water
If the athlete is close to their supporter that can get away with carrying less water, but for a long hike away from the valleys, such as athletes who were crossing Col de la Seigne were doing, they would need to carry at least two litres, probably more. Dehydration is not funny. Two litres = 2kg.
Food
Again, it will depend on the day. If the supporter is nearby and the athlete is hiking in the valley and can regularly meet them, a couple of energy bars will be enough. For long flights or days out in the mountains, they will need to carry several bars, if not a full-blown picnic! Pilots can eat in flight too, and need to in order to keep their energy levels up to concentrate. Five x 50g energy bars = 250g.
Miscellaneous
Athletes also have to carry a distress flare, and their ID, maybe a bank card, for which they have each been provided with a super-light I-Clip wallet (just 22g!).
The rucksack
The rucksack itself is very important. It needs to be large enough to carry all of the above, supportive and comfortable to hike a long way with, and light, That's quite a tall order, but the latest rucksacks really do fulfil all of these things. Weight around 700g.
All in, that's a backpack weighing 11kg. Without food and water it's 8.75kg. Compare that to the first edition of the Red Bull X-Alps in 2003 when there was not really any specialist lightweight paragliding equipment, and athletes were likely carrying more like 15kg, or more in huge packs. That's great progress in terms of equipment weight, and all that technology means communication and navigation are also that much easier.
And there's still 16 athletes out there - mostly grounded - carrying all that stuff around, trying to give their best. Show them some support on our Social Channels (FB, IG, YT, TW) and most importantly on Live Tracking!