This is what a paraglider pilot packs for adventure
The checked baggage allowance when flying is pretty minimal at the best of times. But if you're the aircraft, only the barest essentials can go...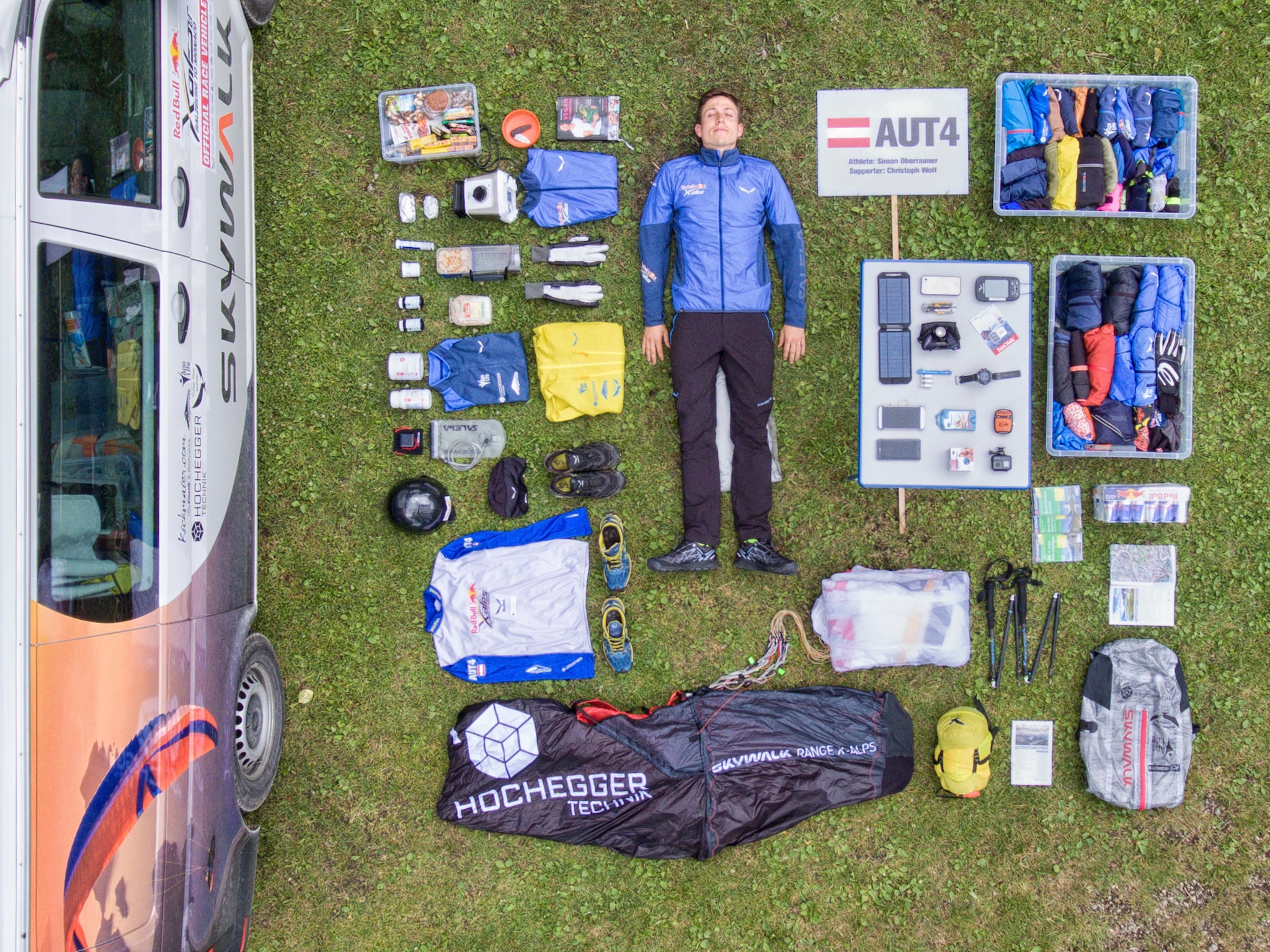 For the 31 athletes from around the world who hiked and flew from Salzburg to Monaco, there was only so much they could take. The athletes had to carry everything on their back, so they didn't want to be weighed down with unnecessary equipment.
When you're hiking up to 3,000 vertical meters a day, that adds up to a lot of suffering for the legs. We asked Austrian athlete Simon Oberrauner what he brought along during his first-ever Red Bull X-Alps.
1. Pilot's seat:
What is it: Skywalk harness. It straps the pilot in. Very important.

Simon says: "It has awesome aerodynamics and is very comfortable."

We say: Recline like you're in business class.
2. The Running Man
What is it? Multi Track shoes from Salewa. They're designed for both running and hiking.

Simon says: "I broke my ankle in September so I wear mine with special innersoles."

We say: Athletes can hike up to 100km a day in the race. Choosing the right shoe is very important.
3. The Power of the Sun
What is it: Portable and solar power unit from Powertraveller

Simon says: "It's good for emergencies. I won't take in the air but it's useful for my supporters when they need to charge their phones."

We say: Essential kit to keep the power flowing
4. My supporter
Who is it: Christoph Wolf

Simon says: "I have great supporters. They will guide me so that I can find my flow."

We say: The Red Bull X-Alps really is a team event. Every athlete has one official supporter but normally another helper to assist with looking after them and providing strategic advice.
6: Leatherman
What is it: The go-to tool for every serious adventurer

Simon says: For the supporters it's perfect to carry if there's anything we need to trim or fix. I also carry a home-made knife I made with a blacksmith.
7: Watch out
What is it: Casio PRO TREK Smart

Simon says: "It's cool for navigation. I can see the same track that I have on my phone."

We say: There are 17 and a half hours of racing every day. Keeping track of them is not always easy after a few days of sleep deprivation.
8. First aid
What is it: Dermaplast kit for everyday injuries

Simon says: "Hopefully I won't need it."

We say: Us too, but that could be wishful thinking. By the time athletes reach Monaco, they're bodies are normally pretty trashed.
So what do you carry on your adventure? Show us on <link http: www.instagram.com redbullxalps _blank>Instagram by using #redbullxalpsCarryOn
Photo by © zooom / Harald Tauderer