Explorer, vol-biv adventurer, champion paraglider pilot and pioneering climber: This is the competition you face if you enter the Red Bull X-Alps!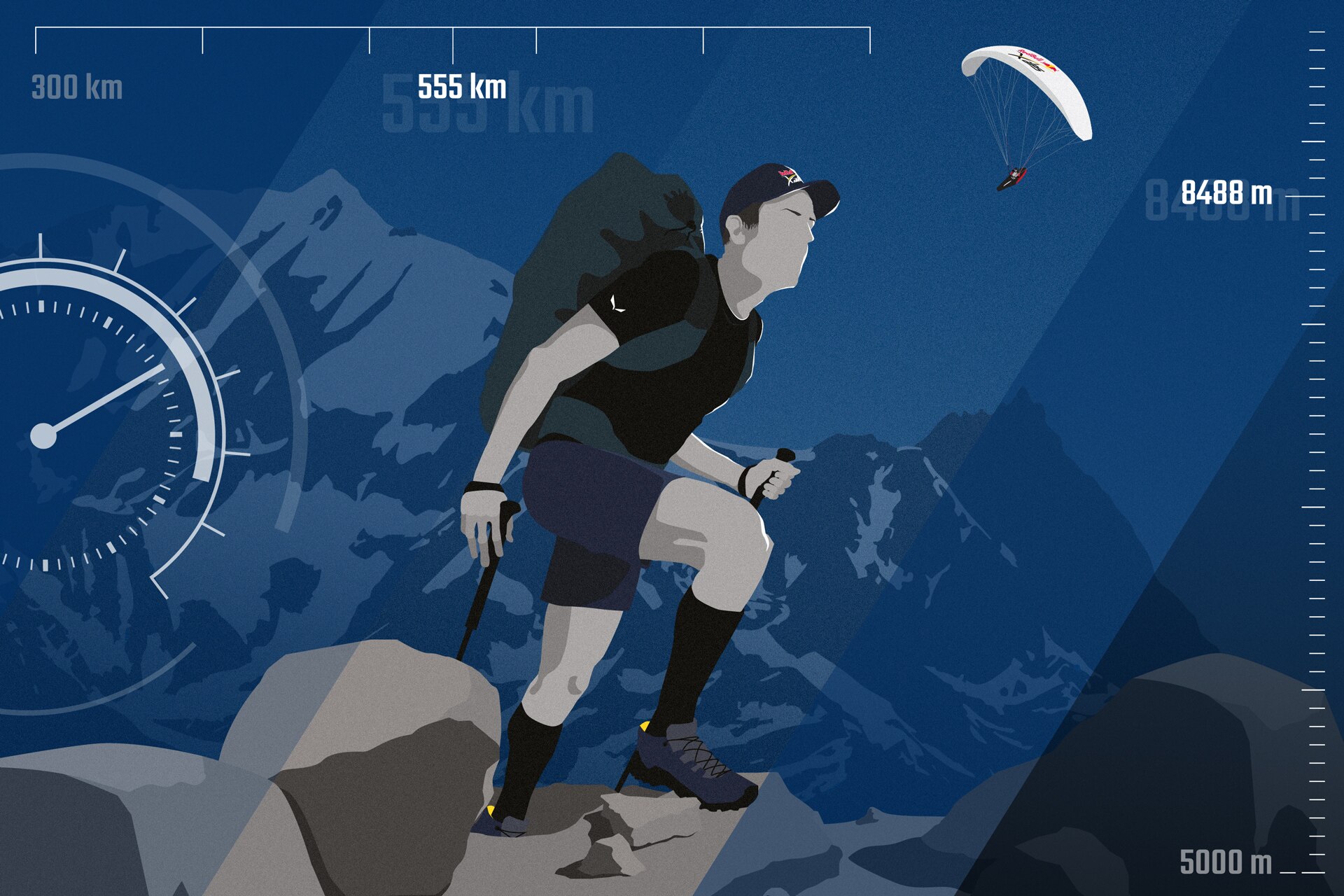 They've broken records, sailed the world and explored mountains under a wing. What kind of experience does an athlete need before they take on the world's toughest adventure race? Well, we dived into the application records to find out – and here is a snapshot of some of the incredible feats and flying achievements on the forms. What can we say of the average athlete? This…

THEY'VE CLIMBED MT EVEREST
The 2017 athlete David Liano had climbed Everest six times before he entered the Red Bull X-Alps. A few years earlier the race featured Babu Sunawar, who in 2011, launched a paraglider from the summit. 2013 French athlete Clement Latour also made an attempt to fly from the peak. However, success on Everest does not mean success in the race.

THEY'VE SOLOED EL CAP AND MADE FIRST ASCENTS
In 2017 the Red Bull X-Alps featured award-winning alpinist Dave Turner, who'd soloed El Cap three times before entering. 2019 athlete Juraj Koren is also a keen alpinist, currently on a project to climb and fly seven virgin summits on seven continents. Athletes have also climbed the North Faces of the Matterhorn, the Droites and Ortler; they've rock climbed the east face of the Watzmann and summited Mt Blanc (which a certain French athlete top-landed in flip flops in 2019). They've climbed Muztagh Ata 7,546m, Peak Lenin, 7,134m, Alpamayo (5,947m) and Elbrus (5,642m).

THEY'VE BROKEN ALTITUDE AND DISTANCE RECORDS
In 2016 French athlete Antoine Girard pulled off an astonishing flight over Broad Peak in the Himalayas, smashing the paragliding altitude record after reaching a height of 8,157m. Meanwhile other athletes have set distance records in New Zealand, Australia, Japan, and the US.

THEY'RE GOOD AT KEEPING THEIR HEAD
In 2014, acro legend and two time athlete Pal Takats earned himself a unique Guinness Record for infinity tumbling – with a tandem! He made 140 consecutive revolutions carrying a passenger, Squash Falconer.

AND THEY'VE ALSO BROKEN RECORDS ON THE GROUND…
Pascal Purin, Rodolphe Akl and Tobias Grossrubatscher have all claimed hike and fly records, climbing 9,400 to 12,000 vertical meters on foot in a single push.

THEY CAN FLY FOR 500km
Swiss athlete Patrick von Känel is one of only a handful of pilots around the world to have flown more than 500km in a single flight. Last year in Brazil he bettered his own record – flying 555km.

AND THEY CAN RUN FAST
Benoit Outters was a champion ultra runner before he did his first Red Bull X-Alps. Seb Huber ran a half marathon in 1:12, while there are many others who've completed famous races like the UTMB, Diagonale des foux, and the Patrouille des Glaciers ski race across the Alps.

THEY'VE DONE SOME EPIC HIKE N FLY CROSSINGS
From traversing the New Zealand Alps (Tom de Dorlodot, Ferdy van Schelven, Antoine Girard, Kinga Masztalerz) to Peru's Cordillera Blanca (Nick Neynens) to the 1,625km length of Korea's Baekdu Daegan mountains (Chikyong Ha) – athletes have made some epic journeys with a paraglider. Then there's been Che Golus's vol biv of Western Australia, Krischa Berlinga's 2,000km crossing of the Pamir mountains in central Asia. And no list is complete without Gavin McClurg's epic west-to-east traverse of Alaska in 2017 with Dave Turner. These are athletes who go big!

THEY'VE CROSSED CONTINENTS AND SAILED OCEANS
Paul Guschlbauer is an all-round adventure pilot. When he's not under an aerofoil wing he's to be found under a fixed wing of his 1956 Piper Super Cub. In 2018 he flew from the northern tip of Alaska to the southern tip of Argentina, across thirteen countries. Gavin McClurg is a former sailboat captain who spent ten years sailing the globe before he took to paragliding while Tom de Dorlodot is another skipper who has been exploring unknown places to fly in his boat. Just recently he sailed single-handed across the Atlantic.

OH, AND THEY'RE PRETTY GOOD PILOTS TOO
Over the years, the race has seen numerous national champions, such as Manu Nübel (DE), Simon Oberrauner (AUT) Evan Colás (ESP), Erik Rehnfeldt (SWE), Pawel Faron (POL), Stanislav Mayer (CZE), among others. Meanwhile there are three current athletes who are all Paragliding World Cup champions, Aaron Durogati (2012, 2016) Maxime Pinot (2014) and Chrigel Maurer (2005, 2006, 2007).

Explorer, vol-biv adventurer, champion paraglider pilot and pioneering climber: this is the competition you face if you enter the Red Bull X-Alps. If you think you have what it takes, head over here.