The leaders make Turnpoint 5
Big mountain flying as athletes fly past Germany's biggest mountain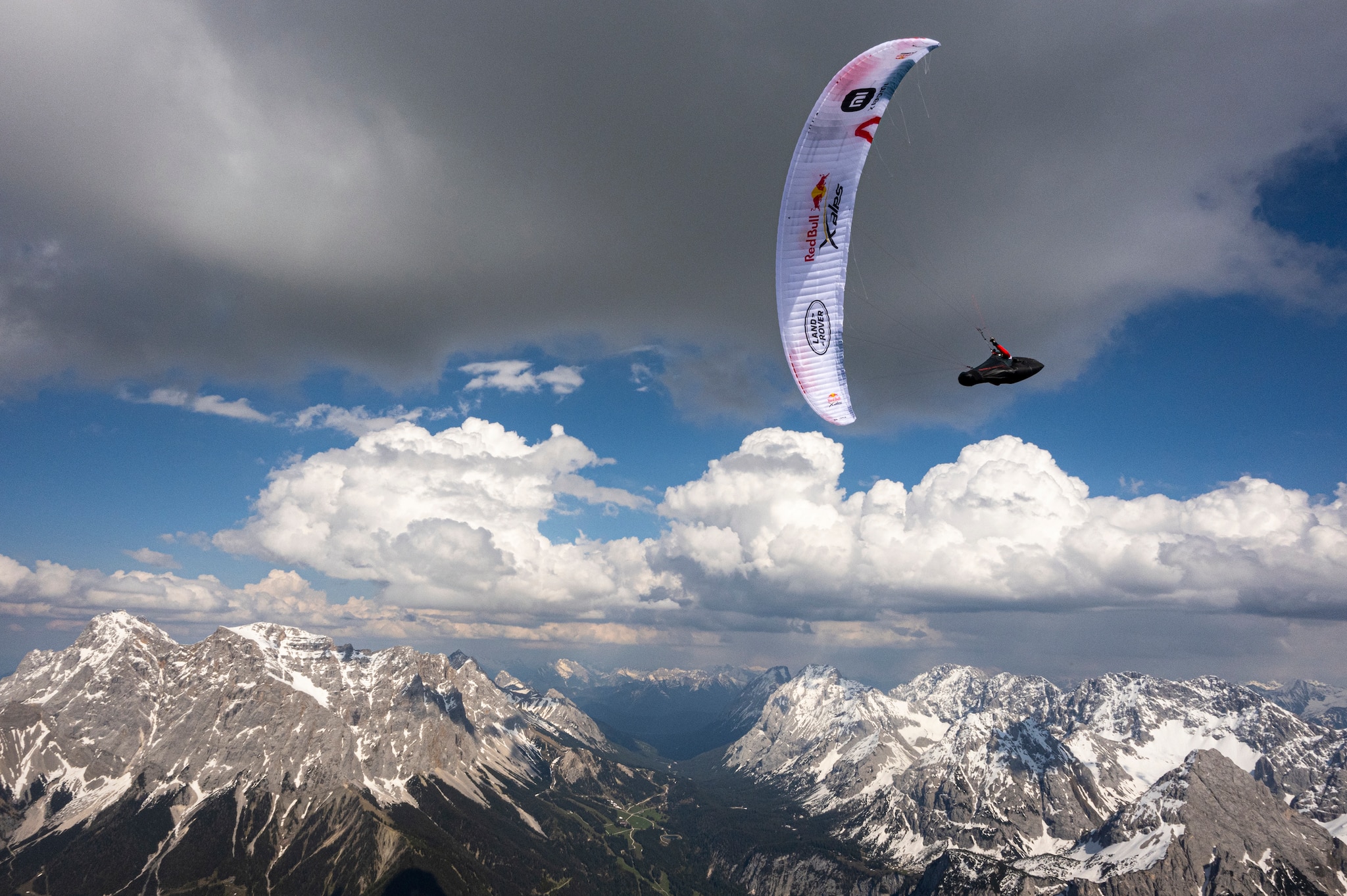 At 2pm the three lead athletes had all passed Turnpoint 5 Lermoos-Tiroler Zugspitz Arena.
Chrigel Maurer (SU1) arrived first, flying around Germany's highest mountain in strong wind conditions. On the ground he was welcomed by spectators, fans and media who were excited to see him arrive.
He, however, was keeping his cool, as was his official race supporter Thomas Theurillat. Despite Maurer's 20km-lead narrowing over the morning Theurillat set a note of calm.
"It is great to be here and it is an honour to have all the spectators here. The weather forecast is better for the main valley, so we will hike up 1000m and get out of the valley-wind system. It's Tuesday, so it's easy-easy, we have a long way to go."
But he added: "Every hour we are on the ground we lose 30km."
And every minute on the ground allows the chasing athletes to catch up. Just minutes later Patrick von Känel (SUI2) arrived and signed in. He was followed by Benoit Outters (FRA4) in third. Outters had to make running repairs to his glider this morning after snagging it on launch. "It works," he said with a shrug.
Maurer and von Känel are now in a hiking race up 1000m to the next launch place. However, strong wind and an approaching weather front might see them grounded later today. Storms are forecast and no one can fly in those.
Behind the leaders many other stories are playing out. The top 10 athletes are all capable of taking the lead, given the right conditions and a speck of luck.
Italians Durogati (ITA1) and Grossrubatscher (ITA2)spent much of the day flying together, at times wingtip-to-wingtip.
Old friends Ferdinand van Schelven (NED) and Tom de Dorlodot (BEL) were almost side by side too, hiking along in positions 12 and 13. Close behind de Dorlodot Laurie Genovese (FRA4), one of only two women in the race, was in 14th position.
And North Americans Cody Mittanck (USA2) and Eduardo Garza (MEX) were also running the same race – in 19th and 20th position and just 1km apart.
Right at the back, Gavin McClurg (USA1) was having what you might call a bad day having launched, landed, and launched again. Like many, he found early flying conditions very difficult.
Just before 2pm he reached Turnpoint 3 Kitzbühel Hahnenkamm. There he literally hugged the sign-in board, a big grin on his face. Nothing was going to plan, it said, but he wasn't going to let that stand in the way of having a great day at the Red Bull X-Alps.
Don't miss a minute, follow all the athletes on Live Tracking!