The day of the changing weather
It looked like a 100km day, but athletes were seen hiking and running a lot more than they may have expected.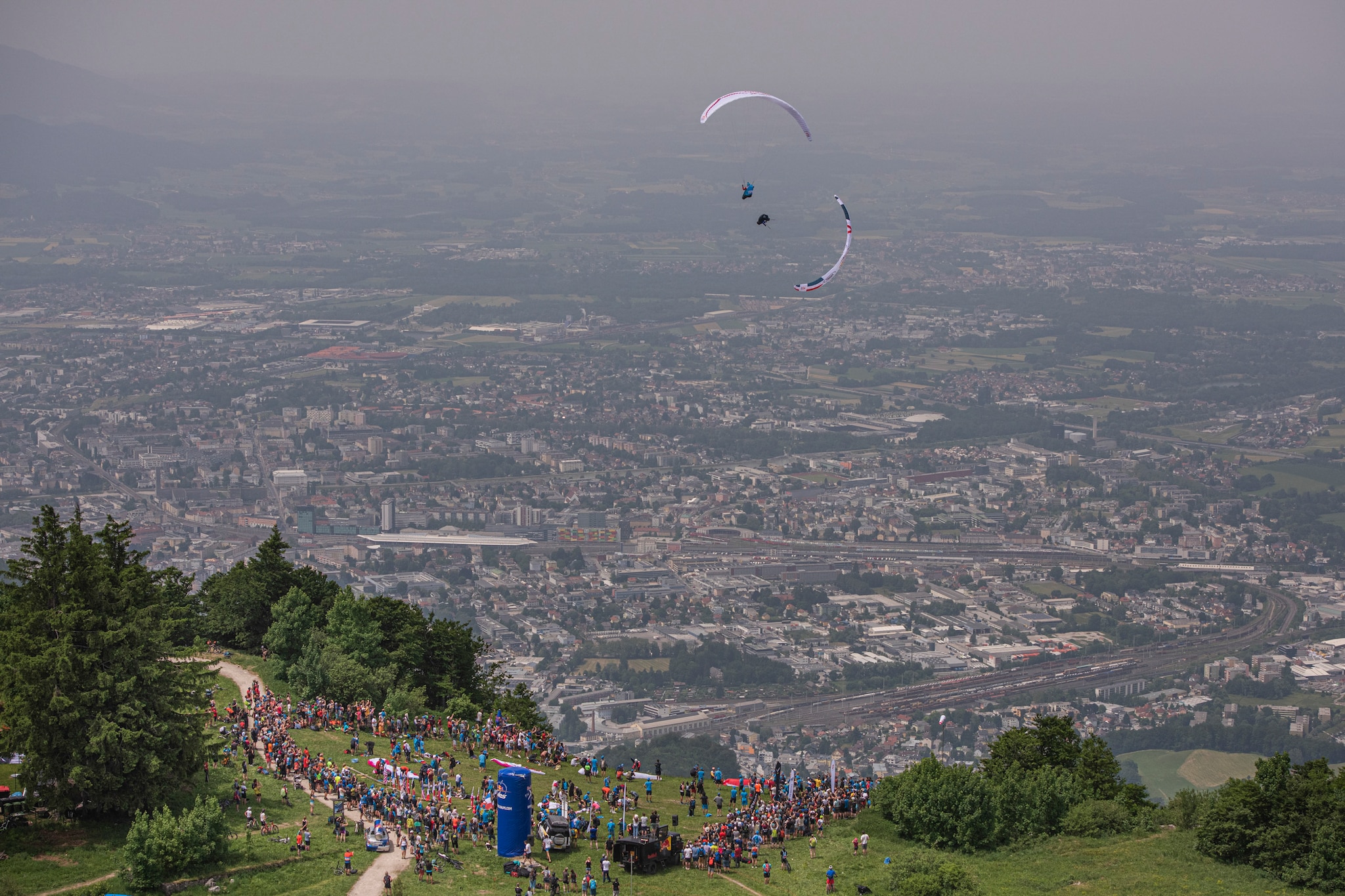 Early this morning things were looking great for the 29 athletes of the tenth Red Bull X-Alps. They arrived early at the Mozartplatz in Salzburg and gathered in the hot sun baking the city, concentrating on their upcoming feat. In a great atmosphere created by cheering supporters, they set off to run op to their first Turnpoint Gaisberg.
Perhaps not surprisingly, but still a strong display of strength, Tommy Friedrich (AUT3) reached the turnpoint first, followed by Michal Gierlach (POL) and Maxime Pinot (FRA1).
The weather was forecast to be favorable, if sweltering hot. The latter came true, but for flying, conditions did prove to be very difficult today. Very early in the day, the wind was blowing uncommonly strong on top of the Gaisberg.
It was a close call, but the strong winds decreased just enough for the athletes to be able to take off and fly. Tommy was among the first ones, but the rest soon followed.
The scene was fascinating to watch from the ground. The athletes flew as if they were a huge team, moving from one side of the mountain collectively to another, just to find the best bits of rising air. As if on cue, they would all turn at the same time and fly as a flock of birds the other way.
Finally conditions improved and a large group of athletes got away and flew towards Wagrain-Kleinarl. But even though most expected to easily reach Turnpoint 2 in two hours, the first athlete, Maxime Pinot (FRA1) only signed the board after 4:30pm.
At the end of the afternoon, the weather gods were kind to the athletes. The forecast strong winds had not arrived yet. A large group climbed the west face of the hills behind Kleinarl, still led by Maxime who managed a short but important glide to the other side.
This brings him within walking distance to the impressive mountain range of Hochkönig where he will be well positioned for a good flight tomorrow. But at least ten others are on his heels. Some may also manage a quick flight before they have to stop for the night. Can Maxime increase his lead?
It shows again that the weather is the main factor in the race.

Follow the athletes for their last meters on day 1 of the Red Bull X-Alps 2021 on Live Tracking!