The route of the Red Bull X-Alps passes through the alpine countries, each with their own challenges, opportunities – and cheese. Here's the lowdown on what athletes can expect in each one.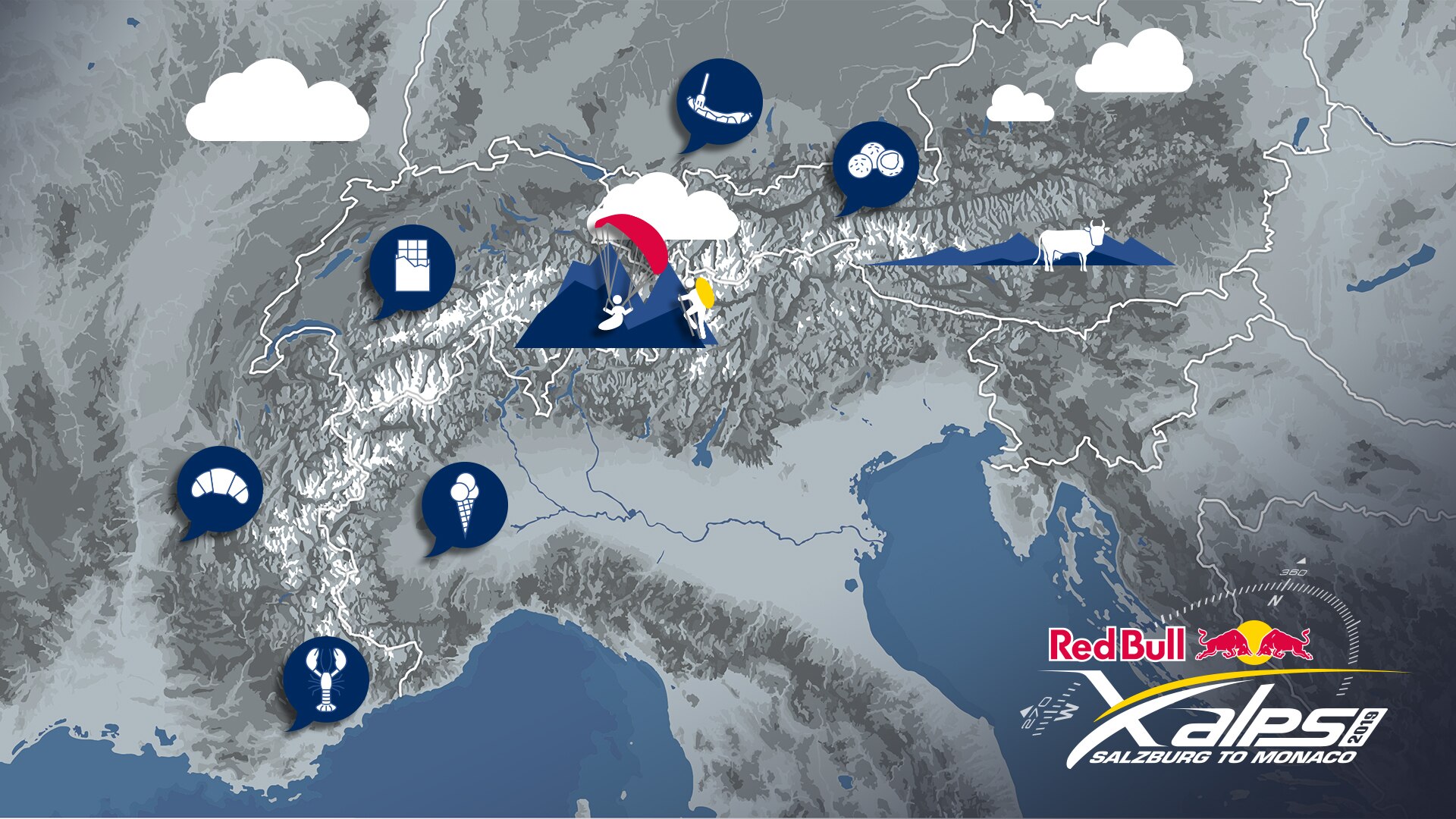 AUSTRIA
The only country to offer crowded city streets to mountain peaks in a day, Austria was also the only place where athletes flew east for a portion of the race. For fans, this leg is always one of the most exciting to follow.
Hosted Turnpoints: Every edition 2003-2017
Flying Characteristics: Austria has some of the most favourable flying sites in the Alps.
Hiking characteristics: Athletes can expect to cover some big distances in Austria. It's the start, their legs are fresh but going too hard too soon can cause problems later on.
Key landmarks: Salzburg's Mozartplatz, the Dachstein (the race used to start here), the Hohe Tauern mountains.
Famous moments: A snowstorm on the Dachstein in 2011, record hot weather in 2013 that allowed athletes to cover 100s of kilometers in a single push along the Pinzgau valley.
Famous athletes: Raise your hands for Paul 'Guschl-Power' competing for the 5th time!
Local fuel score: 7 – A portion of sweet Kaiserschmarrn can revive even the most severe energy crashes.
SLOVENIA
The surprise announcement in 2017, Slovenia has only hosted one Turnpoint in the Red Bull X-Alps history. Will it return again in 2019?
Hosted Turnpoints: 2017
Flying Characteristics: Slovenia has some amazing flying around the Julian Alps but this is a remote region and it can be a struggle for teams to connect with their athletes.
Hiking characteristics: In the mountains, it's steep and arduous but athletes can expect some long hikes on the flat if they fail to make it across to the next mountain chain.
Key landmarks: Mt. Mangart
Famous moments: Gaspard Petiot (FRA2) and Toma Coconea (ROU) arriving at the Turnpoint at the same time on Day Three.
Famous athletes: Slovenia is yet to be represented.
Local fuel score: 8 – Children are told to eat their žganci, a blend of wheat flours, to be big and strong. High in carbs it's just what athletes need.
GERMANY
While it hasn't always hosted a Turnpoint, athletes pass through Germany most years and it's produced some top athletes.
Hosted Turnpoints: 2005, 2009, 2013, 2015, 2017
Flying Characteristics: Situated on the northern Alps, Germany's mountains can be very challenging for cross-country flying – especially in those westerly winds.
Hiking characteristics: One of the few places where hiking can be more effective. Just ask Toma Coconea (ROU) – see below.
Key landmarks: Kampenwand, Chiemsee, Zugspitze.
Famous moments: Maurer coming in to land at Aschau am Chiemsee to a hero's welcome in 2017; Toma Coconea taking a 'direct line' on foot up and over the Zugspitze to Lermoos.
Famous athletes: Michael Gebert – five appearances 2007-2015, Sebastian Huber, 2nd place 2015 and 8th in 2017.
Local fuel score: 7 – Bratwurst and Sauerkraut are probably not what your sports nutritionist would recommend. But the bread will keep you going for days.
ITALY
Athletes love Italy for its warm thermal winds that sweep off the northern plains, the spectacular beauty of the Dolomites. And the pizza.
Hosted Turnpoints: 2007, 2009, 2011, 2013, 2015, 2017
Flying Characteristics: South-facing peaks offer reliable thermals but afternoon winds can be an issue – local knowledge is key.
Hiking characteristics: Spectacularly beautiful region. The lower altitude and lack of glaciers means the hiking is less hazardous than the high Alps.
Key landmarks: The peaks of Marmolada, Drei Zinnen, Ortler and Cima Tosa have all featured in the past.
Famous moments: Athletes flying over Lake Garda in 2017 – they all had to wear life jackets before the crossing.
Famous athletes: Andy Frötscher (6 times) Aaron Durogati (3 times).
Local fuel score: 10 – Pizza & espressos, it's a winning combo.
SWITZERLAND
The country has produced every winner of the Red Bull X-Alps. It also provides some of the most challenging hiking and flying of the whole race.
Hosted Turnpoints: 2003, 2007, 2009, 2011, 2013, 2015, 2017
Flying Characteristics: Wild! Athletes can sometimes reach altitudes of 5,000m crossing cols and ridges of the main chain.
Hiking characteristics: Tough: the mountains are not only higher and steeper but this part of the course can involve glacier crossings too.
Key landmarks: The image of Maurer flying past the Matterhorn has become an iconic symbol of the race.
Famous moments: Simon Oberrauner taking off from the Matterhorn's vertiginous slopes
in 2017.
Famous athletes: There is somebody, what's his name again? Don't forget the champions Kaspar Henny (2003) and Alex Hofer (2005 and 2007).
Local fuel score: 10 – It must be something in the cheese.
FRANCE
France is the home-run of the Red Bull X-Alps but it's also one of the hardest legs, with the highest mountain (Mt. Blanc) and inhospitable Maritime Alps to negotiate. And right at the end, there are the meandering roads near Monaco that are soul-destroying.
Hosted Turnpoints: Every year
Flying Characteristics: Flying across the Maritime Alps to France is exhilarating but also fraught with hazards – a lack of good landing sites is a real issue.
Hiking characteristics: By this stage most athletes are feeling the pain, suffering from blisters and keeping injury at bay. Athletes will do everything to cover distance in the air.
Key landmarks: Mt. Blanc has been a traditional landmark of the race but it's the finish line of Peille that is the most important Turnpoint in the race. This is when the clock officially stops and the race part is over.
Famous moments: Athletes coming into land at St Hilaire in 2013 to be greeted by hundreds of paragliding fans.
Famous athletes: France always produces incredible athletes, Latour, Petiot, Girard, De Freyman and younger stars like Outters. Keep an eye on rookie Pinot in 2019.
Local fuel score: 8 - Gooey fromage on everything – it's just what you need at this stage.
Stay tuned on our Social Channels for further information about the new route: Facebook, Instagram, Twitter.