Red Bull X-Alps 2019 - Day 5 roundup
Crazy take-offs, lost toenails and a threatening cow are just some of the adventures athletes have faced on the fifth day of the Red Bull X-Alps.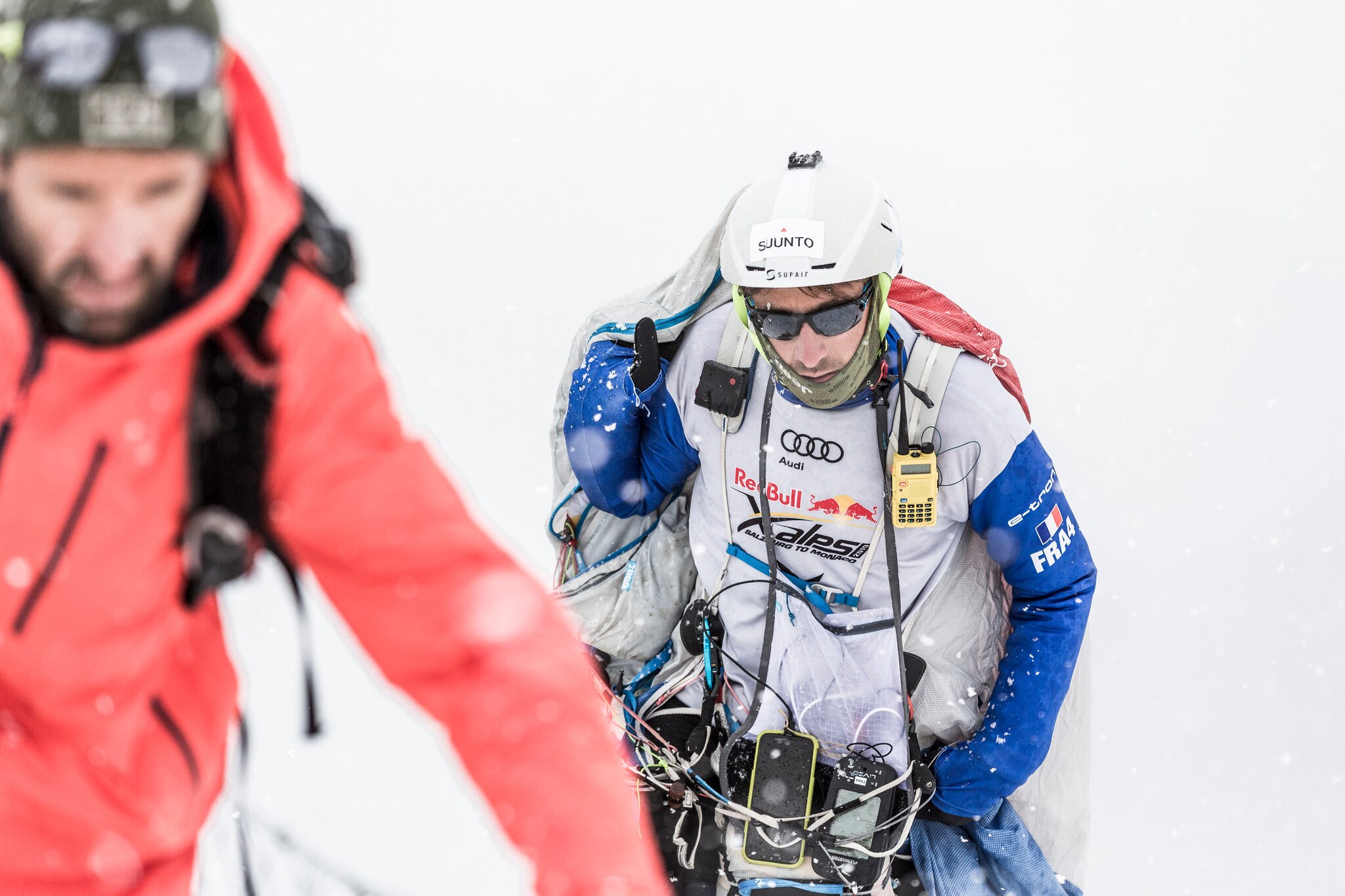 The field of 31 athletes now stretches for over 400km; from the Swiss Alps to the Italian Dolomites, each one battling on through epics, pain and suffering in a bid to make it to Monaco and glory.
At the front Maurer shows no sign of letting the weather slow him down as he puts the Mont Blanc massif in his sights. Less than 50km behind, Maxime Pinot equally shows no sign of letting up in his fight to keep up.
On the summit of Titlis, Turnpoint 7, he took off in a snowstorm. It doesn't get much more epic than that.
Except that it does. Marko Hrgetic (HRV), hiked up to a ridge to launch near Innsbruck – to find the 'slope' was a vertical drop, covered in snow. "It was a very interesting adventure," he said.
Nick Neynens (NZL1) also had an interesting launch. "When I launched this morning, the wind was blowing down the hill so I had to run really fast," he said. "And at the last minute, I saw a cow, lying in a hollow. If it had stood up, I would have joined it."
On a day of crazy experiences, Paul Guschlbauer (AUT1) also had his own adventures to tell. After hiking 1,800m of vertical to launch he prepared for a speedy take off. "It turned more into a free-fall for some meters before I got into the air," he wrote on his social channels. "Also the thermic was not very good today so it was a lot of hike and fly."
He is approaching Titlis with Aaron Durogati (ITA1) not far behind and should make the Turnpoint in the morning and the Eiger in the afternoon. But he will most likely have to hike much of the way.
"I would be very surprised indeed if anyone were able to top-land on top of Titlis tomorrow," race director Christoph Weber told us.
The weather this year is proving extremely challenging for athletes. Claps of thunder and rain showers have pummelled along the route from Lermoos Tiroler Zugspitz Arena all the way to Titlis and beyond.
More bad weather is coming in from the west, so expect athletes to spend more time on foot. And not all of them are enjoying the experience. Korea's Chikyong Ha's feet are in a bad way – both the nails of his little toes have come off and his blisters are looking very nasty. The official race doctor is taking a keen interest.
Tomorrow the axeman cometh for the athlete in last place and without a doubt it will be Polish athlete Dominika Kasieczko who gets the chop. She'd hiked 250km and flown 333km as of last night – an incredible performance.
The weather tomorrow is expected to be variable, and will likely stay that way in Switzerland until Saturday. After that, conditions will improve and many athletes should then be able to approach Monaco at speed – provided they are not there already!
Follow the action on the Live Tracking!