Q&A with Chrigel Maurer and Paul Guschlbauer [English version]
The 2019 route has been announced and these are the first reactions from some of the most highly decorated athletes in Red Bull X-Alps.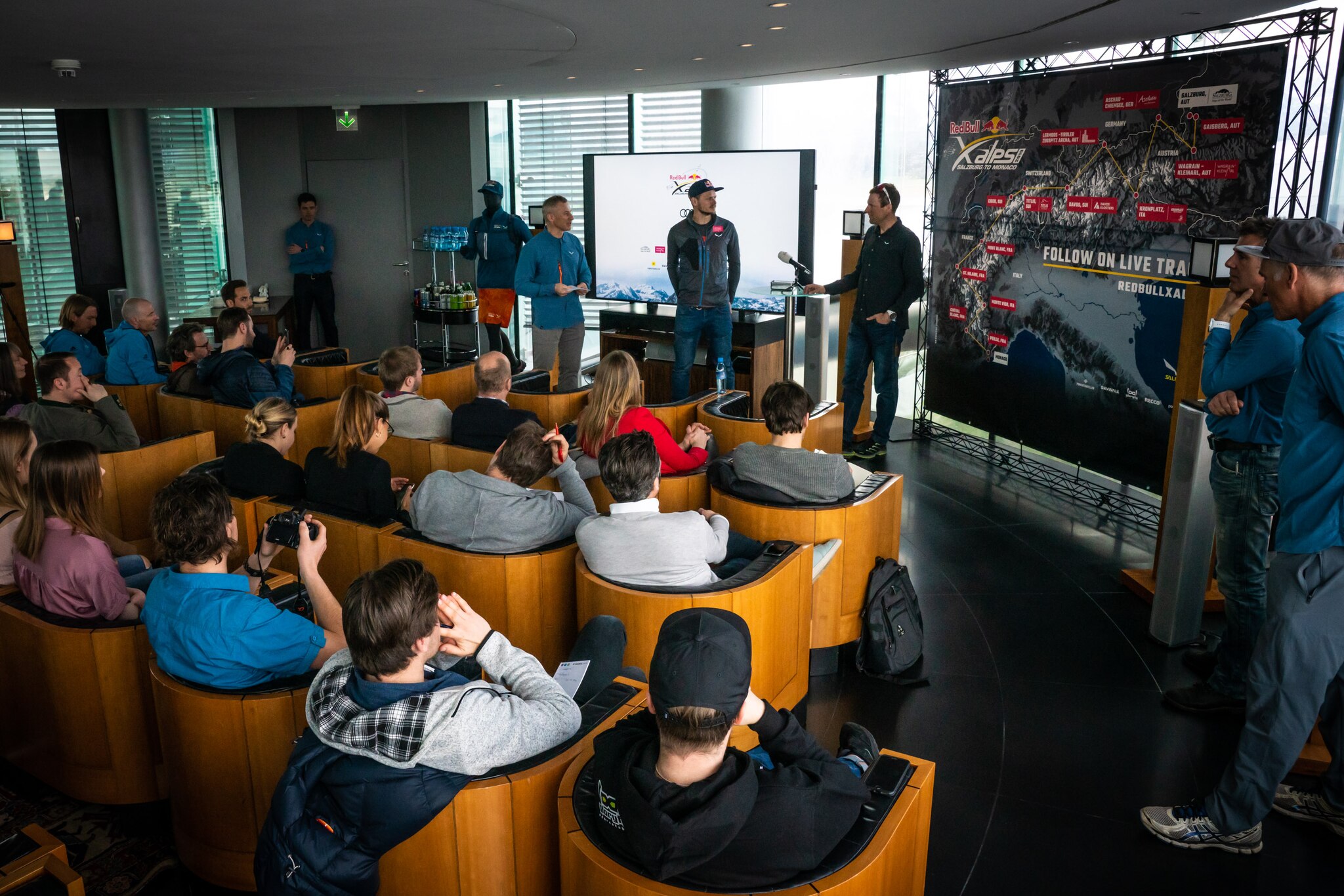 "Now that Chrigel is here I should ask him if I can stay at his place during those next three months to train on-site."
As part of the Press Conference for the 2019 Route Announcement we asked 5-time champion Chrigel Maurer (SUI1) and 3-time third placed Paul Guschlbauer (AUT1) about their feelings on the new route, approaches to manage the crux sections and ways to prepare for this years edition of Red Bull X-Alps.
Ulrich Grill (Race Organizer): "Now that the route is out there, where do you guys think are the crux sections?"
Chrigel Maurer: "Now as I see it I have to let it settle a little, but what I can definitely say is that the route will be extremely thrilling for the race. I generally know most of the Turnpoints pretty well from the last 5 editions, but the big question will be how to manage the end of the race. To be honest, Austria seems pretty clear to me, Switzerland should be familiar as well, but there's a huge question mark on the part after St. Hilaire and Mont Blanc. There I don't have the usual surroundings -the high mountains which I am used to and which I feel I can manage pretty well - but more tree landings, deep gorges and more, that really give me stomach pains as of now.
Paul Guschlbauer: "First of all, it's exciting to have such a big part in Chrigel's homeland once again. I will definitely need an away win there to be able to beat him, but who knows what's possible. Generally, I think the part in southern France is a cool one, especially for the French participants. For most of the other athletes this section should be more or less unknown territory, as it's not the usual destination. I'm curious how we're going to do there, as the region often provides good flying weather. We'll see!"
Find out all the details about the Turnpoints here.
Ulrich Grill: "Tomorrow in three months the Prologue will take place, meaning the time is running. What does the preparation look like for you in the upcoming months?"
Paul: "Now that Chrigel is here I should ask him if I can stay at his place during those next three months to train on-site. Jokes aside, it will be a matter of dealing with the route, looking at certain aspects that are unknown to this point. But then again, this is my 5th time participating, which means I pretty much know all the regions."
Chrigel Maurer in detail about the new challenge and the fact that the race will happen earlier than usual:
<iframe allowfullscreen="" frameborder="0" height="360" src="//www.youtube.com/embed/dMP7jRCEh5g" width="640"></iframe>
Ulrich Grill: "Somehow you two are like class mates in this manner, aren't you?"
Paul: "Yes and he [Chrigel] is the one with the highest grades! But back to the question, of course it's also about getting the body to a point where it is used to walking 70 to 100 kilometers a day without breaking down and still continue the next day."
Ulrich Grill: "There are stories you flew along the whole route with your plane ahead of the last race, will you drive along the route with the Audi e-tron this year in order to prepare yourself?"
Paul: "Actually I didn't manage to check out the whole route last time, I was only flying parts of it by airplane, but maybe I can do it this time trying out the e-tron."
Ulrich Grill: "To give you an idea of the pace of the race and also because I just saw you guys pointing at the route as it was revealed minutes ago, are there any sections that you look at and think these are "the fast ones"?
Chrigel: "The pace of the race is a bit of a tricky matter. Over time, I gathered some statistics about myself showing that my average distance per day is 110 kilometers in various weather conditions. Applying this to the route, there are some questions coming up, taking into consideration that some Turnpoints are down in the valleys, some are up on the mountain peaks. How do you meet those Turnpoints in terms of weather and time of day? It can turn out you're in the valley at the end of a day and sign the board on the go but it can turn out totally different, too. Same thing at Titlis, for example, if you fly past the peak you can quickly sign the board without losing time and go on. But imagine you're not that lucky with the conditions, it can turn out totally different, too. Then these delays add up and pay in to your position in the race."
"For everyone looking at this map now with the Turnpoints and the nice yellow line in between, it's important to say that it's much more complex than just that."
Ulrich Grill: "It's all about that timing and the art of managing all those different aspects."
Chrigel: "It's an art yes, but also a bit of luck. You can look at a Hike & Fly adventure race like Red Bull X-Alps as a poker game, you're going for either red or black. Of course you can play a little with those aspects, for example having a longer break - which doesn't necessarily mean you're falling behind, because a longer break means a longer rest – or running for a longer time knowing you can rest soon up in the air during the flight. All these are tactical possibilities to play with. But what I'm sure of is, that the high amount of Turnpoints - some on very low altitude levels and others on high ones - have a huge impact on the race, creating those random factors we have to be aware of mentally or deal just deal with physically."
Ulrich Grill: "Definitely, five wins in a row can' be JUST luck."
Paul: "I think, for everyone looking at this map now with the Turnpoints and the nice yellow line in between, it's important to say that it's much more complex than just that. Take the way between Turnpoint 4 Kronplatz and Turnpoint 5 Lermoos for example, there is the no-fly zone due to the Innsbruck airport or further west there are restricted flying zones because of all the national parks. Up to moments, reaching a Turnpoint on a perfect flying day, forcing you to land, as it happened to me last year in Lermoos. These are just some of the cases that make this whole race really, really challenging."
Re-watch the full interview and the following questions from the press in our Facebook Live broadcast of yesterdays Press Conference:
<iframe allowfullscreen="" frameborder="0" height="360" src="//www.youtube.com/embed/TK7zS7XaO00" width="640"></iframe>
Photo © zooom / Christian Lorenz