We take a look at the women and wonder, is this the strongest line-up of female athletes in the race's history?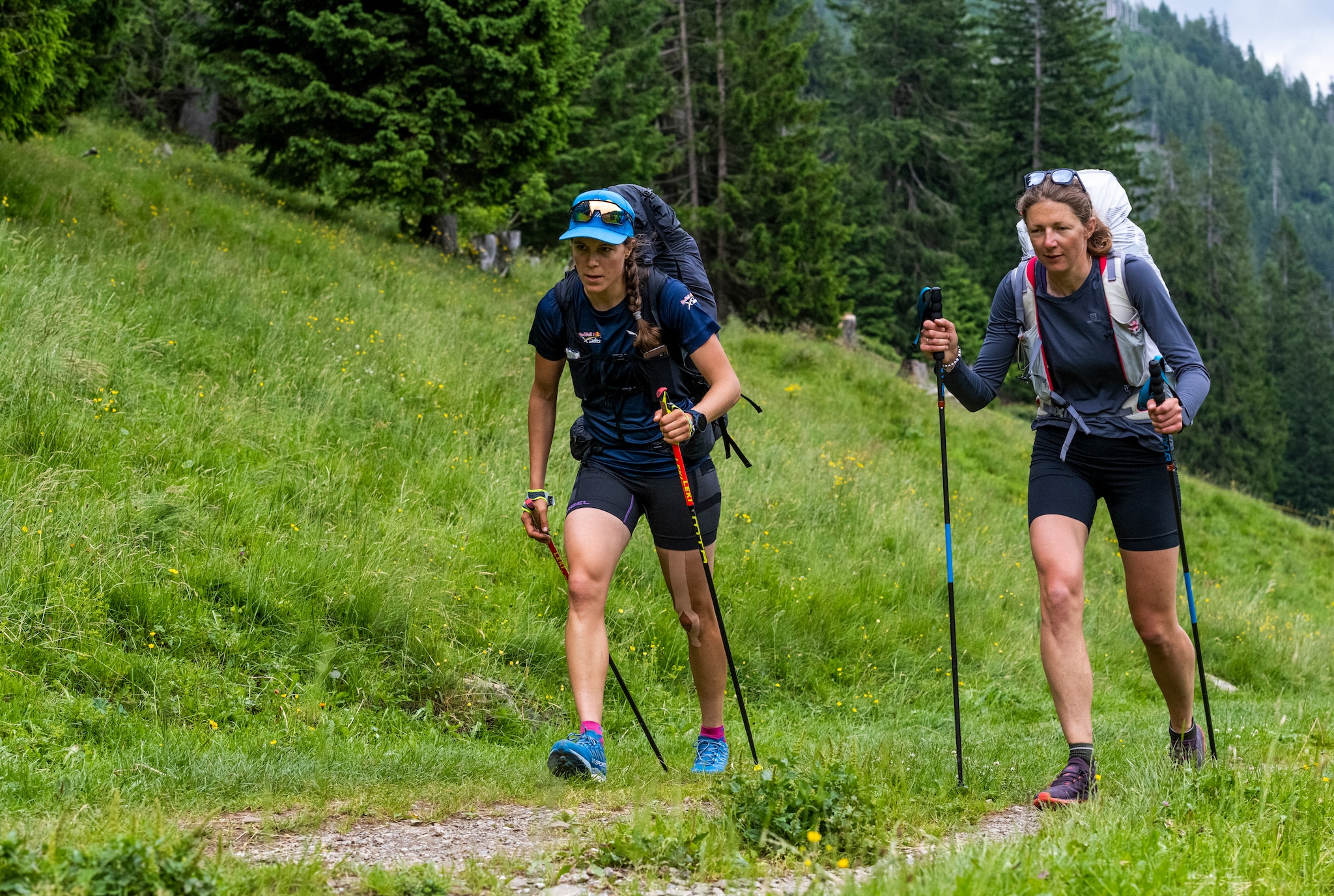 The 2021 race was defined by many stand out moments – the new course and the Zell am See finish was something to remember; day eight, when Chrigel gained his lead on Maxime Pinot; Benoît Outters heroically hiking over 100km in the final hours in the pouring rain; the mid-pack getting hammered around Mount Blanc; Manuel Nübel's incredible comeback in the final two days – so many moments.

But there is one more that we think really defines the spirit of the race – and that was when Laurie Genovese (FRA3) walked into the waiting arms of her team mates, finishing her race in Fiesch with a team hug. It was a moment that moved us all, because few athletes, male or female, have demonstrated as much courage as Laurie did, to continue racing after her crash into trees on day four.
There were others too, but it summed up the battling spirit of female athletes who compete equally with men in the Red Bull X-Alps, often with the odds stacked against them.
Laurie is one of five females in the 2023 race. The others are returning athletes Yael Margelisch (SUI3), Kinga Masztalerz (NZL) and the rookies Elisabeth Egger (AUT4) and Celine Lorenz (GER3).
"I took time to think… to make a choice," Laurie reflected in an Instagram post. "The first time, the excitement is as great as the motivation, but you don't know exactly what you're getting into. The second time, we know exactly what awaits us. It's a huge, extraordinary adventure that requires a commitment from those close to you and from your team. I'm lucky to have a second chance."
Laurie is a paragliding world champion and has flown a 300km FAI triangle – she's proved herself to be a tough athlete so it will be very interesting to see how she does this year.
Kinga is also excited to be back, after being forced to pull out before the last edition with a stress fracture in her foot. "It will be an exciting race and a hell of an adventure!" She added that the other women are all 'strong, well prepared and committed'. "I'm stoked to see the magic of hike and fly spreading and other girls taking on the gnarliest challenge our sport has to offer."
She was the fourth athlete to be eliminated in 2019 after a rookie navigational error, but says she is better prepared this time. Check out our full instagram live interview with Kinga here.
Yael is the third returning athlete and she is stronger than ever. She was the paragliding world champion in 2021. She has a total of 12 world cup podiums and three world records, among them the free distance record of 552km. She says: "The race in 2021 was crazy, made me learn a lot about myself, I discovered amazing areas and had fun with the team even if it was definitely the hardest thing I've ever did. I want to live these moments again. Crossing the alps on foot and paraglider is the purest way of exploring."
Please note, as of December 2, 2022, Yael Margelisch withdrew from Red Bull X-Alps 2023 due to a hip issue, which is preventing her from training hard and carrying heavy loads.
The two rookies are Eli Egger (AUT4) and Celine Lorenz (GER3). But Eli is not really a rookie, she was a supporter to Aaron Durogati in both 2021 and 2019, taking care of tactics and navigation and she also supported Simon Oberrauner in 2017. "I have seen the race now from the supporters' point of view and I want to experience the other side," she says. "The Red Bull X-Alps offers the perfect environment to do what I love: competing, flying and hiking. As it's a race over several days it also includes a lot of decision making, tactics and commitment which I know I am good at."
She has numerous podiums at paragliding events, winning the British Open in Colombia and has accrued hundreds of hours flying adventures in the Alps, sometimes with her 33kg dog, Capper. She could do very well.
The fifth female athlete is Celine Lorenz (GER3). At 24 she is the second youngest athlete in the entire field. She impressed the Race Committee after winning the 2022 Dolomiti Super Fly and the 2021 Bordairrace. She said was super excited to be selected. "I still cannot believe that I'm in. I want to do this race because I love adventure, the mountains and I love flying. All combined, it's a great challenge for myself." She says her race strategy is to have fun and stay safe.
2023 sees more female athletes than at any time in the race's history. We can't wait to see how these incredibly strong women will do.
Top image © zooom / Adi Geisegger