Maxime Pinot pulls his first Night Pass
FRA4 is chasing Chrigel the Eagle all the way home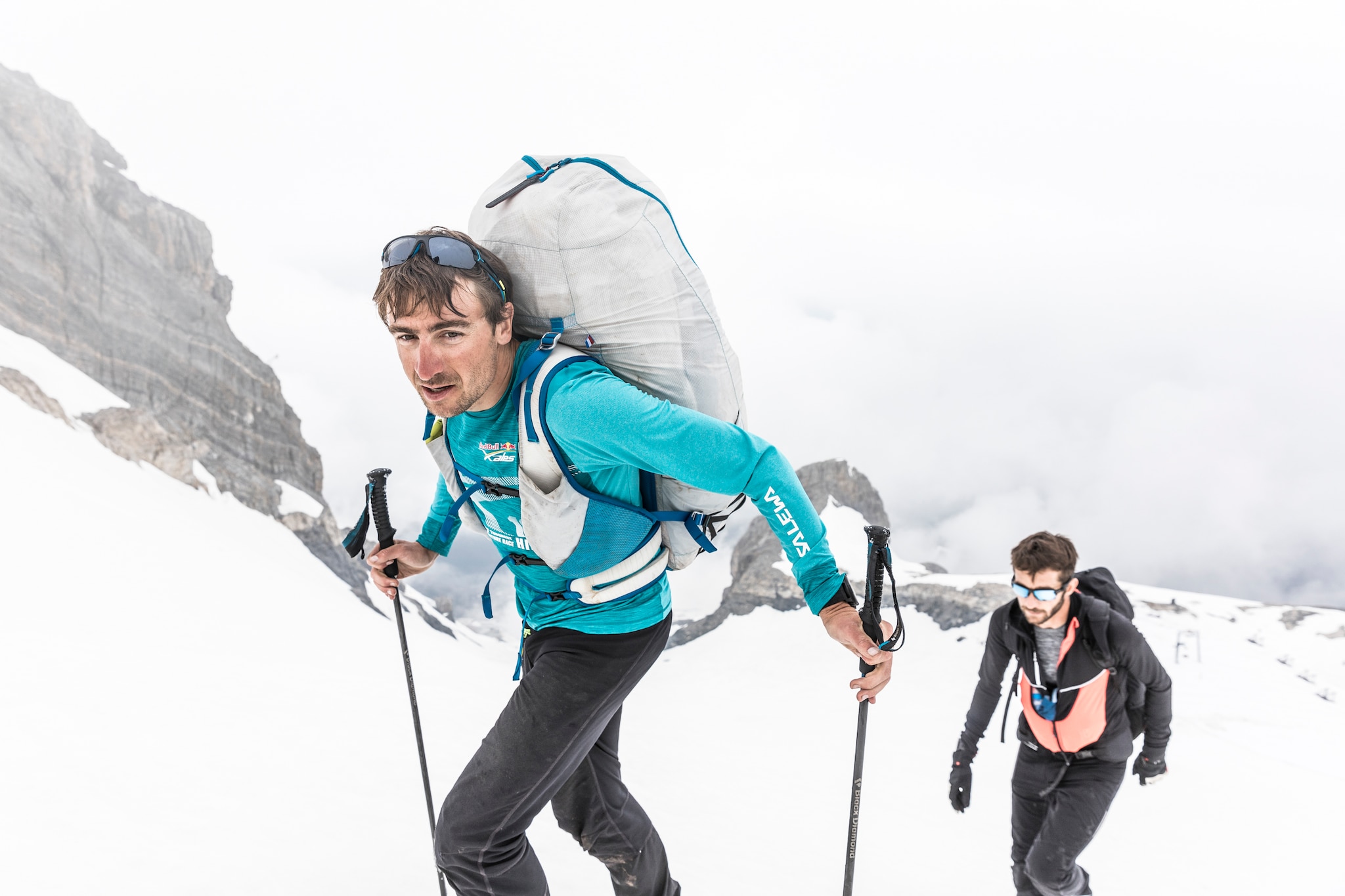 Maxime Pinot (FRA4) has pulled his Night Pass and will race through the night in an attempt to catch Chrigel Maurer (SUI1).
After reaching Turnpoint 7 Titlis at 11.30am Pinot and his team spent two hours on top, waiting for the weather to clear.
First cloud and then snow meant they were stuck on the mountain, unable to fly. When a gap in the clouds did finally appear, Pinot took his chance.
Struggling in the wind and with snow still blowing in the wind he inflated his glider and launched. Flying through rough air he pushed out into the valley, where he spiralled down to lose height before pushing down the valley.
As Pinot took off, Pinot's supporter Jeremy Lager punched the air and shouted 'The Eiger!'
He said: 'We want to get down the valley as soon as possible. Keep pushing! The launch was very steep and even steeper further down. It was not a place to make a mistake. But with the wind it was ok. Without the wind it would not have been possible. It's good he was able to take off. It's much better to fly down.'
He added: 'The weather, the wind, the snow, hiking, many things together make it very difficult. But that's what's make the Red Bull X-Alps. That's cool.'
Pinot didn't just have the weather to contend with this afternoon – airspace to his west is active until 6.15pm, so he must avoid that too.
Ahead of Pinot by some 50km, Chrigel Maurer (SUI1) was hiking through the valleys in poor weather, only managing a few short flights.
Whether Pinot can close the gap and reel in Maurer remains to be seen
If both Maurer and Pinot get in the air it could be an epic race. While Maurer will have the home advantage in Switzerland, as soon as they get into France Pinot will be pushing even harder.
A paraglider pilot since aged 13, Pinot is extremely experienced in both hike-and-fly events and classic paragliding competition. Although he is the Rookie among the French he is certainly one of the strongest pilots. He is also phenomenally tough on the ground.
The fact he has pulled his Night Pass is a clear sign that he intends to chase Maurer as hard as he can.
The race is thrilling and you can follow Pinot on Live Tracking.