How to get your rest right
Wanna perform? You've gotta sleep – and that requires a perfect camp!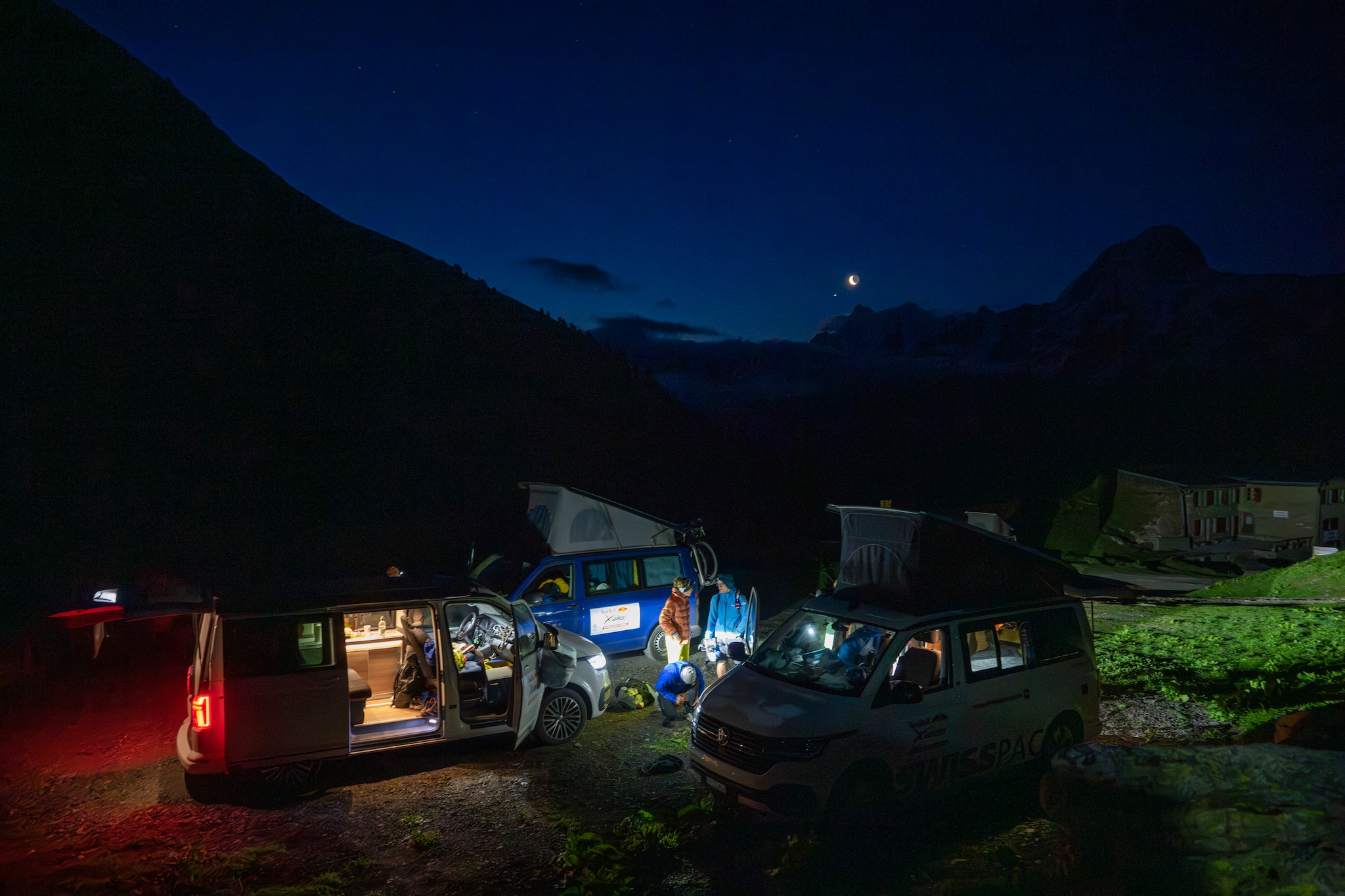 During the entire Red Bull X-Alps, athletes will rarely sleep in hotels or huts, rather, wherever their supporters can find a spot to park the bus. But this doesn't mean they're slumming it.

Describing their camping setup, Chrigel's supporter, Lars Meerstetter, says everything is very well arranged and organized because when the race starts, it's going to get messy.

There are drawers for clothes and cleaning equipment and it's very important to have checklists so Chrigel doesn't forget anything.

"There is nothing worse than being in the air and realizing you've forgotten something," says Lars.

Chrigel is also very clear about nutrition. "We give him porridge in the morning for energy. But his tactics are that if he has to walk on the flat, he will go for 50 minutes after getting up, hitting the road without eating. Then once he's warmed up, we feed him".

The advantage of this system is maximizing the use of the fuel consumed during the night.

It's also important to ensure a good sleep. "Chrigel doesn't like sleeping bags. He has a proper duvet and pillow," Lars reveals. "It's a comfort thing".

In their camper vans, everything is kept to a minimum. There is a small kitchen with one gas bottle and one hand-held gas burner. "There is not much extra, we leave anything unnecessary behind".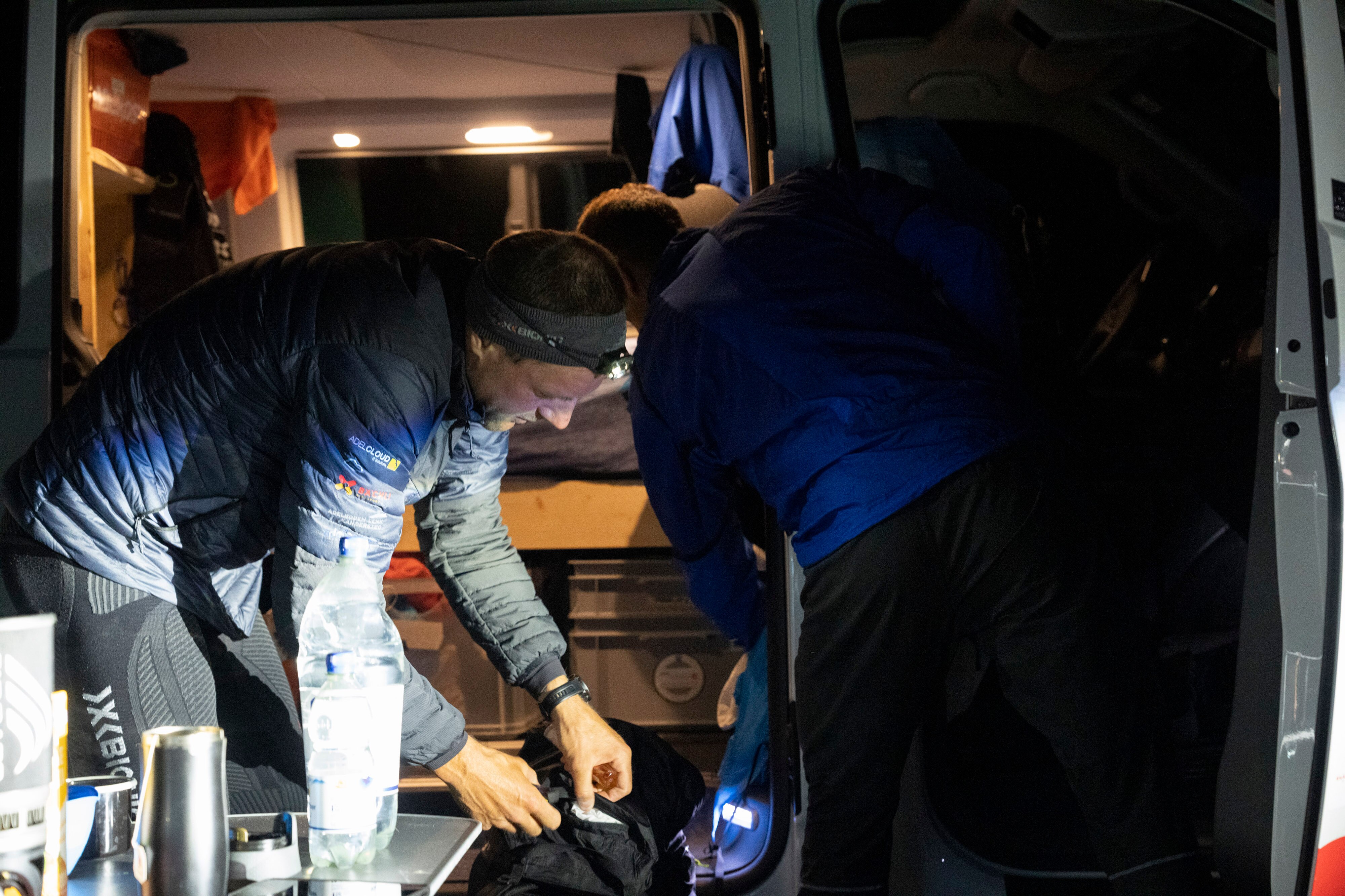 "Space is very precious, so there is only a small fridge and enough batteries to load all the electrical gadgets Chrigel has to carry. We turn the fridge off when charging everything," says Lars.

For washing, Chrigel is prepared about 5 liters of water for a quick hand wash.

In the evening it's not about delicious food, but what is handy: "First, we hit the road, then we think about trying to squeeze in the food. So yesterday when we pulled a Night Pass we bought pizza along the way".

When Chrigel is on the move he goes fast and needs lots of carbs, so his meal of choice is pasta. "Sometimes he won't even have any sauce," says Lars.

"Once the race stops, we've already prepared something for him. We can't tell during the race what he will want, he just picks what he likes, like hot tea, a regeneration drink, a little pasta or chips, because he needs salt."

Chrigel is very self-sufficient and everything is minimal, so it's easy for the supporters to handle, emphasizes Lars.

Top three essentials for camping: "It's very important to look forward to something during the race. A piece of good food, that's all you need for enough stamina. Chrigel loves the little Kinder Pingui bars. Also his morning porridge…and some tables and chairs!"
We can only imagine what it feels like to take a few minutes to rest when you're in the middle of Red Bull X-Alps – so don't forget the tables and chairs!
Top image © Lukas Pilz