Still looking for your new year's resolution? We may have some ideas for you!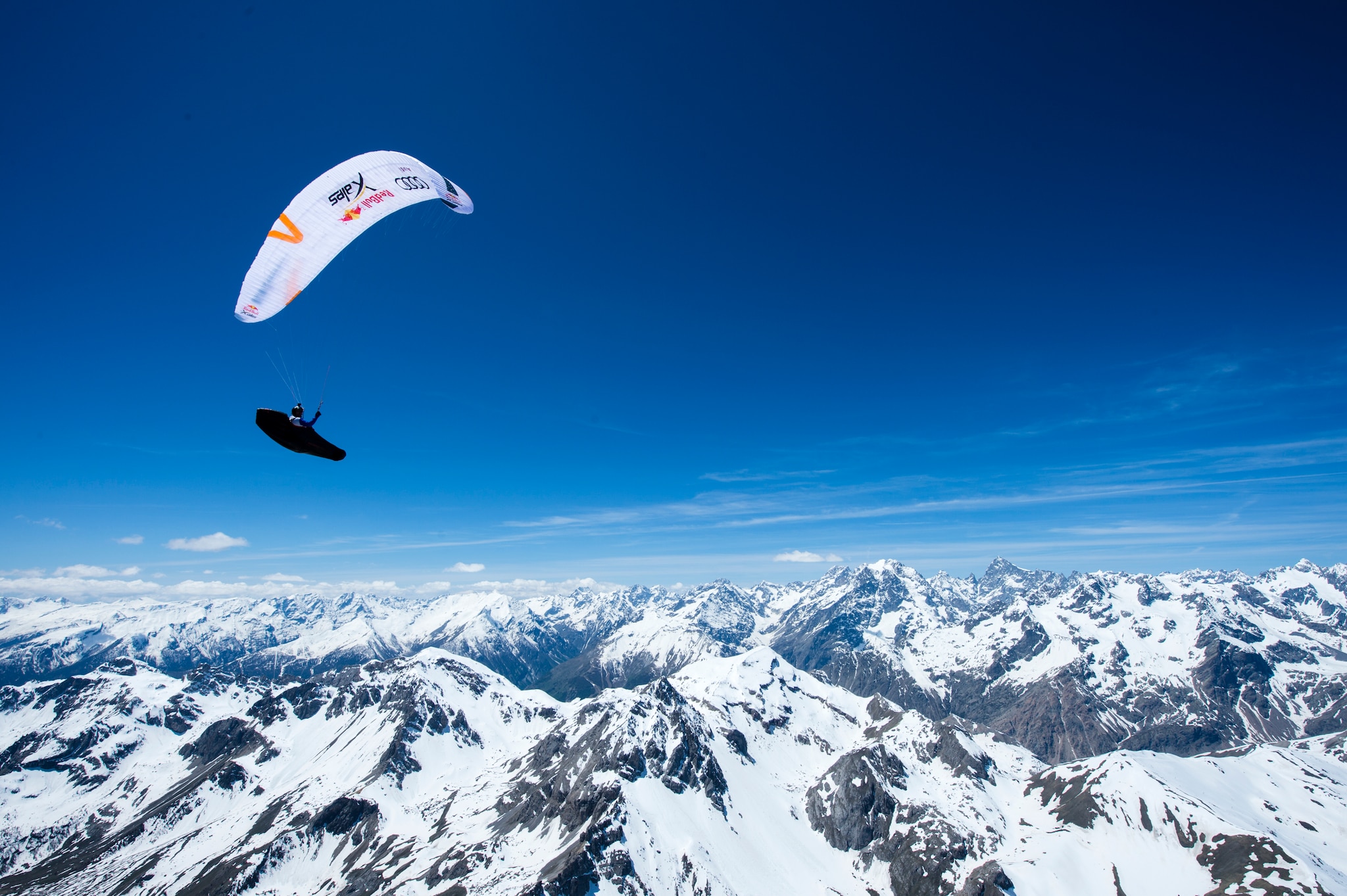 What should your bucket list look like for 2020? Why not follow in the footsteps of your Red Bull X-Alps heroes and try one of these challenges from the Alps to the Himalayas.
JANUARY - FEBRUARY: Fly southern hemisphere flatlands
Winter presents two choices for northern hemisphere based adventurers: head south or go skiing. Top of the list for Red Bull X-Alpers looking to migrate? Say hola to Colombia. One of the most popular and paraglider friendly venues is Roldanillo, which has hosted numerous comps, and usually sees dozens of Red Bull X-Alps athletes in town.
MARCH: Speed ride like a pro
Gavin McClurg, Manu Nübel and Aaron Durogati are all big fans of this paragliding and skiing cross-over. "Add a small wing to ski-touring and you're guaranteed to have a wicked winter and be ready to crush it when spring returns", McClurg tells this month's Cross Country magazine. Not only will it boost your fitness, but your skill set too, he says. Head to Les Arcs, France for speed riding school.
APRIL: Head cross-country
"April is the start of the XC season in the Alps and there is no better place to be for a Red Bull X-Alps pilot than cross country flying in the European Alps from April to June, when 200-300km triangles and 12-hour flights through the mountains are all possible," says Ed Ewing, editor of xcmag.com. That's 'possible', as in, if your name's Chrigel Maurer. However, epic flying is still do-able. Get planning here.
MAY: Hike & Fly in Spain
This year the International Air Festival (FIA) of El Yelmo takes places at the end of May. It's the perfect opportunity to learn new skills, practise some hike & fly and enjoy some late night fiesta. This year marks the 20th anniversary and there's a special emphasis on female pilots. Ideal, for any budding female athletes looking to take part in the 2021 Red Bull X-Alps.
JUNE - JULY: Run an ultra
The Red Bull X-Alps isn't just a paragliding race. These days it's an ultra too, and most of the top guys will enter a long-distance trail race at some point in the calendar. The 130km Ultra Trail Cote d'Azur Mercantour is Benoit Outters' favorite but don't expect to see him on the trail. He won it in 2015 and rarely finishes outside the Top 10.
AUGUST: Go Wild. Go West
No paraglider's resume is complete without a trip to the US and Sun Valley, Idaho is where Gavin McClurg earned his spurs. It's rugged, wild and huge - the wild west of paragliding adventures and promises a rodeo ride like no other. Not for the faint-hearted, the mountain meets desert translates into feisty conditions that fluctuate between strong or very strong - the perfect training if you want to take on a race like the Red Bull X-Alps.
SEPTEMBER: Head to St Hilaire
Every year the legendary Red Bull X-Alps Turnpoint turns into a free flight festival. Coupe Icare - the Icarus Cup - sees thousands of visitors descend on the small mountain village. It's an eight day party, and everyone's invited. On any given year you can expect to run into several former Red Bull X-Alps athletes.
OCTOBER: Improve skills in Turkey
The Oludeniz air games take place every October in this picturesque Turkish coastal resort, providing the backdrop for tons of paragliding activity. Fans of the region include Nick Neynens and Manu Nübel. Thanks to the cliff-top launches virtually above the sea, it's the perfect place for acro, or to practise essential skills like big ears, collapses and throwing your reserve. Reliable thermals also open up the potential for cross-country flights.
NOVEMBER: Big flights in the Himalayas
This is the time of year to head east into the big mountains of the Himalayas. Numerous athletes visited end of last year, including Tom de Dorlodot, Kinga Masztalerz, Markus Anders, Juraj Koren and Evgenii Griaznov. The reason it's so popular? Cloudbase of 4,000 - 5,000m and reliable thermals mean epic flights are possible, soaring over some of the most dramatic mountains on planet earth.
DECEMBER: Vol Biv across New Zealand
It's a right of passage for aspiring Red Bull X-Alps athletes and one of the great hike and fly challenges on any adventurer's bucket list - crossing the New Zealand Alps. Among the roll call of athletes to complete the feat include Tom de Dorlodot and Ferdy van Schelven, Antoine Girard and Benoit Outters (in 10 days!) and Kinga Masztalerz. Not quite ready for 800km of wilderness? Hike up Treble Cone near Wanaka and enjoy an epic flight with views across to Mt Aspiring.
For more hike and fly action and updates about the athletes make sure to follow Red Bull X-Alps on Facebook, Instagram, Twitter and YouTube!