From 13th to 3rd in one day – across five Turnpoints
Paul Guschlbauer (AUT2) had an epic day and we thought you should know about it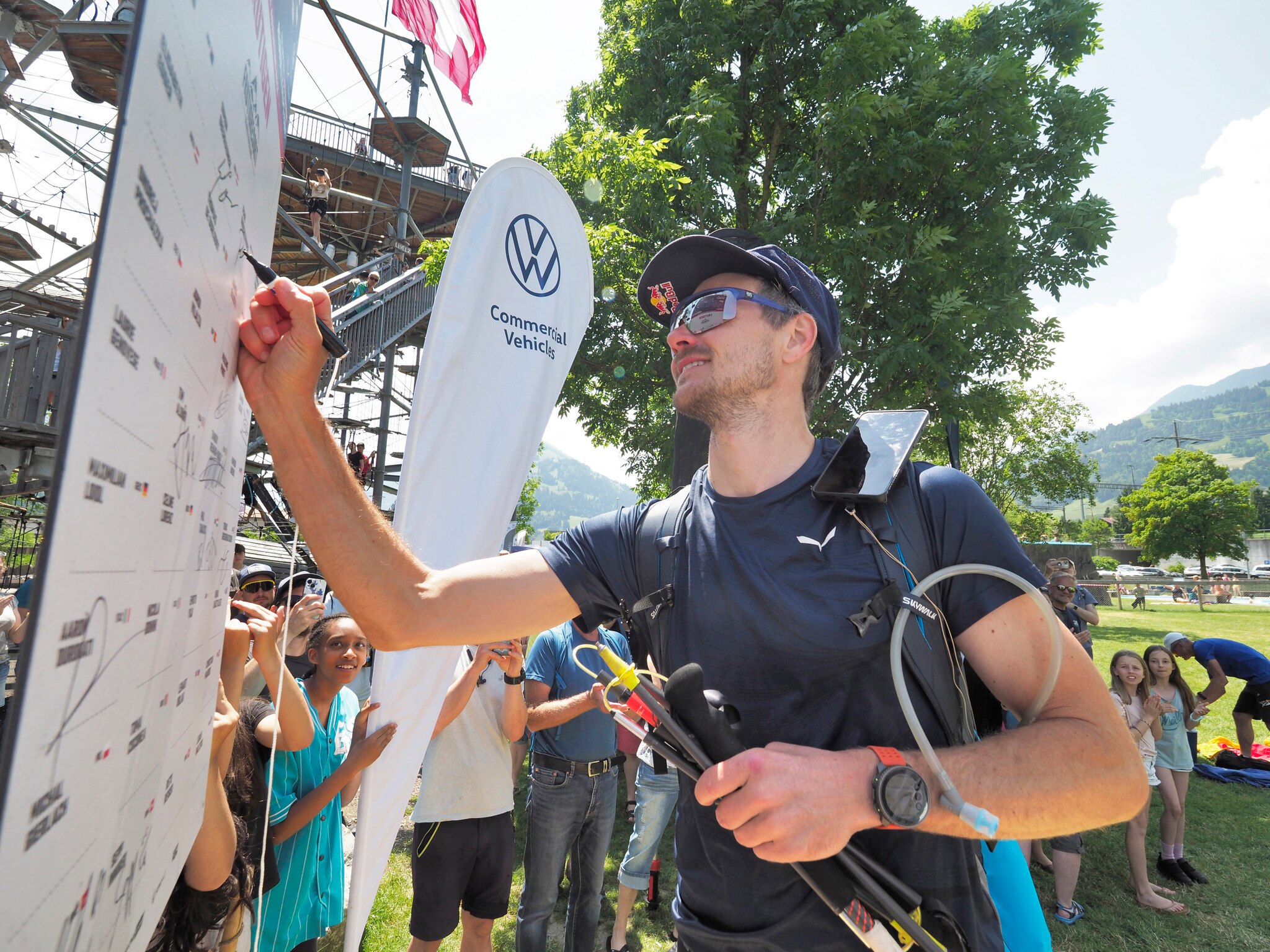 It was the start of day four and Paul Guschlbauer (AUT2) was in 13th place. He said: "I messed up the first day, that was the problem. I made a little mistake and that was not good." But the day he was about to have would make up for it.
Paul's rest period ended at 04:40 and he started hiking. Chrigel Maurer (SUI1) had pulled his Night Pass the previous day and had made progress towards Turnpoint 7, Frutigen, on foot up ahead. Paul's hike allowed him to make a flight South-West, down onto the valley floor towards Turnpoint 6, Fiesch in the Aletsch Arena. He was chasing Tim Alongi (FRA4) just up ahead at around 09:00.
While Chrigel was making an emotional arrival in his home region at the Frutigen Turnpoint, Paul caught up with Tim, Tobias Grossrubatscher (ITA1), and Sepp Inniger (SUI4) to form a group. Just in time to tackle the next section.
If they stuck to the race line, it would have taken them across the Aletsch Glacier – the longest glacier in the Alps. Instead, the group headed South-West, down the Rhone valley to Visp and then North through the Lötschenpass. This was the route that Chrigel had taken the night before except he had had to hike.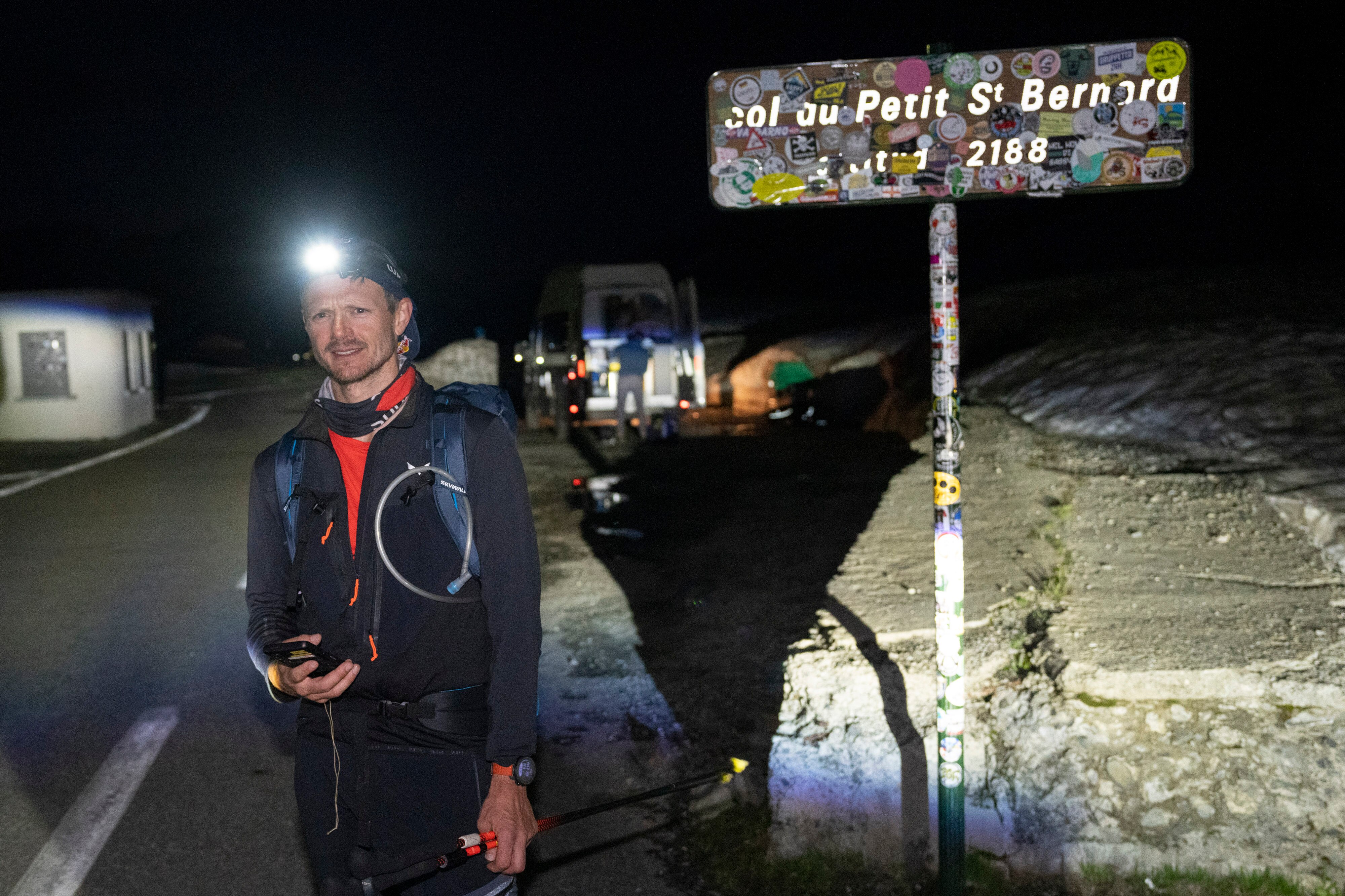 Paul was able to fly up and over it, and make it all the way to Turnpoint 7, Frutigen, by 13:30. The gaggle was working well together and moving quickly. Being able to fly from Fiesch had been efficient and now, on his way up to the Niesen Turnpoint, Paul was able to save some more time and energy. He hiked half-way up and launched, flying up to the top of the ridge and following it North to land next to the Turnpoint. The others did the same and arrived within seconds of each other at 14:30.
Without wasting a moment, the group was in the air and gaggle flying South towards Turnpoint 9 Mont Blanc – Paul's fourth Turnpoint of the day. With storms up ahead, it wasn't clear if they could make it.
At this point, Paul had moved up from 13th to 12th. But when they caught up to athletes in front – who were slowed or grounded in Chamonix by the weather – Paul was able to move up the rankings.
Pál Takats (HUN), Aaron Durogati (ITA2), and Patrick Von Känel (SUI2) landed and lost time having to hike back up to relaunch. Paul said: "I think I arrived later than the storms. I saw the radar and thought it would be tricky." Paul and Tim arrived and, because they were higher than the others, were able to take the corner around Mont Blanc much tighter. This hairpin bend of the course allowed Paul and Tim to move up to 3rd and 4th place.
The pair landed within 1km of each other and approached Turnpoint 10, Col du Petit Saint Bernard, on foot from the South. After relaunching around Mont Blanc, Pál had managed to fly all the way to the Turnpoint and put Paul into 4th place. Paul and Tim arrived to tag the Turnpoint with only minutes to spare before the mandatory rest period began at 23:00.
The rankings of Paul, Tim, and Pál were decided that night simply by how far along the same road they set up camp – Tim, being 100m further along, took 3rd while Paul went to bed in 4th place.
Paul had knocked off over 200km, and five Turnpoints in a single day – taking him round Mont Blanc, and the furthest point of the route. An epic end to a day that Paul described as "incredible".
Top image © zooom / Vitek Ludvik