The clock stopped at 11:30AM on Friday July 2, 2021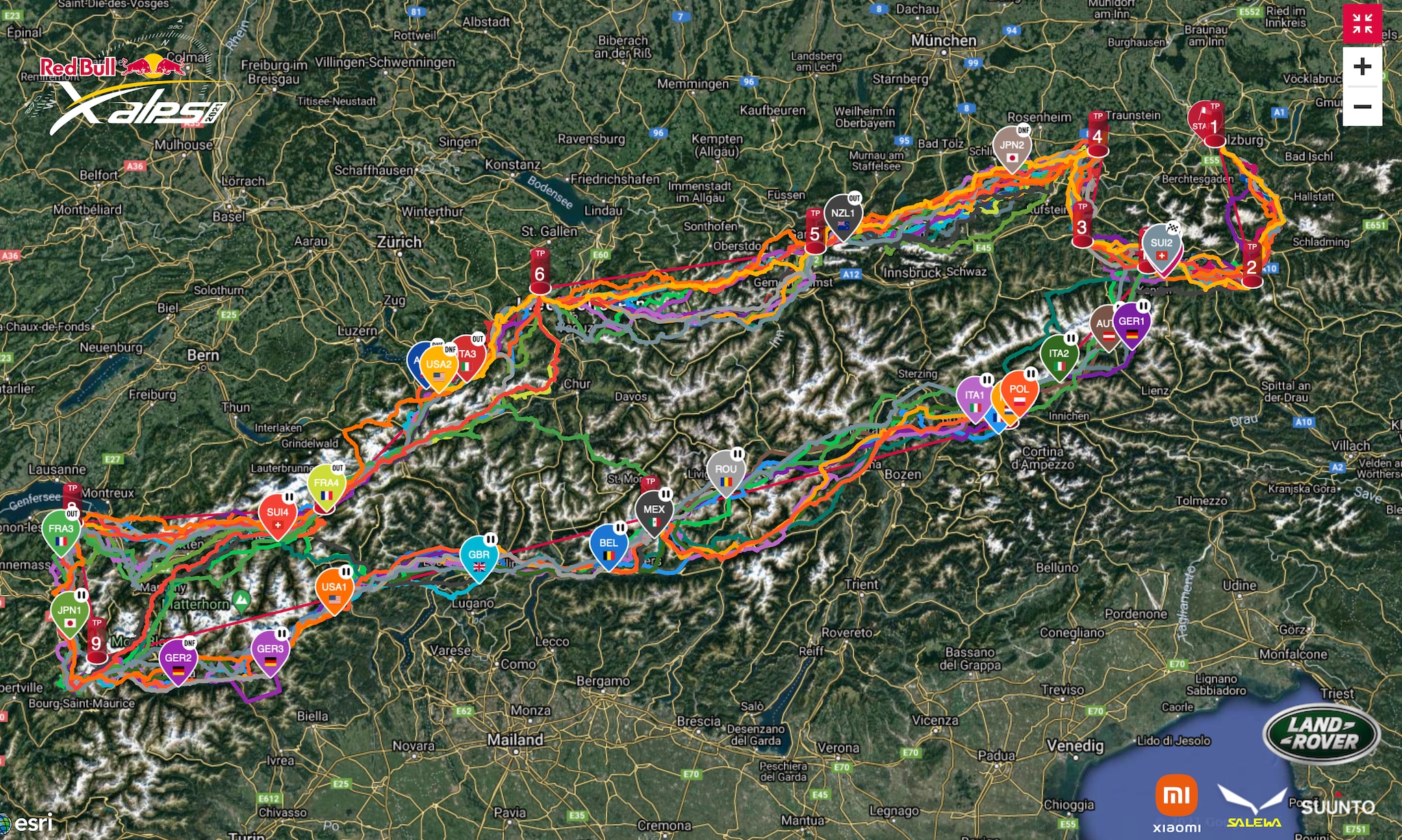 The Red Bull X-Alps 2021 has finished. The clock stopped at 11:30AM on July 2, 2021 and these are the final rankings.
Congratulations to Christian Maurer (SUI1) who is the champion for an incredible seventh time, and to all our Red Bull X-Alps athletes, supporters and teams for a safe, fair and exciting race.
Thank you for following, but stay tuned. The race may over, but keep an eye on all our channels where we will be publishing new photos and videos, race drone footage, race analysis, athlete statements and interviews. We will be sharing special moments from throughout the race, stories and interviews with the athletes – and of course the 52-minute documentary.
| Rank | Team | Name | Finishing Time / Distance to Goal | Duration |
| --- | --- | --- | --- | --- |
| 1 | SUI1 | Christian Maurer | 28.6.2021 18:00:28 | 8d 6h 30m 28s |
| 2 | SUI2 | Patrick von Känel | 29.06.2021 13:37:30 | 9d 2h 7m 30s |
| 3 | AUT2 | Simon Oberrauner | 29.06.2021 13:48:25 | 9d 2h 18m 25s |
| 4 | FRA1 | Maxime Pinot | 29.06.2021 14:31:14 | 9d 3h 1m 14s |
| 5 | FRA2 | Benoît Outters | 30.06.2021 20:42:12 | 10d 9h 12m 12s |
| 6 | GER1 | Manuel Nübel | 39,1km | |
| 7 | AUT1 | Paul Guschlbauer | 43,5km | |
| 8 | ITA2 | Tobias Grossrubatscher | 65,6km | |
| 9 | POL | Michal Gierlach | 88,1km | |
| 10 | NED | Ferdinand Van Schelven | 93,4km | |
| 11 | FRA5 | Damien Lacaze | 99,3km | |
| 12 | ITA1 | Aaron Durogati | 108,1km | |
| 13 | ROU | Toma Coconea | 218,3km | |
| 14 | MEX | Eduardo Garza | 252,7km | |
| 15 | BEL | Tom de Dorlodot | 280,3km | |
| 16 | GBR | Steve Bramfitt | 330,5km | |
| 17 | USA1 | Gavin McClurg | 393,9km | |
| 18 | SUI4 | Yael Margelisch | 412,0km | |
| 19 | GER3 | Michael Lacher | 429,3km | |
| 20 | JPN1 | Kaoru Ogisawa | 512,9km | |
| DNF | GER2 | Markus Anders | 467,8km | |
| OUT | FRA3 | Théo De Blic | 544,7km | |
| OUT | FRA4 | Laurie Genovese | 595,2km | |
| DNF | AUT3 | Thomas Friedrich | 731,5km | |
| DNF | USA2 | Cody Mittanck | 733,8km | |
| OUT | ITA3 | Nicola Donini | 739,0km | |
| DNF | JPN2 | Ken Oguma | 926,1km | |
| OUT | NZL1 | Nick Neynens | 1.050,9km | |
| OUT | RUS | Andrei Mashak | 1.132,9km | |