Eli Egger celebrates becoming the first woman ever to finish the Red Bull X-Alps
The Austrian rookie plans to party tonight after more than ten days of racing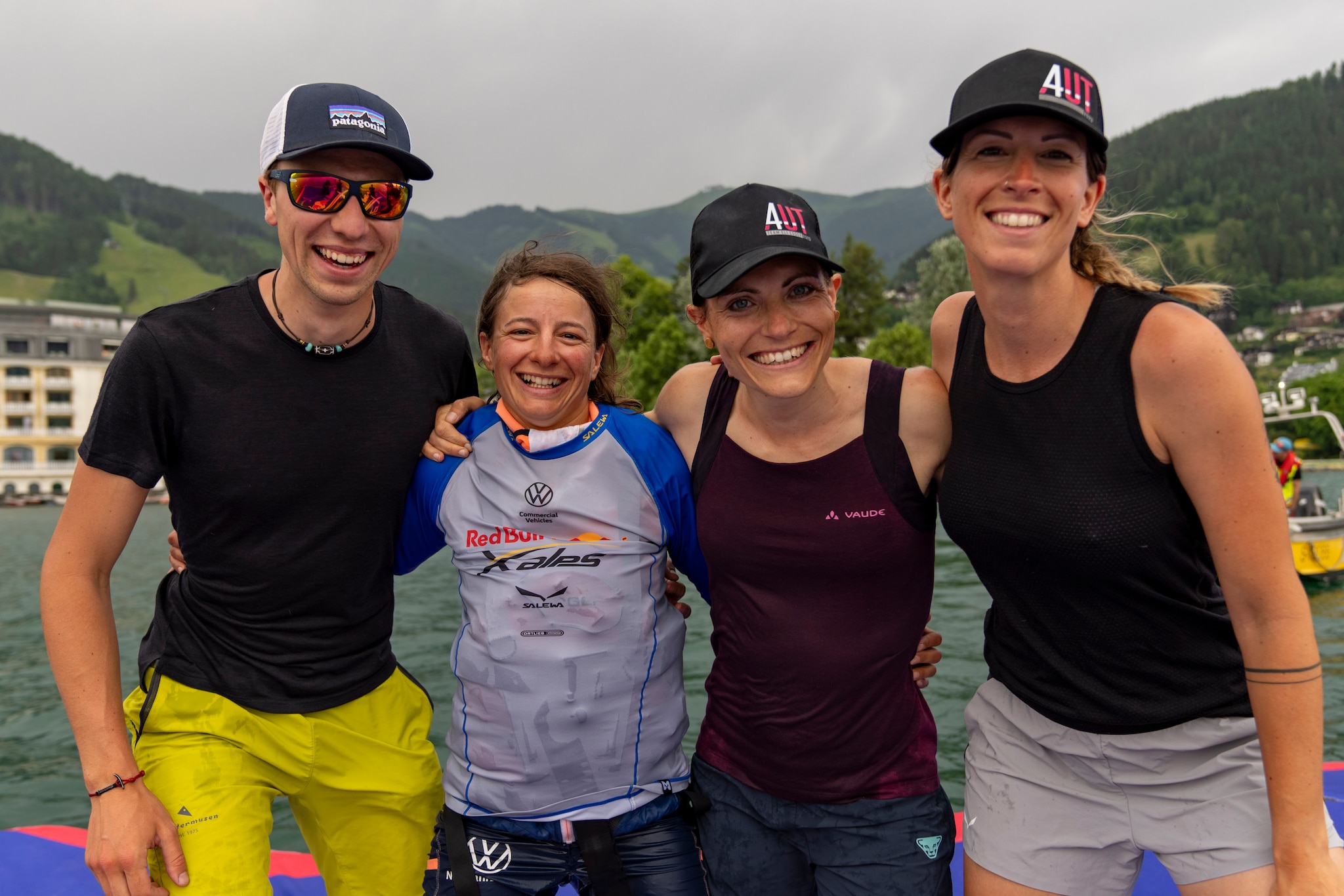 Elisabeth Egger (AUT4) entered the history books on Wednesday by becoming the first woman ever to complete the Red Bull X-Alps. The 28-year-old Austrian rookie made her final touch down after racing for ten days and five hours. Crowds cheered as Eli gracefully descended from Turnpoint 15, Schmittenhöhe, brushing her feet on the float at Zell am See, before landing in the water. When back on dry land, Eli said: "This moment is crazy, I never imagined I'd make it here. It's a dream come true. We are going to party tonight!" she added.
Logan Walters (USA1) arrived at Zell am See two hours before Eli, but landed in a similar style. At that moment he said he couldn't describe how he was feeling.

It had been touch and go for Eli earlier as the wind around Schmittenhöhe strengthened.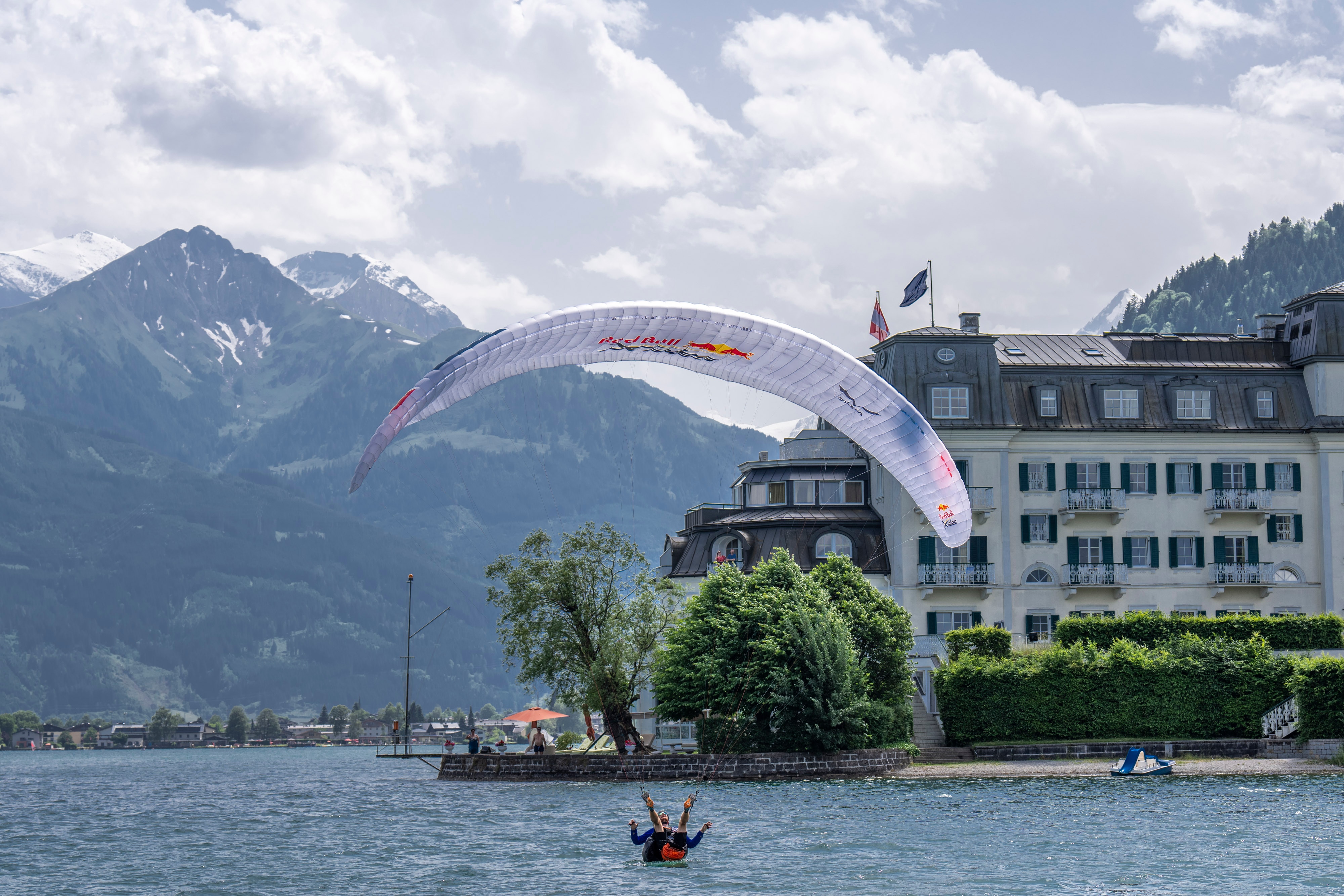 "It's become really active and the clouds have just gone nuclear overhead. This is the kind of stuff you don't want to be flying in, even if it's just for the glide to the float," said race reporter Gavin McClurg. With windsurfers out on the lake, Gavin pointed out that "Windsurfers and paragliders don't mix!" When Logan began his descent, conditions had been perfect. "It shows how fast things can change and athletes have to deal with erratic weather," said Gavin.

It was a tough day for James Elliot (CAN) who after seeing Logan and Eli fly away from nearby launches, was blocked by the wind, forcing him to find a better spot to launch. But James got "drenched" after the weather worsened and he had to continue on foot.

Emoto Yuji (JPN) also battled bad weather this afternoon in the Dolomites. Emoto managed to climb up the via ferrata to tag Turnpoint 13, Drei Zinnen, (Tre Cime), and climb down again. He then hiked towards Turnpoint 14, Sexten to start the final leg of his race. His assistant said was quite a day for Emoto who had to deal with a cravat, (when the fabric of the wing gets caught in the lines) top landing in strong winds and a ripped harness. But they believe their dream of finishing the race is still possible.
Behind Emoto, strong westerly winds meant Jordi Vilalta (ESP) only got into the air for one hour today. After a 1,300m vertical hike to Monte Agnello above Predazzo, Jordi managed to make a couple of flights and land near Campitello de Fassa. In total he hiked for over seven hours covering 40km on foot and should reach Turnpoint 13 tomorrow. "Jordi is physically well, tired, but well", said his supporter. "We are doing our best to stay motivated".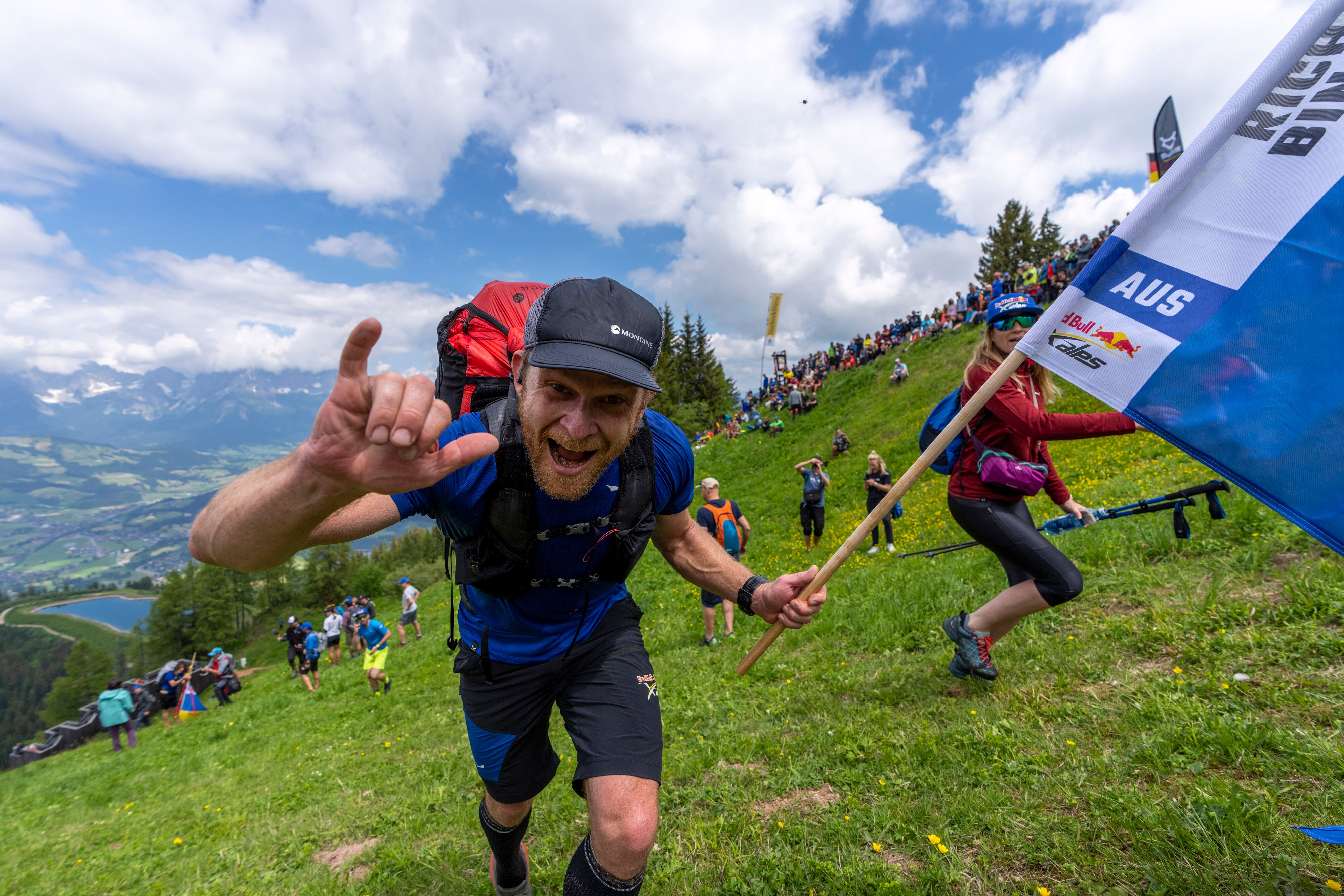 For Richard Binstead (AUS) it's now a time to relax and reflect on his experience. The athlete, who is set to be eliminated on Thursday, said he was "chilling out in a really lovely Italian town now. There's not much point in continuing. But I'm the last of the last, so pretty happy!"

For Rich, who stopped near the town of Arvier in the Aosta valley, the last day has been harder than the others as it was "tricky to come up with a goal to push myself. Being so far away from everyone, I decided needed to be 100km ahead of the last athlete – so I am now exactly 100km from where Kinga finished," he said.

"I don't know how I will feel in the longer term yet as it has been such a long and arduous exercise. But at the moment " I couldn't be happier". Rich has had a few setbacks along the way, including a bad allergic reaction. "It's been bad luck," he said, "I would have loved to have had the experience without those things happening and it would have been interesting to see where I would have come".

The rookie admits he's had "dark moments," over the last week, but tried to "visualize myself in the next three weeks being at work. It's a mind thing". Putting it all into perspective, Rich said "It's a tough race to get into and to not be a DNF – I'm really happy and I have had an intense amazing experience".

"Now I just want to surf and get better at paragliding. I still feel like a newbie, even though I've done the hardest race in the world. But flying in the Alps is really difficult, and I don't have a natural idea of how things work and where they can go with the wing. I've not mastered that yet and I'd really like to get better at it. So there are still goals! By doing something like this you realize what you need to work on to get better- so it's a stepping stone to mastering the craft," he added.
Top image © zooom / Christian Lorenz