He has been in the air since 9:45am – will Chrigel Maurer (SUI1) make the finish today?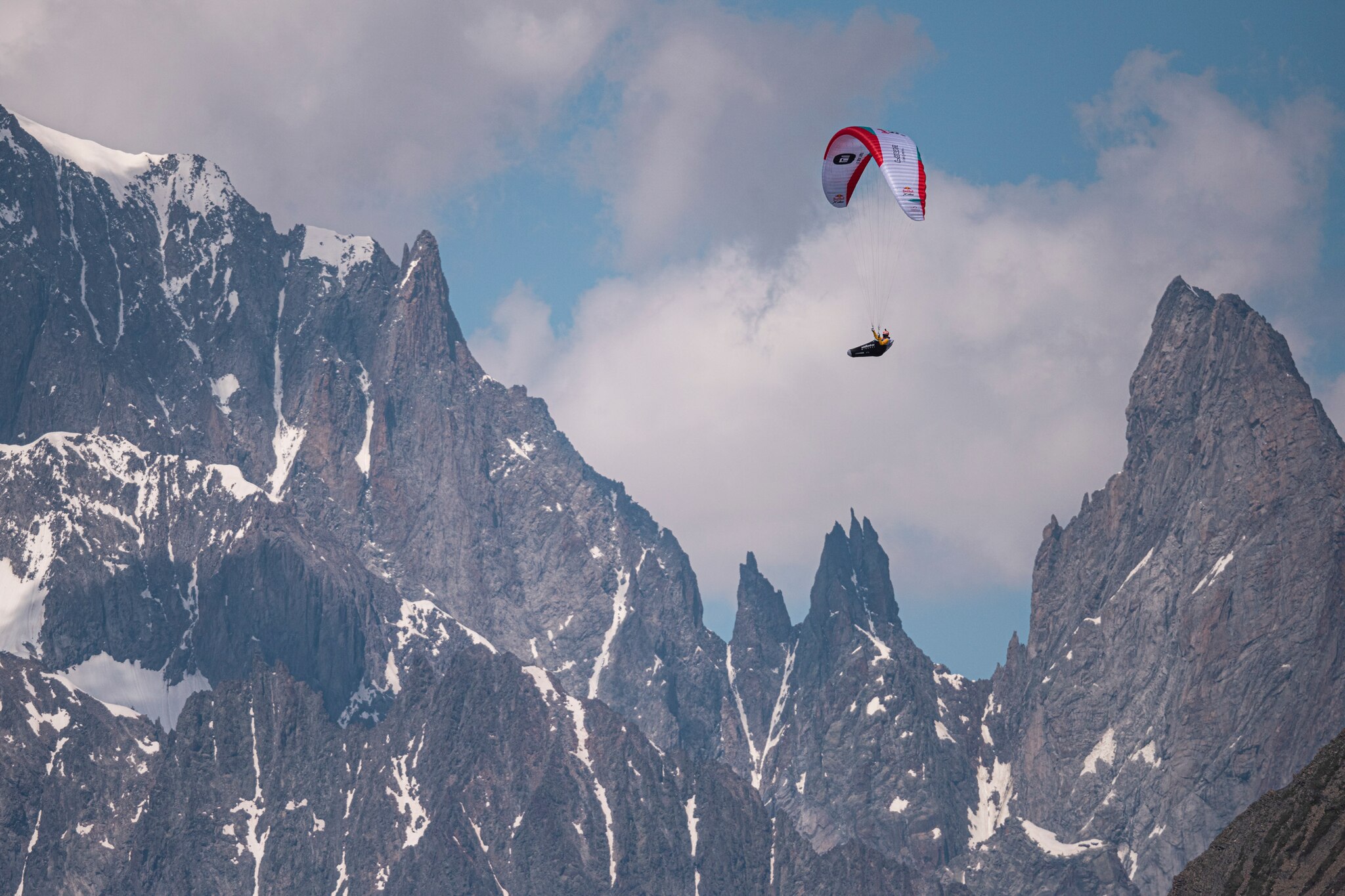 Day 9 has made for very exciting viewing so far. Chrigel Maurer (SUI1) started with a 160km lead on second-placed Max Pinot (FRA1). TP11 Kronplatz was reachable within a few hours, and the Zell am See finish raft in his sights.
The weather forecast from Ubimet was for good flying conditions between Turnpoints 10 and 11 (Piz Palü and Kronplatz), but possibly more cloud and increased risk of showers and thunderstorms later in the Mont Blanc area.
Max Pinot (FRA2) overtook Benoît Outters (FRA2) overnight, by using his night pass to hike until 3am. He was on the move again at 5am, so sleep deprivation must be taking its toll, although his supporter Jérémie Lager told us he was doing OK, "just a bit tired".
He and Outters are engaged in a battle for second position. Outters is very fast on the ground, and he ran to a good spot and managed to get airborne first to take the lead back from Pinot. Pinot is fast in the air though, and is slowly closing the gap: Outters' 13km lead at 10am has reduced to just 8km at midday.
Théo de Blic (FRA3) received some bad news this morning: he infringed airspace at Sion yesterday, and has to serve a 48-hour penalty after his next rest period. He is currently near a village called Morgins in the Valais region, heading for Turnpoint 8 Dent D'Oche on the southern side of lake Geneva. With 560km to go he is in 20th place.
Laurie Genovese (FRA4), Gavin McClurg (USA1) and Kaoru Ogisawa (JPN1) tagged Turnpoint 4, Fiesch, this morning and are all bound for Dent D'Oche. They are currently at the back of the field within a couple of kilometres of each other, and with tomorrow being an elimination day the heat will be well and truly on to not be at the back at elimination time tomorrow morning.
Meanwhile Chrigel Maurer launched at 9:45am and is making good progress, although the chasers have managed to reduce his lead very slightly. Still, he is only 15km in a straight line from Kronplatz, where he will have to land to sign the board, and then the question is, can he make Zell am See tonight?