Day 7 Wrap-up: An epic day around Mont Blanc
Today the leading group of athletes flew around Mont Blanc, leaving the chasing group behind.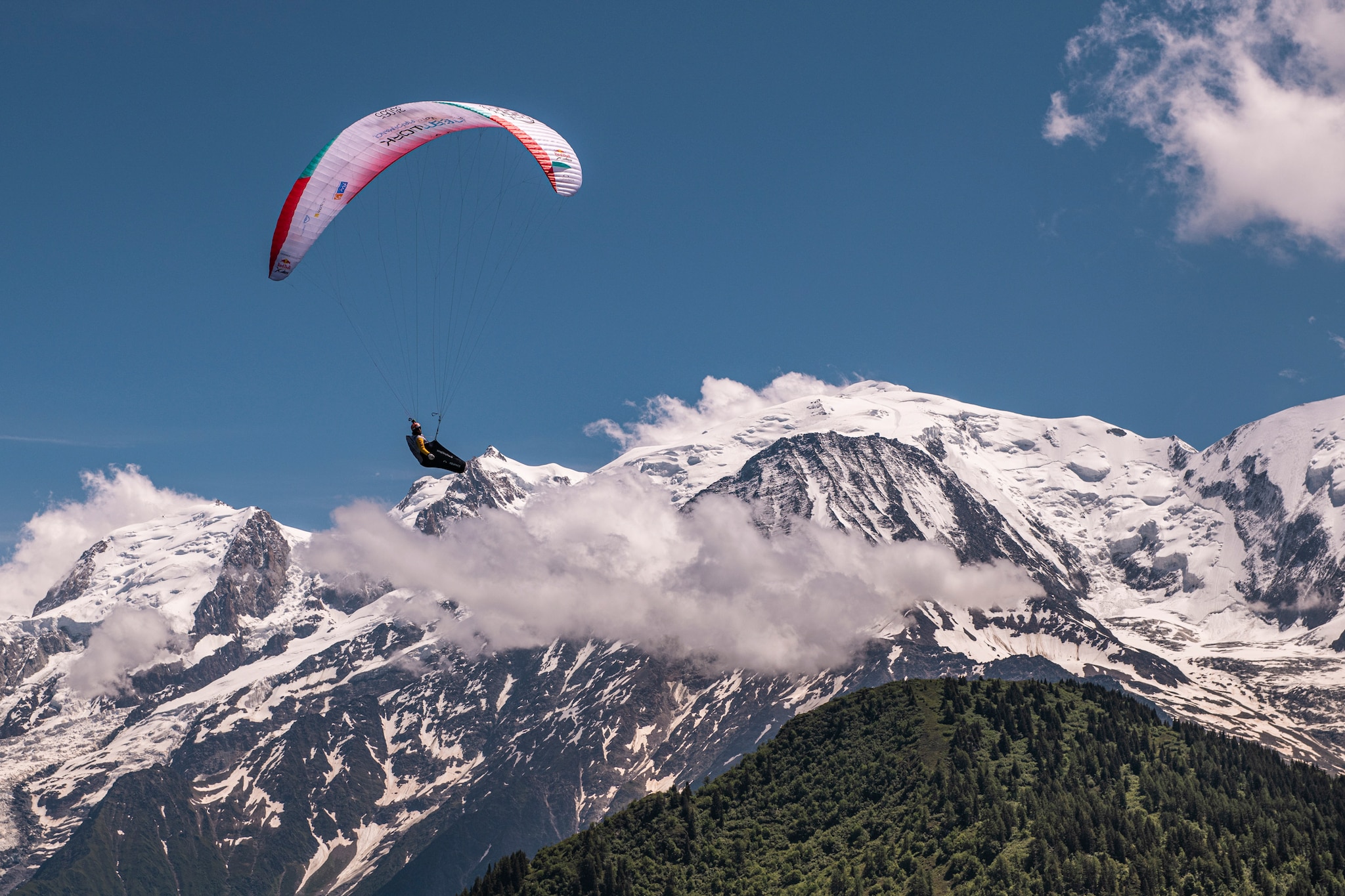 Mont Blanc is the most symbolic, most scenic and most challenging Turnpoint for the athletes. It presents a huge barrier if the athletes are grounded because of the weather, but today was just perfect. Chrigel Maurer (SUI1) flew the furthest today with just over 400km.
The day started around Turnpoint 8 Dent d'Oche, where the race leaders Maxime Pinot (FRA1) and Chrigel were looking around sunrise.
From there, everything went uphill for them. The two competitors stayed close together during the entire day, followed and sometimes joined by Benoît Outters (FRA2).
Chrigel didn't get to lead all day. It was Maxime Pinot (FRA1) breathing down his neck and finally taking the lead. Maxime took a slightly different line when, after tagging Turnpoint 8 Mont Blanc, they were flying along the flanks north of Matterhorn at well over 3000m sometimes.
At the end of the day however, both athletes are close together in Brig, down in the Rhône valley, from where they can take a good position to fly again tomorrow. All is not lost for Chrigel. But he had a hard day. When asked if he had a nice flight, he said: "No." He added that it was hard work in the air today. Surely being chased hard by two Frenchman didn't make things easier for him.
Just behind the leaders, the field was falling apart more and more. Patrick von Känel (SUI2) and Simon Oberrauner (AUT2) are taking an entirely different route after Turnpoint 9 Mont Blanc, going south of Matterhorn along the Aosta valley. It's more direct, but also more technical flying. Another interesting choice.
Paul Guschlbauer (AUT1) currently in shared 7th position with Tobias Grossrubatscher (ITA2) hasn't passed Mont Blanc yet but said: "It was the best flying day so far. It's incredible how everybody is flying. Everybody wants to beat Chrigel for sure." He added he doesn't know which route he will take next. "I just know the general direction where Zell am See is."
In the same valley, the leaders were flying towards the athletes in the back including Steve Bramfitt (GBR) who arrived in Brig at the same time as Maxime, but still on his way to Turnpoint 8 Säntis.
At the back for the entire day, Gavin McClurg (USA1) and Cody Mittanck (USA2) were fighting an American battle. Whoever is last at 6:00am tomorrow morning faces elimination. But they are both running through the night with their Nightpasses, and they are closing in fast on Nicola Donini (ITA3) who is slowed down by a bad landing, and Kaoru Ogisawa on a different line more south.
It's going to be an exciting night after an exciting day. Keep following the athletes on Live Tracking to see where they are going!