Day 4 Wrap-up: Stormy weather
From Alpine starts to Alpine storms, days don't get much bigger than this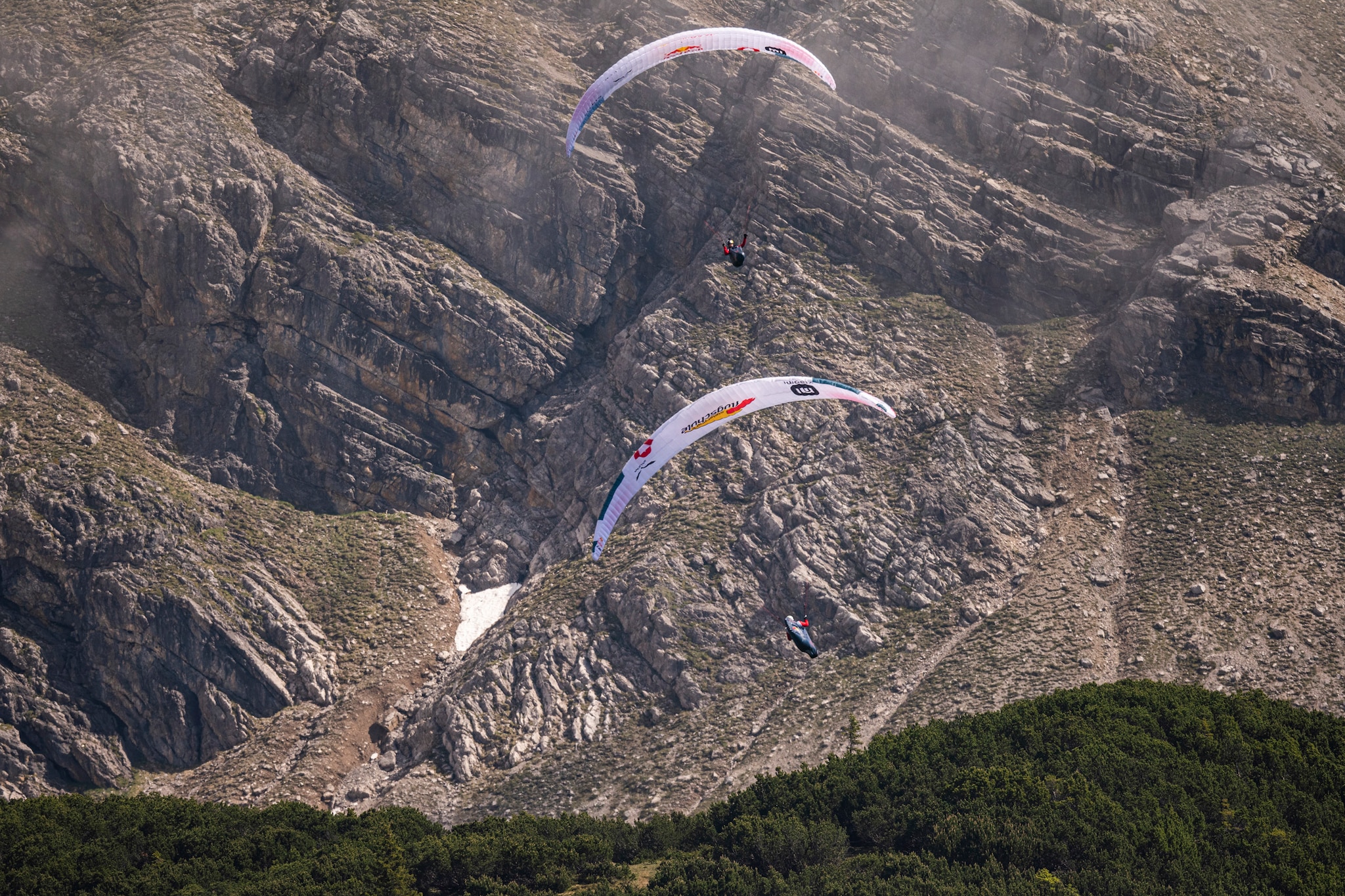 The day started with a hike up the Krachelspitze and ended for many with a hike through thunder, hail and lightning. In between, a sea of highs and lows for each individual athlete.
The first hike of the day for Chrigel Maurer (SUI1) and Patrick von Känel (SUI2) was up above the snowline on the 2700m Grachelspitze. The plan was to take advantage of early morning thermals and fly west towards Turnpoint 6 Säntis and Switzerland.
That plan didn't quite work out as the flying conditions weren't as good as hoped for, and they ended up landing before the Turnpoint and having to hike up.
Behind them, Aaron Durogati (ITA1) and Maxime Pinot (FRA1) were chasing hard – and Aaron actually caught them. In a super smooth move he crossed the wide Rhine Valley in the air, a crux move of the day, and flew on and into the Turnpoint. He tagged it then turned and ran.
Behind him, Maurer and von Känel quickly launched and gave chase. They all landed in the valley, but a quick hike through the forest saw Maurer launch again for a small hill called Gulmen. At just 1789m high this peak was low enough to avoid the lowering cloud base and gathering clouds.
In his signature style Maurer flew south, bouncing from slope to slope and hill to hill using dynamic wind and a few deft thermals. Soon he was landing though, forced down by gathering rainclouds.
Touching down he had stretched his lead to 8km again. Von Känel was reduced to flying in full rain in an attempt to catch up, but only managed a damp fly down to the valley bottom.
From there the evening became a hiking race. Athletes switched modes, pulled out the poles and went into beast mode. Hiking through rain storms is no fun but the Red Bull X-Alps spirit forced them on, keeping them charged.
At the back, Gavin McClurg (USA1) was trying to make up for his "terrible" first couple of days. "I've had some good flights today, although hit a bunch of headwind. It's been frustrating. But the team is great, we're having a blast. I'll gain some ground!" By the end of the day he had overtaken Nick Neynens (NZL) and was in 26th position.
As the evening drew on the weather cleared and some athletes managed some late evening fly downs. Thomas Friedrich (AUT3) landed just minutes before the official land-by time, swooping down at speed to get in before the clock. He finished the evening in 18th position.
The racing has rarely been this intense at the front of the pack, with at least eight or nine athletes in serious contention. Will they catch Maurer? They will if they can.