Day 2 Wrap-Up: Magic in the air
A big flying day, two Turnpoints and a classic move from Maurer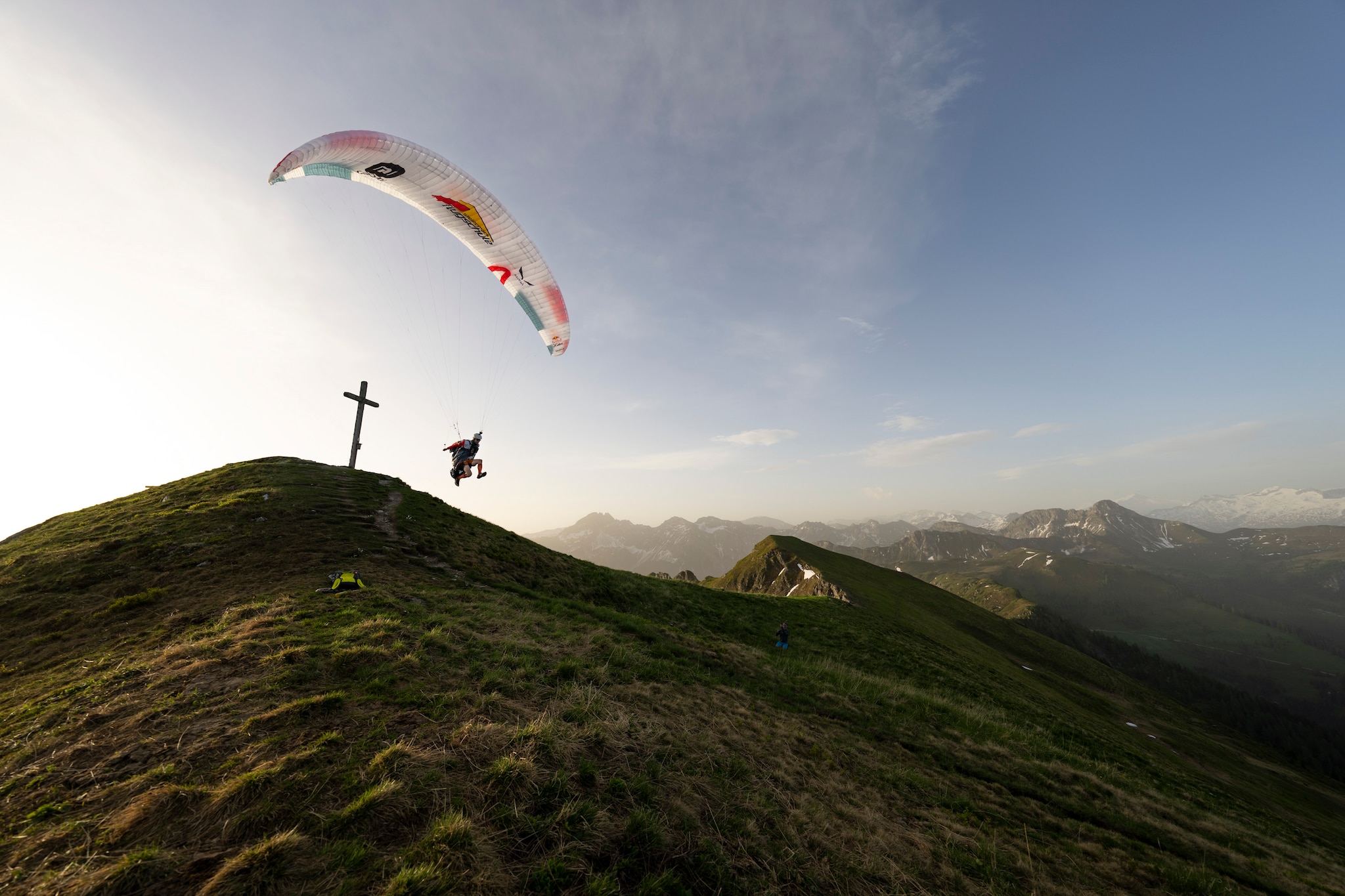 Day 2 started with haze in the air. Saharan dust blowing from the south meant visibility was poor. It was also hot. That meant the athletes hiking up the Schmittenhöhe in the Austrian Alps were already sweating by 8am.
By 9:30am several athletes were in position ready to take advantage of the first thermals of the day. Race leaders Benoit Outters (FRA2) and Markus Anders (GER2) were there, as was Chrigel Maurer (SUI1).
Outters launched first at 9:40am, and despite the slow conditions he and the others started to fly west to Turnpoint 3 Kitzbühel-Hahnenkamm.
On the other side of the lake several athletes were taking a different line, including Paul Guschlbauer (AUT1), who took off an hour after everyone else. Was it strategy? No, he said later, he'd lost his phone on take-off and "had to spend an hour looking for it. Seriously!"
The lost phone worked to his advantage as it meant when he did take off, the thermals were working well and he made good progress west overtaking literally every other athlete in the air. He made TP3 first, beating even his supporter, but simply top-landed, signed the board and flew out again. This is how champions fly.
Markus Anders was next to sign, and he made a similarly swift exit. The next leg would see athletes fly toward Turnpoint 4 Chiemgau-Achental.
Further back. Yesterday's race leader Maxime Pinot (FRA2) was having a bad day. He had bombed out – launched and landed at the bottom without finding a thermal. "Yes it was a mistake," he said as he hiked back up. "I just thought the thermals would be better out front, but I couldn't find anything."
Meanwhile Anders was pushing on out front. TP4 demanded that athletes go north to a lake before heading back to sign the sign-in board at Marquartstein. The idea was athletes would fly this section, tag the lake then turn back to land at the offices of Race Partner Skywalk Paragliders. However, the weather and wind today meant pilots ended up landing and had to hike through the heat of the day. The sweat was literally pouring off them.
Anders made it in first, Simon Oberrauner (AUT2) and Chrigel Maurer were second and third. Maurer signed in with a grin and gave a big thumbs-up. Next in was Paul Guschlbauer. But there is no time for anything but moving on – the athletes departed as swiftly as they arrived.
After 90 minutes of fast hiking through the forest the lead athletes launched again. It was 5:40pm and the thermals were dying down, becoming weaker. But Maurer, Durogati and Guschlbauer worked together to get the best of the early evening lift. Behind them half-a-dozen athletes were hot on their heels.
At 6:00pm Durogati and Guschlbauer made a break, leaving Maurer still climbing behind them. Maurer's thermal was good – an ascent rate of 2/ms which took him to 2000m. It proved to be a decisive moment for what was to come next.
Because while Durogati and Guschlbauer took a line slightly further north, Maurer stayed a kilometre or so south. This cut a corner and meant he was able to make a small jump on the other two athletes he was with. He was now definitely in the lead.
All three athletes had to land. They had covered 20km by air, a great evening's flying. It was 7pm and the evening hike-and-fly race was about to begin.
From their different positions Maurer had a big hike ahead of him to the summit of the Wendelstein, an 1800m mountain in southern Bavaria. Guschlbauer and Durogati had a much smaller hike to find a launch, but from their position they could only fly down into a cul-de-sac valley. They landed among trees and had to start to hike.
Meanwhile Maurer climbed higher and higher until he was on the very summit of the Wendelstein. He launched at 8pm and spent the next hour executing a masterclass of late evening Alpine paragliding.
As Maurer continued to fly west Durogati and Guschlbauer, not joined by Patrick von Känel (SUI2) had hiked up and launched again. They flew for about 20 minutes before landing, at which point Maurer had stolen a 10km lead on them.
More was to come as Maurer stayed in the air until the very end of the day. Land-by time is 9pm in the race and he touched down with five minutes to spare.
He was 21km ahead of his closest rival. It was a classic Maurer move, one that put him ahead and one he will be feeling happy about. The rest of the pack? Not so much.
Day 3 is going to be big. Tune in from 5am (CEST) on Live Tracking!