Incredible scenes as athletes reach Monaco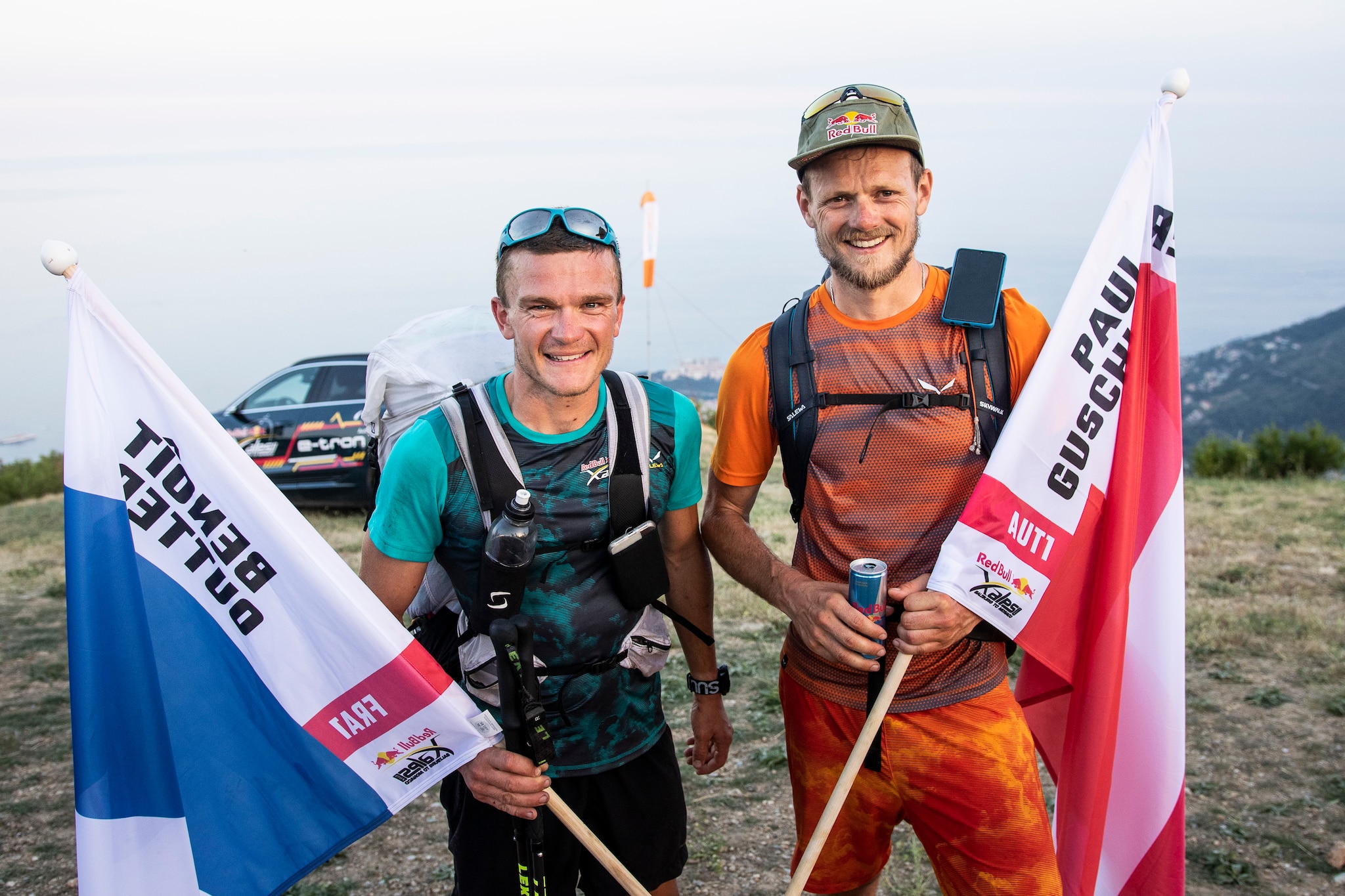 We have our winners – and there are four of them! In an amazing display of sportsmanship at the end of Day 11 in the Red Bull X-Alps, two pilots teamed up and crossed the line together, securing joint third place.
However, long before that happened, 27-year-old race Rookie Maxime Pinot (FRA4) became the second athlete to reach the final Turnpoint at Peille, above Monaco. In doing so he secured his place in Red Bull X-Alps history, and made his supporters, friends, family and country proud.
After signing in Pinot said he was happy, but also added: 'I feel a lot of emotions. The race was even crazier than I expected, but I'm super happy to be here, and very proud of myself and my team.'
And he promised he would be back next time, too. 'For sure I will be back in two years!'
Pinot's official race time was 9 days, 21 hours, 52 minutes and 34 seconds.
Having arrived in the morning a little after 09:30 Pinot waited until the early evening to fly down to the raft. When he got there, he indulged in a spectacular splashdown – cooling off in the Mediterranean Sea after one of the hottest days in Europe this year.
'Normally I prefer to be in the mountains but this time I'm happy to be in the sea!' he said, before both he and supporter Jeremie Lager, who had joined him on the raft, opted to swim back to the beach.
Once the fun of Pinot's arrival on the raft was over, the serious business of waiting for the next two athletes was at hand. Paul Guschlbauer (AUT1) and Benoit Outters (FRA1) had been travelling together since the early morning. After hiking and then flying together to within 40km of Peille, they spent the afternoon stitching together a series of short hikes and flights in an effort to reach the Turnpoint before sunset.
Finally, just before 20:00 the two athletes walked onto the Turnpoint together and were greeted with applause and cheers. They then signed the signboard at exactly the same time to claim join third place.
Outters, who was second in the Red Bull X-Alps in 2017, said he was, 'Very happy to be here with Paul'. He added that it had been Guschlbauer's idea to pair up. 'I said ok, lets do it.'
Guschlbauer, who has competed in the race five times and has been third four times now, said he was glad to have reached Peille. 'The end is always hard, but my body feels better this year.'
Guschlbauer was third in his first Red Bull X-Alps in 2011, 9th in 2013, third in 2015 and third in 2017.
The two athletes then flew down to the raft in the sea to land just before the official land-by time of 21:00.
Both athletes have an official time of 10 days, 8 hours, 45 minutes and 23 seconds.
Behind them, the race is still very much on – and remains on for most of the night. Sixteen athletes pulled their Night Passes and will hike through the night. Around 10 are expected to make Peille with time to spare.
Behind that top 10 sits one very famous Red Bull X-Alps star. Toma Coconea (ROU) had the flight of his life today when he reached 6017m above Turnpoint 11 Monte Viso. Such heights are rarely if ever achieved in Europe, but today was one of those days – when baking hot temperatures in the high mountains and high air pressure combined to create monster thermals that blasted athletes towards the heavens.
After landing Coconea's supporter said he was fine, but that we was 'upset' he had landed so soon. Coconea flew 212km today.
Tonight however, he will have to hike – and if history is anything to go by, that hike will turn into a run. Will he be able to cover 86km of straight-line distance in 15 hours? Difficult, but perhaps not impossible for the athlete known as the Romanian Running Man.
Don't miss a beat as this race truly enters its final hours – stay glued to the action on Live Tracking!