Day 10 Wrap-up: Three pilots in goal today
Patrick Von Känel (SUI2), Simon Oberrauner (AUT2) and Maxime Pinot (FRA1) battled it out for the podium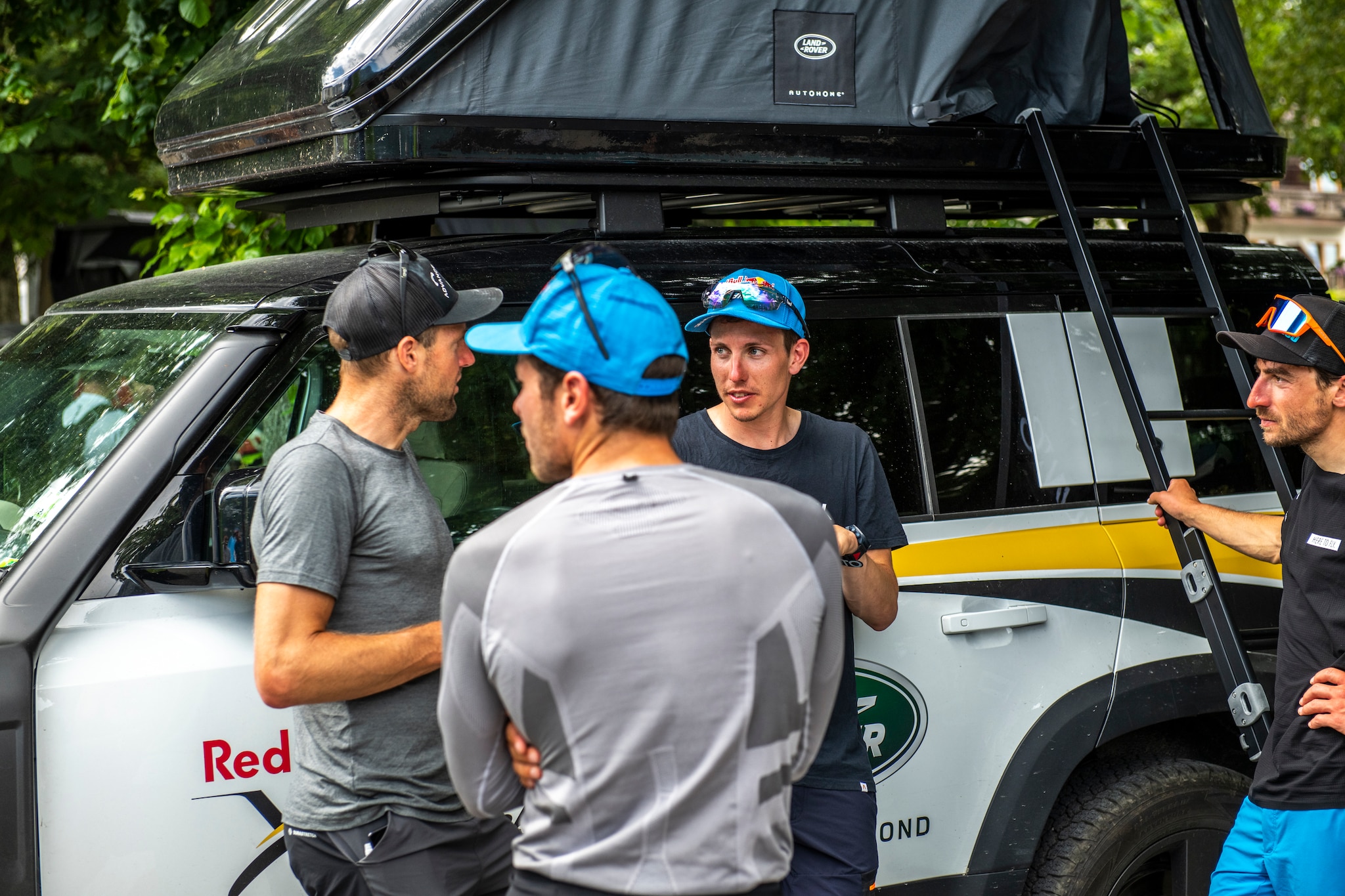 Day 10 started with a poor weather forecast, and pilots taking shelter wherever they could from torrential deluges. The forecast from Ubimet was not what any athlete would have asked for: a cold front moving in from France and spreading into Switzerland and Austria; foehn winds and weak thermals.
Maxime Pinot (FRA1) and Simon Oberrauner (AUT2) were at Antholz first thing, sheltering from the rain under leaden grey skies that didn't look like they were going to relent. One athlete was pictured crouching under a big rock!
Laurie Genovese (FRA4)'s race ended this morning. She was the back marker, cut by the elimination, but she admitted that she had pushed her limits, both mentally and physically. Her feet would no longer carry her, and she had become fearful of the air. She raced a great race, covering 814km in the air and 394km on the ground in total.
Then late morning a super-exciting air battle happened, with Patrick Von Känel (SUI2), Simon Oberrauner (AUT2) and Maxime Pinot (FRA1) battling it out for second place. It was genuinely nail-biting viewing, with the lead swapping over, with a short footrace in the middle between Von Känel and Oberrauner to tag the Schmittenhöhe Turnpoint. In the end it was Von Känel who landed on the raft first to take silver, with Oberrauner following 11 minutes later to take bronze. Their official times were Von Känel: 9 days, 2 hours, 7 minutes, 30 seconds; Oberrauner: 9 days, 2 hours,18 minutes, 25 seconds.
The world then watched as Maxime Pinot (FRA1) also made a perfect landing on the raft for fourth place: all three arrived in goal after 1,238km of racing, less than an hour apart. Maxime's time was 9 days, 3 hours, 1 minutes, 14 seconds.
Benoît Outters (FRA2), who has been one of the athletes at the front of the race throughout, was 100km further back, but he tagged TP11 Kronplatz at 4pm, launched his glider in fairly windy conditions, and flew off to the north, and landed 20km later. He has been hiking ever since. He is currently walking along the valley towards TP12 Schmittenhöhe, with just 70km to go until goal. He has a Night Pass. Tobias Grossrubtascher (ITA2) has one too, and is 30km behind Aaron Durogati (ITA1), and in 8th place.
Paul Guschlbauer (AUT1) is in sixth position with 293km to go, just four kilometres ahead of Aaron Durogati (ITA1) in seventh.
Kaoru Ogisawa (JPN1) is the only athlete yet to have passed TP8 Dent d'Oche, but he is looking strong and has hiked 61km today – one kilometer for every year of his life. "I hope I am as fit as Ogi when I am 50!" one fan commented on Facebook earlier.
Théo de Blic (FRA3) will be sitting out his 48-hour penalty in the beautiful Saint Jean d'Aulps near Morzine, 545km from the finish. He is not allowed to start moving again until 5am on Friday, and will likely be in last position when the elimination happens at 6am on Thursday. "I'm a bit sad about that, but it's been a fun adventure", he said.
And it still is. Who else can make it in before 11:30 on Friday? That will depend a lot on the weather. Join us on Live Tracking to find it out!