Chrigel Maurer wins the Salewa Trophy!
Maurer top lands on Turnpoint 4 Kronplatz to win ahead of Maxime Pinot.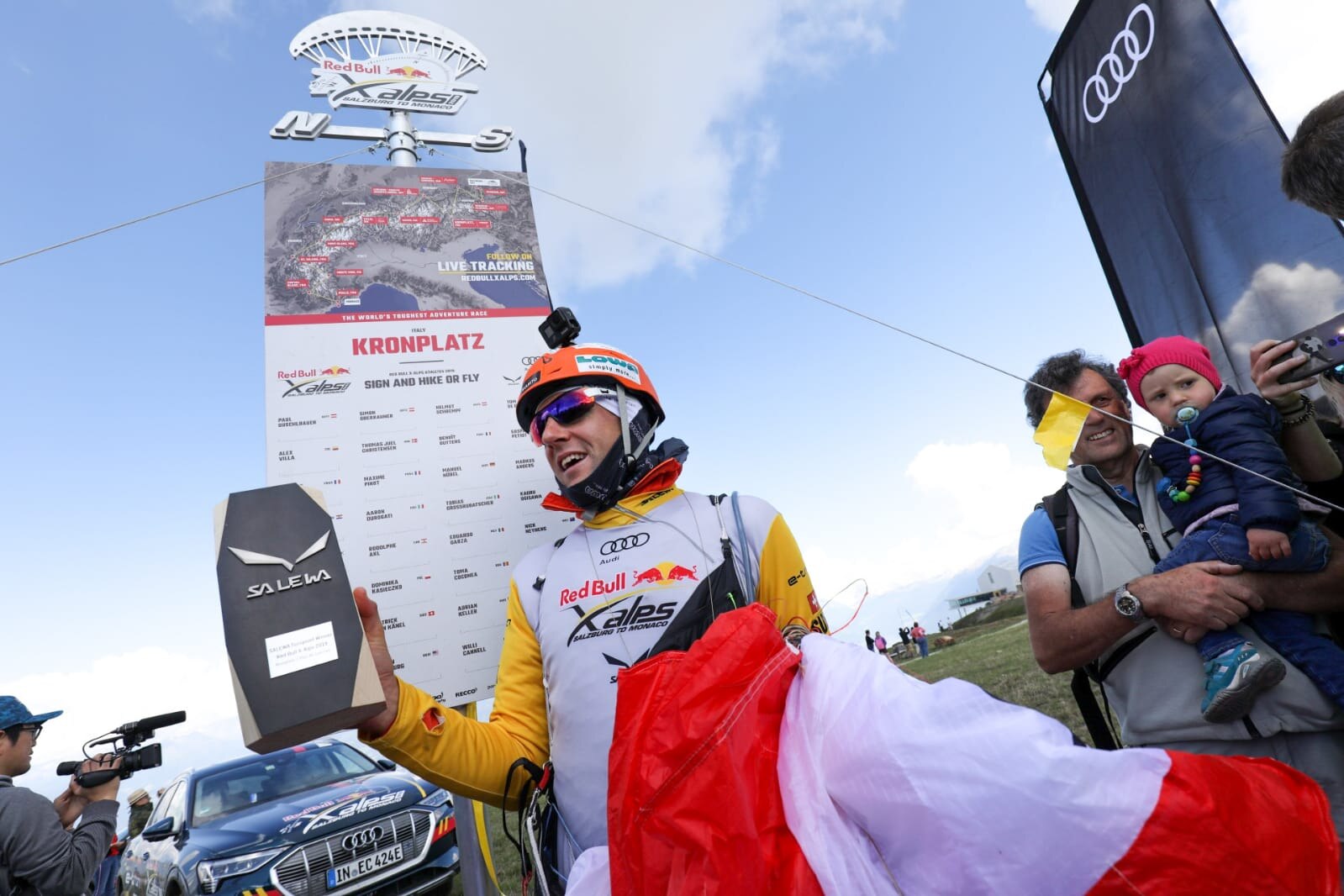 Chrigel Maurer (SUI1) has won the prestigious Salewa Trophy after being the first athlete to reach Turnpoint 4, Kronplatz today.
He arrived just several minutes ahead of Maxime Pinot (FRA4), who had been chasing Maurer all day.
The day had started with a long hike for all the athletes, as they worked to get into position for a good flight. Launching at about 10.30am, the flight south then took 80 minutes. Under the rules athletes must land and sign in before taking off again.
Wearing his trademark yellow and white Red Bull X-Alps race speed sleeves, he walked to the board, signed in and was then awarded the Salewa Trophy.
"It feels very good to have the Salewa Trophy again, after two years," he said. "It's not half way yet, but it's a great goal to get it, and a good souvenir. Thank you very much!"
Posing for photographers he added: "Pinot is arriving very soon and I have to hurry!"
Asked if he would make Turnpoint 5, Lermoos - Tiroler Zugspitz Arena today, he joked, "I think Davos!" before he added, "Yes, I think Lermoos is possible."
After being awarded the Salewa Trophy Maurer then walked a few metres away, laid out his glider and launched to the whistles of the crowd.
With Pinot behind him and several hundred metres lower than the summit of Kronplatz, Maurer took to air, turned and headed back north west, towards Turnpoint 5.
Maurer is leading this race – and very much in control – again.
Follow the Live Tracking for all the action.