Andy Frötscher is a legend of the Red Bull X-Alps and took part in every edition between 2003 and 2013. He was scheduled to return as supporter to Lukas Hofer. Sadly Hofer has had to pull out, but we caught up with Andy anyhow to hear his epic tales and why he hasn't ruled out returning again one day.
Take us back to 2003
At the first Red Bull X-Alps we were still a group of adventurers I was just very, very surprised to have been nominated for this very special competition. Suddenly I was standing there next to Kaspar Henny, Will Gadd, Steve Cox, Hannes Arch. I was looking forward to this unknown adventure! No one I knew had attempted such an adventure. I had a lot of questions at the start. How far can I fly? How do I find the right way? What do I have to take with me for meals? How will the weather develop?
What has changed the most?
Look, in 2003 I had 20kg of kit! My harness alone weighed over 8kg more than all the equipment today! We were all pioneers when it came to Hike & Fly and today's entire paragliding market is based on what Hannes, Ulrich and a few crazy paragliding pilots started back then.
How has the tech evolved?
What is indispensable today did not exist in 2003! During the Red Bull X-Alps 2003 and 2005 we received weather information in a three-page long SMS every morning. It contained the daily forecast for the area from the Dachstein to Monaco! The message always started with "sunny and low wind" and ended with "thunderstorms"!
Any funny stories from those early editions?
I can still remember very well how I hiked to the Schmittenhöhe on the second day in 2003. Will Gadd, then the cross-country world record holder, was also on launch. I said to my supporter Florian: "If he doesn't start something is wrong. Then I won't start either! I cling to him as he knows what he's doing.

In the late afternoon Will packed his gear, I did the same, and started walking and I followed. I slowly got up the courage to speak to him in my very poor English. I then asked him why he hadn't started. And he replied: "I was waiting for you to launch! You live and fly in the Alps and have been selected for the Red Bull X-Alps. So you are among the best pilots! So tell me, why didn't you start?"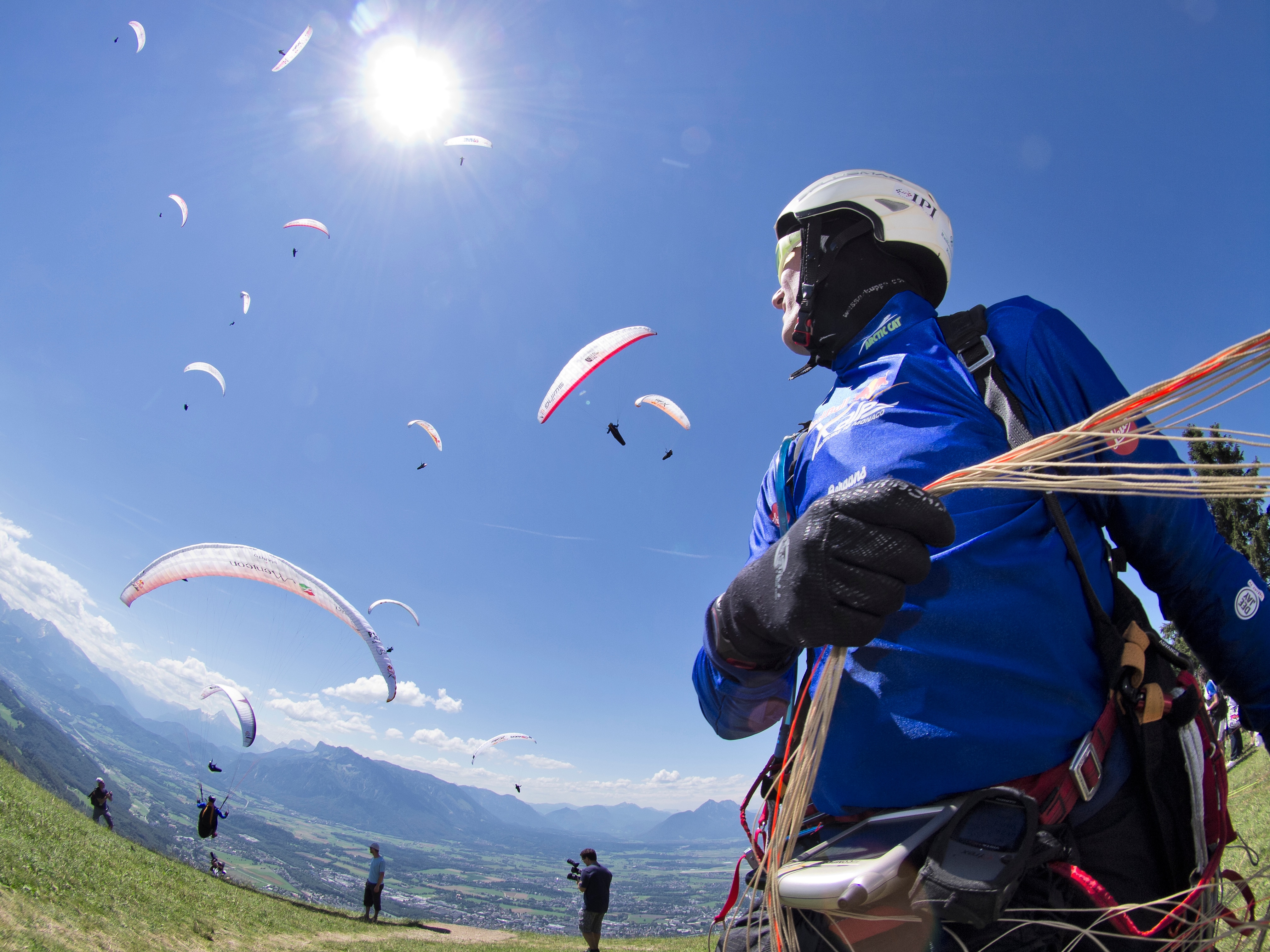 You had some highs and lows?
In 2003 I managed to cover the unimaginable distance of 1km in a day – 1 km in the wrong direction! The day before I had an unbelievable flight from Ladis in Austria, near Landeck, past the Piz Buin, over the Flüela Pass, Davos and Chur to Disentis. It was one of (or the?) longest flight of 2003, almost 200km.
The next day I walked up to the official launch site in Disentis. But I had a tailwind. We didn't have today's tactics of simply going further and looking for a new starting place. In the afternoon the tailwind changed to a crosswind and I managed to take off. But there were no usable thermals. After an uncomfortable hour in the air, I ended up back at the same spot where I started. I ran up the mountain again to the same starting point. The wind had continued to pick up. I was able to take off, but I had no chance of going west – the strong valley wind blew me in the wrong direction. In the end, very frustrated, I ended up about 1km behind where we slept the night before. Today I can smile about it, but definitely not back then!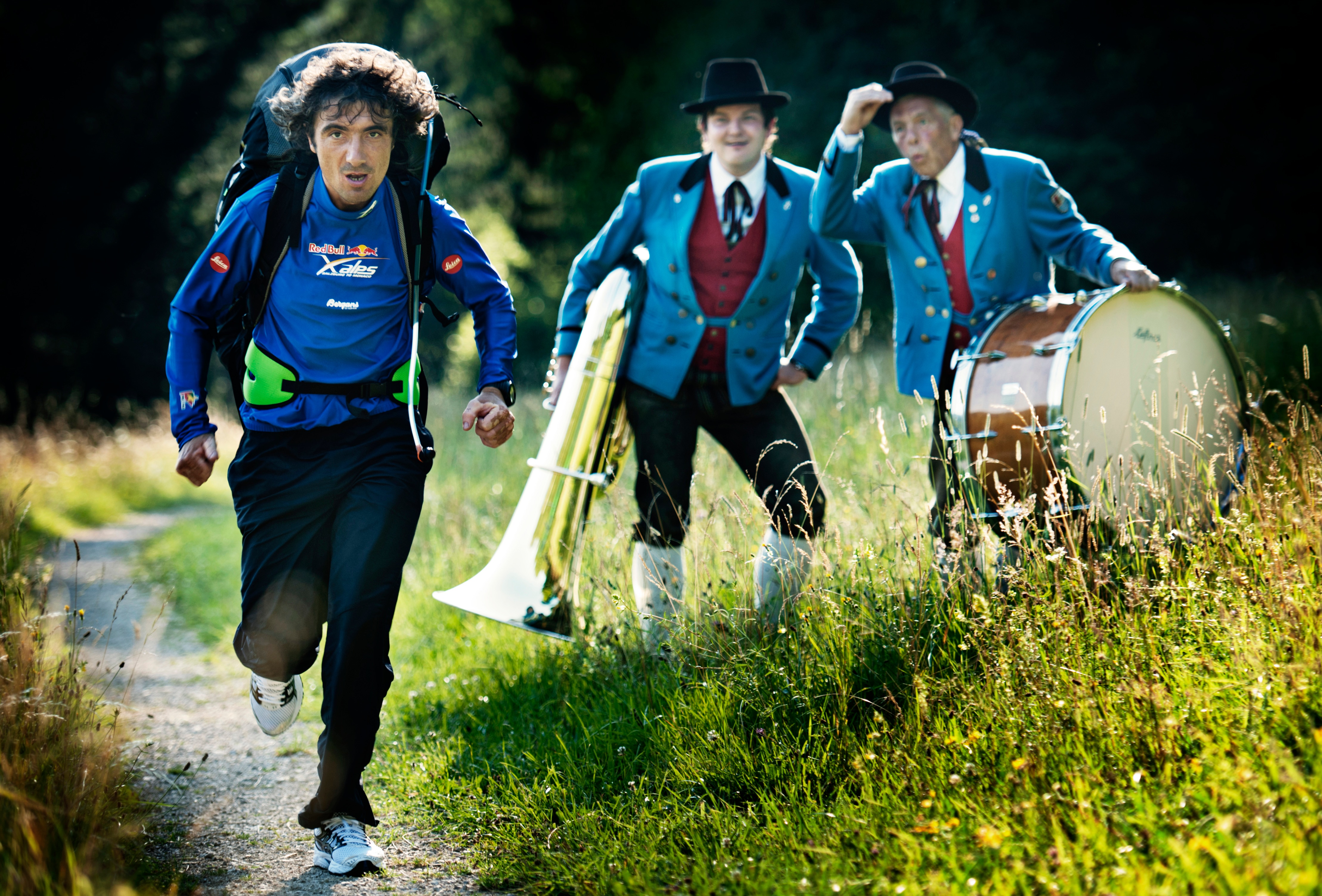 Can you believe Toma Coconea is still racing after all these years?
Toma is really crazy! Being there for 20 years is incredible. But that's his way. He lives the Red Bull X-Alps in a completely different way. In 2003 he wasn't a particularly good flyer (sorry Toma!). He was 'the running man!' Coco ran and ran and ran. At that time the race was 24 hours a day. And Coco ran 100 km in one day. And again the next day. And probably again the next day...
I like Toma very much. His calm demeanour and modesty make him very special. And I look forward to meeting him again in June and having a little chat, although it won't be much. Because he is not a man of many words.
Is there a little part of you that would like to compete again?
To be honest, I really wanted to be an athlete at the 20th anniversary edition but I couldn't implement my plan. As a supporter I was hoping to have the opportunity to see if I would really be willing to give everything again. I remain curious!
Top image © Andy Frötscher