Aaron Durogati's triumphs and disasters
From the pain of hiking Mt Blanc as everyone flew overhead to bombing out over a glacier at 90km/h, to what nearly made him cry, Aaron Durogati shares his highs – and lows – from this year's race. And he reveals how he's now into BASE jumping.
What's your overall feeling looking back?
It was quite amazing from the weather side. We finished such a long race in such a short time, it was fairly easy with good weather – crossing Switzerland in one day. That was cool.
"Easy." Really?
I had actually one really ugly day, which was the fifth day where the wind condition was really strong. And I flew almost eight hours on my very limit. So when I landed, I was mentally completely done.
Best moment of the race?
I think the flight I did from the Col du Petit Saint-Bernard pass to Locarno [also Day5], I flew close by the Matterhorn and Monte Rosa. The scenery was amazing, and I was actually in a convergence line. The cloud base on the Italian side was at least 1,000m lower than me, and on my left side it was the glaciers, and I was basically in a tiny place of blue sky between glacier and huge cloud, which was way lower than me. That for sure was really beautiful.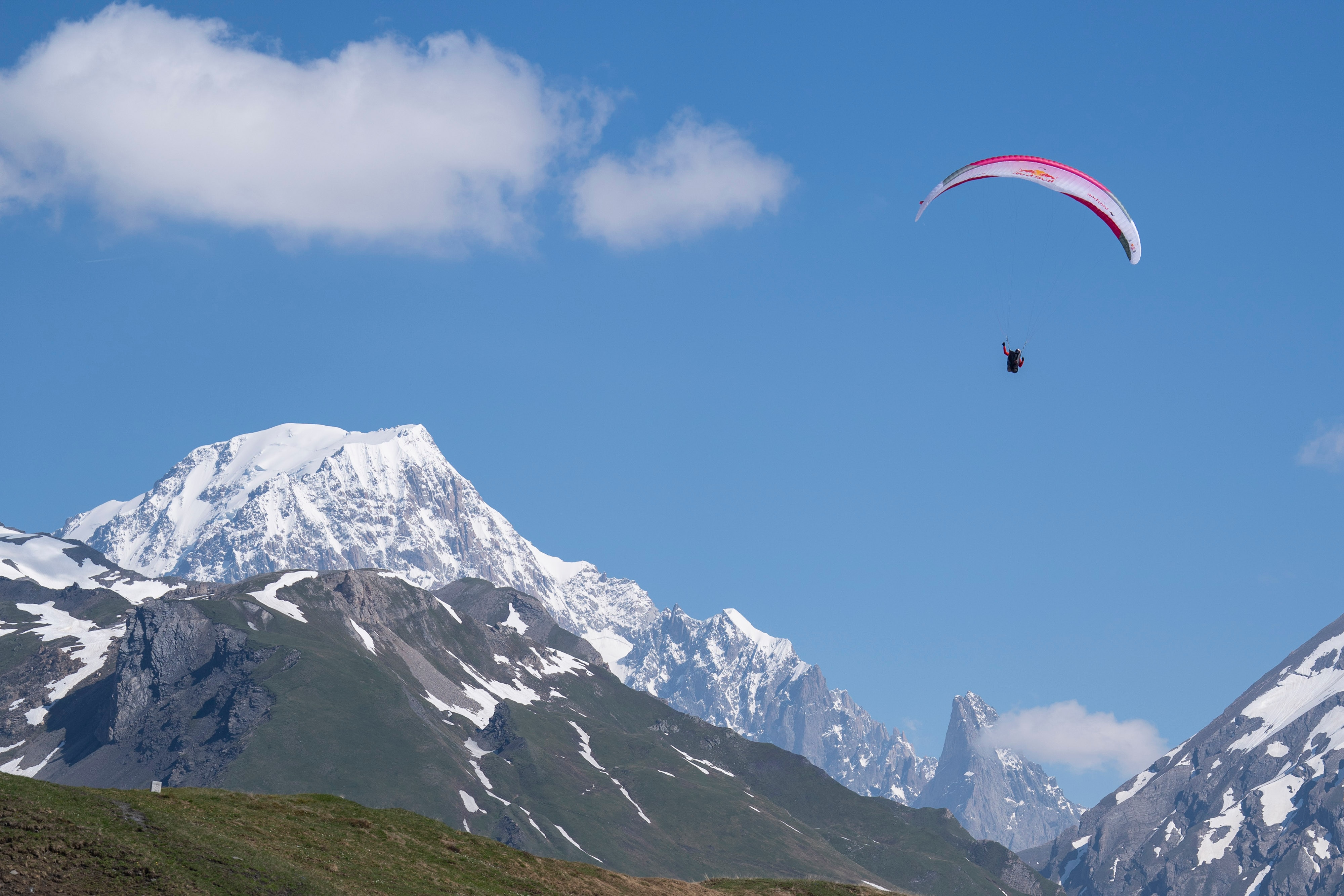 Low moment?
So the first part of the competition till Mont Blanc, I was really quite in front then in Chamonix I had really bad timing, got the thunderstorm that put me behind, and the people which were behind had it better and passed over me. I was just behind Chrigel and Max and they managed somehow to fly through the thunderstorm, and I had hail and rain and everything, so I had to land. But that was okay for me because I was a little bit behind them, so I can accept this. But it was really hard that once I took off again and the sun was there, it was not thermic. At least I didn't find it! I landed in Chamonix in the valley, and then I hiked up again, and in the meantime came the guys who were far behind me, and they just got 4,000m on the Aiguille du Midi and flew over me! Then I was pushing like hell to get up, and I took off again, and there was nothing. In the end I had to walk all around the Mont Blanc Massif and those guys just flew over. So that was hard to accept!
"In five minutes I went from the top to the valley floor. And I almost cried."
What do you tell yourself in those moments?
It's not over till it's over! I try to be calm, but for sure it's not nice. You don't feel great in that moment. I actually had this twice, once in Chamonix, then I managed to battle myself up to 5th or 6th and close the gap with the leaders. And then around my mountains I took off with Pal and Simon. Everyone goes up, but I went down by Föhn. In five minutes I went from the top to the valley floor. And I almost cried. You know, I can understand when I do mistakes or stuff, but there I had (a sink rate) of between -4m/s and -5m/s all the way to the ground. And just a couple of minutes before I was climbing. That was hard to accept.
This year you followed a much more self-sufficient strategy than in previous years. How did that work out?
I was really happy about the team, they supported me perfectly but I was taking the decisions by myself. It worked amazing but if it had been normal Red Bull X-Alps with tricky weather and hiking a lot and being really tired from the hiking, it might have been more difficult like this.
Overall were you happy with your performance?
On the very last day, I flew really good because we were like eight guys racing for the eighth place. And I was thinking, okay, well now let's see, it was like a paragliding competition and normally in these I'm really good. So do the strategy like a World Cup task, take your decisions and just bring it home [laughs]. And yeah, I managed at least to win the race for (eighth place) so I was happy.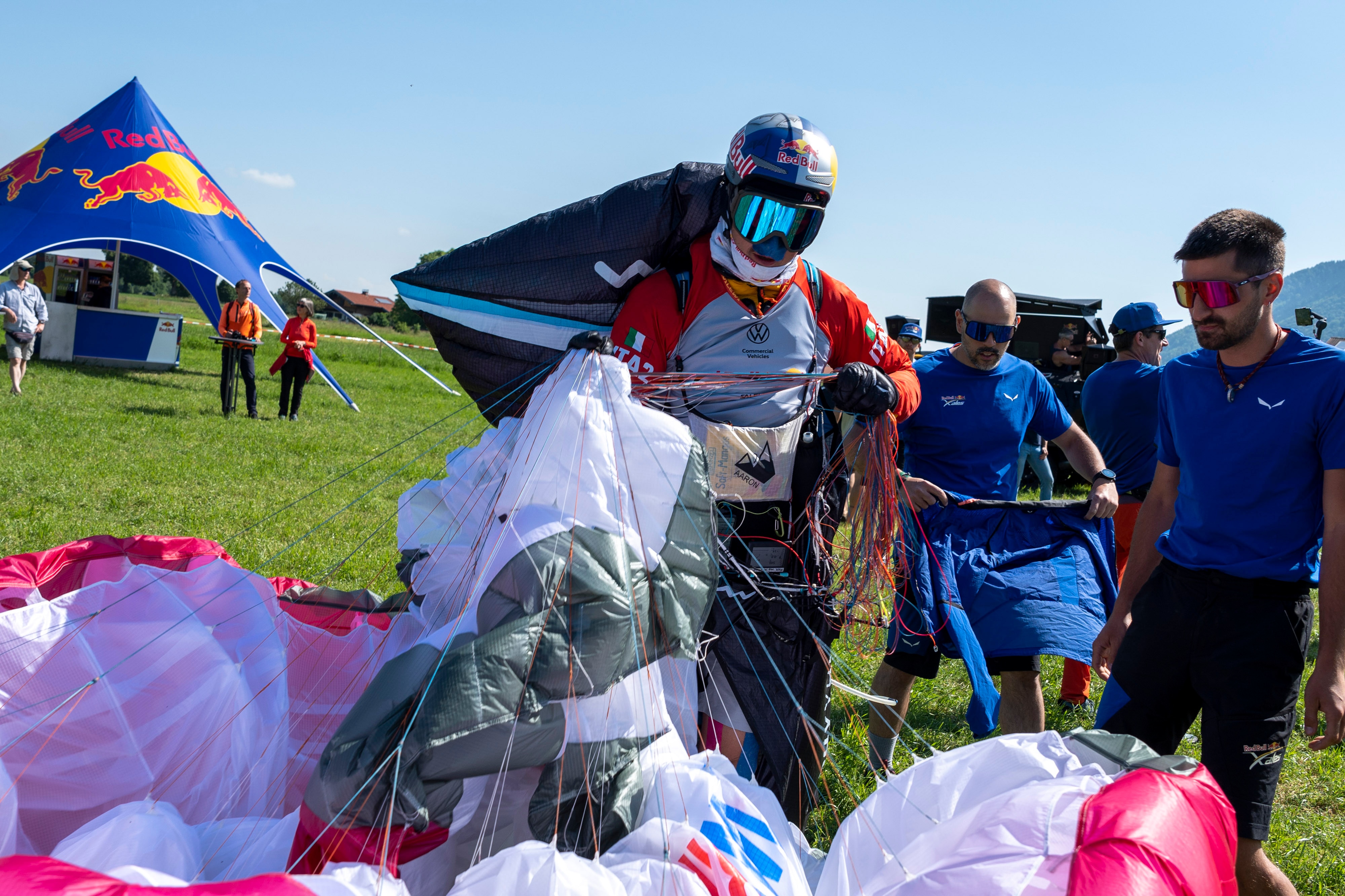 "I was thinking, okay, now I really made a huge mistake and let's see how I will manage to survive this."
You often have a lot of crazy stories after the race. Any really tricky situations that stand out?
When I was flying over the Adamello, the glacier before the Brenta Dolomiti Turnpoint, I decided to fly a little bit more of straight line, which lead me in the lee side of this glacier while everyone in front or behind just flew around. I felt like it's gonna work good, no problem. But then <laughs>, I find myself flying like 90-95km/h and having a glide ratio of 2:1! So it was sinking like 10m/s, and the glacier was flat. And at half way across the glacier, I was thinking, okay, I will not make it out. I'm gonna land on the glacier. I was cruising at 90km/h, so I was thinking, okay, now I really made a huge mistake and let's see how I will manage to survive this! And in the end, I just stick on my line and I managed to fly over the last serac by not a big margin! And yeah, that was scary [laughs].
What have you been doing since the Red Bull X-Alps?
I have been racing in the Hike & Fly Trophy in Dorf Tirol and Stubaital. [This is Aaron's own race series he set up with Paul Guschlbauer.] I have also been racing in the Prealpi tour, which I managed to win. And then I've been climbing a lot. I did some nice project with friends, so climbing some iconic routes in the Dolomites and then flying down. And then there's been the BASE jumping. Right after the race I started BASE jumping. I BASE jump already a bit, but always from the tandem, never from rock. Me plus three other guys, we jumped off of the north wall of the Tre Cime (Drei Zinnen) which was amazing. And then basically the week after we went again, we did a bigger mission. So we jumped in the morning on the Tofana in Cortina, and then we jumped also Tre Cime – two beautiful jumps, a little bit of climbing, a little bit of hiking. Great!
What's next for you?
I will be racing with Gavin in the XRedRocks then I will be in Dubai in November for the UAE hike and fly, then I hope to be on skis!
Top image © zooom / Lukas Pilz