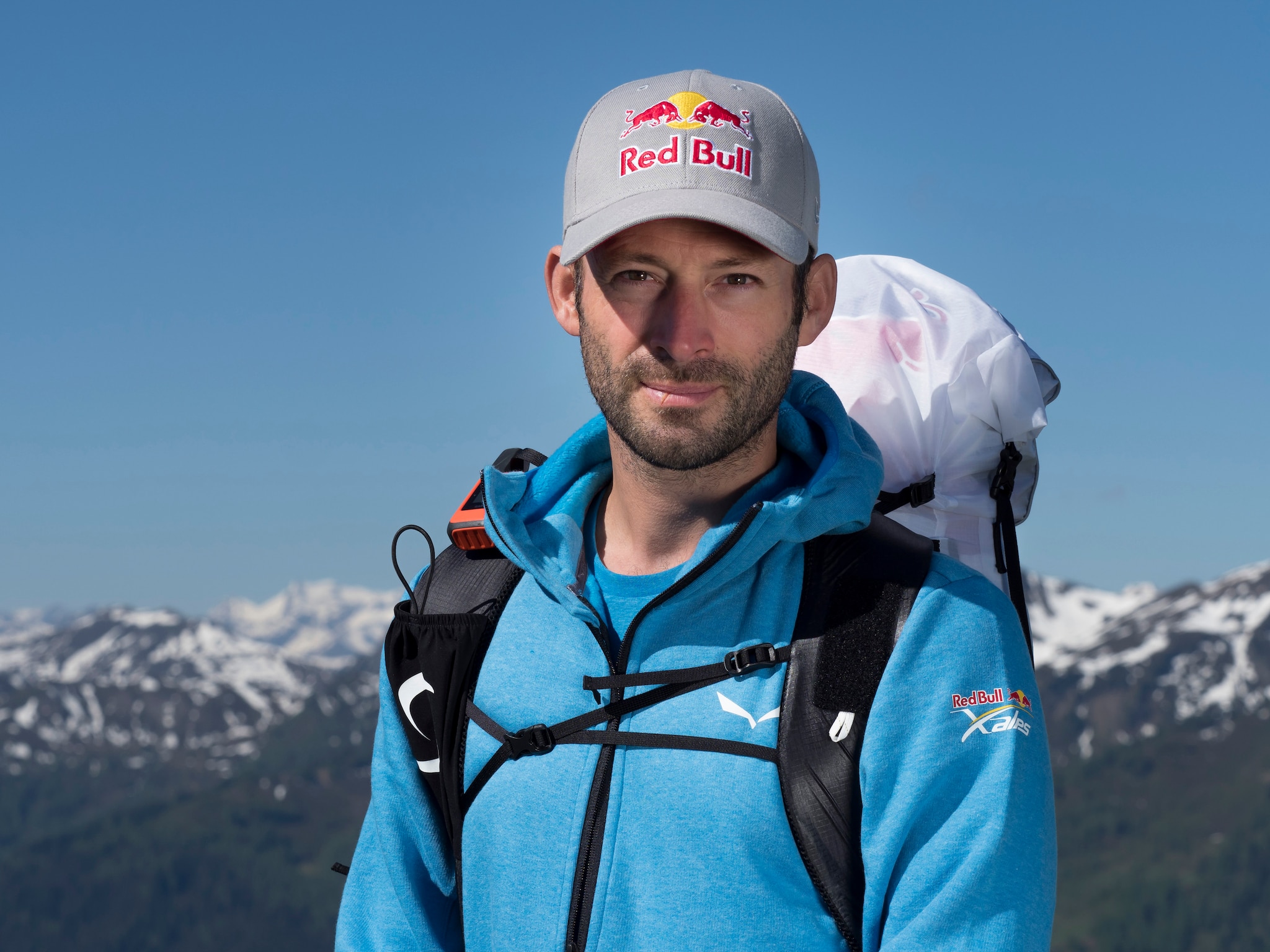 dtg

-- km

height

-- m

speed

-- km/h

heart beat

-- bpm
BEL
Nationality:

Belgium

Date of birth:

20 June 1985

Profession:

Pro Paragliding pilot / Adventurer.

Supporter:

Thibault Voglet

Sponsors:

Red Bull, Garmin, Volkswagen, Europ Assistance, Sup'Air
We sat down with Tom and talked about his Red Bull X-Alps 2021. He told us about his highlights and stand-out moments and how the race compared to his previous ones.
What was the highlight of your race?
Probably the massive day with a few flights between Andermatt and Dent d'Oche. It felt good to finally be flying and to cover a big distance. It was great to share most of the flight with my friend Ferdy Van Schelven. We got close to the front again that day but the next day we got stuck under a grey sky and the front pack escaped in good weather. It felt like we were cursed, haha. That's part of the game.
What was the toughest part for you?
There was a lot of walking (I got the record with 654 km walked)…. I was well trained but it was frustrating to get four no flying days in a row due to extreme winds going towards Italy. It was really hard to walk around Mont Blanc. I have done this flight before and it usually takes a few hours. It took us the whole day and a lot of walking to clear that area.
What was THE stand-out memory for you?
When everyone started singing for my birthday at the start line. It really motivated me. A few hours later I was thermalling with Christian Maurer near the Dachstein and I could still feel the energy of the crowd. It got me into the zone somehow. The mindset was good.
How was this race in comparison to your other Red Bull X-Alps races?
I was more prepared than any other time, both physically and mentally. I had an amazing flying set too. But it felt like I couldn't express myself this time. I was off the rhythm a bit. It seemed that options were not working and that bad weather followed us. All in all, I loved the experience but out of the eight races it was the most frustrating race for me.
Dive into Tom's day-to-day experience through the race news and social media updates to see what it takes to be a part of the world's toughest adventure race!
Tom de Dorlodot (BEL) spent last night in a refuge that he knew from previous X-Alps. Unfortunately the kitchen was closed by the time he arrived, so last night's dinner was some bread and cheese he had with him. He's looking forward to some decent food at the end of the race, but he's in a good position on a south-east facing ridge to the west of lake Como. He says conditions are looking good. "Still a bit of north wind, but it's looking really nice". He is hoping to finish his race flying. "That would be really nice".
Tom de Dorlodot (BEL) is having a great flight, pushing over Steve Bramfitt's (GBR) head. Tom is now at 2800m and in 15th position. He is on his way to Domodossola, a valley that almost all of the athletes have crossed on their way to the Italian lakes.
Tom de Dorlodot (BEL) has found some beautiful blues skies, but it is still much too windy to fly. He is in 16th position and has hiked 53km today along the Aosta valley mostly.
The Belgian-Romanian party
Toma Coconea (ROU) and Tom de Dorlodot (BEL) are racing together in 13th and 14th positions towards the Col des Fours to the southwest of Mont Blanc. You can see from the green tracks where other athletes flew over previously. Hiking is much harder and much slower, and at 2.318m the athletes may also be starting to feel the effects of altitude.
Hiking at 1364m – 743.22 km to finish – 12th place
Tom de Dorlodot (BEL) is getting in a late evening glide. He is catching up with Toma Coconea (ROU) who is now on the ground. Land-by time is 9pm. Athletes will be happy if they are able to make short flights this evening after all the bad weather. De Dorlodot is in 13th position.
Resting – 496.47 km to finish – 13th place
If you want to check out some flying action away from the front – check in on Tom de Dorlodot (BEL) and Ferdinand van Schelven (NED). These two athletes are true veterans of this race, and what's more, they are genuinely very good friends who have travelled, flown, hiked and had adventures together in many places. They will be flying in harmony together this afternoon – it's like a duet. This is de Dorlodot's eight Red Bull X-Alps and van Schelven's fifth. They are currently in 13th and 14th.
The Red Bull X-Alps is on!
And they are off! The start of a 12-day race across the European Alps. From the centre of Salzburg to Mont Blanc and back – a distance of 1238km. Incredible scenes here as just minutes ahead of the start the entire field of athletes sang Happy Birthday for Tom de Dorlodot (BEL). That is the true spirit of the Red Bull X-Alps right there. We look forward to a fast, exciting and safe race over the next two weeks. We are here for the duration – follow Live Tracking and don't miss a second!
Tom de Dorlodot (BEL) celebrates his birthday today and has just been given a cake at the start of the race. 'It's a challenge now because there is wind on the summit of the Gaisberg but the forecast is for it to die down by 3pm. So it might be wise to wait on the top so we can fly. Otherwise it's a long hike to Wagrain-Kleinarl.'
'I can't wait to get into the mountains'
Tom de Dorlodot (BEL) celebrates his birthday today. This is his eighth Red Bull X-Alps – he did his first when he was just 21. 'We had paper maps, no smartphones, nothing,' he said about his first race yesterday. 'The race this year is going to be hard, but it's also a relief. We are all happy to be here and I can't wait to get into the mountains and start running.'
When and why did you begin paragliding?I started flying at 14 years old. I wanted to see how it looked from above while having fun with my friends. I come from the flatlands of Belgium and I learnt to make the best of every lift and all the little hills we have.
Do you paraglide competitively? List rankings and events.Yes, I participated 7 times at the Red Bull X-Alps. Finisher.
What is your mountaineering experience?The mountains are my second home. I spend a lot of time up there. I crossed the Alps many times, the Pyrenees alone, the New Zealand Southern Alps, I spent time climbing 5000 m summits in the Andes, six summers in the Himalayas flying big lines. Numbers don't matter much to me, but all together I covered more than 10,000 km in bivy trips all around the world. I just can't get enough of it.
What is your paragliding experience?I fly as much as I can. Mostly XC and also a bit of acro. I have been flying for 20 years. I keep learning everyday and I love the process.
What is your adventure racing / endurance sport experience?7 participations at the Red Bull X-Alps.
What does your typical training week consist of?I do a bit of everything. I run, mountain bike, ski tour in the winter, climb mountains and fly as much as I can. I live on my sailboat now, so I swim a lot and practice apnea. I also train for the lack of sleep. I sailed across the Atlantic ocean alone. For me the best is to go on adventures and spend my days hiking and flying. I have a pro trainer now so the program will be pretty intense again these coming months.
What are your best and worst adventure / flying moments?The best was flying at more than 7400 meters in Pakistan, or maybe arriving to Monaco during X-Alps 2019. The worst is sadly related to an accident... I had a few broken bones myself and I have sadly lost a few good friends to the sport.
What are the sporting moments you are most proud of?Finishing the Red Bull X-Alps after a crazy race in 2019.
Have you competed in Red Bull X-Alps before and if so, when?Yes, in every edition since 2007. I was 21 at the time. I'm entering now for what could be my 8th X-Alps.
What appeals to you about Red Bull X-Alps?Everything! The intensity, the challenge, the teamwork, the friendship we develop on the way with other teams. The Alps are really a magnificent playground. I can't wait to be at the start line. I'm a competitive person but what attracts me most is all the adventure I know I will be served.
What will be your strategy during the race?I'll use the experience I gathered in all those editions. Or I'll just follow Chrigel. He seems to know what he is doing, haha. More seriously, I think I'll stay positive in all situations and simply give my best. It worked quite well in the last edition.
Why do you think you will make it to the finish?It can only be the right mixture of teamwork, dedication, the right gear, good and fast flying, a lot of effort and a bit of luck. I'm here to upgrade my game. I want to make it to Monaco in a good position.
What scares you the most about the event?To crash. We play with the limits all the way and depending on the conditions, things can get a bit risky. I'm going to stay cool and smart. No point in getting hurt.
Have you ever done anything of this magnitude before?This is what I do for living. I love going on adventures.
Glider make and modelAdvance Omega X Alps
Harness make and modelSup'Air X Alps