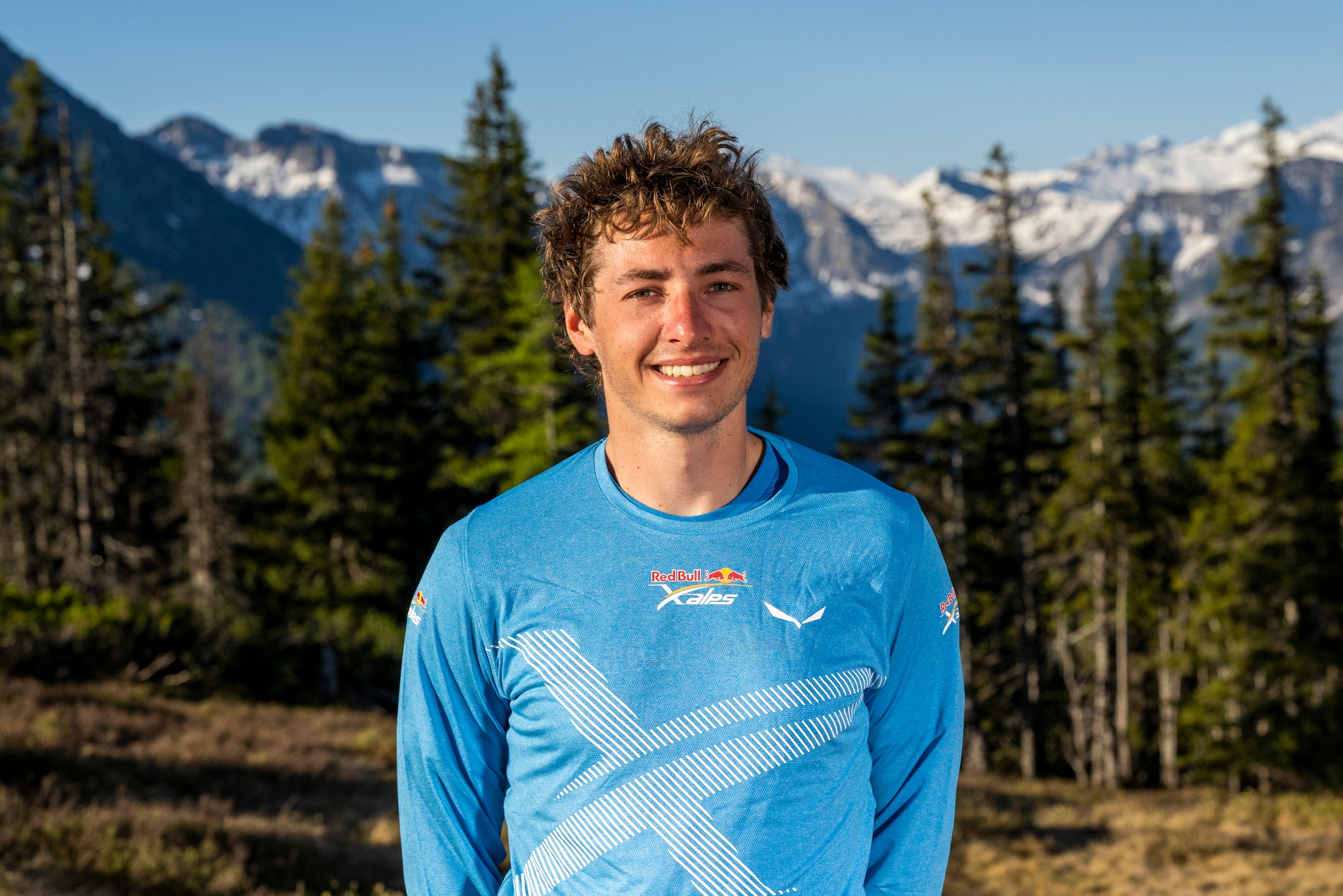 dtg

-- km

height

-- m

speed

-- km/h

heart beat

-- bpm
FRA3
Nationality:

France

Date of birth:

21 February 1994

Profession:

Professional Paragliding pilot

Supporter:

Croibier Jules

Sponsors:

Nova Paragliders, Rise Paragliding
When and why did you begin paragliding?I was born in a paragliding family. My very first full sentence was ''I want to go fly with daddy'' so at two and a half years old I was brought in tandem with my dad, who was a paragliding instructor. From 6 years old to 12 years old I have been biding my time ground handling, waiting for my first solo flight which came a few days after my 12th birthday (the legal flying age in France). I was hooked immediately and I knew then already that paragliding would be a huge part of my life, but I couldn't have imagined it to be this massive.
Do you paraglide competitively? List rankings and events.I have been paragliding competitively since I was 16 years old, mainly in acro flying. I now am a 3x Acro World Cup champion, as well as a multiple world cup winner and Acro Game Champion. Here is the list of all my achievements Among others my main titles are: Synchro World Cup Champion 2015 World Air Game Synchro Gold Medalist 2015 Vice World Champion Synchro 2016 Acro Game Champion 2016 World Cup Champion 2017 Acro Game Champion 2017 2nd Acro World Tour 2018 French Acro Champion 2018 World Cup Champion 2019 Acro Game champion 2019 Number one in the FAI ranking without interruption since 2017
What is your mountaineering experience?I started trail running and mountaineering in 2015. As I am living in the French Alps, I have so many opportunities to enjoy the mountains. I have checked nearly all the peaks in Chartreuse, Bauges, Aravis and a lot of the ones in Belledones, and a great number of peaks within the Mont Blanc area, including Dome de Miage, Aiguille de le Bérangere and so on. I basically trail run almost daily up the mountains and either run or fly down.
What is your paragliding experience?I have been paragliding since I was 12 years old. So I have been flying a bit of everything along the way. I am among the people who are flying the most hours in a year with an average of 500h a year and an all time high of 700h in the air in 2019. At 16, I signed my first professional contract to be a professional pilot. Since then I have been paid by companies to compete and produce content to promote them and paragliding in general. At 26 now, I have now spent the last 10 years travelling the world in order to fly. I was also a test pilot from 2017 to 2019 and there I learned to test, trim and create all type of paraglider wings from EN A glider to EN D wings, as well as acro wings, obviously. I have been flying a lot in vol bivouac, cross-country and hike & fly for the last 5 years, but acro is still one of my main focuses, due to the fact that I was competing in the Acro World Cup and it took a huge amount of my time in order to keep winning. My background in paragliding has made me an incredible all-rounder pilot, I can fly in any conditions, take off and land nearly anywhere with any gliders with absolute safety. My goal in X-Alps is actually to prove that I can finish the race with an acro background and that acro pilots are the most complete of all pilots.
What is your adventure racing / endurance sport experience?I have been competing in hike & fly races since 2018 and have never failed to finish a race. I competed twice in Bornes to Fly in France, with a 7th and an 8th place finish. I also competed in the famous St Hil Air Tour race in 2017, where I finished in 4th place. I have also been competing in some trail running races in France, one of them being the Salomon Maxi Race in 2019 an 83km/5000m race with 1500 runners. I finished this race in 83rd place. I love adventure racing, and endurance sport. I have also ran several 80+km trails, and the Grenoble-Chambery path within the Chartreuse in only 9 hours.
What does your typical training week consist of?My typical training week: I basically wake up around 7am every day. I usually start the day with a 20km/1000m run in the mountains. I then check the forecast and plan my flying day, whether it will be acro or cross-country flying depends on the conditions, but you can be sure I will be flying as much as possible if the conditions are there. If it's a non-flyable day, I usually plan a different running session either being a 40km run or several hike and flies in order to do some elevation gain. I repeat this daily and take 1 rest day a week from running, but not from flying. Since I am a professional athlete training is my job and I take it very seriously.
What are your best and worst adventure / flying moments?There are many. When I started to get serious in flying I had 2 goals: 1. Become a World Cup Champion 2. Set my name within the history of paragliding for the years to come. I have achieved the 2nd one several times since 2012, where I started creating and inventing tricks. I want to leave a legacy when I retire from this sport and this is one of my main focuses. In 2018, I managed to create the famous Stall to Infinity tumbling connexion, it took me 4 days of hard work and falling close to my canopy several times a day in order to achieve it, but ultimately I managed and this was one of the best flying moments of my life. I will also always remember my first 100km in the French Alps, I was 17 years old and this was just incredible, I had the feeling I had gone so far from home it was unreal. I don't have many worst flying moments, since I try to always make the best of every situation. But in 2012, just 2 months before the competition season started I crashed on a spiral landing while training and broke my back, and got an open break on my leg. It felt like a nightmare but I still managed to get back in shape. Well kind of, at least I managed to be at the start of the world cup season even though I had to use crutches from time to time, as I was still too weak to walk for a long period of time. Also, in 2018 during the St Hil Air Tour, I got stuck in a nasty 60+ km/h valley wind in the Moûtier in France and spent 1700 m fighting to keep my glider flying until I finally landed in the middle of the town. It did not feel like a bad moment during the rush of adrenaline, but looking back at it I think this was one of the scariest flying situations of my life.
What are the sporting moments you are most proud of?As I said, when I was a kid I had 2 dreams- the one was to be the number one in my sport and crowned World Champion. For you to understand it better, you have to know that I am not talented at all. I am among those people who when they try something they are OK, but they are not talented. So when I started paragliding, nobody would have thought I would become what I am now. Around me there were other kids that were way more talented, they were the ones everyone was fussing about. But I always thought that hard work could overcome talent, and my dream was actually to prove that even the geniuses and the super talented could be beaten by someone who worked his ass off. And that's what I did, when the other guys where training 200h a year, I was training 400h a year and at the beginning it was tough because the results weren't reflecting the amount of training I did. But ultimately it paid off and I became World Cup Champion, and even better is that I got the title several times and I have been number one at the FAI ranking since 2017. So, I finally managed to prove my point that talent is nothing compared to hard work and that everyone can reach the top no matter from where they started. That's what I am the most proud of now. It feels even better now to read or hear people saying that I must be super talented because I know I am not. I know I owe my level now, not to luck or fate, but really to my own work. This feels good!
Have you competed in Red Bull X-Alps before and if so, when?No. I tried to apply for 2019 but unfortunately the level in France was so high I did not get in. I really hope 2021 will be the year for me. I have big plans if I am in the Red Bull X-Alps this year and I really think I could also be a great fit to the race. My name is now really well known within paragliding and I know that having a young acro world champion trying to challenge the X-Alps champions could be a super good for the race. Also, most of my followers are young guys and girls and I think I could bring a new audience to the race. So, I think it could be a really good fit for both of me and Red Bull X-Alps. At the same time, I really plan to do well in the race. I want to be a real challenger and I've already planned to dedicate most of 2021 to planning the race. I am already physically ready, but I will spend a tremendous amount of time checking the route and strategizing. I am very lucky, because my sponsors and partner will support me through this so I have the money and the support to dedicate an incredible amount of time to this race!
What appeals to you about Red Bull X-Alps?The challenge. It's always what has driven me. The Red Bull X-Alps is a challenge and once again I want to prove that I can do it, because if I can then everyone can. Indeed in 2014 I was overweight, and not that athletic. Now I am running daily and can run for hours in the mountains without problems. Once again, I am not talented but I just worked hard and I want to prove to the world that I can be an X-Alps finisher. In the past acro pilots have been seen as the second class of paragliding. Cross-country pilots have been really hard on us, regularly denigrating us. Some acro pilots moved to cross-country flying world cups and started winning nearly straight away, so I want to keep proving that we are the pilots with the most complete set of skills. I also want to show young guys that flying acro will teach them a lot of skills important for their safety and for their paragliding careers. And also to inspire them because I want them to know that they can do whatever they set their minds to.
What will be your strategy during the race?I think my strongest skill will be my technical skills and my endurance. I'll be using this, because I know I can take off and land in many conditions and I know my technical skills will allow me to fly in places others might be scared of, or might tire easily when flying in. So I will try to take advantage of that for sure. Basically, I will always try to give my best daily and fly as much as possible. Plus, I will spend a huge amount of time checking the route once it is announced in order to know it. That'S how i do it. I prepare. I am a really mathematical person and I hate letting luck decide things for me. I will try to be organized and as ready as possible, so when the unexpected happens, and it will, I will have more energy to deal with it.
Why do you think you will make it to the finish?I never give up. I am the type of person that will never concede defeat. I am always optimistic and I always find ways to see the light. I think it will help me a lot during the race. From my previous experience in hike & fly races, there are a lot of moments where you can think ''that's over'' or where you don't see yourself finishing the day but I know that I will always manage to stand up again and be able to find the energy to fight. I think this will be one of the reasons that I'll reach the finish line, because whether I am flying or walking, I will give my 100% no matter what and I will never lose my motivation!
What scares you the most about the event?Forbidden airspaces. I have been following the X-Alps for many years and that's what scares me the most. I saw pilots getting 24h penalties from airspace every year, even though they probably planned the route very well in the morning. But with airspaces, 1 min is enough to get you 24h of penalties. So, I am very scared about how I will manage them during the race because I know that spending 24h stuck in the same place while everyone is moving forward will make me crazy. I will spend a lot of time studying the route and airspace and thinking about it. This will be the only way for me to avoid stupid mistakes.
Have you ever done anything of this magnitude before?No and yes at the same time. I have never done a 10-day hike & fly race before, but I have done many things that scared me and where I thought I would not be up to the task before. I know this will be incredibly challenging for my mind and body during the race and that I will need all the motivation I can get.
Glider make and modelNova Paragliders new EN D Xalps wing
Harness make and modelNova Paragliders new Xalps harness