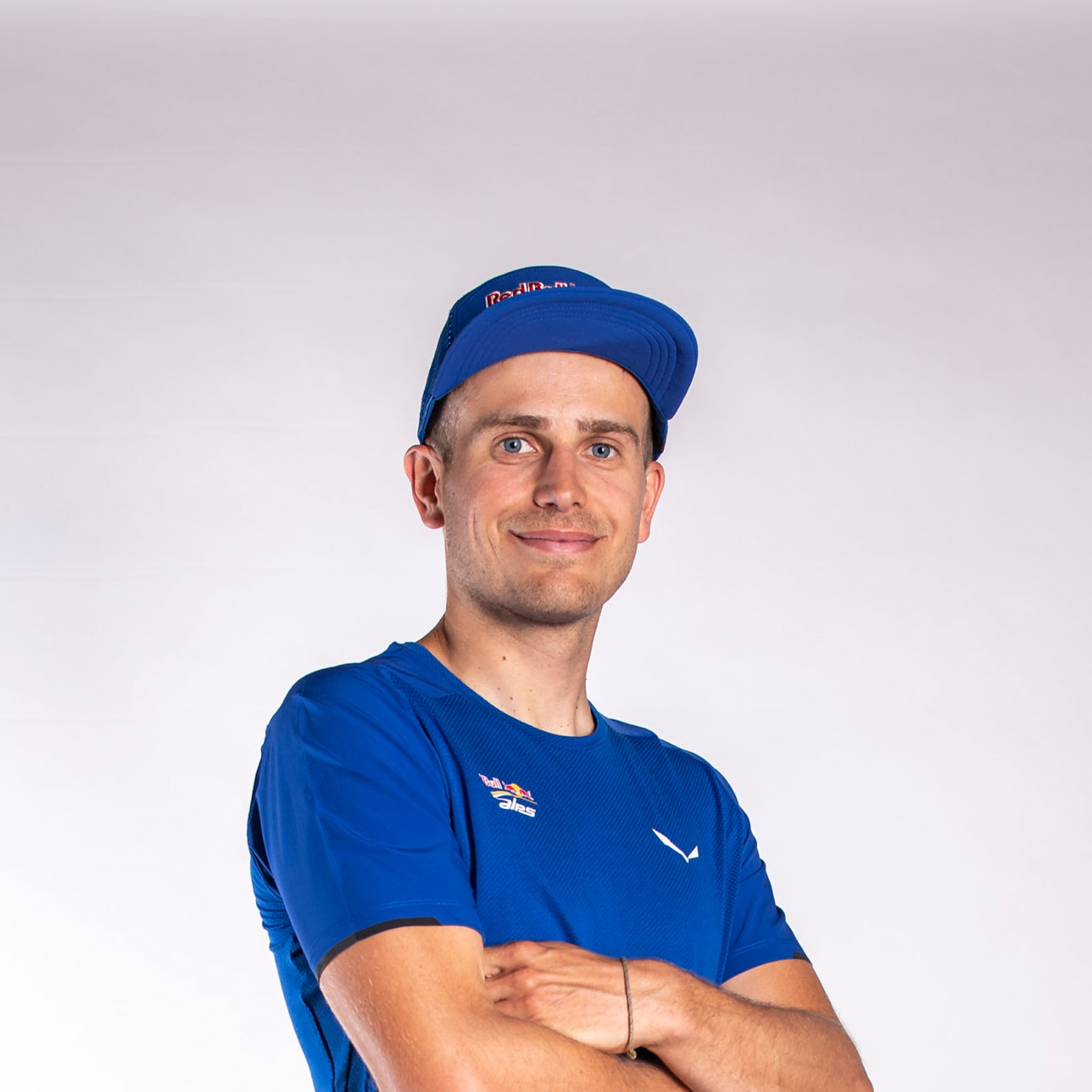 dtg

-- km

height

-- m

speed

-- km/h

heart beat

-- bpm
FRA5
Nationality:

France

Date of birth:

20 August 1997

Profession:

Test pilot, paragliding instructor

Supporter:

Tim Rochas

Glider:

Niviuk Klimber 3P

Harness:

Niviuk Arrow P Race

Sponsors:

Niviuk Paragliders, Millet Mountains, Sur un nuage, Kliniken Valens, Isa Geo, Efficity, Provence Parapente, Les Ailes du Lac
List your top 5 adventure flying, hike & fly or vol biv experiencesA super thrilling adventure that I recently had during the X-Pyr race was when we had a very intense and challenging flight in very tricky and demanding conditions after hiking for two days. We flew 180km on day three. We started on the south side in Spain and afterwards crossed the Pyrenees in flight north towards France. After we left Spain with a cloud base of 3,000m we arrived in super strong valley wind and a low base of 1,600m. I was completely alone and choose a different route then the others. This gave me the opportunity to close the gap to the leading group and I was able to make up four places with this move. When I was Antione's Supporter in the Red Bull X-Alps 2019 and he had an injury, we slept in Chamonix and went flying with the whole team the next day, and top landed on Mont Blanc. It was a really cool experience to share with the whole team, even though I top landed at Mont Blanc for the first time when I was 14 years old. It was an adventure that I will never forget. An adventure that I will also never forget is when I went ice climbing with a friend and we took off from the top. We made a super fun proximity flight close to the icefall which was just amazing. Another adventure that I will never forget was during the Airtour 2018. I was together with the leading group and we were faced with a difficult and strategic decision. We tried to fly out of a valley with lots of valley wind. So I decided to land higher on the mountain in order to hike up the rest and fly again afterwards to avoid the valley wind. As the valley wind forced the others to land in the valley, it gave me the opportunity to win the race! Together with the French team, we explored the Island La Reunion in flight and flew to Cirque du Mafate. This is a region with astonishing landscape and a lot of forests so it was also very challenging and demanding to fly as there was basically no option to land. We succeeded to go through the Cirque du Mafate and finished the flight at the sea.
List your top 5 paragliding competition results1st Airtour 2018, 1st UAE Championship Hike and Fly 2021, 1st Pre World Cup Romania 2018,3rd Bornes to Fly (2017, 2018, 2021), 11th World Cup Colombia 2022

How many years have you been flying?I have been flying for 13 years now. My parents took me flying when I was still a baby. First in Tandem when I was two years old and afterwards on my own when I was 12 years old.
Tell us how you got into paraglidingMy parents, and mostly my dad gave me their passion and love for this sport when I was still a little child. I loved to fly tandem with my dad, playing with a small wing when I was still very little and afterwards, I couldn't wait to finally start flying on my own. Since the first moment, I adored the absolute freedom, facing your own choices and analyzing the weather, risk, and strategy that paragliding provides.
How many hours do you fly a year?I fly around 250h per year with my competition and hike and fly wing plus 200h with my passengers in tandem.
Summarize the paragliding experience which you think qualifies you to do to the race?I started doing XC competitions nine years ago and joined the Paragliding World Cup four years ago which was also the same time that I joined the French team. Especially important experiences for the Red Bull X-Alps are the ones I collected during the last six years of hike and fly competitions. Also, I have done a lot of cross country flights in the Alps and adventures in the mountains which made me face more complex situations and made me much more aware of the importance of risk management and good decision making. My job as a test pilot for Niviuk´s competition wings is also something that I believe gives me a lot of experience in wing control and paragliding in general.
What has been your best paragliding moment?One of the best and most recent moments in paragliding was at the World Cup in Macedonia this Summer when I was together with one other pilot on the final glide and realized that we would be the first two in goal. I was so unbelievably happy with this result! After landing, I realized that I won the task. It was always my dream to win a PWC task, so you can imagine how happy I was. But still, some of the best moments are for sure the small ones, sundowners on my small home mountain, flights with my friends or top landing to enjoy the beauty and silence of remote places in the mountains.
And your worst moment?For me, the worst moment was when my friend crashed during a flight together. It was the last run of the day and I took off first. After some time, I lost sight of him and he disappeared. I landed as quickly as possible and tried to get in touch with him. When I couldn't reach him, I started searching for him and called the rescue. He called me shortly after and I rushed to the place of the crash to help him. He was injured very badly and we got him to the hospital. This was a horrible experience for me because my friends are the most important thing for me in life and it really affected me.
What is your adventure racing / endurance events experience?I have been doing endurance sports since I am a child and endurance sports competitions since high school. We took part in the French UNSS Mountain Bike Championships and then the UNSS French Nature Raid Championships in Guyana, where we finished 2nd. It was a really rewarding adventure in team and the first time I tasted the challenge of really pushing myself. After high school, I then focused more on trail running. Then, I started practicing various other endurance sports, like road biking and mountain biking. It is keeping me in good shape during summer times until the start of winter. My biggest biking tour was 175 kilometers and 5,150 meters of elevation gain. In the winter I practice cross-country skiing twice a week. My biggest skiing tour was one of 165 kilometers with 4,350 meters vertical drop in 12 hours and 30 minutes. I am also very passionate about ski touring, which allows me to improve my knowledge of the mountains, techniques and rope handling. I hike different massifs and I mainly focus on steep couloirs. I also practice ultratrail, having crossed mountains of Belledonne in two days and mountains of Chartreuse in 24 hours in complete autonomy. My hike and fly world record in 2021 in which I hiked 13,400m verticals in one day was also an experience that I wouldn't want to miss.
What mountaineering experience do you have?My mom took me hiking since very early on, so I spent a lot of time in the mountains. I started trail running and climbing on a more advanced level, which brought me closer and closer to the "real" mountaineering. I have done Mont Blanc several times, including multiple hike and flys from the summit. Another passion of mine is multi-pitch climbing with AD mountaineering ratings as well as ice climbing in the winter. But my favorite activity in winter is ski mountaineering. Skitouring on terrain with ratings up to 5.3 E4 and D mountaineering rating in the access is probably also the activity that taught me the most about mountains, as it requires a lot of attention, to read the landscape, the snow conditions, weather and see possible dangers. You have to be very honest with yourself about your capabilities in connection with the tour to stay safe.
List your top 5 best adventuresOne of my favorite adventures was when my friends and I climbed the Pierra Menta and I took off directly from the top, which is a super small and very sketchy summit! For safety reasons, I was secured by my friend with ropes which he released after the take-off. This was very exciting! Another very exhausting but super fun adventure was my world record attempt for the most vertical hike and fly meters in 24h. After 9.30PM (not 24h in order to respect the VFR flying rules) and 13,340 vertical meters at Alpe du Grand Serre, I broke the record thanks to the best ever supporter team. Another experience that I am quite proud of is the "De profundis" which is a super hard ski ans mountaineering tour that I have done with two friends. It includes ice climbing, skitouring and rapelling in technical terrain (5.3 E4). We started at night and ended at night without taking many breaks. It was very exhausting but a super nice experience. A very cool adventure was when I went on a little expedition with my friend near my hometown to explore a cave in winter. The cave is very hard to access, we had to build stands and find solutions to rappel down, ice climb some parts and squeeze through small openings in the rocks. Crossing the chartreuse mountains within one day, together with one friend in hiking/running was also an adventure I will never forget. It's 80km and around 4,000 vertical meters.
What's your training philosophy? Do you follow a regular plan?My biggest philosophy is to listen to my body and rest when necessary. But I also follow a detailed training plan from my professional coach. We are always trying to find the best strategy to optimize my training specifically for hike and fly races and improve my performance. We do many diverse training techniques like block training, intervals and strength exercises. I am training every day. If I don't do endurance sports, I am doing mobility exercises, mental training or other things that help me be a better athlete. I am very determined towards hike and fly competitions and structure my whole life around it.
Do you follow a special diet?I don't follow a special diet in terms of being vegan/keto, etc. but I try to fuel my body by eating balanced and adapt my nutrition to my training with the help of a professional dietitian (especially when it comes to minerals during training and a good recovery after the training). Vegetables and carbs are a big part of my diet topped with protein (mainly dairy products).
What's your approach to nutrition?For me, nutrition is very important in order to perform the best I can. I am supported by a professional dietitian who I go over my nutrition regularly and she always has an eye on my nutrition in combination with my training in order to make adaptions. Nutrition and training are probably the most important things to perform on a high level, so I take a lot of care about this.
What wing do you fly?I am flying the Klimber 2P from Niviuk in hike and fly races and the Icepeak X-One in XC-Competitions.
What is your race goal?My goal is to give it my all and to enjoy the adventure with my team, be safe, learn from the best and use the skills and knowledge that I have collected over the last years to achieve a good result. I can't wait to race against the best hike and fly athletes in the world and make it an exciting race!
What is your approach to risk and safety? What are your rules for staying safe?I think it's important and inevitable to take risks but with the aim to never forget your abilities and possible dangers. For me there are two different kinds of risks. The first are physical risks which can be very dangerous and I try to avoid them as they are not worth taking. But there are also strategical risks which I think are very important to take in order to win - but they can also set you back very far. So to sum it up I would say, my rules for staying safe are: • Always question my decisions and focus on myself and not on what other pilots do • Listen to my supporters and be honest about my fatigue level • Don't take-off when I feel unsure about the conditions • Be humble with my surroundings. We are the guests of the mountains and have to adapt to the forces of nature.
Why do you want to take part in the Red Bull X-Alps?I have always loved competitions and participated in endurance as well as in flying competitions. The Red Bull X-Alps combines both endurance and flying and that is what fascinates me about this race. The Red Bull X-Alps is the hardest race and most spectacular one in free-flight and there is no higher level. After participating in many other hike and fly races, the next big goal is the Red Bull X-Alps! Racing with the world's elite has been my big goal and something that I have been working towards for many years now.
What does the Red Bull X-Alps mean to you?The Red Bull X-Alps has fascinated me since I was a little boy! I have always looked up to these strong athletes and becoming one of them is the biggest dream of my life. I have dedicated so much of my life into training and preparation for this race that it has become a huge part of my life, and who I am. For me, Red Bull X-Alps is not just a race, it's more like a lifestyle.
Why do you think you have what it takes?My life is organized by training, organized around the different competitions in XC as well as in hike and fly and everything in my life is based around that. This is a dream, an objective but also a way of living. I love sport, I love flying and I love combining all of this. I have a very strong and dedicated support team which is composed of professional pilots and mountains experts. They have supported me in several of my recent hike and fly races. We know the Alps very well, they are our home, we are a dedicated team with the focus of competing in the Red Bull X-Alps! We learned about our past experiences, I am training constantly, and this time I know we are ready!
What will be your race strategy?My strategy will be to stay with the leading group and keep pushing until an opportunity to attack opens up.
Who makes the ideal supporter?For me, the ideal supporters are people who know me and each other very well. I think a good spirit in the team is the most important. But of course, the supporter needs to have great knowledge and skills to help me in the race, and they need to know me well and what I'm capable of.
Have you ever done anything of this magnitude before?I assisted Antoine Girard in the Red Bull X-Alps in 2019 which was a very interesting experience. Also my participation in X-Pyr in 2022, 3 x Bornes to Fly, and the Airtour in 2018.