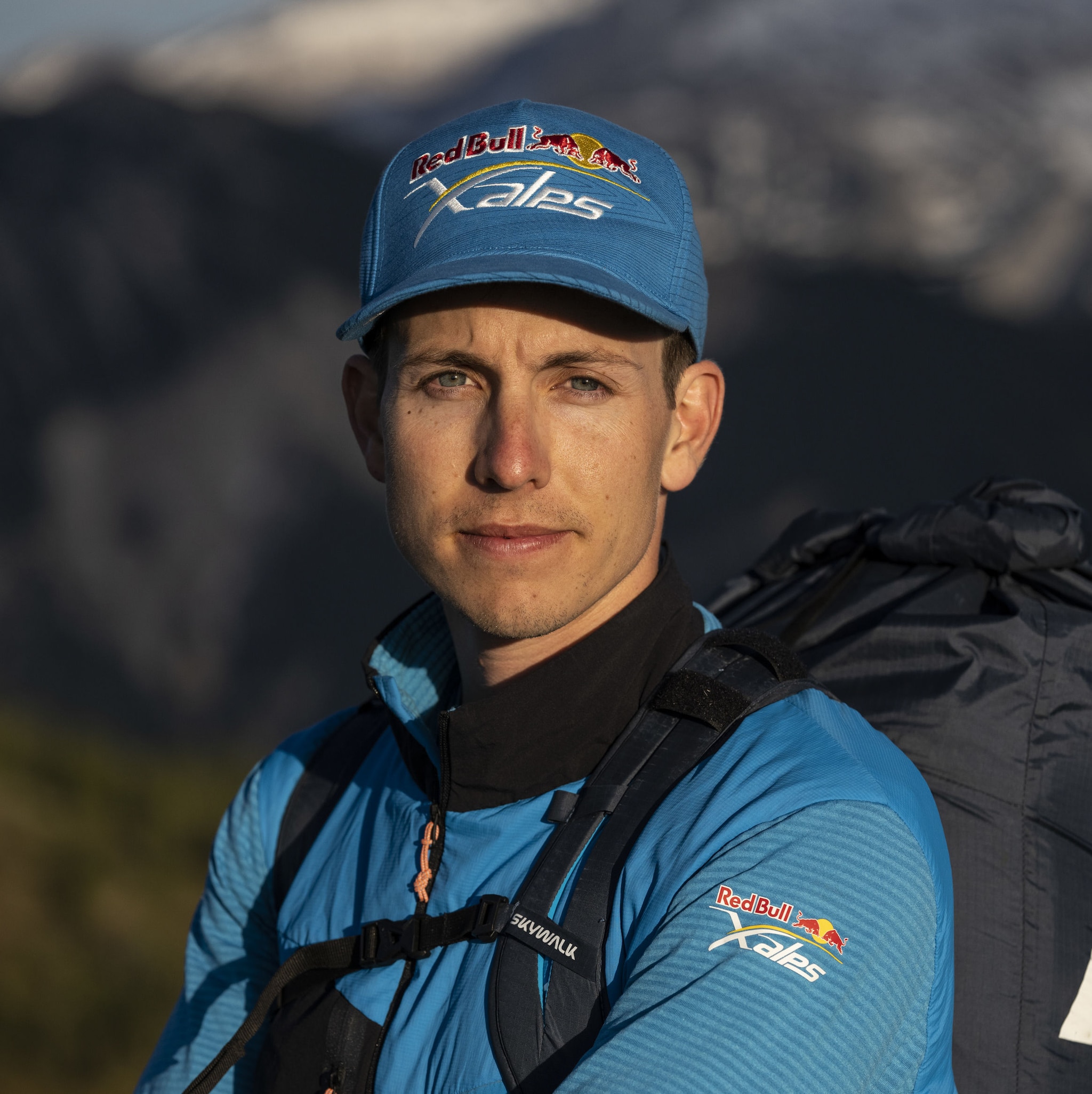 dtg

-- km

height

-- m

speed

-- km/h

heart beat

-- bpm
AUT2
Nationality:

Austria

Date of birth:

12 May 1991

Profession:

Professional Paraglidng Athlete

Supporter:

Simon Volker

Sponsors:

Skywalk, Salewa, Flugschule Steiermark
We sat down with Simon and talked about his Red Bull X-Alps 2021. He told us about his highlights and stand-out moments and how the race compared to his previous ones.
What was your highlight of the race?
There have been so many intense moments, but the highlight for me was the last push up to Schmittenhöhe. My supporter Simon Volker arrived just in time to run the last meter with me and on the way up so many people were cheering and running with us, this was definitely my highlight.
What was the toughest part for you?
Day 5 was the toughest part for me and my team. It was raining almost all the time and the flying conditions were really challenging. We did about 70km and 4,500 vertical meters that day.
What was THE stand-out memory for you?
Knowing that my altitude will be enough to fly across Col de Miage (Mount Blanco) and therefore saving a lot of time and energy.
How was this race in comparison to your other Red Bull X-Alps races?
For me, this time was different because I managed to concentrate more on my own decisions and therefore on my strengths. When I competed my first Red Bull X-Alps in 2017 I wanted to do this as well, but I underestimated how hard this race is.
Dive into Simon's day-to-day experience through the race news and social media updates to see what it takes to complete the world's toughest adventure race!
The clock stopped at 11:30AM on Friday July 2, 2021
The Red Bull X-Alps 2021 has finished. The clock stopped at 11:30AM on July 2, 2021 and these are the final rankings.
Congratulations to Christian Maurer (SUI1) who is the champion for an incredible seventh time, and to all our Red Bull X-Alps athletes, supporters and teams for a safe, fair and exciting race.
Thank you for following, but stay tuned. The race may over, but keep an eye on all our channels where we will be publishing new photos and videos, race drone footage, race analysis, athlete statements and interviews. We will be sharing special moments from throughout the race, stories and interviews with the athletes – and of course the 52-minute documentary.
Day 10 Wrap-up: Three pilots in goal today
Patrick Von Känel (SUI2), Simon Oberrauner (AUT2) and Maxime Pinot (FRA1) battled it out for the podium
Day 10 started with a poor weather forecast, and pilots taking shelter wherever they could from torrential deluges. The forecast from Ubimet was not what any athlete would have asked for: a cold front moving in from France and spreading into Switzerland and Austria; foehn winds and weak thermals.
Maxime Pinot (FRA1) and Simon Oberrauner (AUT2) were at Antholz first thing, sheltering from the rain under leaden grey skies that didn't look like they were going to relent. One athlete was pictured crouching under a big rock!
Simon Oberrauner (AUT2) taking off to fly down to the raft in Zell am See to claim his third place in the Red Bull X-Alps 2021. He came incredibly close to Patrick von Känel (SUI2) who just landed on the raft before him. He finished his race in 9d 2h 18m 25s.
Simon Oberrauner (AUT2) and Patrick von Känel (SUI2) are running up the hill towards the Turnpoint 12 Schmittenhöhe with their gliders over their shoulders. They both had to land below the summit and are racing each other to the signboard.
Simon Oberrauner (AUT2) is determined to beat Patrick von Känel (SUI2) to Turnpoint 12 Schmittenhöhe. He is speeding along at a roaring 70km/h! He and Patrick have the same distance to go and are at the same height. We are on the tip of our chairs!
Actually, Simon Oberrauner (AUT2), currently behind Patrick von Känel (SUI2) and Maxime Pinot (FRA1) in the race for the podium, is doing better than the others. Simon is at over 3000m and while he still has 10km to fly, Maxime is too low to cross the Pinzgau valley at 1400m and Patrick had to land and take off again, which cost him valuable time. It is really going to be a photo finish!
Simon Oberrauner (AUT2) and Maxime Pinot (FRA1) don't seem to be in a hurry this morning. This has a good reason though, Simon tells us. "We have bad luck with the weather today. Around Bolzano a large rainstorm is developing with a lot of southwest wind. It could pass us and we will have two or three hours to fly. That's enough. But it's not clear if we should fly. That's X-Alps!" He added that hiking to Zell am See is still 111 real kilometers, 5600m up and 4700m down.
Flying at 1881m altitude – 149.27 km to finish – 2nd place
Resting – 1139.59 km to finish – 8th place
Simon Oberrauner (AUT2) has had a wonderful day at the front of the pack, currently in shared second place with Maxime Pinot (FRA1) Simon said: "Today was unexpectedly good. We started with 30km running, and then it was clear that the day was very good. It was important to get into the air as soon as possible. We had very special conditions today at Ortler. The cloudbase was at 4200m, that is very rare and we could fly over the peak of Ortler. The south wind pushed us perfectly towards Kronplatz. I'm very happy to be here in Antholz now and I hope tomorrow will be not too windy and the thermals will be good and I hope to see you all in Zell am See."
Simon Oberrauner is leading the chase for second one into Turnpoint 11 Kronplatz. He just crossed the Meran valley and is climbing up again on the other side, close to the line Chrigel Maurer (UI1) took.
Simon Oberrauner (AUT2) has had a good day according to his supporter this evening. At 9:30pm he was just 3km behind the race leaders and third-equal. "Tonight we hope to get as far as we can towards Turnpoint 8. Like the others we will stay overnight near there and then plan to fly round it in the morning." After that, a really good day of flying beckons. The forecast is for excellent conditions. "We hope to fly to the Mont Blanc Turnpoint, of course, and then around it, into Italy and beyond."
Flying at 1881m altitude – 149.27 km to finish – 2nd place
Resting – 1139.59 km to finish – 8th place
The Red Bull X-Alps is on!
And they are off! The start of a 12-day race across the European Alps. From the centre of Salzburg to Mont Blanc and back – a distance of 1238km. Incredible scenes here as just minutes ahead of the start the entire field of athletes sang Happy Birthday for Tom de Dorlodot (BEL). That is the true spirit of the Red Bull X-Alps right there. We look forward to a fast, exciting and safe race over the next two weeks. We are here for the duration – follow Live Tracking and don't miss a second!
When and why did you begin paragliding?I began paragliding in 2012, because I always wanted to fly. Paragliding is the most simple and natural way to get airborne. Honestly, I have never regretted this decision for a single second, as it was one of the best I've made in my entire life.
Do you paraglide competitively? List rankings and events.Adventure Racing: 2014: Bordairline Levico Terme: 1st Place Bordairlne Bad Aussee: 3rd Place Bordairline Overall: 5th Place Schöckl Speedalps: 1st Place 2015: Bordairline Kössen: 1st Place Bordairline Donnersbach: 1st Place Bordairline Overall: 1st Place 2016: Bordairline Hohe Wand: 2nd Place Bordairline Tolmin: 1st Place Bordairline Goldeck: 1st Place 2017: Red Bull X-Alps: 5th Place 2018: Bordairrace Kampenwand: 3rd Place Ironfly: 4th Place 2019: Red Bull X-Alps: 6th Place 2020: Bordairrace Aflenz: 1st Place Cross-Country Flying: 2014: World XContest PG Sport: 13th Place, 259 km FAI triangle after 2 years of paragliding 2015: Austrian Cross Country State Championship: 2nd Place Junior, 3rd Place Sport, 6th Place Overall
What is your mountaineering experience?I have done several bivouac tours in the Austrian and Swiss Alps during summer and winter. In 2012, I climbed the summit of Stok Kangri (6125 m) with my brother after an eight day unsupported trekking tour through remote valleys in Jammu and Kashmir (India), we also did Mt. Blanc and flew down together. I am always looking for new adventures in order to get more experience.
What is your paragliding experience?I have seven years of paragliding experience in various conditions and areas all over the Alps. I crossed Austria over a seven day Bivactour where I experienced different weather conditions. I've flown in Austria, Italy, Slovenia, Switzerland, France and other countries. One of the best parts is showing paragliding to others: I have been doing tandem-flights for about one and a half years now and it is amazing to give others the chance to fly.
What is your adventure racing / endurance sport experience?I have been competing in the Bordairrace event since 2013. I've been doing endurance sports since I was 13 years old. I found my passion in long distance hikes/runs in 2011 when I hiked from Graz to Liezen to visit my grandparents (145 km). Sport is a main part of my life and combining it with a race is one of the best feelings I can think of.
What does your typical training week consist of?I train 5 to 6 days a week. My training is always according to the weather, because I prefer training outside. The main parts are running, cycling, hike & fly, sport climbing and depending on the season, skitouring and swimming.
What are your best and worst adventure / flying moments?One of the best moments in adventure flying was definitely winning the Bordairline Race in Tolmin 2016 by walking only 13 km and flying 218 km. The worst moment was when I had to land on a tree in a narrow valley without any chance of getting out.
What are the sporting moments you are most proud of?5th Place at Red Bull X-Alps 2017 and of course 6th at Red Bull X-Alps 2019.
Have you competed in Red Bull X-Alps before and if so, when?Yes 2017 and 2019.
What appeals to you about Red Bull X-Alps?Red Bull X-Alps means being outside no matter what. You experience different weather conditions, meet inspiring candidates and push your own limits.
What will be your strategy during the race?My strategy is to keep calm in every situation and to focus on the right task at the right moment, which is not always as easy as it sounds during this race.
Why do you think you will make it to the finish?I have a good sense for thermals and the perfect team. I am purposeful and have a good level of endurance. If I want to accomplish a race, I am trying my very best to get there.
What scares you the most about the event?I think the weather conditions are an uncertain factor and it would be very frustrating to walk for days in unflyable conditions.
Have you ever done anything of this magnitude before?Yes, Red Bull X-Alps 2017 and Red Bull X-Alps 2019.
Glider make and modelSkywalk X-Alps
Harness make and modelSkywalk Range X-Alps2