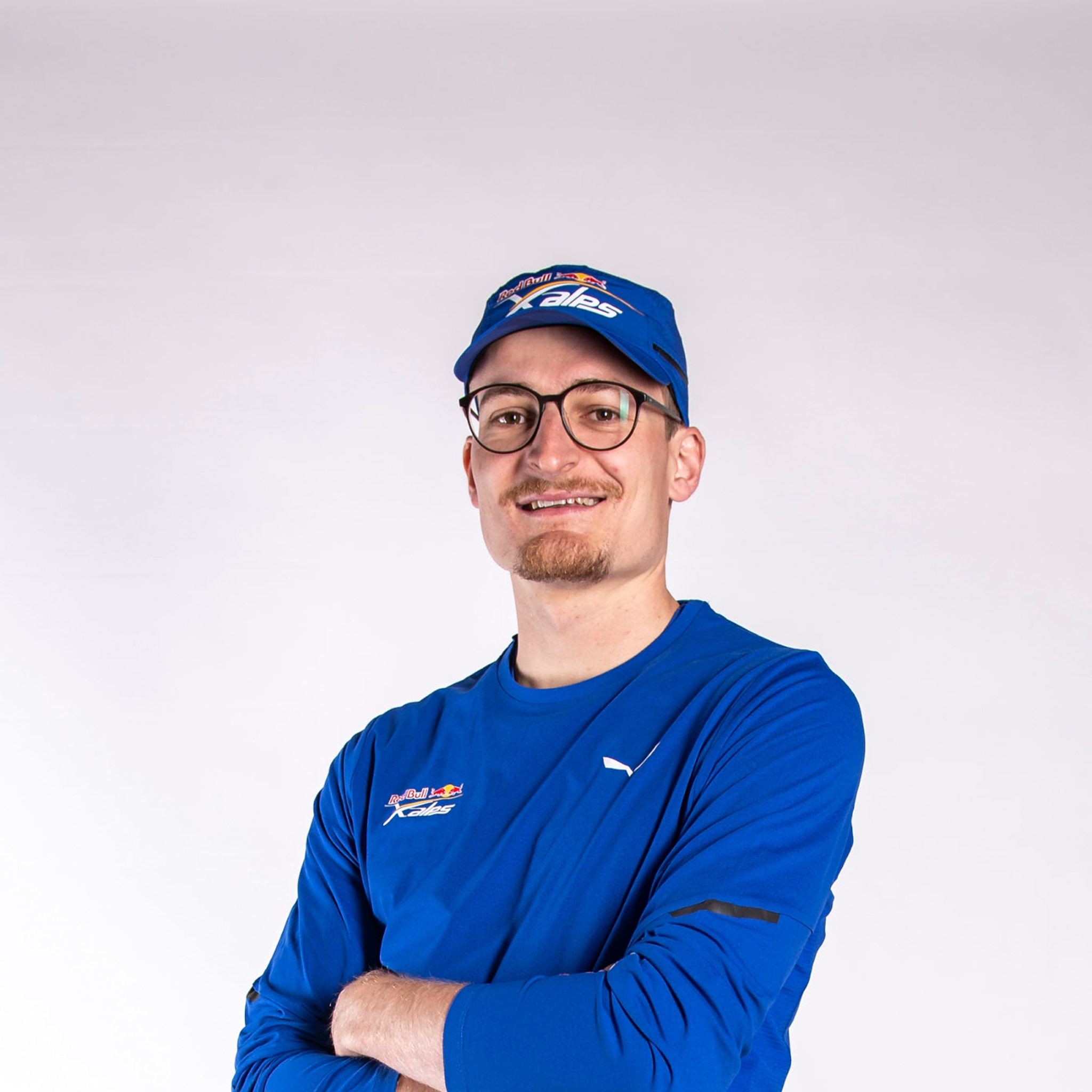 dtg

-- km

height

-- m

speed

-- km/h

heart beat

-- bpm
SUI5
Nationality:

Switzerland

Date of birth:

22 October 1994

Profession:

Doctor

Supporter:

Mimo Moratti

Glider:

Skywalk X-Alps 5

Harness:

Skywalk Range X-Alps 3

Sponsors:

Smartive, Skywalk, Paraworld.ch, Kramer Bodentechnik, Go Vertical, Citypeak Campers, SHV
List your top 5 adventure flying, hike & fly or vol biv experiencesClimb and fly Tödi Southwest-wall, X-Pyr 2022, Eigertour ED. 1-5, climb and fly Mönch and Jungfrau, hike and fly trips to Norway and Iceland
List your top 5 paragliding competition resultsEigertour 2018: 3rd, Vercofly 2020: 1st, Gantrisch Hike&Fly 2021: 1st, Bornes to Fly 2022: 3rd, X-Pyr 2022, 19th
How many years have you been flying?I started paragliding in 2010 when I was 15 years old.
Tell us how you got into paraglidingI grew up in a mountain region and became fascinated by paragliders as a small child. This infinite freedom and connection with nature has not let go of me since my very first flight.
How many hours do you fly a year?250-400 hours a year
Summarize the paragliding experience which you think qualifies you to do to the race?I have been flying very intensively for more than 12 years now. I have made a lot of long-distance flights including some record-flights and competed in many hike and fly competitions, in which I have shown consistently good performance with the ability to keep up with the world's best pilots. But what I am most proud of is that I have never had an accident since I started flying and always made safety my top priority.
What has been your best paragliding moment?In 2018, I managed to fly a 306 km flat triangle, which was the European triangle record back then. I was able to realize other fantastic flights up to 270km. I've been able to experience many wonderful moments in the mountains in recent years, from reaching the finishing line after four days of Eigertour or Vercofly to taking off with a paraglider on peaks above 4,000m.
And your worst moment?So far, I haven't really had a bad moment, I can count myself lucky that I have never needed the emergency parachute and that I have never been injured. But in my work as a doctor, I see very serious injuries from paragliding again and again, which influences my willingness to take risks.
What is your adventure racing / endurance events experience?Eigertour five times, Vercofly four times, Borne to Fly, X-Pyr and lots of smaller hike and fly competitions. I have done several mountain marathons with distances up to 50km. This Winter I did some Skimo competitions, e.g. Patrouille des Glaciers and Skimo 3000 Davos. I have been doing outdoor endurance sports since I was little.
What mountaineering experience do you have?Several 4,000+ mountains in Switzerland, climbing and ski touring. I grew up in the Swiss mountains, so I know the area from the valleys to the highest peaks very well. This year in November I will do a medical expedition in the very high mountains of Himalaya (over 7,000m). I wrote my master's thesis and doctoral thesis in the field of altitude medicine, which means I have a thorough understanding of high alpine conditions to complement my practical experience.
List your top 5 best adventuresX-Pyr 2022, multi-day Skimo adventure in Winter 2021 and 2022, Eigertour (2018-2022), Patroullie des Glaciers 2022, hike and fly trip with take-off from a 4,000 peak with the tandem
What other adventure sports do you do?Climbing, mountaineering, ski mountaineering
Best adventure moment?I have reached many very beautiful peaks, in winter and in summer. I hope my best moment will be in November 2022, when I will be climbing at high altitude in Nepal.
Worst adventure moment?I haven't had any really bad moments during my adventures yet. It always depends on how flexible you are and what you make out of a situation, then every adventure becomes a good one.
What's your training philosophy? Do you follow a regular plan?I train because I enjoy it. As a doctor, I have very long and irregular working hours, so I train when it suits me. I prefer to combine my trainings with big adventures.
Do you follow a special diet?No, but I believe that a healthy and balanced diet is the best. Sometimes I support this with calorie shakes, because otherwise I don't get enough energy doing with practicing that much endurance sport.
What's your approach to nutrition?My sister is a nutritionist and coaches many athletes, including me. So I think my nutrition is quite on a professional level. I don't drink alcohol, I think alcohol has the most negative effect on performance.
What wing do you fly?Skywalk X-Alps 5
What is your race goal?I like to set priorities. My first priority is health and safety, there is no way around that. Next, it has to be fun, and third comes sporting success. A victory is not a victory for me if I have to take unreasonable risks to achieve it.
What is your approach to risk and safety? What are your rules for staying safe?I have three criteria for analyzing whether I should do something: Facts (weather, fitness, material), head and heart. If two or more criteria say no, then I don't do it. Of course, the opinion of my supporter is also very important to me. Everyone in the team has to stand behind it.
Why do you want to take part in the Red Bull X-Alps?I associate the Red Bull X-Alps with a lot of adventure, tough moments, lots of new experiences and with a happy face in the end. Such adventures motivate me enormously to prepare myself perfectly. I can't wait to go on this exciting journey.
What does the Red Bull X-Alps mean to you?For me, it is a lifelong dream. I am always looking for new challenges and adventures, exactly what the Red Bull X-Alps stands for.
Why do you think you have what it takes?I have very good fitness and flying skills, but of course so do many other athletes. I will give myself the decisive advantage with many intelligent and creative decisions. I also place a very high value on safety, only a healthy person reaches the goal. I'm in the best age and have a lot of experience, so now or never. And of course I have a good publicity and grew up with the "social media game".
What will be your race strategy?First comes safety, health and fun. Of course, I am also ambitious and want to reach the goal. My strength is flying and to make creative and intelligent moves.
Who makes the ideal supporter?For me, it is very important to have a good time together. We also need to know each other well and know how the other one thinks. That's why I have Mimo Moratti as my supporter. Together with him, I have already done the X-Pyr and many ski tours and mountain tours. He has a lot of experience in hike and fly, competition flying and outdoor adventures and will be the man for the tactical decisions.
Have you ever done anything of this magnitude before?There is no other event of this size in paragliding, but I have done some comparable competitions (X-Pyr, Eigertour, Bornes to Fly, Vercofly). In addition I have already completed many large challenges in my life, for example studying to become a doctor. In this way, I learned that with specific preparation and a lot of discipline, I can be perfectly prepared for big projects.