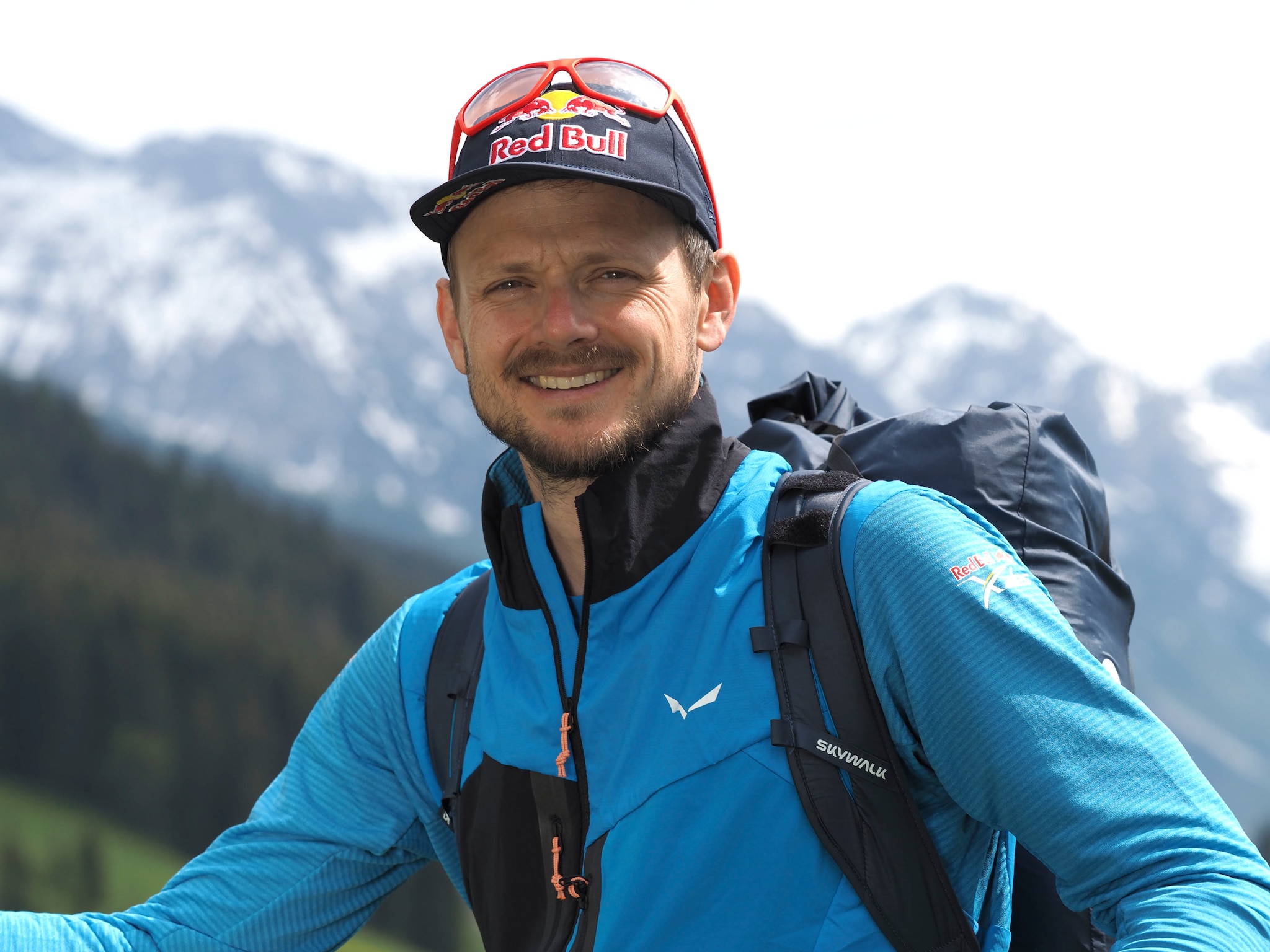 dtg

-- km

height

-- m

speed

-- km/h

heart beat

-- bpm
AUT1
Nationality:

Austria

Date of birth:

25 December 1983

Profession:

Pro X-Alps Enthusiast

Supporter:

Werner Strittl

Sponsors:

Red Bull, Salewa, Suunto, Skywalk Paragliders, Wagrain-Kleinarl
We sat down with Paul and talked about his Red Bull X-Alps 2021. He told us about his highlights and stand-out moments and how the race compared to his previous ones.
What was your highlight of the race?
My highlight this year was making it to the start line and the feeling of running towards Gaisberg with all the other athletes after my injury in March.
What was the toughest part for you?
The second half of the race was full of very tricky flying conditions. It was flyable, but at times also dangerous. Then it's hard to decide whether you fly or hike...
What was THE stand-out memory for you?
Landing next to my team after the race was officially over. We made it through 12 days of racing!
How was this race in comparison to your other Red Bull X-Alps races?
The route meant one big new experience, which also meant that once you're coming back from Mont Blanc, you go with the weather and this means you can get stuck in there for days - which happened to me!
Dive into Paul's day-to-day experience through the race news and social media updates to see what it takes to be a part of the world's toughest adventure race!
The clock stopped at 11:30AM on Friday July 2, 2021
The Red Bull X-Alps 2021 has finished. The clock stopped at 11:30AM on July 2, 2021 and these are the final rankings.
Congratulations to Christian Maurer (SUI1) who is the champion for an incredible seventh time, and to all our Red Bull X-Alps athletes, supporters and teams for a safe, fair and exciting race.
Thank you for following, but stay tuned. The race may over, but keep an eye on all our channels where we will be publishing new photos and videos, race drone footage, race analysis, athlete statements and interviews. We will be sharing special moments from throughout the race, stories and interviews with the athletes – and of course the 52-minute documentary.
Aaron Durogati (ITA) and Paul Guschlbauer (AUT1) are full-on racing through the Italian skies underneath the Cima San Cassiano, or Kassianspitze to German-speakers. Durogati has overtaken Guschlbauer recently, but there is just 4km between them!
The heat is on in the race for sixth place. Three athletes are in close contention: Aaron Durogati (ITA1) – currently flying and at 1950m – is just 5km ahead of Ferdy Van Schelven (NED) who has had a great day so far. His statistics show 233km flown today. Michal Gierlach (POL) is also flying well and at 2,800m just 10km further back.
Athletes at the front and the back of the race are giving it their best.
There are still 15 athletes in the race. They are all giving it their best, but only the leading pack still has a chance to reach Zell am See, although it's a slim chance. They will do all they can to make that dream come true.
The last full race day has started with another difficult weather forecast.
Paul Guschlbauer (AUT1) is in the lead and currently in sixth place. He has had some rough days of walking a lot in the rain. "My feet are quite tired from walking so much the last couple of days," he said from his resting place at the cable car station of Latsch.
Hiking at 1646m – 175.83 km to finish – 6th place
Five-time Red Bull X-Alps veteran Paul Guschlbauer (AUT1) suffered a blow during the winter when he broke his foot in a skiing accident.
Training for an endurance event like the Red Bull X-Alps starts months in advance of the race, and the winter period should have been a time of high-volume training, but Paul Guschlbauer (AUT1) had to sit it out and wait for his foot to heal. The fact that he was fit and ready to stand on the starting line is quite incredible, and took patience, dedication and hard work.
As his injury healed, low-impact activities like swimming and cycling would have kept his cardio-respiratory fitness until he was able to reintroduce high-impact activities like speed-hiking and running. With a leg out of action, it is important to keep the rest of the body fit, and gym-work including resistance band training was invaluable to target and strengthen other parts of his body.
Paul Guschlbauer, currently in seventh position, is making good progress along his lonesome line. He is headed towards the famous ski area of Disentis, along the Rhine valley near this major European river's source. He was flying earlier and is currently on the ground. He still has some 50km to catch up on the race leaders, but if he flies, this may turn out to be his magic move.
Guschlbauer goes it alone
Paul Guschlbauer (AUT1) is taking an interesting line, and not following the crowd. He is heading to the Panixer Pass. Once over this 2400m mountain pass he will work his way down to Andermatt. If it is flyable this is a very good route - and in fact it is the one Maurer (SUI1) said he would have chose this morning if it hadn't been for the weather. It could be a good move from AUT1, who is currently in 7th. Michael Gierlach (POL) is also heading this way.
Resting – 395.9 km to finish – 6th place
Hiking at 1589m – 884.21 km to finish – 7th place
Paul Guschlbauer's (AUT1) reason for his brilliant flying today? "I lost my phone and I had to look for it for an hour, so that is why I was there for the thermal! I'm not joking!" Sometimes if you wait, the air gets better for flying – that's clearly what has happened here with Paul.
This is turning into a big day for Paul Guschlbauer (AUT1). Remember, he broke his foot in a skiing incident in winter and wasn't even sure he'd be fit to take part. "I missed weeks of preparation," he said before the race. Now he is in the lead.
Paul Guschlbauer (AUT1) was so quick to TP3 Kitzbühel-Hahnenkamm that his supporter Werner Strittl missed him. He was racing to the top but did not get there on time. The Austrian athlete will be taking off quickly again and the supporters will follow by car to Chiemsee-Achental. His leg is feeling good, Paul said, but it is just the beginning of the race. He had a perfect flight he said. "It was a good decision in the morning where we took off."
The Red Bull X-Alps is on!
And they are off! The start of a 12-day race across the European Alps. From the centre of Salzburg to Mont Blanc and back – a distance of 1238km. Incredible scenes here as just minutes ahead of the start the entire field of athletes sang Happy Birthday for Tom de Dorlodot (BEL). That is the true spirit of the Red Bull X-Alps right there. We look forward to a fast, exciting and safe race over the next two weeks. We are here for the duration – follow Live Tracking and don't miss a second!
When and why did you begin paragliding?I began paragliding in 2006 because of a good friend of mine who was already flying and told me about Red Bull X-Alps. I knew that this is a race I want to take part in!
Do you paraglide competitively? List rankings and events.I took part in the Red Bull X-Alps since 2011 and since than have reached 3rd place 4 times. Besides that, I take part in various hike & fly and cross-country paragliding competitions.
What is your mountaineering experience?I have climbed various high mountains around the world, including Mustagh Ata in China, Aconcagua in Argentina, and a long list of summits in the Alps.
What is your paragliding experience?My paragliding experience consists of flying in sites all around the world and especially all over the Alps.
What is your adventure racing / endurance sport experience?I started my sports career when I was 13 years old by competing in mountain bike races. After switching to mountaineering and paragliding I have taken part in many long hike & fly competitions including five Red Bull X-Alps participations.
What does your typical training week consist of?My training week consists of paragliding whenever the weather allows and endurance training at least 5 times a week.
What are your best and worst adventure / flying moments?The best flying moments usually come from unexpected conditions, like if you are just planning to fly down a mountain and then manage to fly cross-country. I have experienced one of these magical flights just recently when I was doing a two-week Hike&Fly solo adventure around Salzburg in Austria. On the last day, the wind was strong and rain was coming in, so I expected a short morning flight, but then made it across a big mountain range at 8 in the morning by flying 30 km. My worst experiences come from seeing crashes and people getting hurt really bad.
What are the sporting moments you are most proud of?I have taken part in the Red Bull X-Alps 5 times and always managed to stay in the race until the end, getting to see the sea whenever I took part! This makes me proud! Red Bull X-Alps is all about not giving up.
Have you competed in Red Bull X-Alps before and if so, when?...every second year since 2011.
What appeals to you about Red Bull X-Alps?It's the ultimate adventure race challenge!
What will be your strategy during the race?I'll try to give the best I can, starting during preparation until celebrating what ever we have achieved with my team at the end of the race! We'll have fun once again and enjoy the feeling of racing into a little bit of unknown, although we try to eliminate it as much as possible!
Why do you think you will make it to the finish?Because I know I can!
What scares you the most about the event?To be well prepared and then not being able to take part because of something unforeseeable just before the start.
Have you ever done anything of this magnitude before?Yes.
Glider make and modelSkywalk X-Alps
Harness make and modelSkywalk Range X-Alps