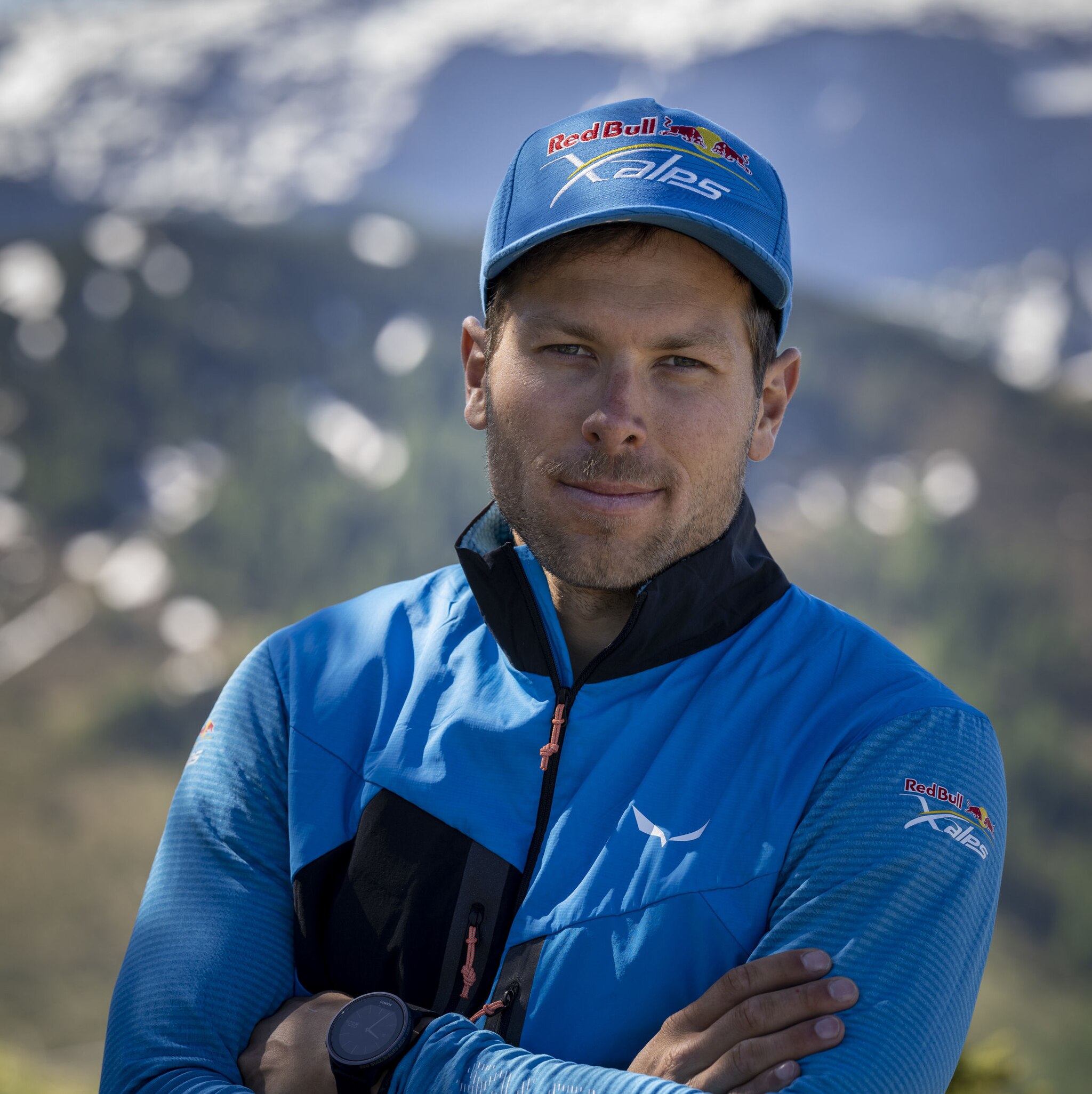 dtg

-- km

height

-- m

speed

-- km/h

heart beat

-- bpm
SUI2
Nationality:

Switzerland

Date of birth:

29 July 1994

Profession:

Testpilot for ADVANCE Paragliders

Supporter:

Andy Jäggi

Sponsors:

Red Bull, IEM Ingenieur, JFB Architekten, Aeroatelier, Raiffeisen, 3S Solar Plus
We sat down with Patrick and talked about his Red Bull X-Alps 2021. He told us about his highlights and stand-out moments and how the race compared to his previous ones.
What was your highlight of the race?
The best moment for me was to get to the goal in Zell am See with my team and even better friends than before the race. We stood together and all said: That was an awesome time!
What was the toughest part for you?
Waking up at 5AM on Day 6, the physical exertion of Day 5 (65km and 4,500 vertical meters) was clearly noticeable.
What was THE stand-out memory for you?
When my supporter, Andy Jäggi came to me and told me, "You have done something great with your performance."
How was this race in comparison to your other Red Bull X-Alps races?
The race in 2019 was very tough for me and it wasn't always a pleasure. 2021 felt to me like I was floating down a river on an air mattress and key places like Mont Blanc we could just fly around. So, I could enjoy many moments during the race.
Dive into Patrick's day-to-day experience through the race news and social media updates to see what it takes to complete the world's toughest adventure race!
The clock stopped at 11:30AM on Friday July 2, 2021
The Red Bull X-Alps 2021 has finished. The clock stopped at 11:30AM on July 2, 2021 and these are the final rankings.
Congratulations to Christian Maurer (SUI1) who is the champion for an incredible seventh time, and to all our Red Bull X-Alps athletes, supporters and teams for a safe, fair and exciting race.
Thank you for following, but stay tuned. The race may over, but keep an eye on all our channels where we will be publishing new photos and videos, race drone footage, race analysis, athlete statements and interviews. We will be sharing special moments from throughout the race, stories and interviews with the athletes – and of course the 52-minute documentary.
Patrick von Känel (SUI2) just landed spectacularly on the raft in Zell am See! He's second in the Red Bull X-Alps 2021, just beating Simon Oberrauner (AUT2) by minutes. He's landed at 13:37:30pm this afternoon and finished his race in 9d 2h 7m 30s.
Patrick von Känel (SUI2) is pulling ahead and crossing the valley towards Turnpoint 12 Schmittenhöhe. He is at 2700m, which should be enough to see him flying into the Turnpoint shortly.
Flying at 2955m altitude – 63.79 km to finish – 2nd place
Patrick von Känel (SUI2) is hiking now but he knows his earlier mistake will cost him: "I'm back on the ground. Sometimes a single mistake can change a lot but such things happen. I managed to land in a tricky valley wind in Martigny – but my team and I already have a new plan about what to do next."
Resting – 0 km to finish – 3rd place
Resting – 857.41 km to finish – 3rd place
Patrick von Känel has made TP5 – the second athlete to do so. Unlike Maurer (SUI1) who took time to pose for photographs and enjoy the atmosphere we can expect to see PvK move through TP5 quickly. He is in full chase mode and will want to catch Maurer now they are both on the ground. Maurer's lead is down to 1km.
Flying at 2847m altitude – 157.09 km to finish – 4th place
Patrick von Känel (SUI2), who is in the chasing group hunting down the leader, is flying towards Mayerhofen from a fairly high point of around 1800m. This means he can glide far, but it may not be enough to cross the vally and fly on at the other side. Also, it is really early in the day, so there will not be many thermals to get up high. Alternatively, he might decide to land high up on the mountain and wait for better conditions. Making the right decision here can mean getting a strong lead or still behing behind the leaders later in the day.
The Red Bull X-Alps is on!
And they are off! The start of a 12-day race across the European Alps. From the centre of Salzburg to Mont Blanc and back – a distance of 1238km. Incredible scenes here as just minutes ahead of the start the entire field of athletes sang Happy Birthday for Tom de Dorlodot (BEL). That is the true spirit of the Red Bull X-Alps right there. We look forward to a fast, exciting and safe race over the next two weeks. We are here for the duration – follow Live Tracking and don't miss a second!
When and why did you begin paragliding?My parents are both paragliding pilots and I grew up seeing paragliders everywhere. Since I was a young boy I dreamt of flying. In 2010, when I became 16, I got my license.
Do you paraglide competitively? List rankings and events.2014: I started with national competitions- Swiss championship (13th place) and Swiss League (7th place) 2015: I did my first Paragliding World Cup in Brazil (6th place) 2016: National XContest (3rd) 2017: I competed for the first time in a Hike&Fly race- Vercofly (6th), World Championship (3rd Team) 2018: Ironfly (2nd), Eigertour (2nd), World XContest (3th), Vice Swiss Champion Acrobatic Syncro 2019: Red Bull X-Alps (8th and finisher), Eigertour (1st), Vercofly (3rd), XContest National (1st), Personal best 556km
What is your mountaineering experience?Some beautiful peaks around my great backyard.
What is your paragliding experience?I've been flying for 10 years and the last 5 years I've been working as a testpilot for ADVANCE Paragliders. As a testpilot, I get the chance to fly everyday.
What is your adventure racing / endurance sport experience?Ironfly 2018 X-Alps 2019
What does your typical training week consist of?I have a lot of fun on our paragliding prototypes, I enjoy hiking Swiss mountains and mountain biking in the hills around my home town. For a change, I love flying over water by hydrofoil kitesurfing. And finally, I train my concentration with helicopter flying.
What are your best and worst adventure / flying moments?Best: All the longest cross-country flights. Especially the 556km long flight in Brazil last October. Arriving healthy in Monaco after the Red Bull X-Alps 2019 with a great team. Worst: My first full-stall in 2011 was probably the scariest moment since I've been flying.
What are the sporting moments you are most proud of?When I finished the Red Bull X-Alps 2019.
Have you competed in Red Bull X-Alps before and if so, when?Yes, in 2019.
What appeals to you about Red Bull X-Alps?I'd like to race again in the world's toughest adventure, together with a new great team.
What will be your strategy during the race?Same as last year: Flying as much as possible.
Why do you think you will make it to the finish?Because of my flying experience, I hope to be able to fly the long distances.
What scares you the most about the event?The short nights... Usually I sleep like a log.
Glider make and modelADVANCE Omega X-Alps
Harness make and modelADVANCE Lightness X-Alps
cloud-7, SHV-FSVL, Space Camper Schweiz