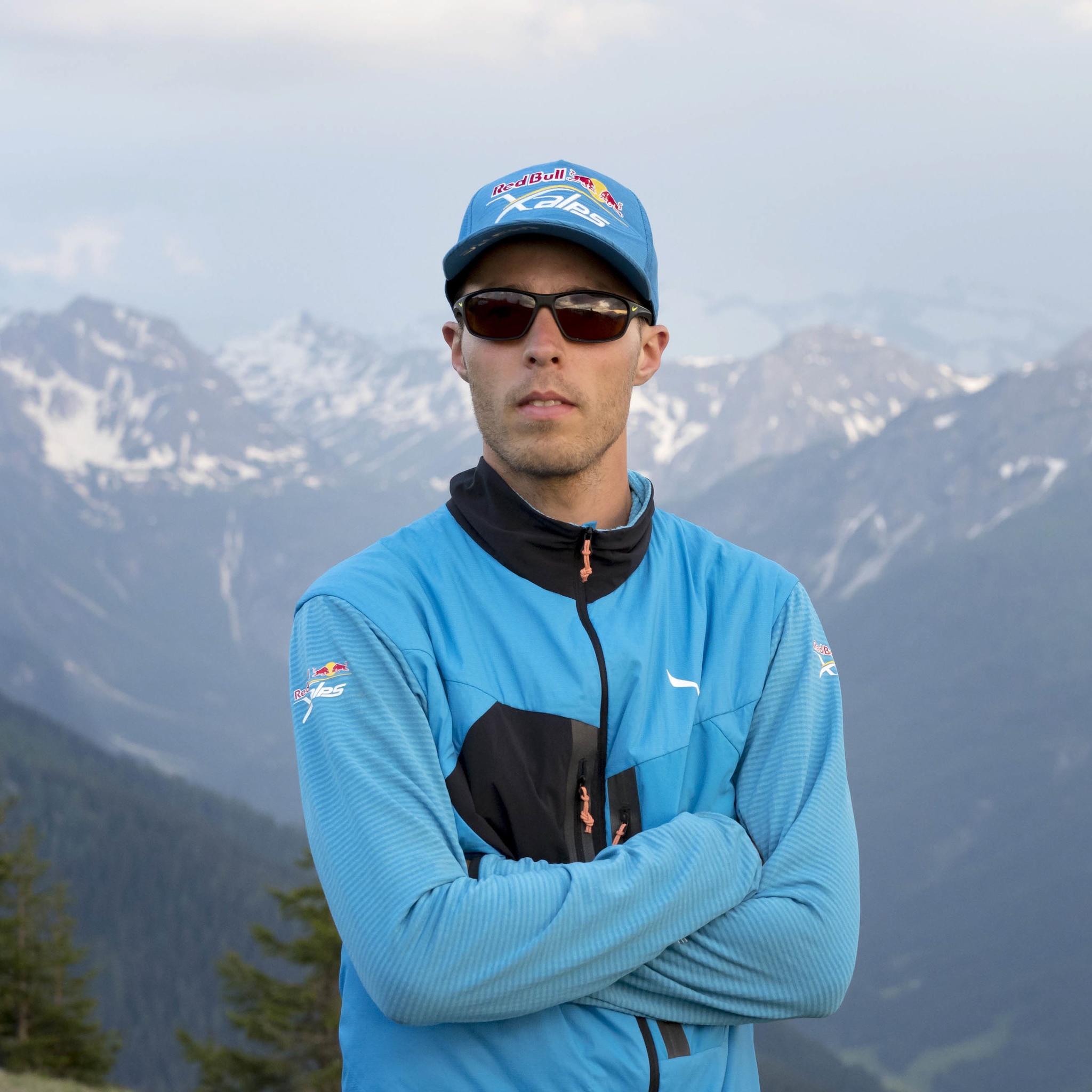 dtg

-- km

height

-- m

speed

-- km/h

heart beat

-- bpm
GER2
Nationality:

Germany

Date of birth:

10 October 1990

Profession:

R&D Harness Skywalk, Coaching, Hike&fly Athlete

Supporter:

Daniel Oberauer

Sponsors:

Skywalk, Salewa, Gleitschirmschule Luftikus, am Computersysteme
When and why did you begin paragliding?I finished my paragliding license in April 2015. But the decision to begin with paragliding was made in summer 2013 while I was on a mountaineering trip in the Swiss Alps. Two friends and I climbed the Nadelhorn and had to hike back down while there was a paragliding pilot just taking off from a snowfield. I was super stoked and had to try that out.
Do you paraglide competitively? List rankings and events.Hike&Fly Comps: 2016: 1st Bordairrace rank 8th 2017: 6th Bordairrace Aschau, 2nd Bordairrace Ramsau, 1st overall, Dolomiti Superfly 12th 2018: Bordairrace Aschau 4th, Bordairrace Graz 1st, Bordairrace Kössen 1st, Bordairrace overall 1st, Crossalps 1st, Salewa Ironfly 3rd, Dolomiti Superfly 2nd, 2019: Red Bull X-Alps 14th Other Comps: 2018 & 2019: participated in the german league 2018: German Crosscountry Championship 3rd - overall class 2019: German Crosscountry Championship 1st - overall class
What is your mountaineering experience?I've spent at least one holiday a year in the Alps for hiking, climbing or mountain biking. So, over the last 10 years I hiked/climbed severals 3&4000 m peaks. Here's a list of some of the higher attempts and summits during the last 7 years. - Nadelhorn 4327 m from Saas Fee in 2 days 2013 - Weissmies 4017 m from Saas Grund in 1 day 2013 - Dom 4545 m in 2 days 2015 - Bishorn 4153 m in 1 day hike and fly 2015 - Barre des Ecrins 4102 m in 2 days 2016 - Gran Paradiso 4061 m planned as hike and fly but not flyable 2017 - Mt. Blanc Skitour & Fly 1 day 2019 - 2 unknown 5000 m peaks during the "India - fly to climb" project 2019 - Gran Zebru 3851 m Skitour & Fly Northeast Couloir 2020
What is your paragliding experience?I have only been flying for 5 and a half years now, but I've made more than 1000 flights with 1500 hours of airtime in total. Most of the flying is XC flying, but also gliding back down after some hiking or climbing. I made a few high alpine hike & flys, which are listed under mountaineering experience. Besides that, I also fly a speedwing sometimes and I can do basic acro manoeuvres like stalls, SAT and wingovers. Also groundhandling is a big part when the wind is too strong for flying. In the most recent paragliding project, my friend and I combined XC Paragliding with bivy paragliding and high alpine mountaineering in the Indian Himalaya where we flew in heights over 6000 m.
What is your adventure racing / endurance sport experience?I competed in multiple bordairraces and other hike & fly events. Walking more than 100 km in one event is pretty normal when the weather is not the best for flying. Other longer projects: 2018: Salewa Ironfly 5 days - 250 km and 10,000 m of verticals walking 2017/18: New Zealand bivy trip - 600 km hike & fly 2019: Red Bull X-Alps 400 km and 30,000 m of verticals
What does your typical training week consist of?For endurance training I strictly follow the training routine of my personal trainer, since January 2019. Training is quite seasonal with a lot of basic endurance training such as cycling, running, skating. But what I like most is pushing myself to the limits while speed hiking with my paraglider. Besides that, training also means improving flying. I still try to get airborne as often as possible. Things I practice are: top landing, stalls, basic acro stuff.
What are your best and worst adventure / flying moments?It is hard to say what my best moment is as there are so many. But we had a pretty intense moment on a flight during the bivy trip in New Zealand. One day we started on a small hill in some remote valley. Later on that flight we found a 30-40 km wide corridor with perfect thermal conditions in the middle of the island where we could cover a long distance through pretty remote areas. In general, it doesn't have to be the longest flight to be special. Early bird flights with the first sunlight generates magic moments too. It happens mostly when you don't even expect it. I also had a pretty scary moment on the Ironfly race. It looked fine for flying but big clouds made it hard to see what was happening further on. I entered another valley it was totally dark when I recognized there was a big thunderstorm building. It really scared me that I could not see it coming. But a fire indicated to me there were still safe landing conditions on a higher plateau, so I took the opportunity right away.
What are the sporting moments you are most proud of?The Salewa Ironfly in 2018 was a great experience, my team and I performed quite well. Besides that, I had a great time in the last Red Bull X-Alps 2019. It was the first time and I've never done anything that big before. Successive mistakes at the end and an injury on my ankle lead us to end the race around 250 km before reaching Monaco. But we learnt a lot and will come back stronger in 2021.
Have you competed in Red Bull X-Alps before and if so, when?Red Bull X-Alps 2019
What appeals to you about Red Bull X-Alps?I really like the kind of adventures paragliding offers, especially bivy flying. But compared to a bivy trip, the route during the X-Alps is given. You have to follow the course and deal with what you get. That makes it tricky but also interesting.
What will be your strategy during the race?What works the best for me is to see the race as an adventure, one in which I take on a challenge with my friends/supporter. Decisions other teams make can be helpful, but just for that particular moment. So we will look at what is the best and most efficient step from our point of view.
Why do you think you will make it to the finish?In the last edition we were about to reach Monaco. But in the end we lost the focus of the present surroundings and focused too early on reaching Monaco. This is why I am even more motivated to finish the race this time!
What scares you the most about the event?The Red Bull X-Alps is not just some hike & fly competition. Applying for it is more like signing a contract for another full-time job with full commitment. Things will fall by the wayside.
Glider make and modelSkywalk Xalps
Harness make and modelSkywalk Range Xalps