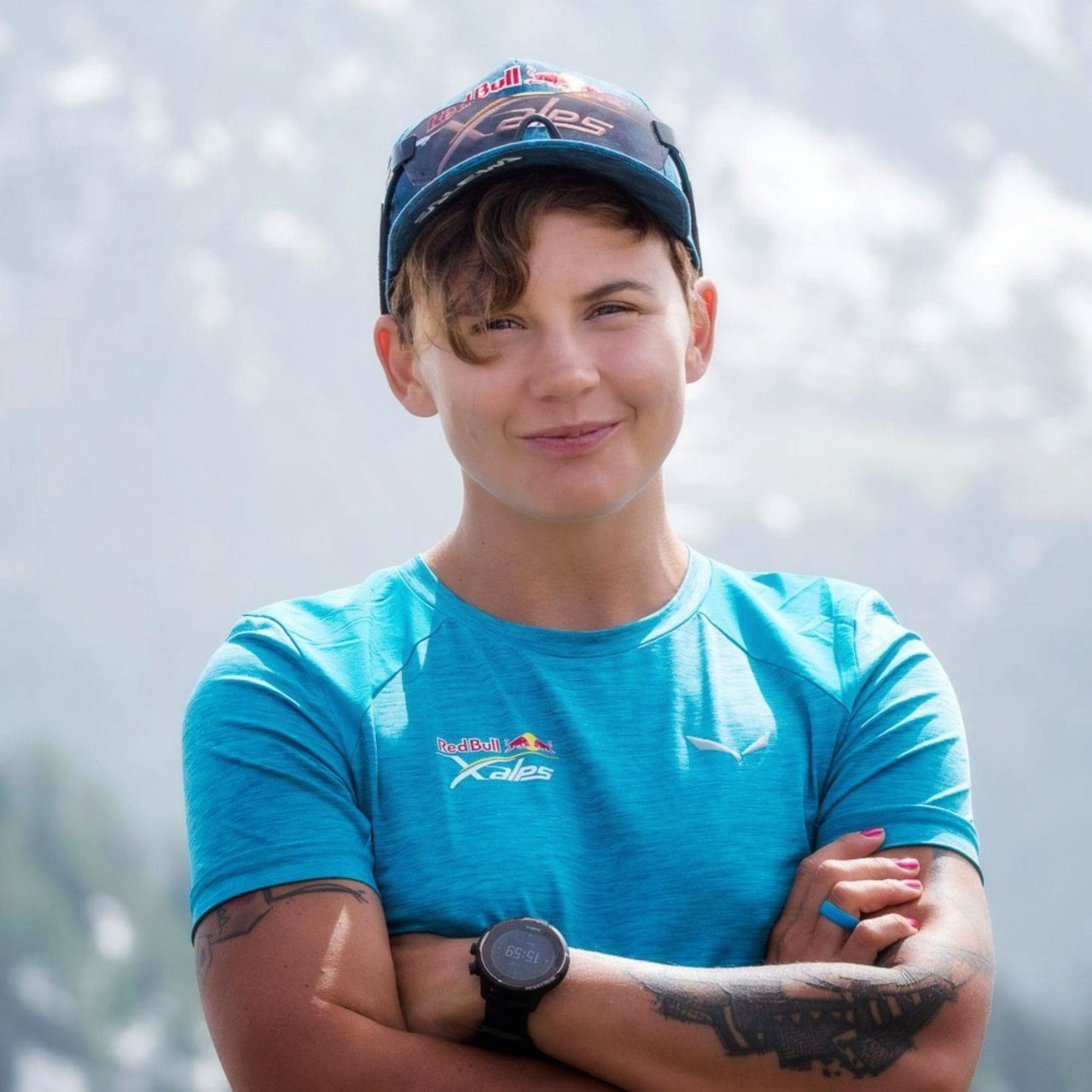 dtg

-- km

height

-- m

speed

-- km/h

heart beat

-- bpm
NZL2
Nationality:

New Zealand

Date of birth:

22 January 1986

Profession:

Coaching other pilots and growing tropical waterlilies.

Supporter:

Chris Wright

Sponsors:

Phi, Garmin, Neo, Stodeus, Adventure Menu
When and why did you begin paragliding?In summer 2014. I was a keen rock climber back then, all my life was connected to climbing - everyday routines, weekends, holidays, friends, diet... I couldn't imagine life without it. Until one day during training I hurt my elbow and had to rest it for a few months. My body was used to everyday training so I started running more and more. However running is not the same adrenaline, not the same vertical, spacial experience. My friend suggested a paragliding course and since I thermaled up to my first cloud base, I've been totally hooked. I left my job and life in Poland and moved to Semonzo (Bassano del Grappa) to fly the whole winter. Then I moved to Saint Hilaire in France and from there I traveled with my glider through China, Australia to New Zealand. In my first year, when I was still learning to thermal, I flew 300 h. I have never come back to climbing.
Do you paraglide competitively? List rankings and events.Mostly hike & fly events. Red Bull X-Alps 2019, Eigertour 2019, Flyback in Frutigen, Bornes To Fly 2018. I also qualified to X-Pyr 2020 which sadly was canceled. When it comes to traditional pg competitions, it's not really my thing but I sometimes participate for social reasons or if I particularly like the venue (mountains!). I was a New Zealand Women's Champion in 2016. A year earlier I won the women's category in Nationals in Nelson. I was 2nd lady, 22nd overall in PreWorlds in Les Deux Alpes, I also won overall in my favorite Auckland Regionals. This (southern) summer I'm organizing the first ever New Zealand hike & fly race.
What is your mountaineering experience?Of course a lot of hiking. Especially my vol-bivouacs involve quite a bit of hiking through tough terrain with a heavy backpack and limited food intake (and if it's in New Zealand always in wet shoes!) and my body handles it well. Before I was a keen rock climber, doing sport routes up to French 7c and easier mountain routes (up to VII/VII+). I have glacial experience (walking, not technical ice climbing). I've done quite a bit of ski touring in the Tatra Mountains and the Alps.
What is your paragliding experience?I've been chasing it hard for the last 6 years. In my first year, I made a few mistakes, especially my first spring was quite brutal. I put myself in a rotor and took a very tall pine in the Swiss Alps or didn't notice an overdevelopment in a grey sky and put myself in the middle of a healthy spring storm, which included unplanned wing parachutal. However I learned those lessons and the same year I started flying XC. I broke New Zealand women's distance record in 2016, just after coming to NZ. Then I doubled this record flying through some wildly beautiful mountains during my solo vol-biv in the Southern Alps. It was very special trip, for 16 days I was unsupported vol-biving through wild New Zealand mountains, understanding how being alone forces 100% focus, responsibility for my decisions, and a safety margin big enough to deal with everything can happen. Both stories of my first record and the vol-biv were published in XCmag, I like sharing adventures and especially emotions connected to flying so I regularly publish in various magazines (XCmag, Polish Vario, NZ Airborn, USHPA Magazine). My so called personal best would be 215 km triangle from Antholz, I wouldn't call it my favorite flight but it was important, as I was able to help another pilot who went down under reserve. Another memorable flight happened in the Indian Himalayas where I spent last four Octobers (and definitely going there this Autumn!), mostly in a vol-biv mode. Some beautiful flying in big mountains, in Hanuman Tibba area, over Bara Bhangal, or east from Manali, toward Nepal, sometimes almost at 6000 m and camping at 4000 m. I usually fly with my sleeping bag and some food, it gives me a cool feeling of freedom and if the conditions are favorable, I have no excuse not to go deeper! I've been hiking to take offs since I started flying, even before I knew anything about hike & fly, vol-bivouac or even light gear. I have flown in dozens of mountains on 4 continents, always keen to try new lines rather than squeezing extra kilometers riding well-known ridges, which often end up as smaller or bigger vol-bivs. I train a lot in strong winds at NZ coast, it makes me better technically and as a result a safer pilot. I coach other pilots, focusing particularly on hike & fly and vol-bivouac. I'm also a certified tandem pilot.
What is your adventure racing / endurance sport experience?In the last two years I finished a couple of ultramarathons in New Zealand - Ring of Fire (a brutal, muddy 72 km, +-3000 m), Rotorua 100 km and 50 km runs. I'm not as fast as I used to be a few years ago when I ran a lot of 'mid' distance (15-20 km) as now I keep my weight at 6-8kg more than before - at the end, I don't want to be a runner, but an all around mountain pilot who can hike for days with a heavy backpack and not get cold in high mountains! So not as fast a runner as I used to be, but I can jog forever!
What does your typical training week consist of?For last 5 years from November till April I'm in New Zealand where I train at the gym 5 to 6 times per week and run. My job is very flexible so of course I fly when it's flyable, there is a lot of wind here, good training opportunities! May - September is time for European Alps and usually I live in a campervan and follow the weather. Training becomes more organic - hiking, flying, camping, washing myself in mountain streams and chasing the sun. Unfortunately I couldn't go to Europe this year because of the global pandemic but I spent these winter months flying at the coast, training hard so I feel stronger than ever. October is time for Indian Himalayas and some vol-bivouac flying in high mountains but this year it looks tricky too. However spring is already in New Zealand and I hope for a great season in our Southern Alps.
What are your best and worst adventure / flying moments?Best - putting myself alone deep into New Zealand Alps with complicated weather and many doubts and the very next day flying the most beautiful line there is to fly in New Zealand, more than doubling my previous national record and coming out the other side a better pilot and a stronger person. Worst - putting myself in a rotor and taking a high pine tree in Swiss Alps during my first spring. However it was also good for me - showed me how little I still knew and how much there was to learn. And then X-Alps 2019, it brought the highest heights and the darkest lows, I still feel proud of some decisions and still very much cringe when I think about others!
What are the sporting moments you are most proud of?X-Alps 2019 definitely made me proud to be able to participate with and learn from some of the best pilots in the world and it inspired and humbled me, showing how much I still have to learn. I'm still impressed how my flying changed and improved after this experience.
Have you competed in Red Bull X-Alps before and if so, when?Yes, 2019.
What appeals to you about Red Bull X-Alps?It's an ultimate adventure race and it's really long so it pushes athletes further than anything else would push them, beyond what they knew about themselves. I've found it fascinating and inspiring.
What will be your strategy during the race?Fly as much as possible and be unstoppable on the ground, same as last time, I'll just try to execute it better!
Why do you think you will make it to the finish?Now I understand better what to expect and how to prepare. I'm ready to push myself way further and fully embrace the suffering!
What scares you the most about the event?Getting lost on a straight road ;-)
Have you ever done anything of this magnitude before?Yes, in 2019.
Glider make and modelPhi Scala
Harness make and modeltbc