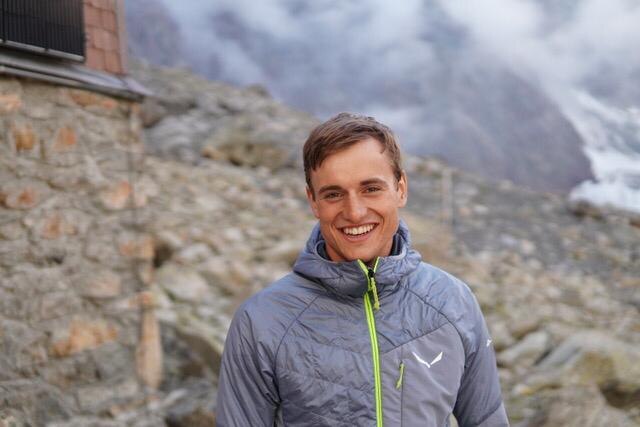 dtg

-- km

height

-- m

speed

-- km/h

heart beat

-- bpm
SUI3
Nationality:

Switzerland

Date of birth:

25 July 1997

Profession:

Lumberjack and machine operator

Supporter:

André Glauser

Sponsors:

Hutterbaumaschinenag, Kaempf-bagger.ch, Teamwork Schweiz
When and why did you begin paragliding?I have always been fascinated by the mountains. When my brother did the training and talked about the incredible experiences, I couldn't wait any longer. In summer 2016 I started my paragliding training. After about 3 months I passed the exam.
Do you paraglide competitively? List rankings and events.Swisscup Grindelwald 11. Sportklasse Newcomer Challenge 19. Sportklasse Swisscup Engelberg 3. Sportklasse Swisscup Frutigen 6. Sportklasse Swissleaguecup Grindelwald 5. Sportklasse Swiss Open Disentis 3. Sportklasse Gantrisch Hike and Fly 9. Rang Eigertour Edition 2 1. Rang Challenge Flyback Frutigen 5. Rang Trailfly Lenk 6. Rang Hike and Fly SM Onsernone 7. Rang Eigertour Edition 3 3. Rang Pro
What is your mountaineering experience?Since I live in the Berner Oberland, most of my free time is spent in the mountains. Most of the time I am on my way to make Hike & Flys or to enjoy unique cross-country flights in the high mountains. In winter I also do some ski tours. In wind conditions, which make flying impossible, I can be found in different climbing areas or bouldering gyms.
What is your paragliding experience?I've been flying competitions for three years. And in the X-Alps academy I am prepared for this race by the best athletes.
What is your adventure racing / endurance sport experience?My biggest competition so far was the Eiger tour. An unsupported hike and fly race in the Swiss Alps.
What does your typical training week consist of?I work 70% at Kaempf Bagger.ch. The flexible working climate favours my training as well as paragliding. With 5h endurance training and 2h strength training, I trained for this year's competition season. In the X-Alpsacademi I train for such races. With Chrigel Maurer, Sepp Inniger and Partik von Känel I have the opportunity to train with the best athletes in our sport. For X-Alps, I will reduce the workload and invest most of the time in training.
What are your best and worst adventure / flying moments?The best experience so far was the ascent of the Jungfrau with my friends and a subsequent flight back to Interlaken.
What are the sporting moments you are most proud of?I am most proud of the X-Swiss adventure. We crossed Switzerland from the western-most point to the eastern-most in only three days. As I didn't know the whole route and we had to fly in difficult wind conditions, I was proud that we reached the eastern-most point in just three days.
Have you competed in Red Bull X-Alps before and if so, when?No.
What appeals to you about Red Bull X-Alps?The most exciting thing for me is the adventure, which you will experience during the competition days. Furthermore, I want to compete with the best in the world.
What will be your strategy during the race?Excellent teamwork, which brings us to our goal.
Why do you think you will make it to the finish?With a great team on my side, I will be well prepared. I have already completed several days of competitions, where I could train my mental stamina.
What scares you the most about the event?I am most afraid of the long days. To run and fly full of energy from morning till late at night. This requires extreme mental strength.
Have you ever done anything of this magnitude before?This year I was selected for the X-Pyr, unfortunately it was canceled due to the corona pandemic.
Glider make and modelAdvance Omega X-Alps
Harness make and modelAdvance Lightness X-Alps