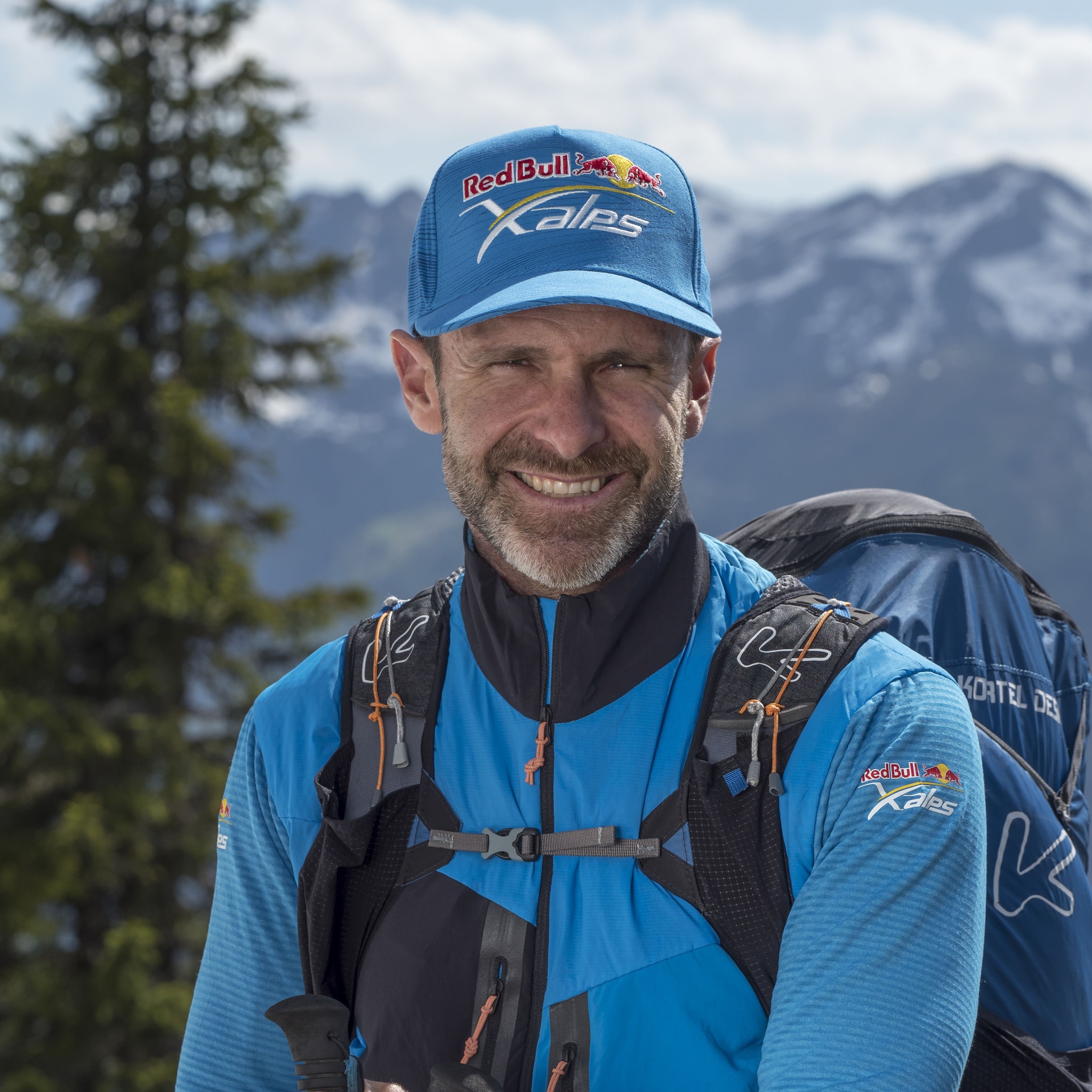 dtg

-- km

height

-- m

speed

-- km/h

heart beat

-- bpm
USA1
Nationality:

United States

Date of birth:

21 April 1972

Profession:

Adventurer, Dad, Pilot, CEO and Founder, Offshore Odysseys

Supporter:

Reavis Sutphin-Gray

Sponsors:

Patagonia, Salewa, Kortel, Garmin, Niviuk
We sat down with Gavin and talked about his Red Bull X-Alps 2021. He told us about his highlights and stand-out moments and how the race compared to his previous ones.
What was your highlight of the race?
Day 8 was an unbelievable flying day in rather atrocious weather. I was able to basically ridge soar DOWN the Rhone towards Martigny, which was pretty heads-up but unbelievably fun. At each ridge I would just turn into the wind, hammer into it on full bar, soar up the faces, hold on as long as I could and then wing it downwind over the back onto the next one. At one point I had to top land and wait out a rain storm, another time for a violent hail storm that washed out roads below me, and at the end of the day I got one final nice glide in light rain which set me up perfectly for a glide the next morning across the Martigny valley to tag the Dent D'Oche Turnpoint.
What was the toughest part for you?
The first three days were incredibly frustrating. We just couldn't get in our groove and my timing seemed to always be off. On Day 2 I flew eight times and don't think I ever flew more than 10 kilometers. Day 3 we gained some ground, but again and again I made poor choices in the air which really hurt and the distance between us and the leaders kept growing. Team USA had always had good starts and have never had to worry about elimination, so this was a new challenge but through it all we stayed really positive because it's a long race and we knew things would turn around.
What was THE stand-out memory for you?
On the final full day of the race, Day 11, after clearing Mont Blanc and "landing" in some of the sketchiest conditions I'd ever flown in (it was really strong N Foehn that day) I found a place to launch that was blowing harder than anything I'd ever launched in other than ground handing training and immediately rocketed to cloudbase. I was pretty terrified at the beginning, but after about 30 minutes realized that while conditions were strong, Mont Blanc was blocking most of the wind, which made for super duper exciting flying! I flew in a tail wind really fast north of the Aosta valley towards Monte Rosa, one of the prettiest places in the world and just munched up kilometers.
How was this race in comparison to your other Red Bull X-Alps races?
2021 was our worst result and the flying weather was definitely the sketchiest, but in many ways it was the most fun. Nothing can ever match the drill of the first (2015) and of course the year was also our best result and we made Monaco, so that's hard to beat. But in the 2021 edition I had no problems with my feet, even though I did more kilometers on the ground than in any of the previous so that alone made it a lot more fun! My team was amazing, we really, really, REALLY had a great time even when things sucked and this was a good race to put my Red Bull X-Alps aspirations to bed.
Dive into Gavin's day-to-day experience through the race news and social media updates to see what it takes to be a part of the world's toughest adventure race!
Gavin McClurg tells us what it means to win the Salewa Trophy for sportsmanship, his new book based on interviews with numerous athletes, and why he's more proud of this race than any other.
So Gavin, how was your race?
I gave it everything. My team never buckled. We just ground and ground and ground and eventually it paid off. The result in placing was the worst of any of my races, but I was more proud of this one than any of the previous. I never let up on the gas.We always stayed optimistic. A lot didn't work – over and over again. But a lot did, and when I screwed it up, I tried to laugh and point it uphill without complaining.
Violent winds on Mont Blanc
Gavin McClurg (USA1) is in strong winds south of Mont Blanc this morning. He has just pulled off a short 20 minute flight over a pass but he said the conditions were incredibly violent. "I got a thermal and cleared the pass, but on the other side I was in the lee and the wind was pushing me down. I had 60km/h gusts and I just got flushed to the ground. Luckily the ground was soft." He added that he's just looking to have a safe day. "If there's some respectable flying to be had, I'd love that, but right now it doesn't look that way with the north föhn winds."
Resting – 557.58 km to finish – 21st place
USA teams go head to head
USA1 and USA2 both pull their Night Passes in elimination battle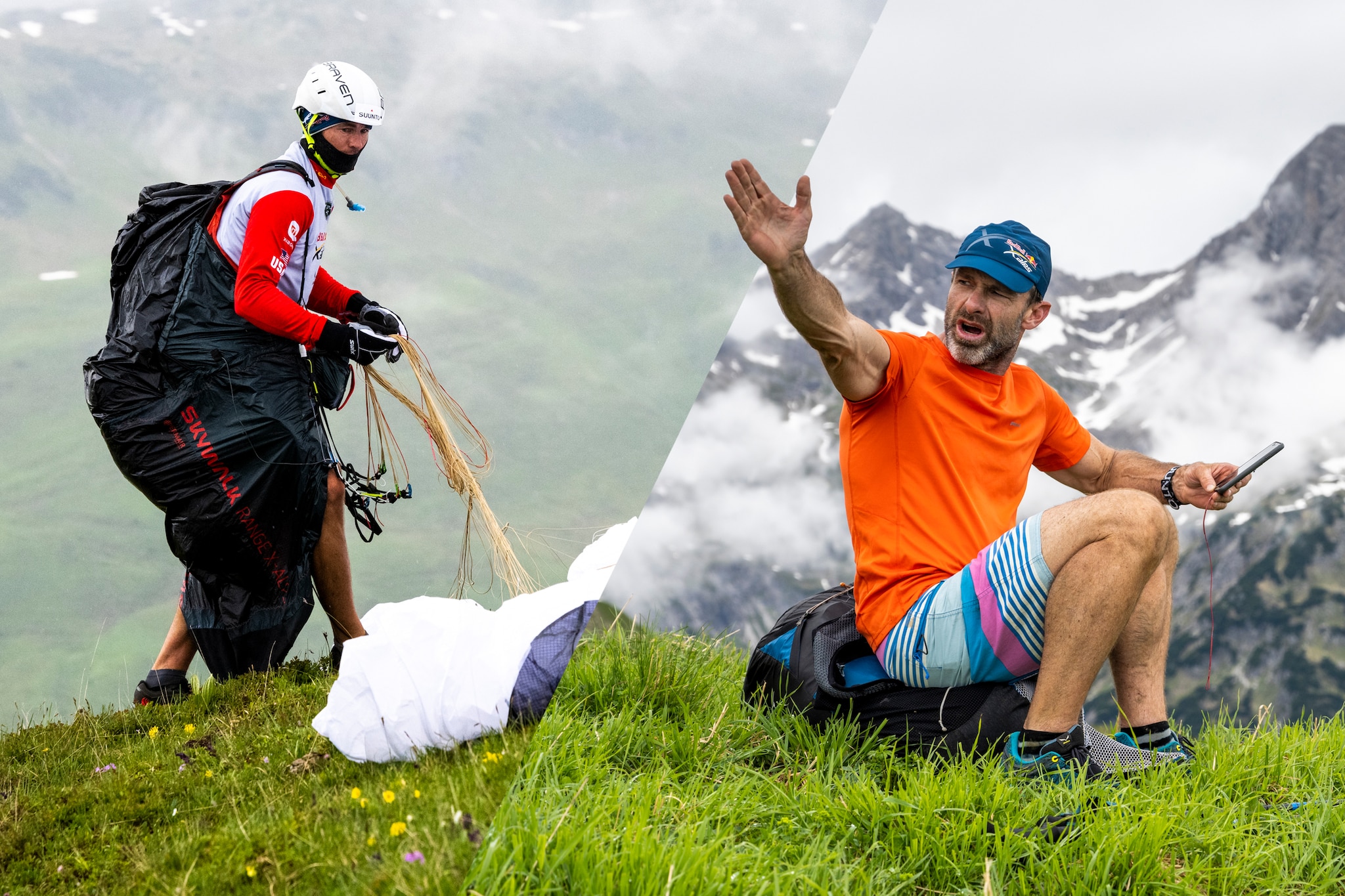 Both Gavin McClurg (USA1) and Cody Mittanck (USA2) have pulled their Night Passes. This means they can both hike through the night tonight.
Both athletes are at the back of the pack, in position 24 and 25. At 2pm both were at the same position, with 780km to go. They have both made Turnpoint 6 Säntis and are heading towards TP7 Fiesch - Aletsch Arena.
Speaking as he was getting ready to launch this afternoon Mittanck said: "Well it's really tight here in the back. Everyone is ahead and it's come down to the wire between Gavin and me.
"I wanted to pull my Night Pass just in case. I would prefer not to use it actually. If I can get a good flight that will be great, but if not I will hike through the night."
He added: "Gavin and I are just setting up to fly now. It looks like a difficult day here - we have different cloud bases and different air masses. We need to get to the high terrain and fly there to make some distance."
The race between these two athletes who are US team mates and friends will push both of them hard this afternoon and evening. Neither will want to give in to the other, but it looks like one of them will indeed face elimination tomorrow at 06:00am.
Find both teams on Live Tracking to follow the epic battle for staying in the race!
Gavin McClurg (USA1) is going to have to fight hard to stay in the race today. Elimination calls for the athlete who is at the back tomorrow at 6:00am. McClurg is currently closing in on TP6 Säntis, just 4km behind his teammate Cody Mittanck (USA2)
Hiking at 1601m – 857.07 km to finish – 26th place
Resting – 601.21 km to finish – 21st place
McClurg: 'I'll gain some ground'
Gavin McClurg (USA1) is feeling good this evening. "I've had some good flights today, although hit a bunch of headwind. I also slope landed, hopped over a barbed wire fence with my glider in a bundle and somehow got my lines all mixed up. But I've had a couple of nice evening flights." His first couple of days were "terrible" he said. "We were just off sync. Even today when I flew with Nico Donini (ITA2) I launched 10 minutes ahead of him, but when he launched the sun came out, the thermals popped and now he's 30km ahead of me. It's been frustrating. But the team is great, we're having a blast. I'll gain some ground!"
Gavin McClurg (USA1) is close to the back in 27th position and has had a tough day. He said he has had six flights today and "absolutely nothing worked". He said on his sixth flight, "Things felt pretty good after launch but I immediately got flushed down the valley. I couldn't make it work anywhere. I had to land and walk again ... literally nothing has worked out so far." He added that "at some point the tables will turn."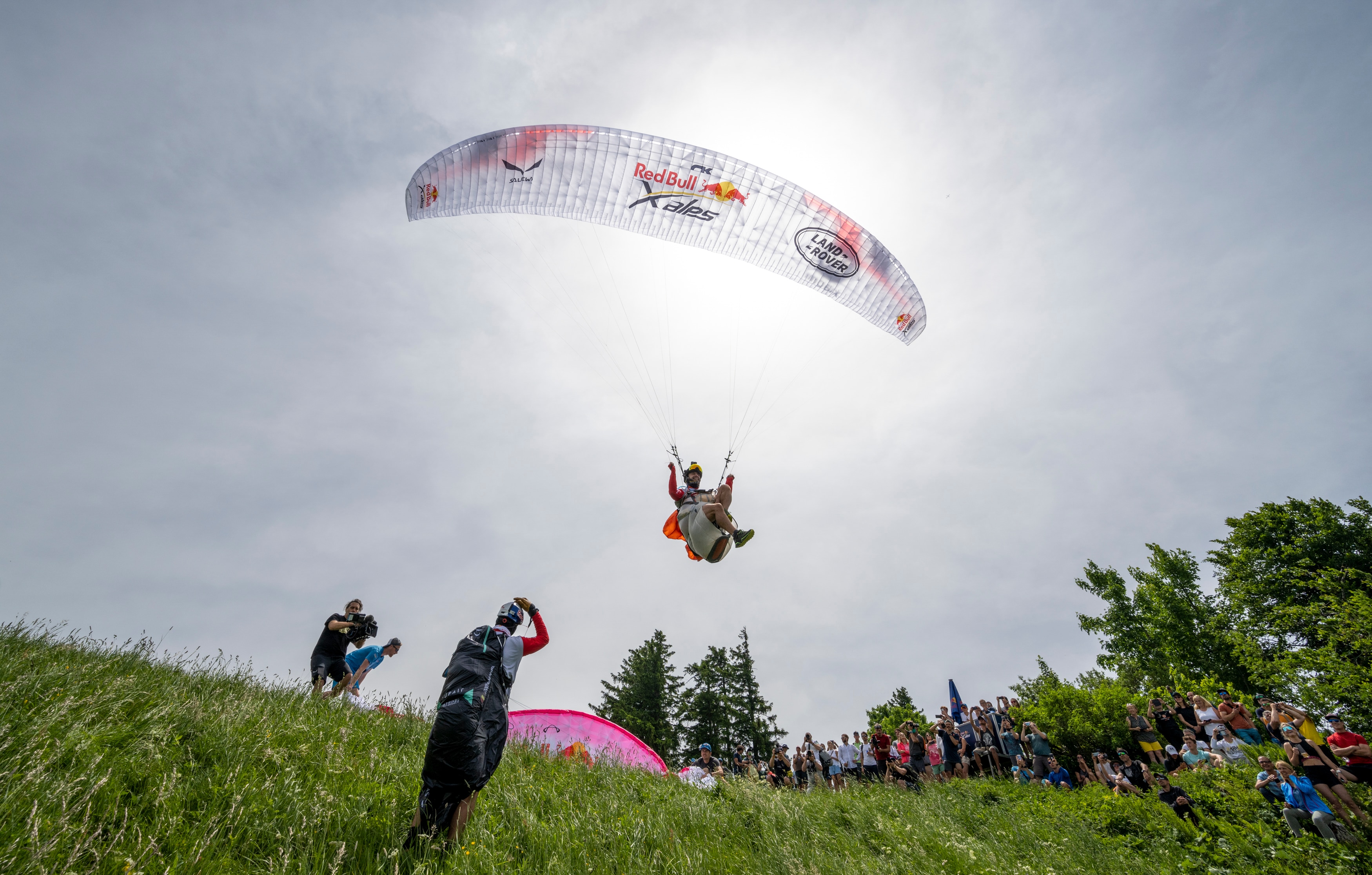 The Red Bull X-Alps is on!
And they are off! The start of a 12-day race across the European Alps. From the centre of Salzburg to Mont Blanc and back – a distance of 1238km. Incredible scenes here as just minutes ahead of the start the entire field of athletes sang Happy Birthday for Tom de Dorlodot (BEL). That is the true spirit of the Red Bull X-Alps right there. We look forward to a fast, exciting and safe race over the next two weeks. We are here for the duration – follow Live Tracking and don't miss a second!
When and why did you begin paragliding?I was sailing around the world and my girlfriend at the time handed me a wing and showed me how to groundhandle- this was 2004. I took a couple tandems and thought it was painfully boring. But one day I got to take the controls, and when I learned you could use a wing to fly distance and land somewhere where you had no idea, I was totally hooked. I've been a junky ever since.
Do you paraglide competitively? List rankings and events.1st Place US Nationals 2015, 2nd place Pre-PWC Colombia 2014, 9th place British Open 2019. I compete in the PWC once or twice a year if I have time and US events in non X-Alps years.
What is your mountaineering experience?I was a guide/instructor for Outward Bound in the Northwest of the United States for several years where I instructed rock climbing and raft/kayak guiding. I have mountaineered in the Andes (Bolivia and Peru), run many class 5-6 rivers in North and Central America and have done vol-biv expeditions across the Canadian Rockies ("The Rockies Traverse" in 2014 with Will Gadd, a Red Bull Production), the Sierra Mountains of California ("Surfing the Sierras"), the Wasatch Mountains of Utah and Wyoming ("500 Miles to Nowhere") and recently (2016) completed a full paragliding/foot traverse of the Alaska Range from east to west, nearly 800 kms (37 days to complete), which was documented by Red Bull for their Explorers Series.
What is your paragliding experience?I did a bivvy trip from Walt's Point in the Sierra range of Nevada/California in 2012 to the Oregon Border (18 days to complete). I crossed the Canadian Rockies to the US border with Will Gadd in 2014, the longest series of connected flights that I believe still to this day have ever been flown (18 days to complete). I crossed the full length of the Alaska Range (500 miles) in 2016 and finished the last 1/3rd of that route solo (37 days to complete). Until two weeks ago held the foot launch distance record in North America (set in 2013- 240 miles from my home town of Sun Valley). I competed in the 2015 X-Alps (8th place- Monaco), the 2017 X-Alps (14th place), and the 2019 X-Alps (12th place).
What is your adventure racing / endurance sport experience?2015, 2017, 2019 Red Bull X-Alps. I sailed around the world for 13 years, completing nearly 2 full circumnavigations. Completed many long passages solo.
What does your typical training week consist of?My training regimen for the X-Alps has become quite well-known. Because I'm older and short- I gotta train hard! In both the 2015 and 2017 races I felt awesome at the end and would have really liked to just keep going! Not so much in 2019:) I don't like heat!
What are your best and worst adventure / flying moments?Best: Flying the full length of the Alaskan Range and finishing solo; crossing the Canadian Rockies with Will Gadd; being the first American to make goal in the Red Bull X-Alps in 2015; and every time I launch. Worst: Getting blown over the back and landing in a river in the Dominican Republic and walking out over a series of massive waterfalls; nearly getting killed in the Red Bull X-Alps 2015; getting caught in a gust-front in the Wallis of Switzerland; and battling SUPER high winds in Alaska on a very dicey day, and battling the heat and stability on the last three days of the 2019 X-Alps.
What are the sporting moments you are most proud of?All of my X-Alps races, crossing the Alaska Range, becoming a Patagonia ambassador, and making the US Ski Team.
Have you competed in Red Bull X-Alps before and if so, when?2015, 2017, 2019.
What appeals to you about Red Bull X-Alps?The risk, the strategy, the teamwork, the anticipation, the hard work, the physical challenge, and incredible adventure. The competition is everything awesome wrapped up into one event! I've been fortunate to have done a lot of crazy and wonderful things but the Red Bull X-Alps was the highlight of my life in 2015 and it just keeps getting better. In 2017 we didn't make it which was a huge disappointment but I felt strong at the end and made a fraction of the mistakes we made in 2015. We felt like the 2019 was our best race yet. For non-Europeans, the lack of local knowledge is a real handicap, but it's the greatest adventure on earth and I just can't give it up!
What will be your strategy during the race?The same as it has been- have a blast, laugh a lot, be TOTALLY prepared and fit and punch it as hard as we can, but be smart and safe.
Why do you think you will make it to the finish?You can't think about the finish. You just have to go hard, be smart, make good decisions, keep putting one foot in front of the other and give it your absolute best. If it all works out, you'll get there.
What scares you the most about the event?The race can be absurdly dangerous. Training, good decision making and understanding thoroughly that it's a just a race- it's not worth getting injured or worse. I understand the risks but proper training mitigates all dumb decisions, which I try very hard not to make.
Have you ever done anything of this magnitude before?Alaska Traverse was harder! And it was 37 days so this is just a warm up.
Glider make and modelNiviuk Klimber2 P
Harness make and modelKortel Kolibri Pro