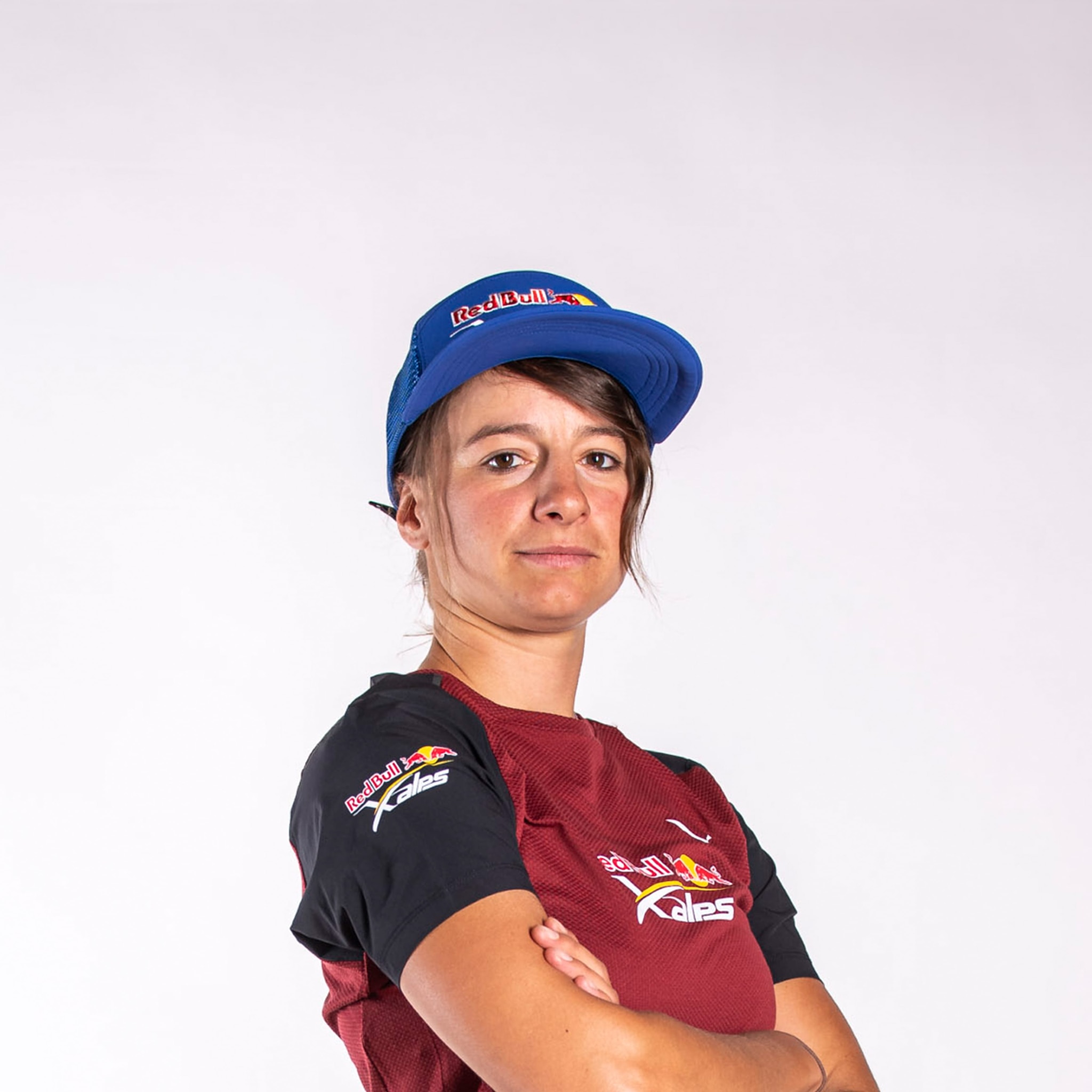 dtg

-- km

height

-- m

speed

-- km/h

heart beat

-- bpm
AUT4
Nationality:

Austria

Date of birth:

24 February 1995

Profession:

Paragliding instructor

Supporter:

Nadine Beck

Glider:

Ozone Zeolite

Harness:

Woody Valley Race Pro

Sponsors:

Flugschule Aufwind, Ozone, Woody Valley, CMP, Brooks, Ortlieb, Business Insights, Outzeit, Komperdell, BlueIce, Smith Optics
List your top 5 adventure flying, hike & fly or vol biv experiencesFor sure one of the most impressive vol bivs was a tour at the Triglav national park in Slovenia with my dog Capper. Doing several thousand verticals a day, sleeping on top and being rewarded with a sunrise flight back down to the next valley is worth it each time. But also the hike-fly-climb tours I did around Meran together with Aaron Durogati during the preparation for the last two editions of Red Bull X-Alps. Another one was crossing the main ridge of the Alps to pick up a car on the other side. Hiking up to a take-off at the Dachstein massive, I took off into strong leeside thermals, working my way up and to the south, jumping over the main ridge with 35kph backwind and soaring backwards up the next ridge, realizing that even in strong and turbulent conditions I feel confident in my glider and ready to reach the goal I set myself. Last, but certainly not least, are the last two editions of the Red Bull X-Alps. Even if not taking part as an athlete, the intense emotions, quick decisions and the amount of trust and responsibility given to me by Aaron (as I was in charge of the race-tactics and navigation) made me realize the possibilities and difficulties during the race and improve my own skills.
List your top 5 paragliding competition results1st Place British Winter Open 2022 (Roldanillo), 3rd Place PWC Columbia 2022 (Roldanillo), 1st Place Alpencup 2020 (Kössen), 7th Place World Championsship Macedonia (2019), 3rd Place PWC Bulgaria 2018 (Sopot), several wins at national competitions and cross-country contests in Austria
How many years have you been flying?I started flying at the age of 15, which comes to 12 years of flying by now.
Tell us how you got into paraglidingIn 2009 I was on a hiking holiday with my family in Ramsau am Dachstein, Austria, and there was the offer to do one test day of paragliding. Once up in the air at the trainings hill I was completely hooked and so the next year I started with the basic paragliding course at Flugschule Aufwind. As a student I couldn't afford it on my own so I talked the flight school owner into giving me a job at the office in summer so I could pay for the courses. Now, already 12 years later, I am working as a partial owner and paragliding instructor at exactly that paragliding school.
How many hours do you fly a year?Counting all the hours of competition and cross-country flying, coaching from the air as well as acro and hike and fly runs I spend more than 300 hours a year in the air.
Summarize the paragliding experience which you think qualifies you to do to the race?I have been a passionate pilot for more than ten years and I have been working as a paragliding instructor and tandem pilot since 2014. I am teaching beginner students up to experienced cross country pilots. Lately, I am also working as an SIV instructor and flying some basic acro. Furthermore, I am competing at XC competitions since 2016, including national competitions as well as international ones like the Paragliding World Cup, the European and World Championsship at which I have been competing as part of the Austrian national team since 2018. For the cross country part I have won the Austrian XContest each year since 2017. I accompanied Aaron Durogati as supporter at the Red Bull X-Alps in 2019 as well as in 2021, with the responsibility for meteorological information as well as navigation on the ground and in the air.
What has been your best paragliding moment?Overflying the finish-line with 2m altitude at a task at the World Championship in Macedonia (2018). After being late at the start, I had to catch up the gaggle from behind, overtaking them at the End-Of-Speed Section and following a bird who was showing me the best line towards the goal. Flying through some meters of sink, my heartbeat getting faster, I finally heard the soft "beep beep" of the vario indicating rising air which made the last kilometer to the goal possible. In the end I got second at that task.
And your worst moment?Probably when I ended up in a tree just three seconds after I took off. The worst thing was to realize how dumb I had been to ignore all the signs of a proper lee-side take-off and getting a huge collapse right after take-off as a reward. And the embarrassment to call someone to help me get out of the 30m high spruce, just because I was stupid.
What is your adventure racing / endurance events experience?As mentioned before I supported Aaron Durogati during the Red Bull X-Alps 2019 and 2021. Furthermore, I accompanied Simon Oberrauner for half the race in 2017. I competed at adventure trail runs with my dog in 2020.
What mountaineering experience do you have?Living right in the middle of the Austrian Alps, I love reaching peaks. No matter if it's by hiking, climbing, via ferrata, trail running, mountain biking or in winter with skies or crampons.
List your top 5 best adventures"What is your plan for tonight?" – That's probably the best question to start an adventure. Starting at 5PM, I drove down to Slovenia and met some friends at midnight somewhere at the bottom of Triglav. Headlamps on and we started hiking, or maybe you could call it climbing the ferrata up to the top. We slept for another hour before sunrise. Only then, with the first sunbeams, I discovered the beauty of the area around. Another time also close by, we passed through the valley of the seven lakes, biwaking on a pass and taking off on the lee-side on a "tridem" (tandem plus dog). Gliding down the valley we landed in an empty river bed, next to a bar and a nice farmer took us back to our car on the other side of the mountain. After Red Bull X-Alps 2019 I spent another day in Merano with Aaron Durogati. As he had to fly some tandems in the morning I hiked up to Spronser lakes alone. Flying back to the landing field, also Aaron was finished for the day so we took off for another tour together. Thermaling up a bit, we flew in to Lodner and landed below the north-west ridge. We hiked directly up the ridge, hiking climbing and enjoying the view. The little glacier on top worked perfectly as the next take-off from where we glided down to the Spronser lakes again – second time for me on that day. Jumping from mountain to mountain probably one of the best tours we did together.
What other adventure sports do you do?Mountain biking, hiking/mountaineering, climbing (sport, rock, multi pitch, bouldering), trail running, skimountaineering, snowboarding, horseback riding
Best adventure moment?Every single sunrise after a long and demanding hike in the morning/night. That's the special reward which only awaits you after physical exercise on a mountain peak (no matter if it's in summer or winter).
Worst adventure moment?When I took a short cut down to a path just a few hundred meters lower, I ended up in a wet and slippery 100m vertical rock face climbing down unsecured. Being in the middle of it I realized that it's not only wet but also brittle rock and I certainly knew that one wrong footstep can take you to hospital or worse.
What's your training philosophy? Do you follow a regular plan?Training on the one hand must be fun, but also needs to be painful sometimes. The right mixture between pushing and breaks must be found to get the best out of you. Therefore, a good plan is key to achieve the best performance. So yes, I do follow a regular plan if I prepare myself for a race or a long-lasting mountaineering adventure. Because I'm aware of the fact that Red Bull X-Alps is an outstanding adventure race, I have a sports scientist with whom I would set up the right plan to bring me to my maximum performance by the time of the race.
What's your approach to nutrition?In my opinion, it's important to have a good mixture and to know what's best for yourself. As a matter of fact, nutrition is one important component of a good performance. Within the last couple of years I figured out that there are some basic rules that I always keep in mind. For example no processed food, no alcohol, a lot of vegetables and good protein sources , healthy sources of fat and the right amount of carbs when I do endurance training. I think for a long-lasting adventure race like Red Bull X-Alps I would stick to a plan to ensure my performance.
What wing do you fly?For hike and fly I am using the Niviuk Klimber 2 P, in competitions I am flying the Niviuk Icepeak X-One. For "tandem" flights with my dog I prefer an easy EN-A glider like the Niviuk Kode P.
What is your race goal?To be able to look back with a smile and say, "We did a great job". Looking at my racing history, it's obvious that I am a very ambitious person, so of course making it to the finish line is on my mind when it comes to race goals.
What is your approach to risk and safety? What are your rules for staying safe?I had to experience first-hand what it means, if the athlete is pushing too much and you wait down in the valley hoping that he would be alright and safe. Certainly an experience I don't want my supporters to live through. Yes, it's an adventure race but still it's not worth risking your life. Whenever someone of the team has the feeling it's getting too dangerous I want an open communication. Another important point is sleep. Lack of sleep can be crucial in the air and when making decisions. Luckily, I can sleep like a stone. Also, a personal hiking limit per day should ensure that you reserve some energies.
Why do you want to take part in the Red Bull X-Alps?I have seen the race now from the supporters' point of view and I want to experience the other side of the coin in 2023. Competing motivates me to push to the limit and encourages me to improve my own skills again and again. In my opinion, the Red Bull X-Alps offer the perfect environment to do what I love: competing, flying and hiking. As it's a race over several days it also includes a lot of decision making, tactics and commitment which I know I am good at.
What does the Red Bull X-Alps mean to you?Like many pilots, I heard about the Red Bull X-Alps when I started paragliding. Watching all those pilots from afar motivated me to get better and better. They were superheroes, idols, the best of the best. So when Aaron Durogati asked me to be part of his team it was a great honor. Getting to know all the people involved in the race made me realize all the effort needed to be part of it.
Why do you think you have what it takes?Being part of the race two and a half times makes me aware of all the challenges you have to deal with during the race. Pushing your physical and mental limits, but also to keep up the motivation in case something doesn't work out as planned. Spending so much time training and planning together with the athletes made me realize that I can keep up in the air and on the ground and that I am capable of taking the right decisions at the right time. Flying-wise I am racing head-to-head with the top pilots in the world, knowing when it's time to push full-speed, how much risk to take and when to switch back to survival mode in weak conditions, but also when it is not safe to keep on flying. Some people call me bull-headed, others call it a strong mind - I personally think, that if I have a goal I am 150% working on achieving it, focused, motivated and determined. Even if there are throwbacks during the training or race, I keep on looking forward and don't let myself get dragged down. Since I can remember, I have always been looking for new challenges in my life, and unless I achieved what I want I certainly won't stop. Furthermore, I know the importance of a good team and I am proud and lucky to have the best supporter I can think of at my side.
What will be your race strategy?Making the best out of every day. Taking the right decisions on the ground and in the air, as I know that you cannot win the race by running. Having a plan to follow will be helpful, especially when exhaustion kicks in after some days. This includes a good preparation and a plan A, B and C in case A and B don't work out. Furthermore, to trust in my supporters because I believe the race is a team effort more than a one-person-show.
Who makes the ideal supporter?First of all the character must fit. Because during the race the supporter(s) must still help you even if you are tired, unmotivated, in pain, sad or angry. To have someone who can still motivate you and get you back on track is essential. Also the ability to push you if needed but also keep an eye on you so you don't run into stupid dead ends or dangerous situations. But during the Red Bull X-Alps the supporter(s) are not only mental coaches but navigational aids, weather experts, mountain guides, physio-therapists, chefs, drivers and social media managers. To find all these abilities in just one person and expect just ONE person to be able to handle it alone during the race is far from realistic. Therefore, I work with several people of whom everyone has their specialties and all of them work together to build the best team.
Have you ever done anything of this magnitude before?Only as a supporter in Red Bull X-Alps in 2019 and 2021. But I am ready to take the challenge myself.