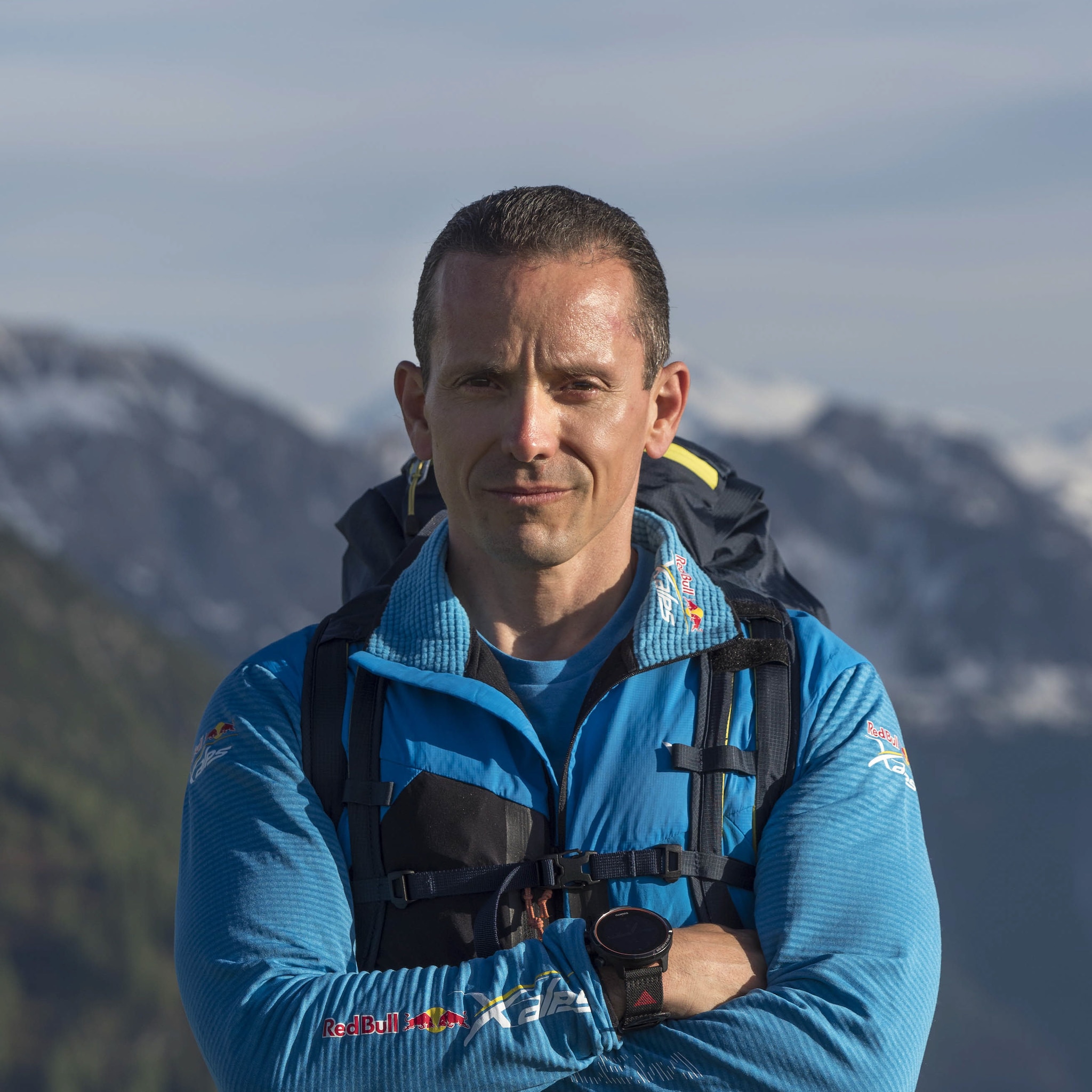 dtg

-- km

height

-- m

speed

-- km/h

heart beat

-- bpm
MEX
Nationality:

Mexico

Date of birth:

02 November 1975

Profession:

Engineer

Supporter:

Bianca Heinrich

Sponsors:

Hitachi Cable America Inc., Skywalk, Paraglide New England
When and why did you begin paragliding?I started paragliding 10 years ago, and haven't looked back since. What started out as curiosity for a weekend hobby has become my passion, my time drain, my life!
Do you paraglide competitively? List rankings and events.I do! I have recently represented my home country (Mexico) in highly competitive events such as the 2019 16th FAI World Paragliding Championship and the 2020 4th FAI Panamerican Paragliding Championship as well as participated in the Mexican and US National events. Due to COVID-19 I haven't raced in the last 4 months, but the latest events I've participated in are: - 4th FAI Paragliding Pan-American Championship 2020: 36th out of 105 pilots http://hipoxia.com.br/panamericano2020/resultados/open.html - 16th FAI Paragliding World Championship 2019: 73rd out of 150 pilots http://pgworlds2019.mk/live/results/ - US Nationals Applegate Open 2018: 12th out of 69 https://www.flyxc.org/race-cumulative.html - US Nationals Pre-PWC Chelan Open 2018: 25th out of 131 https://xcdemon.com/results_event.php?leagueappid=20&season_id=24 - Mexican Nationals Monarca Open 2018: 27th out of 147 http://monarcaopen.com/results/2018/d6/comp_open.pdf
What is your mountaineering experience?I have been around mountains all my life. I feel at home when in nature, and for sure it is my happy place. With this in mind, list of hikes and/or ascents is a bit extensive. As far as I can remember, besides the ones hiked in the X-Alps 2019 race (e.g. Titlis!) are: 1) Mexico (ranging from 1,500 m to 4,680 m): Cerro Mitras, Cerro Potosi, Cerro de la Silla, Nevado de Toluca (among many other smaller ones). 2) USA (ranging from 1,300 m to 1,900 m): Mount Washington, Mount Jefferson, Mount Adams, Mount Jackson, Mount Lafayette, Liberty, Lincoln, Haystack, Cannon, Osceola, Tecumseh, Bonds, Pierce, Tripyramid, Kinsman, Mansfield, Tom, Eisenhower, Garfield, among others. 3) Alps (ranging from 2,000 m to 3,000 m) While doing the two Alpine Traverses, hikes to launches were done constantly. For example Plan Praz at 2,050 m, Fiesch at 2,153 m although I hiked Eggishorn at 2,927 m to setup camp for the night at its base. Hiked Furkapass and Oberalppass at 2,470 m to launch. Hiked Parpaner Rothorn at 2,800 m to launch as well as Motta Naluns at 2,200 m. Other peaks such as Speikboden, Schoberkopfl, Gerlitzen and Hahnkogel were hiked as well. This doesn't include the multiple cols hiked just to fly down the other side. In total, much more than 200 km of Alpine terrain were hiked. 4) Pyrenees (ranging from 2,000 m to 3,400 m) In the Pyrenees I did extensive hiking during my scouting trip in preparation for the X-Pyr race. Hiked/walked more than 200 km through high plains and high peaks including Pico Aneto at 3,404 m, Maladeta at 3,312 m and Posets at 3,371 m. Many other peaks were hiked along the route but smaller in size (e.g. Orhi at 2,017 m and Anayet at 2,500 m). In total, more than 250 km were walked/hiked during this project in the Pyrenees.
What is your paragliding experience?I have been paragliding around the world since I started 10 years ago. I've flown in spicy conditions from Mexico to Colombia, Switzerland to Japan, Brazil to Austria meeting all kinds of people and falling in love with mountains all over the place. I've crossed the Alps twice from Chamonix to Tolmin in 2015 & 2017 taking different routes every time and having a blast learning the intricacies of Alpine flying. First Alps crossing: https://vimeo.com/135423730 Second Alps crossing: https://vimeo.com/236248469
What is your adventure racing / endurance sport experience?X-Alps 2019: 16th place (TP10: 77% of route covered) X-Pyr 2018: 5th place (Goal: 100% of route covered) https://www.x-pyr.com/en/final-results/ X-Pyr 2016: 10th place (TP5: 46% of route covered) Before starting to paraglide, I ran plenty of 10k, half marathons and one marathon. In addition, competed in the New England Mountain Bike Championship series winning my division during my final year.
What does your typical training week consist of?Hike and fly whenever possible, but when not flyable (or tied up in the office) typically 2 days at the gym for strength training, 2 days aerobic training and 2 days hiking/speed-walking.
What are your best and worst adventure / flying moments?One of the best flying moments has been flying 100+ km tasks in North Macedonia in the 2019 FAI World Championship with some of the best pilots in the world. Racing in strong conditions at over 40 km/hr, where finishing 5 minutes after the leader can mean being in 100th place, forces you to keep your focus at all times. After 2 weeks, 10 tasks and close to 1,000 kilometers flown, I can safely say this was one of the best competitions I have participated in. Regarding worst moments, this would be during the 2019 X-Alps where on Day 5 trying to get to TP 6 Davos but I waited too long to take-off for my 3rd flight of the day, and when in the air a T-storm forced me to land. Skies opened up again to a beautiful blue, so I hiked Motta Naluns, just to be greeted by rain at the exact moment I reached my launch spot (yes, it happened at the precise moment when I laid my pack down!). Waited for a clearing in the rain and launched into strong West winds, which put me on the same spot on the valley where I was 3 hrs before.
What are the sporting moments you are most proud of?I'd say finishing the 2018 X-Pyr hike and fly race is up there with the most memorable. The race is not as long as the X-Alps, but the pace required to finish it is pretty much the same (+/- 100 km per day), so it is a great learning experience, and a lot of fun!
Have you competed in Red Bull X-Alps before and if so, when?Yes I have! Participated in 2019, Team MEX.
What appeals to you about Red Bull X-Alps?It is the greatest adventure out in nature! I love the Alps, and I just can't get enough of these beautiful mountains. Now add top class competitors and an amazing organization, and it becomes tough not to like it.
What will be your strategy during the race?Patience, spend energy wisely, and position ourselves in the correct place at the correct time.
Why do you think you will make it to the finish?1) Unwavering motivation! Even though during the 2019 race we did more than what most people expected, at the end I felt we could have done better. Being only 265 km away from the finish made the end of the race a bitter sweet moment for me. On one hand we had traversed through amazing scenery, created memories that we will forever remember, and most of all built a bond with the team that will never break. But on the other hand I felt empty and heartbroken because after so much effort, we had fallen short of our goal, reaching Monaco. We were so close, but not close enough. This is the reason why I'm excited for another opportunity to finally fulfill our goal of proving that a team from a Latin American country can also finish this amazing race. Training, scouting, logistics…everything will be ramped up to accomplish this! 2) The team will be exactly the same! Bianca Heinrich will join me as well as Anton and Jason. Having an experienced team around will make things much smoother logistically, which will certainly be an advantage. 3) Having participated in the X-Alps 2019 race has given us the experience that will help us avoid making costly mistakes in the air as well as on the ground. Knowing what to expect, when to wait and when to push, how to utilize the valley winds late in the day, or reading the weather to land high to avoid T-storms and then continue, will make a difference! 4) After the X-Alps 2019 my focus was on learning from the best how to fly faster. This is why I signed up for top level competitions in North Macedonia and Brazil (FAI Worlds and Pan-Americans respectively). I believe this will give me an advantage to really utilize the day and maximize the distance covered. 5) I haven't really stopped training ;-) From training 6 days per week for the 2019 race, I've been training 5 days per week for the past year. If selected I will be hiring my good friend Ben Abruzzo again so it is safe to say that I will be more than fit when June 2021 comes around. 6) Even before the last race I had already crossed the Alps twice from France to Slovenia, so I had learned about specific weather conditions (e.g. foehn), as well as valley flows and in general how to fly XC in this beautiful area. 7) Participating during the past 5 years in top level hike and fly competitions have made me a better pilot in terms of dealing with fatigue while making critical decisions. In my 10 years of flying I've been a safe pilot with no major accidents, and I plan to keep that record going!
What scares you the most about the event?Getting sick right before the event and not enjoying it fully!
Have you ever done anything of this magnitude before?Yes I have! X-Alps 2019 and X-Pyr 2016/2018 races. Even though these latter ones are shorter, you still need to be fast to get to the finish.
Glider make and modelSkywalk X-Alps 5
Harness make and modelSkywalk's latest