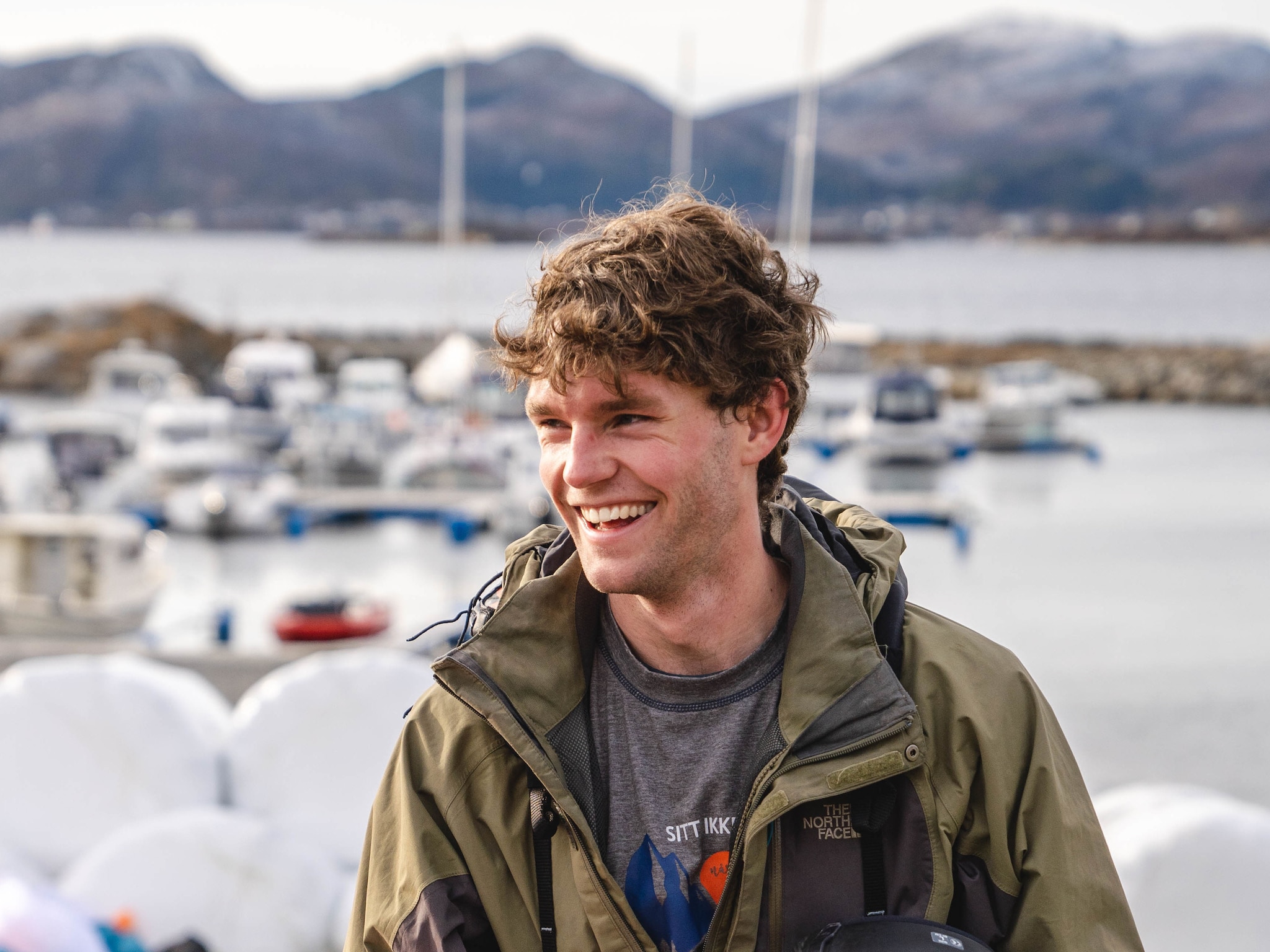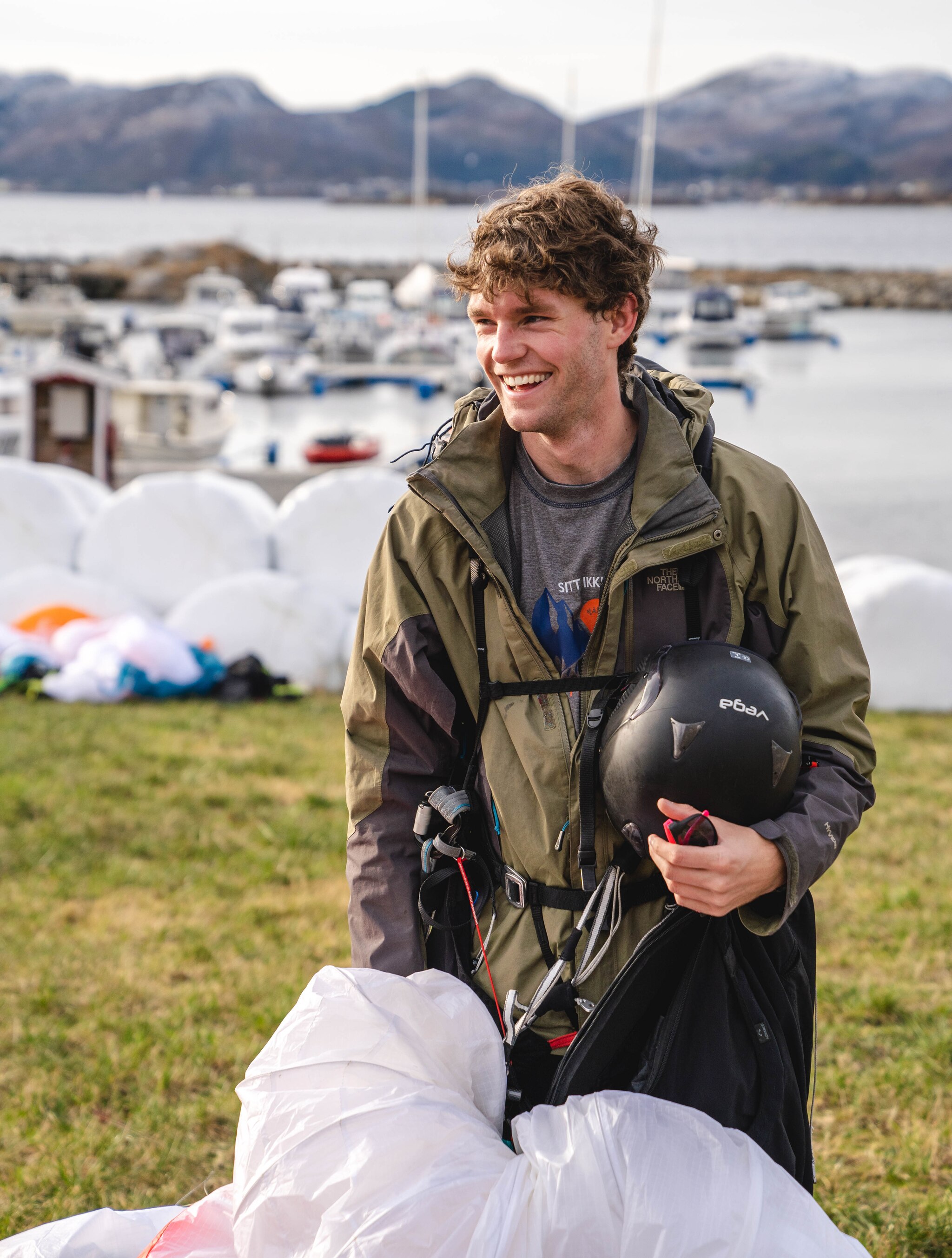 dtg

-- km

height

-- m

speed

-- km/h

heart beat

-- bpm
NOR
Nationality:

Norway

Date of birth:

08 April 1995

Profession:

Teacher

Supporter:

Johannes Helleland

Sponsors:

Streamer, iKamper Nordic
When and why did you begin paragliding?I started flying in 2012, when I was 17 years old. I had always dreamed of flying, and paragliding was the quickest way of learning. If it was up to me, I would start at 15, but it took two years of work before my parents finally let me.
Do you paraglide competitively? List rankings and events.I have always used my paraglider to explore new terrain, to try new things and to go on big adventures. This year I was selected to do the X-Pyr. Unfortunately, it got cancelled, and my plan to get into hike&fly-competitions was put on hold. There are not that many competitions in Norway, and certainly not any hike&fly-competitions. So instead, I've been doing some short volbiv-adventures here and there, and my supporter and I went on a longer one with Antoine Girard and Julien Dusserre earlier this summer.
What is your mountaineering experience?I grew up in the Norwegian mountains, and I'm used to spending several days out in harsh weather and alpine surroundings. In winter time I do a lot of ski touring, and in summer I enjoy hike & fly, trail running and some rock climbing. The last five years I've lived in the most alpine part of Norway, "Sunnmørsalpene". Life there is very weather dependent, and making safety decisions in treacherous mountain terrain has become part of everyday life.
What is your paragliding experience?The last two years I have more than 400 hours of air time, most of it being in Norway. We have a lot of tricky weather situations, so an active pilot usually gets around 40 hours a year on average. I've spent a month in Valle de Bravo, training competition-flying with the Norwegian national team. I've also been to South Africa to train for the X-Pyr (here's a video link: https://www.facebook.com/100564664826194/videos/2228524504119318 ) The last couple of years my flying has been more training-oriented, where I practice certain things like top-landings, hillside-landing, tricky take-offs, and so on. This has been with the goal in mind of competing in hike & fly races.
What is your adventure racing / endurance sport experience?This summer I was supposed to take part in the X-Pyr, which was cancelled due to Covid-19. Instead my supporter and I were invited to join Antoine Girard and Julien Dusserre on their VolBiv-expedition through Norway. With normal wet and windy Norwegian conditions, it ended up being a slow and tricky challenge. After X-Pyr was cancelled, I had to come up with another plan that my sponsors for the race would support. So in addition to doing the volbiv, my girlfriend and I went on an adventure around the country to find the most awesome places to fly! We made a vlog, and did a ton of social media-work. Here is the link to the vlog: https://www.facebook.com/watch/100564664826194/268173197854403
What does your typical training week consist of?I workout 5 to 6 days a week, for a total of around 17 hours. I do as much hike & fly as possible on good-weather days. Bad weather means endurance-training. 20 kilometer jogs a couple of times a week, and 30+ kilometer hikes with a 12kg backpack two days a week. It's all about those long sessions and countless vertical meters. I also do back and knee-strength exercises as a prehab-measure, and I have 2 strength sessions a week with a bunch of core and upper body exercises. I will continue to use my coach from the X-Pyr. We have made a solid plan to get my body ready for the race. I already have a good foundation from the X-Pyr training, so the plan is to keep up the work. It was supposed to be a stepping stone towards the X-Alps, but I think one more year of preparation can only work in my favour. I also fly as much as possible. Cross-country flying isn't always an option, so then it's hike & fly training, or practicing top-landings. Here's a couple of videos where I top land: https://www.facebook.com/100564664826194/videos/696835530866324 https://www.facebook.com/100564664826194/videos/831134733963438
What are your best and worst adventure / flying moments?My best moment so far was in the summer of 2019. After flying a new route that no one had flown before, I landed on the top of Galdhøpiggen, the highest peak in Norway. It's 2469 meters high, so nothing like Mont Blanc, but there was only one person to land there before me. And that was 25 years earlier. I then took off again, flew 70 kilometers and landed in the garden of my girlfriend. She was pretty surprised to see me. I am also quite proud of a flight I made earlier this year. This was my first 200 k+ flight. It saw many low-saves and some tricky decisions with overdevelopment along my originally planned route. It was a new route that no one had flown before. Here is a link to a video from the flight: https://www.facebook.com/watch/?v=595103917782102 My worst moment was early in my career. I was surprised by the sea breeze, flying at a new site. I got stuck in the compression, partly behind a mountain with steep rock formations going straight into the fjord. There was a small, abandoned road covered in trees alongside the mountain wall. I was somehow able to find an opening between the trees and land safely on the narrow road.
What are the sporting moments you are most proud of?Just getting accepted into the X-Pyr meant a lot to me. I am proud of the work I laid down, and the preparations have seen their good moments. A moment that I'm really proud of was when I flew a whole new route in the area where I live. I flew around "Hjørundfjorden", a very scenic fjord in the heart of the most alpine mountains of Norway. People started flying there in the 70s, but I was the first to fly around the fjord. A section of the flight is quite committing when it comes to the retrieve, so that could help explain why it hadn't been done before. Here is a link to the video, which got more than 10,000 views: https://www.facebook.com/teamgraneng/videos/1165898550430916/
Have you competed in Red Bull X-Alps before and if so, when?No, if I am selected I will be a rookie!
What appeals to you about Red Bull X-Alps?It's the adventure that appeals to me! I heard about the X-Alps at an early age, and I've wanted to take part ever since. The commitment in the training, and the mental and physical strength it will take to push through. It's gonna be demanding, but I'm up for the challenge!
What will be your strategy during the race?As a general strategic plan it's important to be in the air- flying as much as possible. Another general strategic rule will be to be on the move as much as possible. That means start walking early in the morning to cover some kilometers before flying conditions kick in, and also make use of the last hours before rest time to move forward. At all times it will be important to try to be in the first group(s) of the race, without taking too many bold route alternatives and decisions. If I'm too eager to move ahead it might put me on the ground, and as a consequence in the back of the race, with the risk of elimination. The elimination risk will make it a different race, and set new frames for strategy and decisions. My/Our strategy during the race needs to be flexible and it's dependent on situation and race development. We have established a strong team (same team as in the X-Pyr), and I think we have a good setup to make wise and strategic decisions both before and during the race.
Why do you think you will make it to the finish?Stamina, commitment and a positive attitude! Stamina both on ground and in the air. I might not be the fastest at all times, but consistency in all phases of the race is required to progress from start and all the way to the finish line. We have a strong team, with many different qualities, but most important we are all dedicated and motivated. The team will work hard together to reach the finish line.
What scares you the most about the event?I'm worried about how fatigue and not enough rest over a longer time period will affect me, both physically and psychologically. I know this will influence my decisions, both in strategic choices and safety. It's an adventure, but also a race, and the combination of race and fatigue can create potentially dangerous situations. The awareness of this might be hard to discover, but I trust myself and my team to make sound judgements at all times, even if we are tired in many ways.
Have you ever done anything of this magnitude before?This will be my single largest sporting undertaking this far in my flying career.
Glider make and modelAdvance Omega X-Alps 3
Harness make and modelAdvance Lightness X-Alps