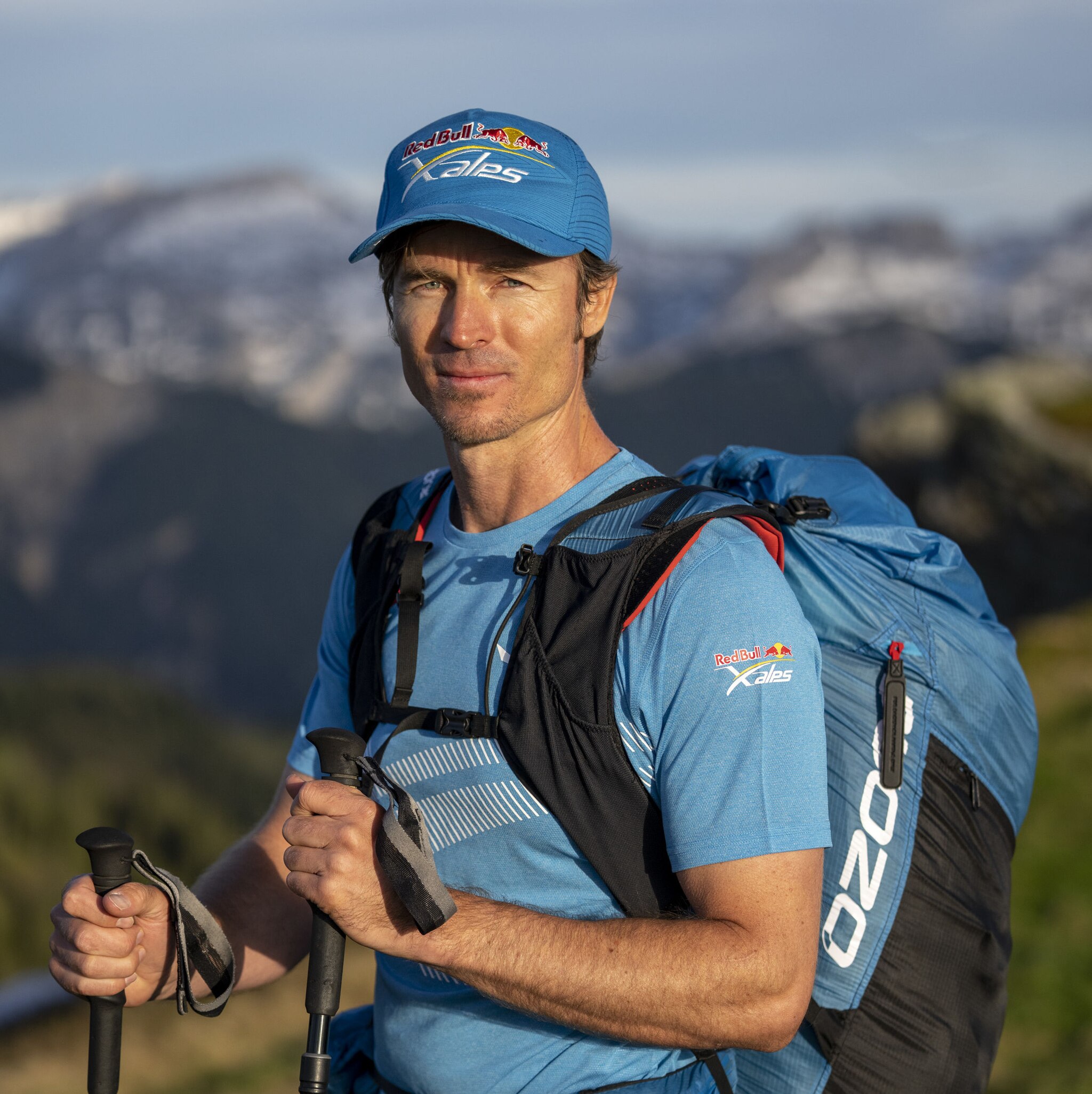 dtg

-- km

height

-- m

speed

-- km/h

heart beat

-- bpm
USA2
Nationality:

United States

Date of birth:

24 November 1981

Profession:

Paragliding Pilot

Supporter:

Robert Brockie

Sponsors:

Ozone Paragliders
When and why did you begin paragliding?In 2009, I hiked up a hill with some friends and watched them launch, core a thermal, and take off down the range. That was when I realized the potential of the sport. Living in the U.S., I didn't have any exposure to it and had no idea what you could do under a wing.
Do you paraglide competitively? List rankings and events.Yes. I am currently ranked 11th in WPRS. My best finish was 3rd place in the Bright PWC 2018, and 11 in the 2019 Worlds. I have had 5 top ten PWC finishes. I also took 3rd in the U.S. Nationals 2014. I came 1st at the Willi XC Challenge 2016 where I flew 700 km in 3 days and broke the Canadian distance record. I have won the Utah Cup with 293 km, 313 km, and 328 km flights. I recently returned from chasing a distance record in Texas and flew 355 km.
What is your mountaineering experience?I have climbed 5.13b sport and 5.12d traditional. I have done many big wall climbs alpine style in one long push. Some highlights are: "Scenic Cruise" in the Black Canyon of the Gunnison 13 pitches 5.11 and "Tricks of the Trade" V, 5.10+, A2. A couple of multi-day big wall climbs such as "Sling Shot" 5.9 C2 and "Prodigal Son" 5.8 C2 in Zion Canyon. I have also done many ice climbs including "Stairway to Heaven" 10 pitches WI6 M6 in Provo Utah.
What is your paragliding experience?I fly race-to-goal and XC competitions in at least 6-7 competitions per year. I fly solo for distance in the western US. I do hike-and-fly multi-day adventures for fun within the Rocky Mountains and Nevada. I also train acrobatics. I can competently do misty-to-heli, heli-to-heli, mactwist, infinite, esfera, Joker and Cowboy and I am working on everything twisted. I recently did my first twisted infinite.
What is your adventure racing / endurance sport experience?2019 Red Bull X-Alps.
What does your typical training week consist of?When I am not competing or training acro, I am doing 3-4 hrs each day of mountain biking, swimming, hiking or XC flying.
What are your best and worst adventure / flying moments?One of my best moments was in the 2019 X-Alps when I flew from Aschau turnpoint into Italy. I remember barely clearing the main chain of the Alps. There was so much snow and avalanches, I was really happy to be in the air safely flying over all of it. One of my worst moments came the very next day when I barely made 30 km total. I did 5 huge hikes that day and each time I flew I had to immediately land to avoid a storm and then packed up my wing in the rain. Can't wait to do it again :)
What are the sporting moments you are most proud of?2019 X-Alps, 2019 Worlds, 2018 Bright PWC
Have you competed in Red Bull X-Alps before and if so, when?2019 X-Alps
What appeals to you about Red Bull X-Alps?For 2 weeks during the race, the entire world disappears and it is just you, your supporters, and the Alps, nothing else matters.
What will be your strategy during the race?We learned a lot from the 2019 edition. We plan to make a lot of changes. Because I hadn't flown in the alps before I studied a lot of skyways data and previous races. This influenced my route decisions and ended up being a huge mistake. We realized later in the race that I should just draw on my flying and weather experience and fly the conditions I'm presented with. I also realized I didn't need to worry about launches or landings. They are everywhere in the Alps. Everything began to click for us about halfway through the race and we caught up a lot of places.
Why do you think you will make it to the finish?After the 2019 race I know that I can push even harder physically and not get injured. I plan to push faster to get up to launch and allow myself to fly the mountains more intuitively, stay in a good mindset and get into the flow. We also want to have way more fun. It's an incredible experience and I want to enjoy every minute of it the second time around.
What scares you the most about the event?I tend to make safe decisions. In the 2019 event I proved to myself that even while fatigued I could make safe flying decisions. I think drawing on my XC experience in the Western U.S. and my acro experience I can push to my limits while still remaining safe. This race is important but it's not worth coming home broken.
Have you ever done anything of this magnitude before?2019 X-Alps.
Glider make and modelOzone Zeolite
Harness make and modelOzone