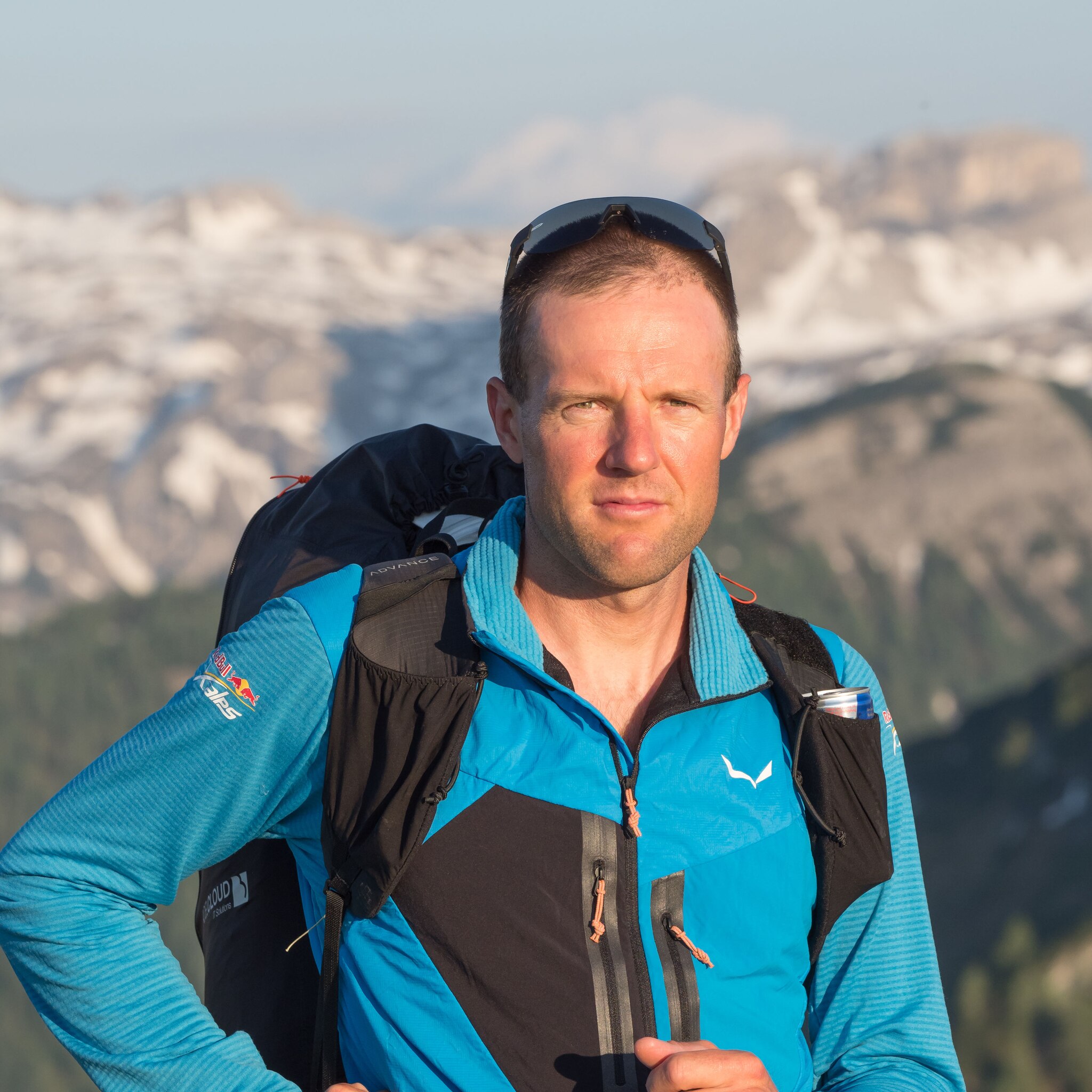 dtg

-- km

height

-- m

speed

-- km/h

heart beat

-- bpm
SUI1
Nationality:

Switzerland

Date of birth:

27 July 1982

Profession:

Paragliding-Professional. Keynote-Speaker. Hike&Fly-Expert

Supporter:

Thomas Theurillat

Sponsors:

ADVANCE, Teamwork, LOWA, SHV, YouCount
When and why did you begin paragliding?In my soul, I have ben flying since I was a little boy. Officially, I have been flying my paraglider since the age of 16. Why? Because it was (and still is) the best tool & toy to fly and broaden my horizon. My glider has not only broadened my horizon, but also brought PWC and X-Alps to Australia, Africa and the beach of Monaco. I got my license in 1998, when I was 16 and was able to realize my dream of finally being able to fly by myself.
Do you paraglide competitively? List rankings and events.Even though I could already celebrate many great titles and successes: It is the experiences that count, not the results. My greatest sporting successes of the last 20 years are: 6 times Red Bull X-Alps winner 3 times World Champion 3 times X-Pyr winner 6 times Swiss Champion (XC, Delta, Hike&Fly) All of my results can be seen here: https://chrigelmaurer.ch/agenda
What is your mountaineering experience?With my father, at 13 years I stood for the first time on the "Mönch" over 4000 m. My greatest and most beautiful experience is always that I have been going to the mountains for 25 years and can reach the summits everywhere I go. I haven't climbed many big mountains yet, but the ones I have succeeded in I've mostly done as Hike & Fly (Mont Blanc, Kilimanjaro, Matterhorn). Thanks to Thomas Theurillat, I was even able to do the "Jungfrau" 4158 m from our Home (Interlaken) this summer - that's what it looks like: https://youtu.be/WqkS8C8AjyI
What is your paragliding experience?Experience = Experiences x Reflection. That's why not only the flying hours and the kilometers count for me, but if I have understood and internalized it with my brain, heart, and hands in a way that I can repeat and pass it on. For me, success is much more than luck and tailwind on day X, I try to cultivate my experience and intuition like a treasure and develop it further with many small successful experiences and trainings. Mastery is reached when the glider and me, me and the glider are one and "it" just flies. Just like an old jazz musician who is also one with the instrument and the improvization and melody just happens. It makes music, it flies, I want to be able to do this magic.
What is your adventure racing / endurance sport experience?Now in the summer there is a lot going on and it is my goal to be "current" with motivating goals until the start of the X-Alps! In the last 100 days I mastered: Podium at the "Dolomiti Super Fly", a Hike & Fly 353 km across Switzerland in 50 hours and won a task at the Swiss Championship. Anything else? Ah yes, Endurance: On August 24th I did 4700 m in 6 hours and in June I did 3750 m and 25 km in 10 hours. An average training day usually has 800 hm and 10 km in 2h...
What does your typical training week consist of?Do the best with what you have: When I have flying weather I go flying, when it rains I'm in the gym, otherwise just up the mountain. But for the X-Alps, we also train teamwork, decision-making, self- & risk management (set checklists to have the control in the race) or taking off and landing on small fields and the art of being in the right place at the right time. In winter I enjoy ski tours, with that I also have good goals to move! Mountain tours or mountain biking give me an important change. As a paragliding athlete and father I set up 8-25 hours of endurance and strength training per week.
What are your best and worst adventure / flying moments?When I was young, I never had problems. Today I look back and see that I was often at the limit and risked too much. So I see that the sport has given me more in the last 22 years than it has taken away. Of course it was hard to accept when I broke my foot and leg in a hard landing after 16 years. I realized how important my health is and I want to put a lot of emphasis on it!
What are the sporting moments you are most proud of?In competitions I make decisions again and again and see immediately how good they are. But I also like to take risks, the consequences are sometimes a bad result. If I manage to win, it may have been due to the risk I took, so I am happy but not really proud. I am proud of the decision that I decided to fly with the "paraglider", to gain experience which I can now pass on and to build up a good image together with my partners & sponsors - thank you!
Have you competed in Red Bull X-Alps before and if so, when?2009- The first time: Beginner's spirit, no night's rest yet and a great adventure with Thomas Theurillat against my friend and our great role model Alex Hofer. Our strategy was: A new adventure, to get ahead personally. Our highlight: Towing start on the glacier. Learned: "All cooking with water"- all teams make mistakes and it's important to be well prepared at the take off when it flies! 2011: Lots of rain and foehn, descending the Dachstein on foot and in fresh snow through the Dolomites (the only day of Hike&Fly adventure without a flight) Strategy was: "S3" - safe / fast / confident Our highlight: Casattihütte- >200 km flight from Bormio to Zermatt! Learned: (GPS deviation) airspace violation - flew 1 m too high, enjoyed 24h time penalty for recovery. The HELLO in the rain was also created there. 2013: Course record in super weather. A race that Thomas and I are still proud of today in terms of efficiency and pro-active routing. The strategy was "Magic moves" and that's how we did it. (Flight from Sulden to Innertkirchen or Interlaken to Courmayeur and from Pas de la Coche to Nice) Learned: For the first time, it was required that all teams fly with certified material. This was a good decision, so that not only X-Alps pilots can get to lighter material! 2015: We started for the first time with Yvonne in a group of 3 and were able to master the adventure with a pure electric vehicle (Tesla) as support vehicle! So we used water, wind and muscle power to cross the Alps. High demands on ourselves led to a lot of pressure and even more performance and learning. Highlight: Flight through the Brenta Towers. Learned: The batteries do not only have to be charged regularly in the vehicle, but the team also has to be careful who has how much battery power and when! 2017: New team with Tobias and Bruno and 1st time over 1100 km distance. On the first day I did over 80 km, that was too much for my knee and I was in pain and was happy to arrive in Monaco after 11 days. Highlight was the crossing of the Teodulpass. Learned: On the 1st day you can't win a race that lasts several days, but lose - start slowly, take good care of your body - then you can push! 2019: With Andy and Steffi in the camper and me in the Audi E-Tron we had 2 cars and more resources for the first time. The track also took us past home, which motivated me more than before! Highlights: To be able to fly over the Alps several times and the flight from Davos to the turnpoint Titlis, which gave me about 1 day ahead. Learned: Energy management and experience from the training worked well, so that you can do over 5500 hm from 05:00 to 20:00! 2021: We don't know yet what will happen but we have a strategy already. We are also looking forward to the new route, which we will experience in March...
What appeals to you about Red Bull X-Alps?The goal Monaco is clear for the race. The goal of being "well prepared" for the start of this adventure race helps me to develop further. This development is vital for me!
What will be your strategy during the race?Since 2009, we have constantly optimized our strategy. My strength lies in flying, in feeling where and when it flies. We keep the logistics manageable and, if possible, plan for reserves. In the end, we know that you have to look for ideas / options (supporter) but stay flexible (athlete) to be able to do the right thing at the moment!
Why do you think you will make it to the finish?I make it to the finish because I don't think about the finish. Meter by meter, cloud by cloud, step by step - and if I do that with joy and in the flow, then sometimes I am already at the beach.
What scares you the most about the event?The X-Alps is one of the greatest and hardest adventure races and good for the paragliding scene. As an athlete, I have several roles to fulfil. The pressure that I put myself under (or try not to put myself under) influences my decisions on the way. In addition, we are on the road 12- 17,5h per day and lack of sleep does not help to make more serious decisions - here I see checklists and a critical supporter as very important!
Have you ever done anything of this magnitude before?Listen to this: https://www.youtube.com/watch?v=CQYypFMTQcE
Glider make and modelADVANCE OXA 4
Harness make and modelADVANCE Lightness M