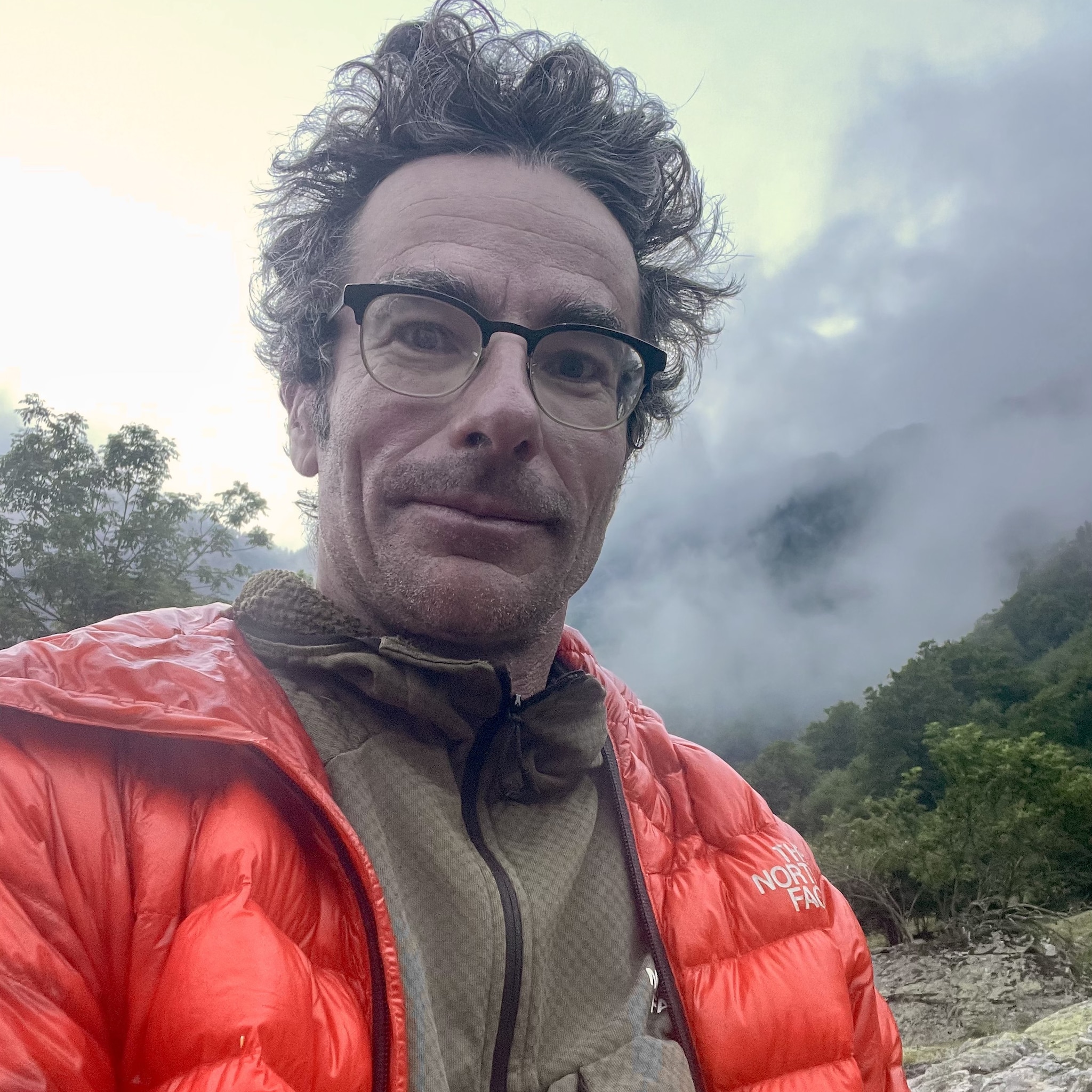 dtg

-- km

height

-- m

speed

-- km/h

heart beat

-- bpm
USA2
Nationality:

United States

Date of birth:

16 March 1975

Profession:

Professional climber and filmmaker

Supporter:

Mike Lester

Glider:

Ozone Zeolite

Harness:

Skywalk Range Air X-Alps 2

Sponsors:

The North Face, Fat Tire, Black Dimaond, Hydrapak, Skratch Labs
List your top 5 adventure flying, hike & fly or vol biv experiences1: Flying off the highest peak in Mexico and third highest in North America, Pico de orizaba. 2: Placing 18th in the X-Pyr this year, in the most competitive and most difficult edition to date. 3: Setting the site record for my home site of Boulder Colorado. 4: Opening new sites and lines in Nevada with some of America's top pilots. 5: Completing over 100 flights of 100km or more in my short paragliding career.
List your top 5 paragliding competition results3rd Sport Class Applegate, 16th Pre PWC Chile 2019, 3rd in Serial Val de Boi Catalan League 2021, 9th Canadian Nationals 2019, 18th PWC Asian Tour, Nepal 2020, 18th X-Pyr 2022
How many years have you been flying?7 years
Tell us how you got into paraglidingI initially got into it as a way to descend from big climbs, but quickly became obsessed with cross country paragliding.
How many hours do you fly a year?I've been averaging over 400 hours a year.
Summarize the paragliding experience which you think qualifies you to do to the race?I've fully dedicated myself to cross country paragliding for the last five years, and have set site records, opened new launches, and shared my love for free flight with the world. I just recently completed a X-Pyr campaign where I learned a ton, hiked almost 300k and had some unorthodox, and exciting flights, and would love another chance to push my progression in the adventure that is hike and fly racing.
What has been your best paragliding moment?Soaring to the summit of Mt. Shasta in California has to be up there with the best, but honestly, I've had so many epic experiences it's impossible to pick one.
And your worst moment?Getting blown backwards through high tension power lines. Miraculously I emerged without a scratch on me after getting dropped 40 feet into a bush.
What is your adventure racing / endurance events experience?I've competed in one Ultra-marathon, did the X-Pyr this year which entailed an ultra-marathon of distance on day one and two and then many marathons after that! I climbed all the 14ers in California by bike over three weeks and in another "sufferfest" I climbed 45 desert towers by bike in the four corners of the southwestern US.
What mountaineering experience do you have?I'm a longtime professional climber with big wall first ascents on all seven continents.
List your top 5 best adventures1: Alaskastan expedition where I climbed first ascents in the Ruth Gorge Alaska and the Karakorum Pakistan in an epic back to back three month expedition with Renan Ozturk. 2: Antarctica Expedition, where I climbed nine big first ascents on wild granite tours in the Queen Maudland region with Alex Honnold. 3: X-Pyr 2022. I wasn't sure if I would like big hike and fly competitions, but I loved the immersive adventure and singular focus. 4: Nevadistan Paragliding Encampment lead by Reavis Stuphin-Gray where we pioneered wild new launches and epic XC lines. 5:Establishing multiple 5.13 multi pitch first and first free ascents in Yosemite Valley. 5: The Next One, because the next adventure is always the best adventure.
What other adventure sports do you do?Rock climbing, alpine climbing, train running, mountain biking....and I will pet any dog that lets me.
Best adventure moment?Impossible to choose one, I'm grateful to have lived a life of adventure, but certainly getting the first ascent of the unclimbed North Ear of the Cat Ears spire in Pakistan is up there, because it was one of the last major unclimbed summits in one of the most iconic climbing venues in the world.
Worst adventure moment?Nearly getting myself killed in Baffin Island while narrowly pulling off the first continuous and second overall ascent of the Porter Route on Mt. Asgard. My partner was hit and incapacitated by rock fall and I had to drag us off the technical and massive wall racing an impending storm that would have killed us for sure. Not fun.
What's your training philosophy? Do you follow a regular plan?An old friend of mine once said, "The Universe will train you," and I think what he meant by that, is that if you are super focused on a goal, and open to whatever training opportunities unfold, you will be on the path to achieving said goal. Basically, I run a lot and climb a lot.
Do you follow a special diet?I try to eat a balanced diet, but there is always room for a beer and some gummy bears for desdsert.
What's your approach to nutrition?Nothing crazy. I just try to eat a lot of whole foods and vegetables, and not too much red meat unless I'm training super hard.
What wing do you fly?Ozone Zeolite.
What is your race goal?Goal one is not to get hurt. Goal two is not to get last. Goal three is to have fun! From there making it to the finish line is the obvious goal! And, a very unlikely stretch goal is to win.
What is your approach to risk and safety? What are your rules for staying safe?Basically, no hike and fly race is worth getting hurt for, and this is why my number one goal is to stay safe. I know my abilities, and the conditions I am comfortable flying in, and I will make my own personal decisions on when to fly accordingly.
Why do you want to take part in the Red Bull X-Alps?Coming from the expedition paragliding background, it's a natural fit to take part in big hike and fly races. I also just want the opportunity to fully immerse myself in the adventure of crossing the Alps by foot and wing.
What does the Red Bull X-Alps mean to you?It's the premiere hike and fly race in the world, and it's a bit of a bucket list item for most adventurous paragliding pilots. For me personally it means the opportunity for an unforgettable adventure.
Why do you think you have what it takes?I know I have what it takes to participate, and hopefully to make goal. But, well, that will take some luck and good strategy.
What will be your race strategy?My strategy will be to fly or hike the day... not my desires. That means being realistic about the weather, my abilities, and how much I have in the tank mentally and physically.
Who makes the ideal supporter?The ideal supporter is a good pilot in their own right who understands the strategy, and logistics of this type of race, and is fully committed to your success and safety.
Have you ever done anything of this magnitude before?Yes, I just completed the X-Pyr 2022 campaign which was widely considered to be the most difficult X-Pyr yet.