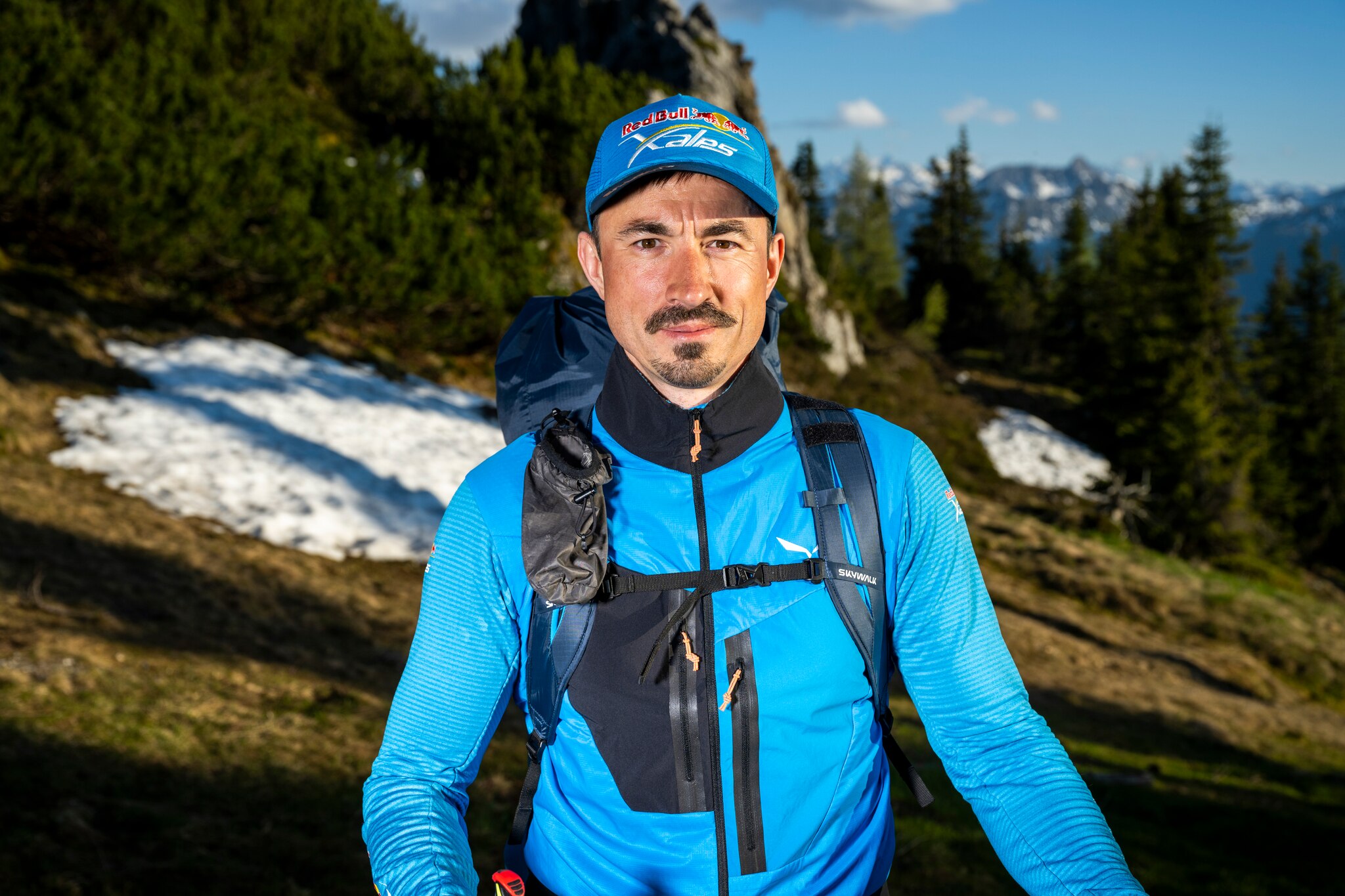 dtg

-- km

height

-- m

speed

-- km/h

heart beat

-- bpm
RUS
Nationality:

Russia

Date of birth:

28 April 1979

Profession:

Businessman

Supporter:

Andrey Bukin

Supporter:

Andrei Mashak

Sponsors:

Aeroflot Airlines, AAG Construction company
When and why did you begin paragliding?I started paragliding through tandem flights back in 2006. I was really into CrossFit before I found flight, but then after I did my first few flights I was ready.
Do you paraglide competitively? List rankings and events.I have experience in paragliding competitions, but most often I have flown by myself.
What is your mountaineering experience?An extensive adventure expedition. Since 2015, I have been actively flying in the Alps, Himalayas and Pamirs. I have experience in commercial ascents of Mount Elbrus, Mont Blanc and Lenin Peak.
What is your paragliding experience?In 2017 and 2018, I flew bivouac solo in the Himalayas across 230 km. In 2019, I took part in the Red Bull X-Alps 2019 race as part of the Russian team. I was also a member of the bivouac expedition Pamir - Tian Shan 1600 km.
What is your adventure racing / endurance sport experience?I was a support for the Russian athlete Evgeny Gryaznov at the X-Alps 2019 race.
What does your typical training week consist of?CrossFit training three times a week. Run in the evening. On weekends, I ride my bike and swim in the pool.
What are your best and worst adventure / flying moments?One of my best moments was getting to Kyrgyzstan after a 1300 km solo flight without vol biv support/assistance in just 12 days. I had to fly almost the entire distance, just amazing. Difficult flight conditions in the Pamir mountains. One of the worst moments of this trip was the landing of the wing during high wind and turbulence in the area of lake Sarez in the Eastern Pamir, Tajikistan.
What are the sporting moments you are most proud of?Pamir - Tian Shan expedition 2019. The most difficult and unforgettable adventure.
Have you competed in Red Bull X-Alps before and if so, when?No, but I was a support for Russian athlete Evgeny Gryaznov at the X-Alps 2019 race.
What appeals to you about Red Bull X-Alps?Flying across the Alps with some of the world's finest pilots.
What will be your strategy during the race?Fly far, hike fast!
Why do you think you will make it to the finish?I have been paragliding in different parts of the Alps for the last 6 years and I am quite familiar with the surrounding area. Not as good as the local pilots, but we'll see what happens...
What scares you the most about the event?Nothing ;)
Have you ever done anything of this magnitude before?Racing, no. Vol-biv, yes.
Glider make and modelSkyWalk X-Alps 4
Harness make and modelSkywalk Range X-Alps2